A lot of entrepreneurs struggle in managing the financial and other accounting-related aspects of their business. Most small business owners are too busy focusing on marketing and promoting their products or services, and end up not having time to process or manage their financial transactions.
With today's advancement in technology, all your problems can be solved in just an instant. In the case of entrepreneurs who struggle in the aspect of accounting, business accounting software is the best solution for you. If you do not enjoy manually computing numbers and dealing with your financial activities, this type of software can be your life-saver. Read our article to learn more accounting software.
A business accounting software will take care of your invoicing, inventory, and bookkeeping problems. This can be of great help for you to save time and focus on other important business matters. Besides, using business accounting software can produce faster results and make your data more accurate and reliable.
However, finding the right business accounting software can be quite challenging. You have to choose a software that you can maximize, in this way, you can produce better results and become more efficient.
With that said, this article will explore the features of two small business software – ZipBooks and Wave. This ZipBooks vs Wave Comparison will provide you with all the information you need to help you choose which of the two software deserves giving a try.
ZipBooks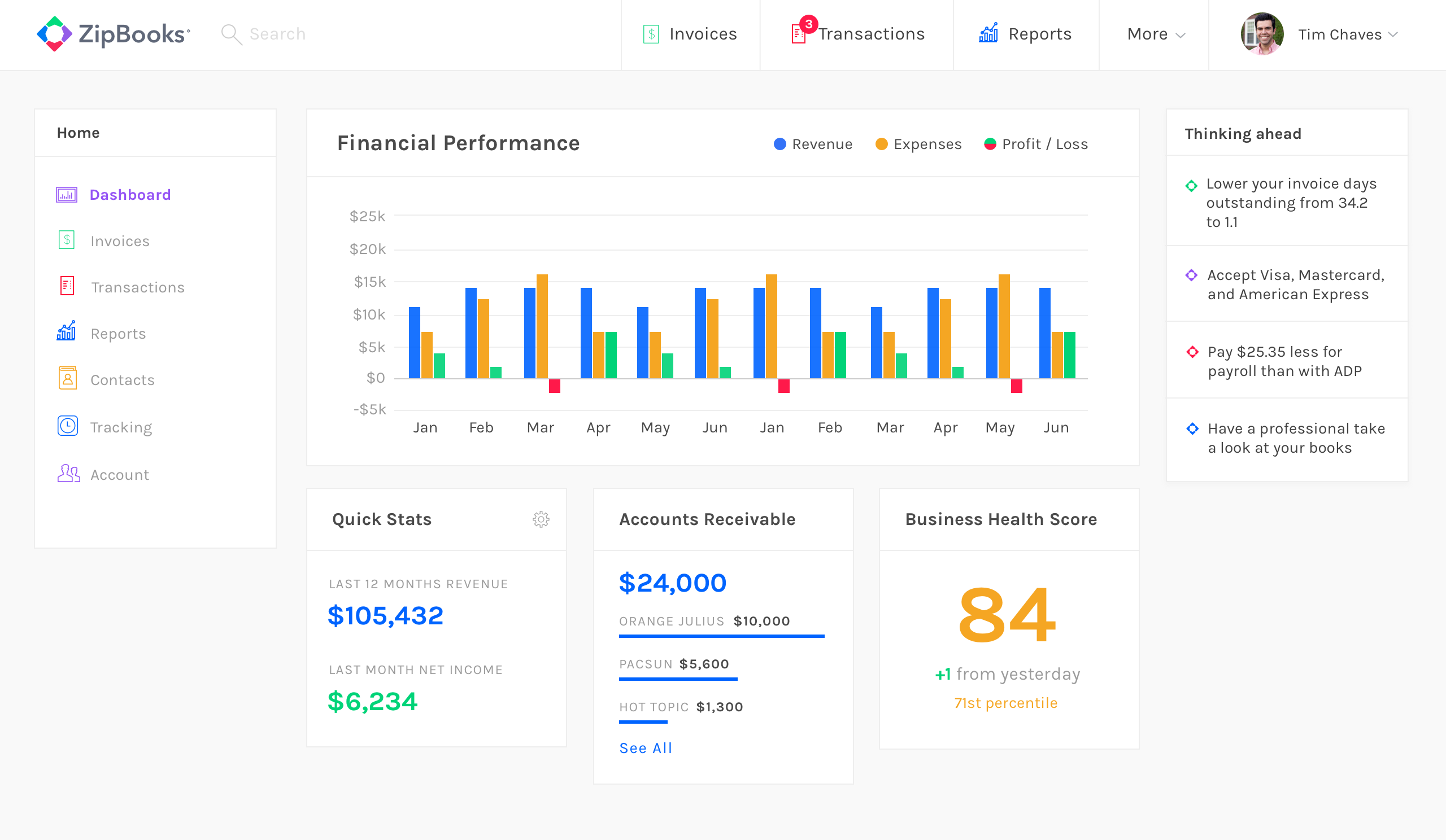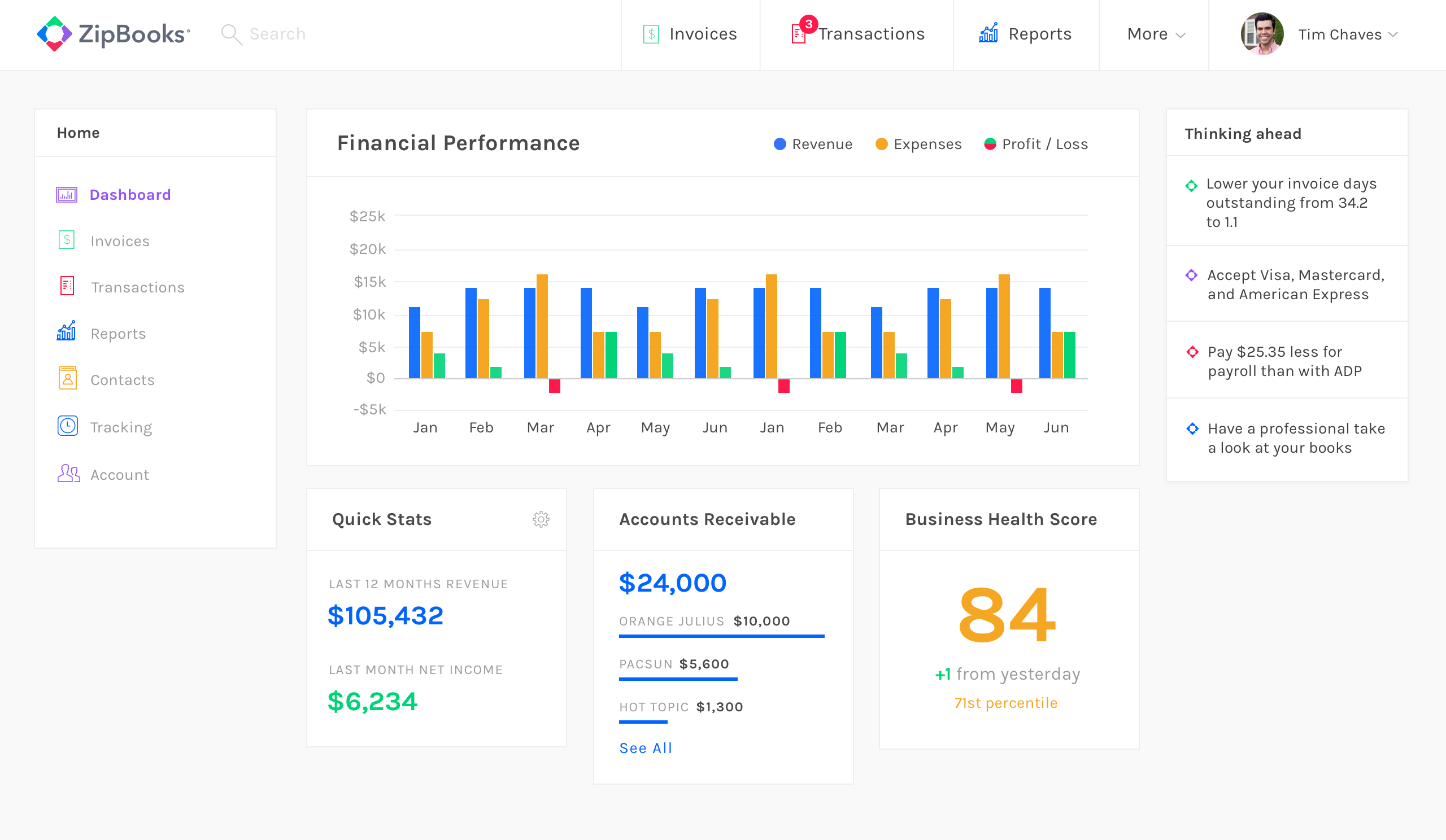 Software overview
ZipBooks is a free web-based accounting software created to help small businesses. Since ZipBooks is a web-based software, it allows its users to access their accounts regardless of where they are. Also, they offer a mobile app that makes it more accessible and convenient for users to check their accounting activities anytime and anywhere. On the downside, ZipBooks for mobile only supports iOS devices as of writing.
Pricing
ZipBooks offers three plan options for its users:
Starter plan – The software's free plan includes unlimited access to sending invoices and managing vendors and customers. It also allows you to connect one bank card.
Smarter plan – Starts at $15 per month. This includes a bunch of features such as automated reminders, auto-billing, and it allows you to connect multiple bank cards.
Sophisticated plan – Costs $35 per month. This top tier plan gives you access to smart tagging, which allows you to keep an eye on your revenue and expenses based on the projects that you have made. Of course, this premium plan gives you unlimited access to all features.
Moreover, ZipBooks offers a unique plan called the Accountant. This can ideally provide the needs of professional accountants as this plan is mainly designed for them. The price for this plan starts at $125 per month, depending on how you want your account to be customized.
With the Accountant plan, you have the freedom to customize the features you want for your account. Aside from this, the Accountant plan enables you to manage several clients in a single dashboard and text them directly from ZipBooks. The features provided in this premium plan are the necessities and requirements for a bookkeeper to perform well. Check this bookkeeping software analysis to help you deliver your tasks efficiently.
Interface
ZipBooks provides a user-friendly interface for its users. In its dashboard, a bar graph of the user's expenses, revenue, and profit can be seen. You can also access your revenue and profit for the previous months in the Quick Stats section. The dashboard also provides an Accounts Receivables section where you can check your updated balances. Lastly, you can check the Business Health Score section to view the overall performance of your business. In Business Health Score, ZipBooks will give you recommendations on how to boost your business.
Features
Apart from the mobile application that this platform provides, it also offers several advantageous features for its users. Some of these features are tracking income and expenses, connecting your bank account, invoicing, invoice customization, project accounting, and reporting. Each of these features will be tackled comprehensively in this part of the article.
1. Income and Expense Tracking
Tracking income and expenses is the first vital feature of ZipBooks software. With this feature, users can perform their accounting activities smoothly. It makes it easier for users to check on the payments they receive from a cash or bank basis. You can view bank transfers and receipts, cash withdrawals and deposits, and credit or debit notes.
2. Connect Your Bank Accounts
ZipBooks allows you to connect your bank accounts to quickly track down invoices and payments that were made by your clients.
3. Invoicing
ZipBooks provide invoicing and accepting payments. Every entrepreneur knows how important invoicing is for their businesses. With this ZipBooks feature, invoicing becomes easier for entrepreneurs since it allows you to send email invoices to clients with outstanding payments.
Not only that, but ZipBooks can also accept payments from your clients which makes it more convenient. After sending email invoices to clients, ZipBooks allows you to view whether those outstanding payments were already settled whole or partially.
4. Invoice Customization
To customize invoices, just head on to the Invoice Preferences section. Then, you can select the essential tools that you use more often to make your ZipBooks experience simpler. There are also several invoice templates available for users to make sending invoices faster.
5. Project Accounting
In ZipBooks, you can keep track of the projects you have made with the help of the Project Accounting feature. This feature not only enables you to track projects but also add a budget for that specific project and assign a member to lead it.
You can also assign tasks to other members and tag transactions to your clients or vendors. ZipBooks allows you to do almost everything that you want, which makes it a fantastic software.
6. Reporting
These reporting features will help you determine how much you are worth and owe.
The Accounts Receivable section which enables you to view all your accounts receivable history.
The Balance Sheet section which contains the assets, liabilities, and equity of your business.
ZipBooks will perform all your financial reports automatically so you will not have to worry about doing them anymore.
Pros and Cons
Pros:
Offers several advantageous functionalities
Customizable software
User-friendly
Provides a free plan
Cons:
ZipBooks mobile app is only available for iOS users
The free plan includes limited features
Wave
Overview
Wave is a free business accounting software designed for small businesses, freelancers, and the like. It integrates with three products, namely Shoeboxed, Etsy, and PayPal. This business accounting software provides essential features for its users, such as billing, managing payroll, and creating invoices.
To learn more about invoicing, you can research the best invoicing software.
Pricing
However, the best thing about this software is that it is free. Wave does not require its users to input their credit card information when they sign up and create an account. This is suitable for small businesses who can not afford much yet to pay for business accounting software. Wave only charges fees for their add-on services like the Wave payroll and payments, which is not a problem since there are still a lot of free features that you can utilize.
Additionally, Wave does not have a limit on the number of users allowed to access a single data unlike that of ZipBooks. This ZipBooks vs Wave Comparison truly gives us a more unobstructed view of both software's similarities and differences.
Multi-user capability
Wave is also capable of managing multiple businesses using a single account. This is helpful for entrepreneurs who have several businesses and want to manage each business's revenue and expenses in one place. You can benefit from this if you own several enterprises, considering that you do not have to pay any amount to access features like this.
Although Wave enables you to keep track of inventory, you have to do this manually, which may be a bit time-consuming. Inventory processes like calculating the value of each item must be done manually; this part defeats the purpose of accounting software to make the life of users more relaxed and convenient. But again, for free accounting software, what is there to complain about?
Dashboard
Wave's dashboard lets you view what is relevant in your account. You can quickly check the income and expenses of your business by month or by year in the Income and Expense section. You also have the Invoices Payable to You section which shows your accounts receivable. Then, the Bills You Owe section will show you your accounts payable.
Features
Wave offers almost similar features to that of ZipBooks. However, some features of Wave software are more advanced and practical, making it more advantageous for users.
1. Integration with online payment platforms
Wave integrates with online payment platforms such as Shoeboxed, PayPal, and Etsy. With this, users can simply connect their bank accounts and credit cards which makes it much easier to complete online payments in Wave software.
2. Invoicing Templates
Wave software makes invoicing easier with provided invoicing templates which users can customize. You can improve the templates they have provided by adding the logo of your business. Additionally, Wave supports a user-friendly drag-and-drop functionality to modify these templates effortlessly.
3. Billing and Invoicing Reminders
Wave provides a bill and invoice reminder feature to notify you of your billing payments and invoices. With this feature, you will no longer encounter late payment and invoicing dues.
4. Receipt Scanning
If ZipBooks requires you to input your receipts manually, Wave lets you do otherwise. With Wave's Receipt Scanning functionality, you can simply scan your receipts and they will automatically sync in your account. You only need to install their mobile scanning app to use the Receipt Scanning feature.
Wave Pros and Cons
Pros:
Free accounting software
Supports both Android and iOS devices
Unlimited number of bank and credit cards is allowed in a single account
Cons:
Limited functionality compared to ZipBooks
Some features require to be done manually
User Reviews
According to some reviews, ZipBooks is a functional software that makes invoicing easy to track. They also added that its reporting feature is helpful, especially for taxes. Another factor that makes users love ZipBooks is its affordable plans and amazing features. However, some users think that ZipBooks is not yet fully-featured, unlike other accounting software. Some also say that the software does not connect accurately with their bank cards.
In comparison, Wave users say that this software is comprehensive and intuitive. Most users, specifically those who are tight on budget, point out that using Wave software is a life-saver for them. On the contrary, many users are struggling to link their bank accounts to the software. They say that it always lags whenever they try to connect their bank accounts, which take up too much of their time.
Which software should you choose?
Both ZipBooks and Wave software has excellent functionalities and essential features. ZipBooks software, however, can provide more benefits for users since it is a paid software. But, this can also be its downside if you compare it to Wave, which is free software.
In the end, what's important is finding an accounting software that will lessen your burden in managing financial reports and other accounting activities – which are very crucial in one's business.