The globalization of businesses and the emergence of instant, on-demand communications have dramatically changed how and where people do business. Perhaps one of the most vital communication tools that are being used by modern and innovative companies in their daily operations are video conferencing tools. In general, video conferencing makes it easier for businesses to relay messages quickly to their employees and address concerns immediately.
Moreover, video conferencing also allows businesses to save time, promote collaboration, reduce travel expenses, and achieve higher productivity levels. Two of the most popular video conferencing tools in the market today are ClickMeeting and Zoom. In this ClickMeeting vs Zoom comparison guide, we will examine the features, benefits, pros, and cons of each solution to help you find a video conferencing tool that suits your niche and budget. 
ClickMeeting Overview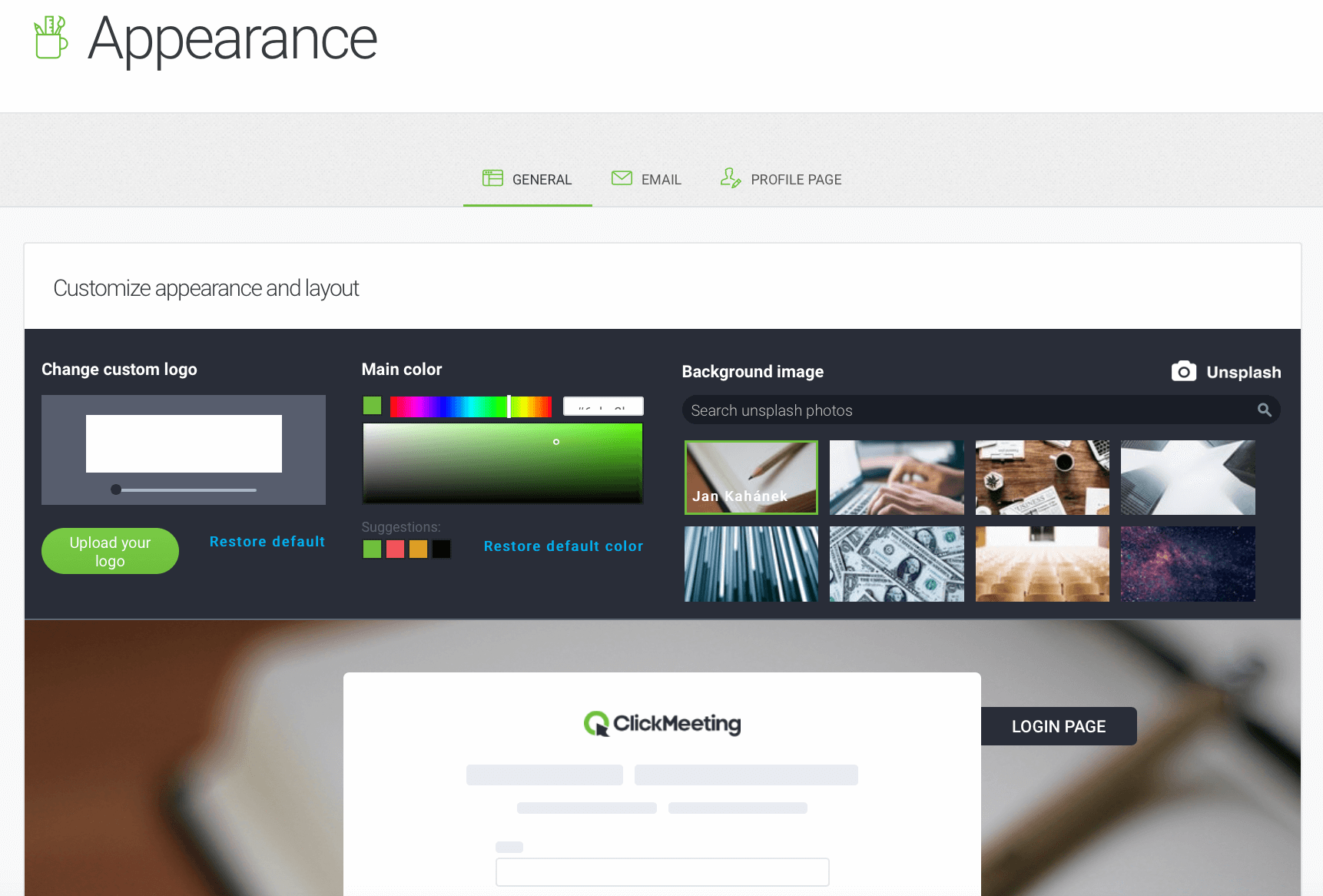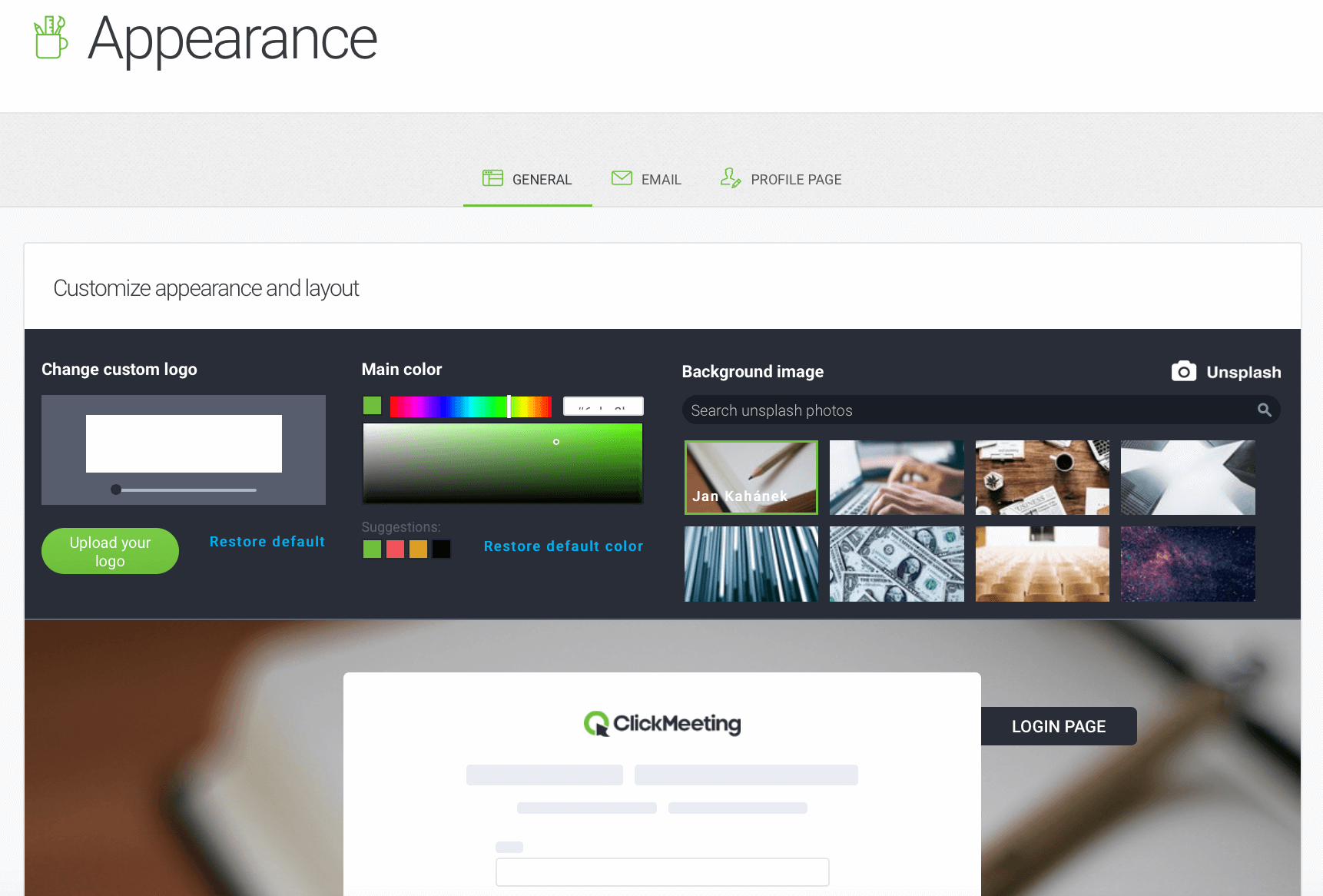 ClickMeeting is a Polish video conferencing service that promotes remote collaboration with teams, partners, and clients through online meetings and webinars. Founded in 2011 by Simon Grabowski, the company was initially a part of the GetResponse group before it spun off as a separate organization to accommodate a growing number of users. 
Unlike any other video conferencing and webinar tools, using ClickMeeting is relatively straightforward as it's entirely browser-based and does not require users to download the software. You can read software reviews of browser-based webinar solutions here and find out how they stack up against ClickMeeting. It is worth noting, though, that users can opt to use ClickMeeting on their smartphones but have to download its Android and iOS applications for greater convenience. 
With ClickMeeting, businesses can control how they engage with participants by rebranding webinars, and conducting polls and surveys to ensure that it fits their image and increases lead generation. Besides that, the software also has a live chat plugin and a robust whiteboard which enables presenters to doodle while putting an idea across an audience. 
Scheduling an online meeting with your employees is also quick and easy with ClickMeeting thanks to its ability to support up to 1000 attendees in one go without undermining the video or audio quality. This enables team members to brainstorm and work together on the spot, which, in turn, can accelerate business growth and success. At present, more than eight million unique users have used ClickMeeting to conduct critical business meetings, watch meetings, and collaborate with stakeholders. 
Other than scheduling, ClickMeeting also offers a host of powerful features that include on-demand webinars, interface customization, webinar monetization, and dynamic third-party integrations, not to mention, its ability to generate webinar statistics. This makes it simpler for businesses to find out the location and the level of engagement of their employees or webinar participants. Business-wise, this statistic is incredibly helpful for business leaders who want to enhance collaboration efforts with their team members. 
Speaking of collaboration, more here about collaboration tools that have identical features and functionalities as ClickMeeting. While it has excellent collaboration plugins, ClickMeeting's interface can be a tad tricky to navigate for beginners, though, the software does have a dashboard where all administrative features such as scheduling, viewership analytics, and address book editing can be accessed. 
Pros:
Available in multiple platforms and devices
Easy setup
Branding and interface customization
Simple event creation
Cons:
Pricier compared to competitors
Occasional absence of sound
Room layout takes some getting used to
Lack of customer service
Zoom Overview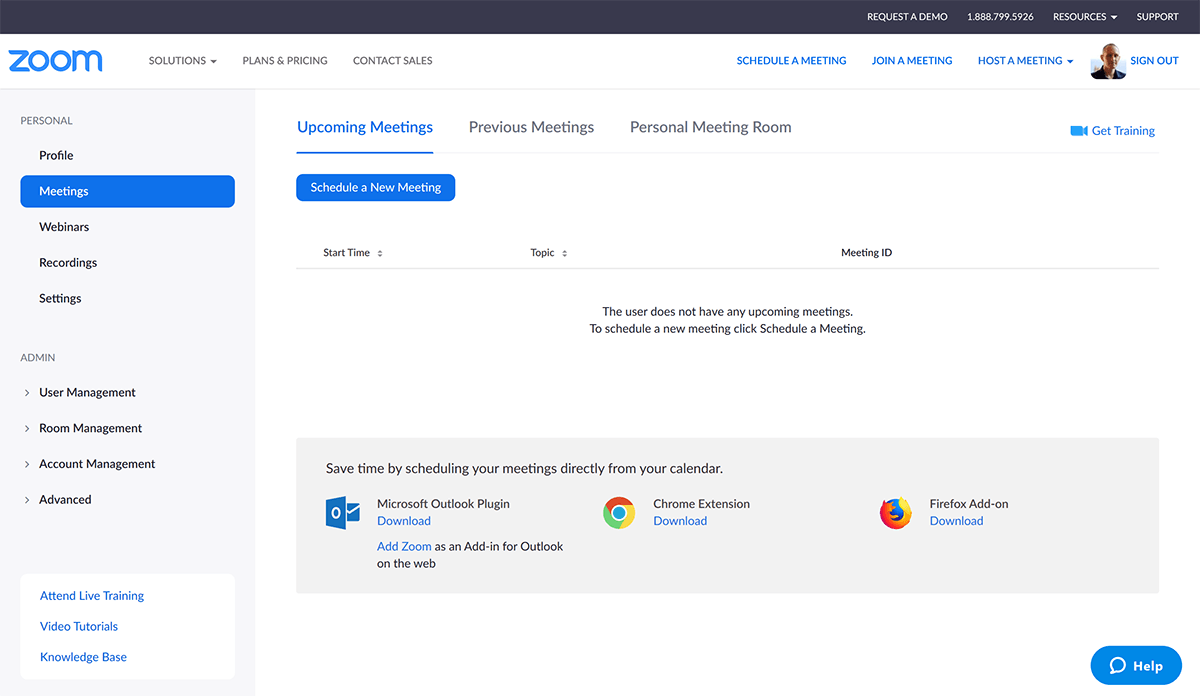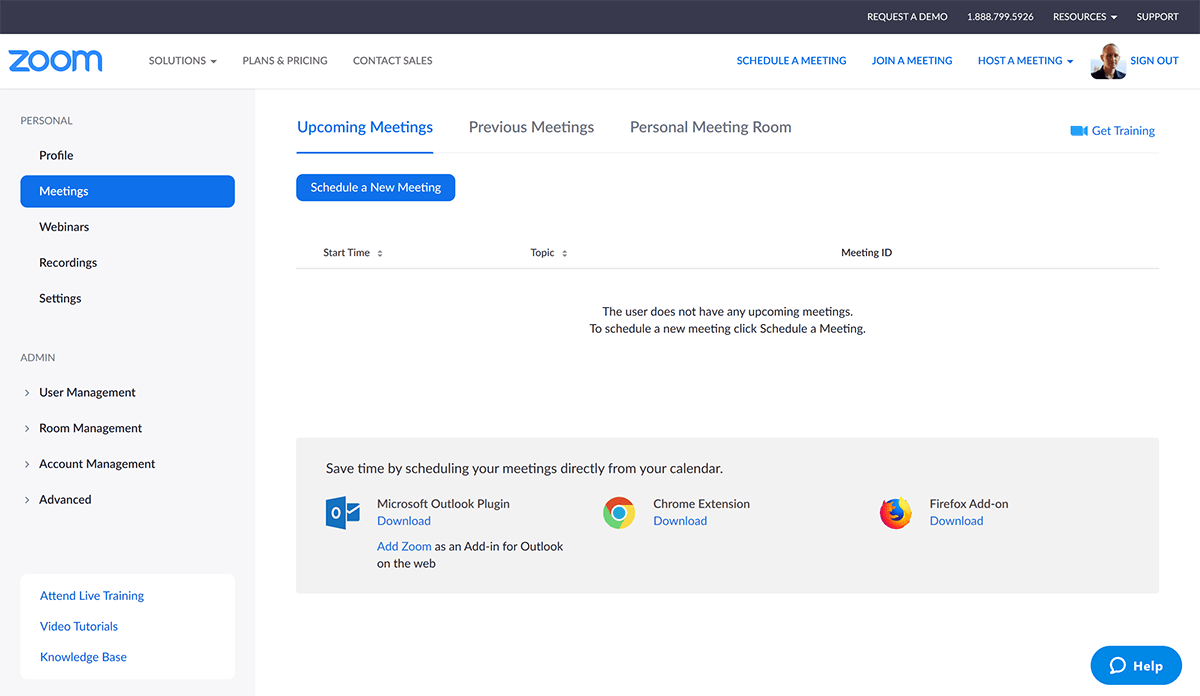 Zoom is an American communications platform based in San Jose, California which offers online chat and video telephony services using a robust cloud-hosted peer-to-peer software to ensure seamless social interactions, distance education, and teleconferencing. It is built to host and broadcast online conferences that can accommodate 10,000 view-only attendees and up to 100 interactive video participants, making it an ideal solution for small to medium businesses, healthcare organizations, educational institutions, and even enterprises.
Launched in April 2011 by billionaire Eric Yuan, the software experienced massive popularity following the introduction of quarantine measures, growing from 10 million users in December 2019 to 22 million in March 2020. Even though greater recognition and the resulting increased criticism laid bare several security concerns, Zoom has been proactive in responding to concerns with timely updates and bug fixes. 
Similar to top communications solutions, Zoom's simple and reliable cloud platform for chat, content sharing, voice, and video runs throughout multiple devices including but are not only limited to room systems, telephones, desktops, and mobile devices. Learn more about this cross-platform capability of communications solutions and find out whether Zoom matches the features and functionalities of established platforms. 
Nevertheless, this added feature will mainly help businesses bring their teams together in a frictionless work environment, allowing them to get more done in less time. What's more, Zoom also comes with excellent functionalities which include screen sharing, whiteboard annotation, superior video quality, and local recording, which reduces the need for detailed minutes. 
However, users will have to subscribe to a paid plan to initiate a cloud recording. Zoom's paid packages are more business-oriented compared to its free plan, especially with the addition of features such as user grouping and management and an easy-to-navigate admin dashboard that monitors participation and meetings. 
It also should be noted that the setup process for the paid plans may require technical help for user management and the installation of single sign-on services. Furthermore, Zoom does have an incredible support team that responds to customer queries across all timezones 24/7. 
Pros:
Functional annotation tools
Connections with several calendar apps
Allows virtual backgrounds
Provides a myriad of meeting settings
Cons:
Requires fast internet connection
Occasional voice lags
Lack of Chromebook access
Privacy concerns and security issues
At a single glance in this ClickMeeting vs Zoom comparison guide, one would think that Zoom and ClickMeeting both do the same thing and there's little difference to separate each solution. If you look closely though, Zoom and ClickMeeting do have some polarity, especially in pricing, key features, and integrations. This section focuses more on the distinctness of each solution to help you make a smart purchase and avoid running the risk of exhausting your financial resource on a video conferencing tool that doesn't fit your business objectives. 
Video Conferencing
ClickMeeting and Zoom offer high-quality audio and video streaming capabilities in addition to its extensive range of robust tools and features. Users opting for ClickMeeting can use its intuitive online portal to either initiate ad hoc web meetings or schedule web meetings in advance. 
Collaboration is significantly emphasized with ClickMeeting with its ability to let moderators create tests and surveys during the meeting with results immediately available after the test has ended. For businesses hosting webinars, there is also live polls and question-and-answer sessions that allow you to engage your audience and gather valuable information about your attendees. 
Not to be outdone is Zoom which boasts high frame and low latency rates, making it relatively functional for hosting online business meetings and webinars. The software can also generate reporting and analytics on engagement and attendees as well as support HD video and audio for up to 100 panelists.
Zoom also has a one-touch meeting join button, mute controls, and live social media broadcasts capabilities that make it easier for businesses to attract more audience and increase engagement even further. While the software is still miles away from its closest competitors, the Zoom environment is rapidly evolving and expanding to become an all-in-one solution for efficiency and productivity in this day and age.
Integrations
ClickMeeting and Zoom pack a host of integrations that make it easier for both solutions to deliver a straightforward and futuristic experience. Zoom also has an Open Application Programming Interfaces (API) access that allows users to implement its features into their existing environments seamlessly. 
The software is also incredibly flexible for businesses seeking collaborative tools thanks to its connections with Slack, Workplace for Facebook, Google Calendar, and Microsoft Teams. On top of everything else, Zoom also provides add-ons such as Zoom Rooms, Zoom Chat, and Zoom Phone in addition to its crisp integrations to enhance collaboration and support teams of today. 
Although ClickMeeting does not provide Open API access, it more than makes up for its shortcomings by allowing users to integrate the software with Customer Relationship Management (CRM), Marketing, Learning Management System (LMS), Analytics, Remarketing, Social Media, Documents, Collaboration, and Plugin Integration platforms. Among its integrations are Infusionsoft, Pipedrive, Moodle, HubSpot, GetResponse, Zapier, Google Tag Manager, Google Analytics, Twitter, and YouTube. 
Other integrations also include iWork, Office, Dropbox, Outlook, Google Calendar, Slack, PayPal and WordPress. By integrating ClickMeeting with these third-party solutions, businesses can strengthen their brand, sell more products, and close more deals through effective communication and efficient collaboration. 
Security
Security is another critical feature that is present in ClickMeeting and Zoom. While ClickMeeting features are relatively basic, they are still essential and provide presenters with greater control when hosting webinars or meetings. 
ClickMeeting hosts have the option to make meetings accessible only through a master password or eliminate attendees at any time. File sharing through the software also undergoes a myriad of virus and malware scans as it passes through the organization's servers to ensure security and safety of confidential information.
While ClickMeeting's security is decent, Zoom's protection capabilities have been under a lot of heat because of security concerns that came into light because of the increase of demands. However, the company has demonstrated a strong will to enhance security by not only hiring a new security board but also providing users with SSL and AES 256-bit encryption for its content. 
Pricing
ClickMeeting offers three paid packages, but the pricing varies on the number of attendees you expect to have on your meetings or webinars. The Live plan which caters up to 25 attendees is available at $30 per month while the Automated plan comes in at $45 for the same number of attendees. 
There is also a week-long free trial that offers the most features of the Automated plan. ClickMeeting also has an enterprise package, but users will have to contact the vendor for a quote. 
Zoom has a free plan that is surprisingly feature-packed and three paid enterprise plans. The free plan supports unlimited one-on-one meetings and 40-minute conferences with up to 100 participants. Identical to the majority of conferencing tools, Zoom's pricing packages are pegged per host. 
Zoom's paid packages include the Pro, Business, and Enterprise offerings. The Pro plan is available $13.99 monthly per host with a group meeting duration limit of 24 hours. It also includes Skype integration, API access, 1GB of cloud recording, and advanced user management. The Business and Enterprise offerings are priced at $199 and $1,999 monthly and have 10 and 100 hosts respectively, with extra hosts available at $19.99 per month. 
Users opting for the Business plan will take advantage of meetings up to 300 participants, automated transcripts, custom invitation emails, company branding, and SSO access. The Enterprise package, meanwhile, includes all Business features, unlimited cloud storage, and the ability to host meetings with up to 500 participants.
Selecting The Right Video Conferencing Tool
Choosing the right video conferencing software for your organization is essential in ensuring continuous business operations and asking the right questions matters. In this ClickMeeting vs Zoom comparison article, we found out that there is no one-size-fits-all video conferencing solution for a business. 
While ClickMeeting is feature-packed and easy to use, it does have poor customer service and is pricier compared to its closest competitors. On the one hand, Zoom is affordable and versatile enough to integrate with multiple third-party solutions, but it requires a fast internet connection.
That being said, businesses need to take into account the goals they would like to accomplish with their new communication strategy when choosing a video conferencing tool to ensure that they can achieve a higher return on investments.