Like blood to the body, money is to your business. It flows in and out in cycles (purchases, sales, payments, earnings, and receipts), and each has to be kept in check for a business to remain healthy. Failing to address bookkeeping mishaps may lead to serious cash flow problems, or worse, put your business on a collision course with the IRS. Besides, keeping inaccurate books could cripple your organizational and financial plans, steering your business into rough seas. To prevent this from happening, you should implement a bookkeeping software to track all transactions and generate in-depth financial reports.
The problem is, if you're not well-versed in bookkeeping, then it can be daunting to pick the right solution. This means you should first learn the nuts and bolts of bookkeeping programs before you begin your search for the best.
To help you start on the right footing, we've compiled this comprehensive bookkeeping software guide. We'll walk you through the basics and divulge all the information you need, including the benefits, types, and features of a bookkeeping program. To make it easier for you, we've also added a list of the best solutions in this category.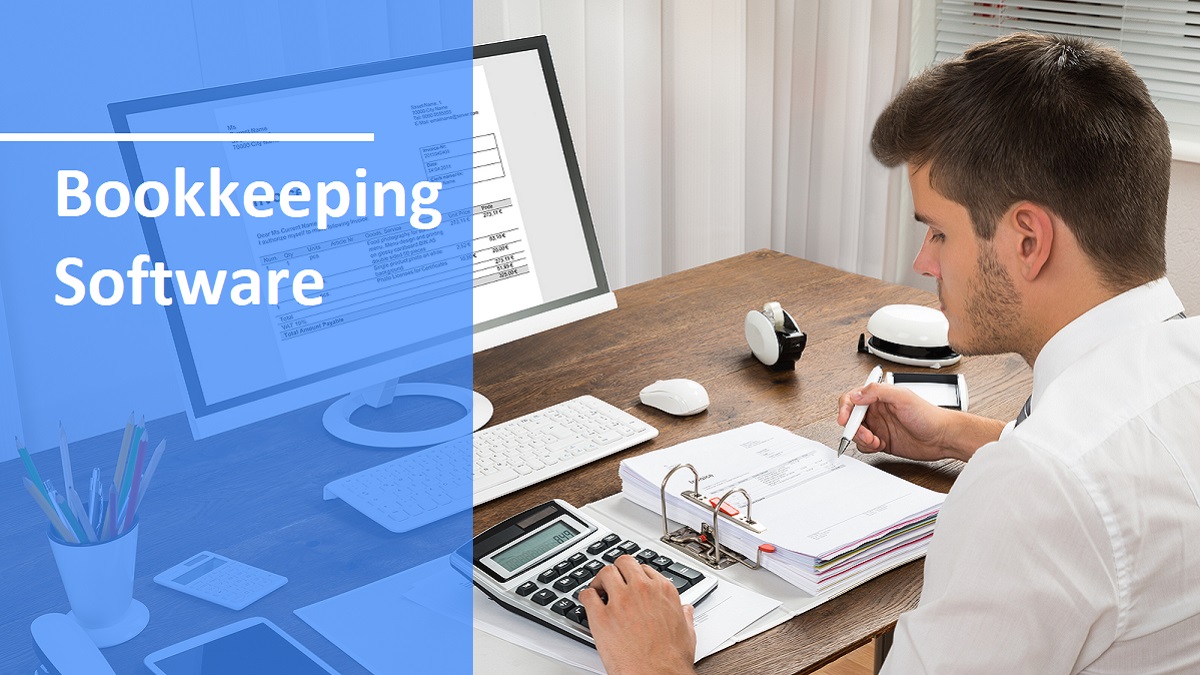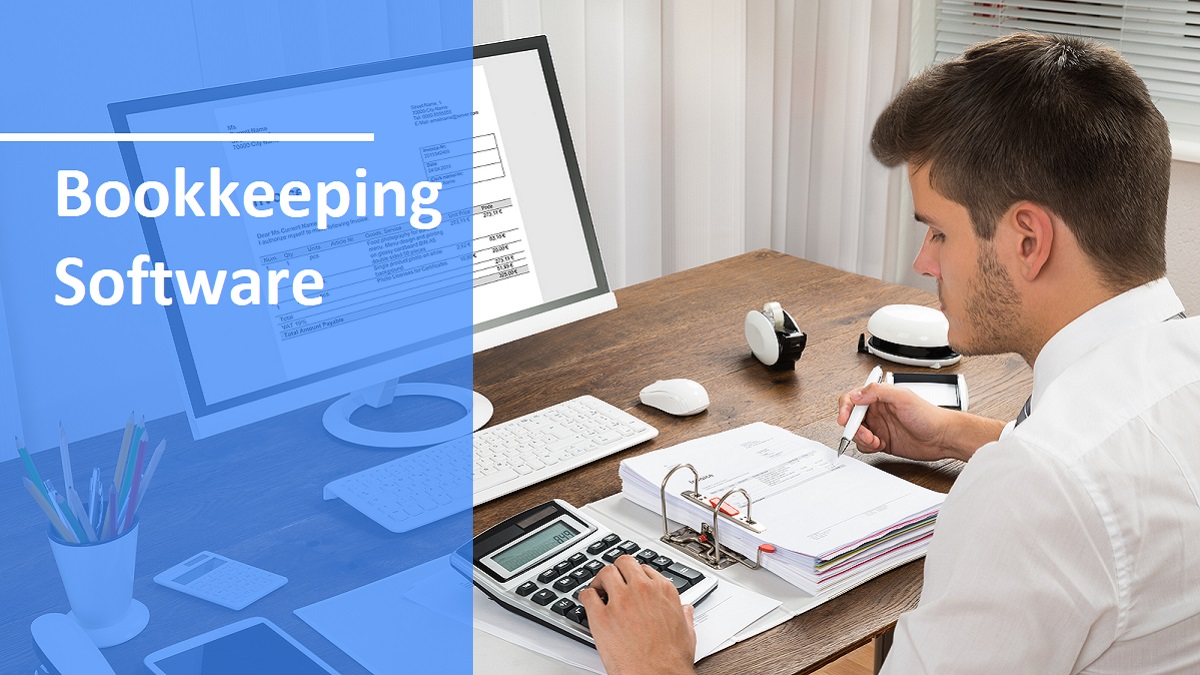 Bookkeeping Software Table of Contents
What is Bookkeeping Software?
First things first, bookkeeping entails managing the financial aspects of a business, such as recordkeeping, balancing the books, and financial records creation, to name a few. In plain language, bookkeeping software is a platform used by business owners or bookkeepers to keep track of financial data. Think of it as a smart digital ledger that sports innovative features to automate the double-entry accounting process. In essence, it enables a business to perform critical functions, including but not limited to:
Bank statements reconciliation with transaction records.
Account receivable (AR) and accounts payable (AP) management.
Generating financial statements, such as balance sheets, cash flow reports, and profit/loss reports.
Importing and categorizing transactions from payment processors and credit cards and ensuring they're accurately entered into company books.
List of Best Bookkeeping Software
Here are some of the best examples of bookkeeping software available on the market today:
Freshbooks: A robust, cloud-based invoice and accounting software designed primarily for small and mid-sized businesses. Among the many bookkeeping tasks Freshbooks can handle are sending professional, tracking time and expenses, and automating the AR/AP processes.
QuickBooks Online: Arguably one of the most popular accounting and bookkeeping solutions for businesses of different sizes. In addition to streamlining recordkeeping, QuickBooks Online helps organize sales, taxes, and expenses. Not to mention, it offers the best experience and scalability for all businesses.
Wave: A reliable invoicing and accounting software for small businesses and freelancers. The platform offers inventory tracking, time-tracking, payroll, and project management tools. The best part is that most of its service is free, including transaction and invoice management. Check out the top alternatives to Wave to expand your options.
Tipalti: An innovative end-to-end account payable (AP) solution designed with all deadline-driven businesses in mind. It automates the supplier payment process, allowing you to overcome late payments, administrative overload, and non-compliance. It also supports global mass payments, enabling businesses to pay clients in 190 countries in 120 currencies.
Xero: This is an all-in-one accounting solution boasting a robust payment collection and management tools. It enables businesses to accomplish double-entry accounting and accept invoice payments via Stripe, Apple Pay, and PayPal.
Zoho Books: Heralded as an easy-to-use solution, Zoho Books is best for small businesses that want to gain control of their finances and cash flow. It simplifies the online payment process, balance sheet creation, and management of business finances.
Kashoo: A simple, cloud-based accounting solution designed with small businesses in mind. Kashoo leverages machine learning to categorize transactions, plus it offers automatic reconciliation and expense tracking. Also, unlike other solutions, its pricing plans offer unlimited users.
OneUp: Innovative double-entry accounting software for small businesses that want to streamline inventory, CRM, and invoicing. OneUp sync seamlessly with your bank account, allowing you to classify bank entries and validate pending entries to expedite the AP process.
OnPay: A robust online payroll software designed to help small- and medium-sized businesses streamline taxes and filing, payroll, and benefits. In this way, it enables businesses to pay employees and contractors in time by debit card, direct deposit, or check.
Sunrise by Lendio: A simple yet reliable bookkeeping software designed to help businesses simplify accounting and save money. It offers a comprehensive suite of features that include easy tax options, automatic bank reconciliation, invoicing, and profit and loss reporting.
Difference Between Bookkeeping Software and Accounting Software
The functions of bookkeeping software and accounting software can differ pretty widely, and in some cases, even overlap.
Perhaps this analogy will add more light to this matter. Picture the accounting process as a track relay, financial data as the baton, and the two software solutions as the teammates.
At the start of the race, the bookkeeping software handles the baton (record transactions and manage data) to lay the foundation for the process. Once this is accomplished, they hand the baton—data contained in journals and ledgers—to the next athlete (accounting software). The accounting solution accomplishes the last part of the race (analysis and decision-making) to see the entire process through.
Now, bookkeeping software offers few features that enable users to handle only the smaller facets of the accounting process. Accounting software, on the other hand, is a more holistic solution that helps deal with the high-level components of the accounting process. Their roles, however, do overlap, especially with regard to financial reporting, budgeting, AR/AP process, expense tracking, and data management.
That being said, the accounting landscape is changing rapidly. The evolution of accounting technology has seen many accounting software "swallow" up bookkeeping solutions. In other words, many of the modern accounting systems are designed to also execute the functions of bookkeeping software.
Types of Bookkeeping Software
Much like other software, bookkeeping solutions are available in two forms:
On-premise bookkeeping software: Traditionally—or before the advent of cloud computing—all bookkeeping software ran on-premise. This means the solutions were installed, run, and managed on local servers. Lately, however, this type of solution has become less common thanks, in large part, to the emergence of cloud technology and cloud accounting solutions.
Cloud-based bookkeeping software: As the name suggests, this type of solution is installed and managed in the cloud. As with other software services, online bookkeeping solutions are all the rage in today's business arena. This is simply because bookkeeping tools deliver a stark of built-in benefits, including streamlined data flow, accessibility, scalability, and cost-effectiveness.
In addition, cloud-based bookkeeping solutions work seamlessly with existing business apps. For example, it can integrate with a point-of-sale (POS) solution to ring up sales and automatically sync data to your online accounts.
Top Benefits of Bookkeeping Software
Bookkeeping software can help your business in multiple ways. The main benefit is that you don't have to be an accounting guru to accomplish the bookkeeping tasks. If you are still on the fence, perhaps the following benefits will convince you to install a bookkeeping software:
It saves time
A bookkeeping software automates key processes, thereby wiping out manual, time-consuming tasks. The solution helps simultaneously handle back-end transactions and front-end business documents recording.
Even better, the solution connects with a bank account, allowing you to import transactions and vital financial data with less effort. It also simplifies the creation of bank deposits, writing checks, and invoicing. Ultimately, this saves a significant amount of time, allowing you to invest your time in other meaningful tasks.
Minimizes human error
Automation, which anchors the functioning of bookkeeping solutions, boosts data accuracy. Besides informing poor decision making, inaccurate accounting records can attract serious legal implications. In general, employees are the main cause of errors that weigh down on the accuracy of financial information.
While it's almost impossible to take the human effort out of the accounting process, a digital system can help disentangle parts of the process that may be inclined to botches. For example, the solution automates invoicing and recording keeping, thereby minimizing the chances of errors in vital calculations.
Generates actionable reports
Additionally, bookkeeping software generates detailed reports on critical processes to help you track cash flow. For example, with computerized invoicing, you can create reports that offer crucial details about the amount customers owe you.
Moreover, this data can be combined with billing information, and their due dates, to create cash flow reports. The insightful reports help forecast your business' cash flow position. This can go a long way in helping you to sidestep unnecessary late fees and overdraft charges.
Not just that, having all financial data in a single system can help calculate your business profits. You can also pull critical data as regards your customers and learn who's generating the most revenue. Eventually, the information leads to smart decisions and helps redefine strategies to boost efficiency and productivity.
Enhances mobility
Mobility is key in today's business, and modern bookkeeping solutions can offer just that. Leading solution vendors provide intuitive mobile apps for both iOS and Android devices. The apps come in handy when you want to complete certain transactions while on the move.
You don't have to be in front of a computer screen to send invoices, view and record expenses, or attach receipts. In short, with an app, you have your books with you wherever you are. Whether you are traveling or in the gym, you can perform critical accounting tasks, such as billing and invoicing, with ease.
Improves financial monitoring
Traditionally, general records were done towards the tail end of a financial year, especially in the case of manual accounting. But, this isn't a rule written in stone, and modern solutions are allowing businesses to deviate from the norm.
With digital bookkeeping, it's now a breeze to create and maintain records continuously. This means businesses can prepare reports for tax assessment or administration purposes any time they wish. Consequently, it's easy to regularly monitor the financial health of a business and promptly address issues before they escalate.
Key Features of Bookkeeping Software
There's no doubt; the aforementioned benefits are mesmerizing. Unfortunately, you can only achieve these benefits if you use a solution with the right features. Here are some of the key features of bookkeeping software:
Core accounting
Core accounting entails rudimentary functions, such as general ledger, AR, and AP. At the bare minimum, a good bookkeeping solution should include these features to help you monitor all transactions and keep tabs on cash flow. The tools are all the more important to small businesses that generally have infinitesimal income and snowballing debt.
Interestingly, today's bookkeeping solutions leverage artificial intelligence (AI)  and machine learning to automate core accounting. In this way, they enable small- and medium-sized organizations to collect and make payments more efficiently. Also, AR, AP, and general ledger tools help package data and prepare it for other accounting processes.
Bank reconciliation
Bank reconciliation is a long and tedious process often pervaded by human error, which can cause costly discrepancies. Fortunately, with a bookkeeping solution's automation, you don't have to peruse through bank statements and compare them to account records manually.
The tool allows you to import electronic bank statements and match them to your accounting records to pinpoint their differences. The best part is that you can do this regularly for all your bank accounts to ascertain the accuracy of your cash records.
Invoicing
In addition, bookkeeping software is designed to streamline invoicing and billing processes. The platform enables you to create and distribute invoices with ease and manage other advanced facets of the sales process. It smoothes out recurring transactions, ensuring that even as your customer base grows, subscription and contract-based services are handled more efficiently and accurately.
Expense management
Better still, bookkeeping solutions offer robust expense management tools. They help you to keep track of all client dinners, booked flights, and other work-related activities that inflate your expenses. Moreover, it's easy to create customized expense reports with details about how money is being spent. This way, you can pinpoint activities that gobble up your hard-earned business income and take necessary action to save costs.
Financial reporting
A good bookkeeping solution should enable you to generate detailed financial reports. Some tools provide customizable dashboards that provide visual summaries of things such as bills due to go out, money due to come in, and more.
Notifications
Additionally, advanced platforms provide innovative notification systems. For example, some send mobile notifications for things such as payments received and overdue invoices. Moreover, they notify you when customers pay or open an invoice or when customers go past the due date. This information prompts you to take necessary actions, such as sending reminders to expedite the payment process.
Factors to Consider When Buying Bookkeeping Software
Today's market is awash with bookkeeping software, all promising to streamline the management of your finances. If you dive in blindly, chances are you'll land an ineffective solution. To prevent this from happening, you should consider the following factors:
Your business needs
First, evaluate your business needs thoroughly and come up with a list of key requirements. What functions are a priority for you right now? Your needs will determine the features you should go for. If all you need are a few functions, make sure they're all you are paying for.
Where possible, compute the project ROI of the ideal solution. Based on the functions you want to automate, work out the number of hours the software will save you. Then, take into account the pricing of the solution, to see if and when it'll pay for itself several times over.
Compatibility
Recording keeping is one of the many aspects of accounting and business processes. As such, you should check if the bookkeeping solution can work seamlessly with the underlying software stack. For example, the platform should enable data sharing with inventory control, timesheet, payroll, and POS applications. Moreover, it should accept data from receipt scanners and bank accounts without a hassle.
Scalability
Does the solution allow you to start small and add more functions as called for by business growth? Reliable bookkeeping software should support your current and most pressing needs, and allow room for growth. You should be able to add other functions, such as ecommerce, payroll, and inventory in the future when your business is finally off the ground.
Security
Moreover, the solution needs to be secure and trustworthy. Remember, the financial industry operates within the rigid confines of the General Data Protection Regulation (GDPR) and other industry-specific data rules, such as the PCI DSS.
Flouting these data security regulations attracts serious ramifications, including hefty fines. Data security takes precedence if the solution is to be made available through the internet.
Your bookkeeping solution should help adhere to all the data security regulations. It should securely store the financial records and protect consumer data for the long haul. A secure system provides features, such as data encryption, support for revolving passwords, and role-based login authentication.
Support
Lastly, check the level of support offered by the vendor. What is their availability? Can you get support when things go haywire and operations grind to a halt? Also, do you pay an extra amount for ongoing support, besides the normal fee?
Latest Bookkeeping Software Trends
Bookkeeping is developing at a pace impelled by a combination of regulatory change and tech development. And, to remain relevant, you must keep your eyes peeled for key industry trends. Here are some of the trends driving the bookkeeping arena:
AI continues to dominate: There is no doubt, technology has transformed the accounting industry with the birth of many add-ons and applications. One technology that's not done with the industry yet is AI. Together with machine learning, AI has ushered in a new era of automation. Today, tasks like invoice capture, data entry, and bank reconciliation are now a breeze. The two technologies have enhanced data accuracy while drastically reducing the workload. As a result, bookkeepers and accountants alike have spare time to handle other critical tasks.
Bookkeeping is shifting towards planning and advisory: Because of technological evolution and automation that comes with it, bookkeeper's roles are rapidly changing. Bookkeepers have evolved from being data processors and record keepers into virtual CFOs and business advisors. These days, bookkeepers spend their time analyzing data to surface insights that lead to better accounting.
Potential Issues with Bookkeeping Software
Here are some of the potential issues with bookkeeping software:
Solutions that are not scalable: When looking for bookkeeping software, make sure it's built for scalability. The platform should allow you to choose basic capability, with an option to add more functions as your business grows. That being said, the basic functionality, navigation, and user screens should be available, regardless of which plan you go for.
Systems that lack flexibility: This calls back to the previous issue. Some solutions may feature rigid designs that bar you from implementing your business specifications and rules. Steer clear of such solutions as you'll be forced to replace them when your business begins to expand.
Reliance on computer capability: Another problem of automated bookkeeping solutions is their dependence on our device's capability. In other words, your organization's devices must be up and running for the system to work optimally. In case of downtime or scheduled device maintenance, you'll have to hold up operations and processing of money-related data from suppliers, clients, or representatives.
Pick the Right Solution For Your Business
There you have it, a detailed guide to enlighten you about bookkeeping software. By now, you have all the bookkeeping software information at hand, from the feature to look for to its benefits and potential pitfalls. You also know the factors to consider when buying a solution that can streamline the recording of financial transactions.
We left no stone unturned on this matter, all in a bid to impart knowledge that leads to an informed buying decision. The onus is on you now to dive into the flooded market and grab the perfect solution for your business. Hopefully, the information we've disclosed will help you find the right solution to sidestep the potential ramifications of inaccurate bookkeeping.