Two heads are better than one, so the saying goes. By bringing together competitive individuals to work on a single project, you can gain ideas that you probably wouldn't have come up with on your own. What's more, by dividing tasks among the members of a team, you can lighten the workload for each employee. The only problem is that this kind of setup if left unchecked, can quickly turn into chaos.
For starters, there's always the risk of miscommunication when there are too many people working on one project. Updates about tasks can easily fall through the cracks, mistakes can be made because of unclear instructions, and delays can occur because there's no concrete timeline to follow. This is where collaboration software comes in handy.
These tools allow you to map out your project timeframe, streamline your workflows, and ensure that everyone has the information they need to perform their respective assignments. Moreover, these tools can be used as a communication system so that everyone is in the loop at all times.
In this article, we will discuss everything you need to know about collaboration software, from its features to the leading tools on the market. We also listed down some factors to consider when choosing a collaboration system, as well as the latest trends in the industry. In this way, you can have a better idea of the role that this technology can play in your organization and how you can make the most out of it.
What is Collaboration Software?
Collaboration software is a platform that enables team members to connect and work on projects from different locations and devices. The solution makes it easy for multiple users or distributed teams to communicate, solve problems, share project files, and brainstorm, any time and anywhere, to achieve project goals.
Collaboration software, also known as groupware or collaborative software, comes in handy in the fast-paced business world. It helps organizations pull a wide range of skills and expertise together to keep up with the agile world. Most importantly, it makes it a breeze to fill in the knowledge gap with the unique skills of remote workers and freelancers.
List of Best Collaboration Software
The Purpose of Collaboration Software
The purpose of collaboration software is to foster innovation, improve performance, and enhance the productivity of teams. Whether your teams are stationed in a local office or distributed all over the world, the platform makes it easy to create, assign, and coordinate tasks. Besides, it enables project managers to enforce workflows and ensure everyone remains in the loop.
Put simply, collaboration software enables teams to communicate more efficiently, save time, cut down costs, coordinate with remote workers, and increase productivity.
Generally, the project manager creates a workplace where team members can access, view, and make changes to the assigned task. Whenever a modification is made on a task by a team member, the changes are synced in real-time, and other members receive notifications for the same. This way, everyone remains on the same page, and projects are kept on the course for successful delivery.
As you may notice, collaboration technologies manifest in two broad dimensions:
Location
This technology is further broken down into collocated or non-collocated.
Collocated. Also known as face-to-face technology, it is built for users that work together in one place.
Noncollocated or distanced. As the name suggests, this technology is designed for users who work from various locations.
Time
Besides, collaboration systems can be either real-time or asynchronous:
Real-time or synchronous. The technology focuses on teams that do tasks together at the same time.
Asynchronous. Unlike real-time technology, asynchronous is designed for teams that collaborate on projects at different times.
Benefits of Collaboration Software
By now, you know what a collaboration software solution is and its purpose. It's quite possible that, now, you want to see how this piece of software can help your business reach its ultimate goal. The good news is that collaboration software brings a host of quantifiable benefits to your business.  Here are some of the notable benefits:
Saves time
In the business landscape, time equals money. As such, the more time you save, the more money you save, and the better it is for your profitability. So how does the collaboration software save time?
All you need to know is that project inefficiency wastes time. A collaboration tool provides features for planning, organizing, and controlling projects. Besides, the system organizes team discussion into channels and enables easy navigation through files and documents.
This way, the platform enhances collaboration among teams and empower employees to reach the ultimate goal with speed and efficiency. Teams that work collaboratively to achieve a common goal help eliminate dissimilar and uncoordinated work, thus, saving time, resources, and effort.
Enhance project management
Managing a single project has its challenges, but it can also be enjoyable. However, when you have multiple projects, remote workers, and dispersed teams to manage, things can easily go south. Besides, allocating resources, managing tasks, and tracking progress can be a daunting task. This is where collaboration software comes in.
The tool makes it easy to schedule projects, develop team structure, manage and motivate employees, and coordinate all project activities in one interface. It streamlines communication, allowing the manager to share ideas with clarity so that everyone is on the same page. Moreover, collaboration helps track projects through each stage to eliminate gridlocks that lead to project delays.
Strengthen team relationships
We cannot emphasize enough the role collaboration software plays in maintaining a close-knit team. As mentioned earlier, the solution makes it easy to create a collaborative workspace where teams work together to complete tasks and deliver successful projects.
Working together inspires team members to be confident and comfortable with one another. It helps strengthen team relationships and build one that is highly motivated to achieve a common objective.
Improve organization
You already know that tracking project activities, especially where various projects are involved, is a steep mountain to climb. Whether you are working with a small or big team, if you are not organized, things will quickly get out of control and leave your projects on the brink of collapse.
Luckily, collaboration tools bring order to project tasks and team management. They help you manage the stages in the project workflow, keeping you in the know of who is doing what and when. This way, you remain on top of all activities and are well-aware of the status of each project.
Types of Collaboration Software
Generally, collaboration software systems are designed to simplify a particular element of teamwork. While the tools share some bold similarities, they also vary widely in terms of their functionalities. That being said, these are the three main types of collaboration software:
Communication software
Communication software simplifies teams and business communication. They provide robust chat and messaging, audio and video conferencing, and discussion threads tools to help teams communicate with ease. Conferencing tools enable remote employees to communicate in real-time.
Additionally, communication solutions come with file-sharing capabilities, which, according to research, is the most sought-after collaboration tool. Overall, communication software expedites problem resolution, save time, and enable dispersed teams to connect better.
Example: Slack
Task management tool
These are collaboration software solutions that enable teams to prioritize and track tasks. They provide features such as boards, task assignments, planning, scheduling, task prioritization, and file management. These features work in unison to make collaboration more effective and transparent.
Example: Asana, Wrike, Trello
Coordination software
This inarguably, is the most holistic collaboration software designed to simplify end-to-end workflow management. The solutions provide tools to foster better teamwork and task management. Besides allowing team members to connect on a personal level, they make it easy to coordinate tasks and activities. Put simply, coordination software tools simplify end-to-end workflow management.
Example: Asana and monday.com
Features of Collaboration Software
Collaboration software systems are, without a doubt, indispensable tools for successful workplaces. As you have seen, these tools provide multiple benefits and contribute immensely towards business progress and success. They help overcome impediments like poor planning, inadequate tracking, and ineffective communication.
However, to reap all the prior-mentioned benefits, you've to use a highly effective solution. This means the collaboration software should have all the right features. Here are the features you want in a collaboration software to be sure it will deliver the desired results.
Communication system
Poor communication is a major contributor to project failure. In other words, if teams are not communicating effectively, multiple problems will emerge, especially during the execution phase. Because of this, you must ensure your ideal software has a robust communication system.
Ideally, the solution should facilitate the three key areas of project communication, namely, internal information exchange, information management, and project marketing. The platform needs to have tools like instant messaging, email, voice conferencing, and video conferencing. Moreover, it should provide tools that enable teams to retrieve and review discussions and communication.
File sharing
Like communication, file sharing is indispensable for successful project management. Teams share documents, data, files, and other forms of digital media to keep the project on track. Because of this, a collaboration tool should feature a robust document management system to aid sharing, viewing, and retrieving of project files.
Content creation
The content creation capability is important if you have an internal project marketing team. With technological advancement, you can easily find all-in-one collaboration software that offers content creation tools. These tools streamline inbound marketing activities and enable teams to create and publish content for internal and external audiences. The tools come in handy, especially if you intend to establish your online presence and create blogs to "sell" your projects to the masses.
Powerful search
Teams exchange volumes of files and documents during the course of each project. Often, you will be required to find old files, conversations, or blog posts. If you are managing one project, finding files can be a walk in the park. However, when managing various projects, finding a single file can be a tedious and time-consuming task.
The collaboration software should provide a robust search feature to help you find files with speed and ease. Features such as search filters and tags are not nice-to-haves; they are essential to project management.
Personal and group calendars
Lastly, you need calendars to keep track of meetings, task schedules, and other important events that demand your attention but are easy to forget. Good collaboration software will provide a group calendar feature to help keep members in the loop. Besides, it will offer a personal calendar to help project managers keep track of all important activities.
Factors to Consider When Buying Collaboration Software
Online collaboration software enables teams to work together in complete unison, thus, enhancing collaboration. As you know, collaboration gives an organization the impetus it needs to reach optimal productivity. From this, we can deduce that picking and implementing a collaboration solution is a critical business decision.
Your choice of software can have a compelling impact on business results. For this reason, you have to weigh your options based on a predetermined set of factors and requirements. Some of the factors to keep in mind when picking a collaboration software include:
Needs
With technology offering an overabundance of options, the market is awash with collaboration software that can spruce up your project management. But even so, the solutions are designed with different users in mind.
For this reason, you have to weigh your specific business needs to find the perfect solution. Find answers to the following questions:
How does the software solve existing problems?
Does it fit into the existing IT infrastructure, and how does it work?
How is the software deployed? Is it cloud-based or on-premise?
Is the solution secure enough?
Features
What features matter most? The answer to this question will depend on your needs profile. Why do you want to install a collaboration software? For small teams, a set of basic features such as chat, Instant Messaging, and conferencing tools might effectively boost productivity.
On the other hand, teams working on complex projects may need advanced features to get things done. All in all, the features, basic or advanced, should be easy to use but robust enough to serve the purpose.
Fortunately, most vendors offer free trials to give you a firsthand experience on how effective and responsive features are. You can also mine additional information online from authentic customer feedback and comments. Moreover, find some credible sites and read reviews by industry experts.
Cost
There is no doubt, the cost of implementing a collaboration tool is a major consideration. How much are you willing to spend? Keep in mind that the cost entails things like subscription, setup and maintenance, and hardware upgrade fees. The total cost shouldn't exceed your budget. Therefore, examine the long-term value of the product and make sure, all factors considered, that the investment is justifiable.
Scalability
A simple collaboration tool may be effective today, but will it sustain the same level of efficiency in five months? Generally, every business harbors the potential to expand, and yours is no exception. Because of this, you have to look ahead and prepare for the time when your business grows.
Does the solution give you the capacity to handle increased tasks, data loads, and employees? Put simply, are the solutions scalable? A scalable collaboration tool will futureproof your business and prepare you for long-term growth and challenges.
Support
Lastly, tech-based systems don't guarantee smooth sailing. Technical hitches can surface right from the start. Some problems will be easy to solve on your own, but others might be difficult to comprehend and solve. You need the vendor to lend a hand when system issues arise.
Ideally, the vendor should provide tutorials, training, and knowledge center. In this way, it will be easy to install the solution and resolve minor issues on your own. Besides, the technical support staff should be easy to reach when you need help. Most importantly, check to see if the vendor offers regular system updates and improvements.
The Cost of Collaboration Software
Like every other piece of software, the price of collaboration software varies widely from vendor to vendor. The price is usually based on the features set and the number of collaborators or the size of the team. Other factors that impact pricing include customization, integration, and branding options.
Here are the pricing plans of top five collaboration software
Asana
Basic – Free for small teams with less than 15 members
Premium – $10.99/user/month (billed annually) or $13.49/user/month (billed monthly)
Business – $24.99/user/month (billed annually) or $30.49/user/month (billed monthly)
Enterprise – by quote
Zoho Projects
Basic – Free for 5 users
Standard – $150/year or $18/month (billed monthly)
Express -$480/year or $50/month (billed monthly)
Premium – $1020/year or $100/month (billed monthly)
Enterprise – $1500/year or $150/month (billed monthly)
Slack
Standard – $6.67/user/month (billed annually) or $8/user/month (billed monthly)
Plus -$12.50/user/month (billed annually) or $15/user/month (billed monthly)
Enterprise Grid – By quote
Trello 
Basic – Free forever for small teams
Business Class – $9.99/user/month (billed annually) or $12.50/user/month (billed monthly)
Enterprise – $20.83/user/month (Price decrease with the increasing number of users)
Podio
Free – free for 5 employees
Basic – $7.20/user/month (billed annually) or $9/user/month (billed monthly)
Plus – $11.20/user/month (billed annually) or $14/user/month (billed monthly)
Premium – $19.20/user/month (billed annually) or $24/user/month (billed monthly)
Potential Issues With Collaboration Software
Collaboration software offer multiple benefits: flexible work environment, boost productivity, increased speed, and efficiency, and the list goes on and on. However, behind the facade of these benefits lie some drawbacks that you should be aware of. The potential issues to keep in mind include:
Pricey Subscription Plans
This is the first hurdle you'll deal with when acquiring a collaboration software for your company. This is because collaboration solutions don't come cheap, especially for teams in midsized and large organizations.
The subscription cost alone is a considerable investment. Factor in the setup fee, maintenance costs, and cost of upgrading hardware, you'll have to reserve a significant budget for this system. Luckily, collaboration software vendors offer varying pricing options, and it's easy to find one that suits your budget and specific needs.
Cybersecurity Issues
In the wake of rampant cyberattacks, can we be confident that data is 100% secure? I bet not. This is because hackers are constantly sniffing around looking to exploit the vulnerabilities of your system to get access to data.
Presumably, your collaboration suite won't hold sensitive data. In this case, then, the basic security features should be enough to keep your project files and documents safe.
However, if you want stringent security measures, feel free to consult the product vendor. Alternatively, talk to a third-party data security service provider to create advanced permissions, authentications, and other security protocols.
Latest Collaboration Software Trends
Like other tech-based solutions, the collaboration software landscape is not immune to the wave of technological changes. Lately, the digital transformation of this space has been on top gear, thanks to globalization and the growth of remote working. Collaboration technology continues to evolve, and the following trends provide a hint of the direction it's taking.
AI bots in collaboration
AI chatbots are not entirely new. These revolutionary tools streamline messaging and live chat. Recently, this innovation has been finding a home in the collaboration software suite. Collaborative bots automate and streamline tasks and help teams get serious work done more effectively.
Slack, one of the leading collaboration software, allows you to install third-party bots to help remote workers and facilitate team bonding. For example, you can add the Icebreakers bot to your Slack workspace. This bot enables team members to share fun facts. In doing so, members get to know each other and strengthen the bond between them.
Other notable collaboration bots include Disco, Allie, Himblebot, and Paperbot. The emergence of innovative bots is a testament to how far this space has come. We expect innovators to develop more and more collaborative bots that will simplify collaboration.
Growth of visual collaboration tools
According to multiple studies, humans retain visual content longer than spoken or written information. It's not a surprise, then, that the use of visual collaboration tools to enhance productivity is gathering steam.
Traditionally, dispersed project teams had to use multiple platforms and channels to communicate. This made for a lengthy and timeconsuming process, which not only allowed discussion threads to get lost but also created information silos. Overall, stakeholders were unable to collaborate effectively, a situation that put projects in shambles.
Today, with innovative collaboration tools, information silos have been broken, and communication has become easier. Even better, the emergence of visual collaboration tools has further improved the previously complex process. Take the Instapage Collaboration Solution, for example.
Content marketers can now use this tool to create optimized post-click landing pages. The platform enables collaborators to communicate via a single, visually impressive tool. This way, they don't have to share screenshots and exchange messages via different apps like Slack and Asana. Everything happens in real-time on a single, visual collaboration interface.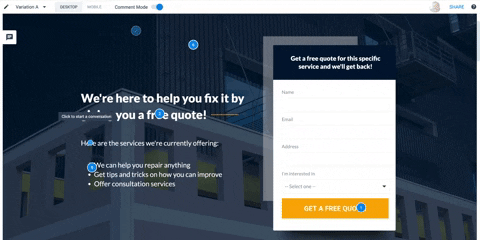 Handling big data
They say data never sleeps, and here is why: every day, we churn out 2.5 quintillion bytes of data. With this colossal amount of data, you need no further explanation to understand that every aspect of our digital world is driven by data. The collaboration and project management space is no exception.
The rate at which we're generating data call for speed and large storage spaces. Luckily, the strides made in cloud computing have made it easy for collaboration tools to provide the space we need to store data.
But even so, there is a need for these solutions to streamline data collaboration, which is becoming imperative by the day. Moreover, the platforms should evolve to offer the speed and analytics capability needed to consume extensive data.
Virtual reality in collaboration
When virtual reality (VR) first came out, its use was only technology for video games. Today, with technological advancement, VR has found its way into enterprise applications. More specifically, VR is the latest technology to enter the collaboration software landscape.
For example, AltspaceVR has developed a VR headset that brings immersive experiences to the boardroom. The headset masters the human body language and then replace them with avatars. This way, it makes it easy for remote users to interact more closely, which is critical for collaboration.