The collaboration software industry is ballooning in unprecedented proportions. Experts predict that it will be worth $13.58 billion dollars by 2023. This is in line with the high demand for remote work tools as the world slowly adjusts to the new normal during and after the COVID-19 pandemic.
The world may pause but businesses will never stop. Despite the pandemic, daily operational tasks still need to get done; daily operational goals still need to be met. Daily calls and important business decisions still need to be made every single day; it is business as usual. Hence, software solutions that allow for seamless remote collaborations, webinars, and communications are highly sought after.
Two remote work tools that continuously create a buzz in the tech industry are Zoom and Workplace by Facebook. This Zoom vs Workplace by Facebook comparison will endeavor to differentiate the two in order to help users in determining which software best suits their remote business needs.
What do users say about Zoom and Workplace by Facebook?
Zoom is redefining and transforming a whole new generation of users. Similar to Facebook that developed Workplace, Zoom is slowly becoming a cultural icon. Users of both Zoom and Workplace by Facebook are fully aware of the benefits that the two software provides.
Zoom users prefer how the app makes it seamless for everyone to have an online meeting at any given time. On the other hand, Workplace by Facebook users appreciate how the app makes it easy to follow-up on the status of tasks and projects. Check our software ranking for an in-depth overview of collaboration software currently available in the market.
About Zoom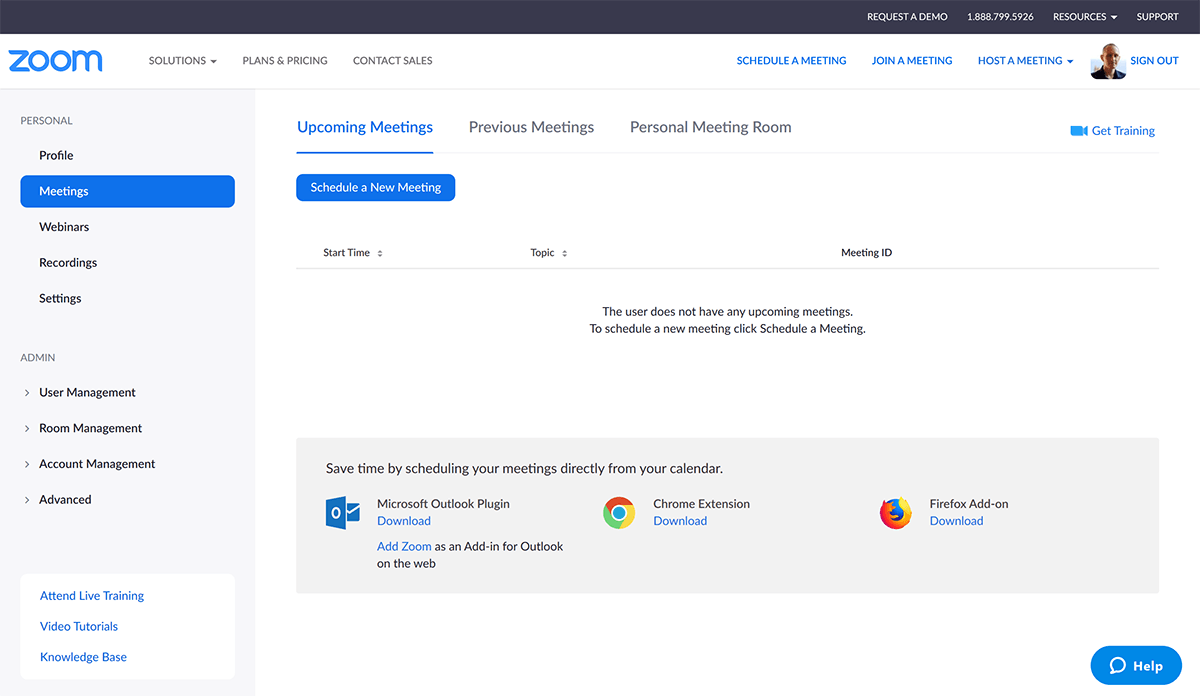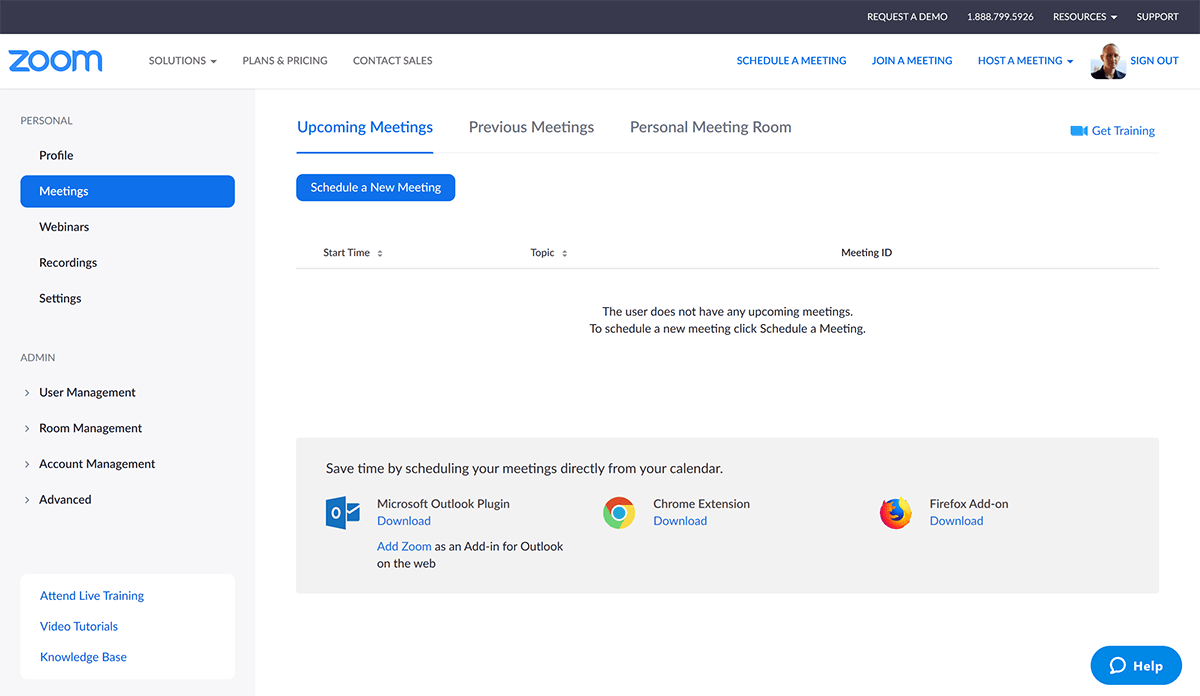 Zoom is a popular video conferencing software that has become culturally relevant in ways that no one, not even its developer, expected. It has become such an icon when it comes to remote work that memes of it even exist. This is mainly because it has been the primary choice of people when it comes to holding online meetings and conferences.
The demand for video conferencing software skyrocketed when the pandemic hit and Zoom was the first choice for most because it has a forever free version that offers enterprise-grade tools.
Zoom has been in the business of providing video conferencing tools and features since 2011. Its founder developed it to make telecommuting, teleconferencing, social relations, and social relations seamless despite distance through digital technologies. It is a top remote work tool as it allows for instant online meetings in such a hassle-free and direct manner.
Pro – It has a forever free version.

Con – Has buggy security issues.
About Workplace by Facebook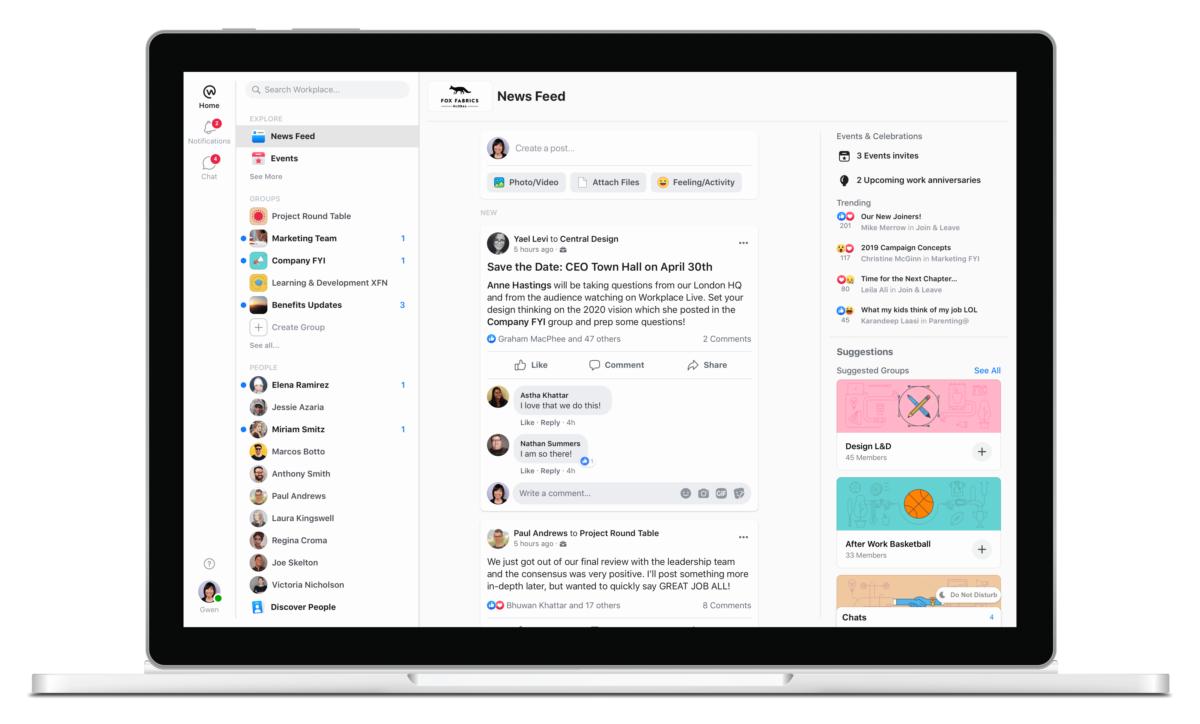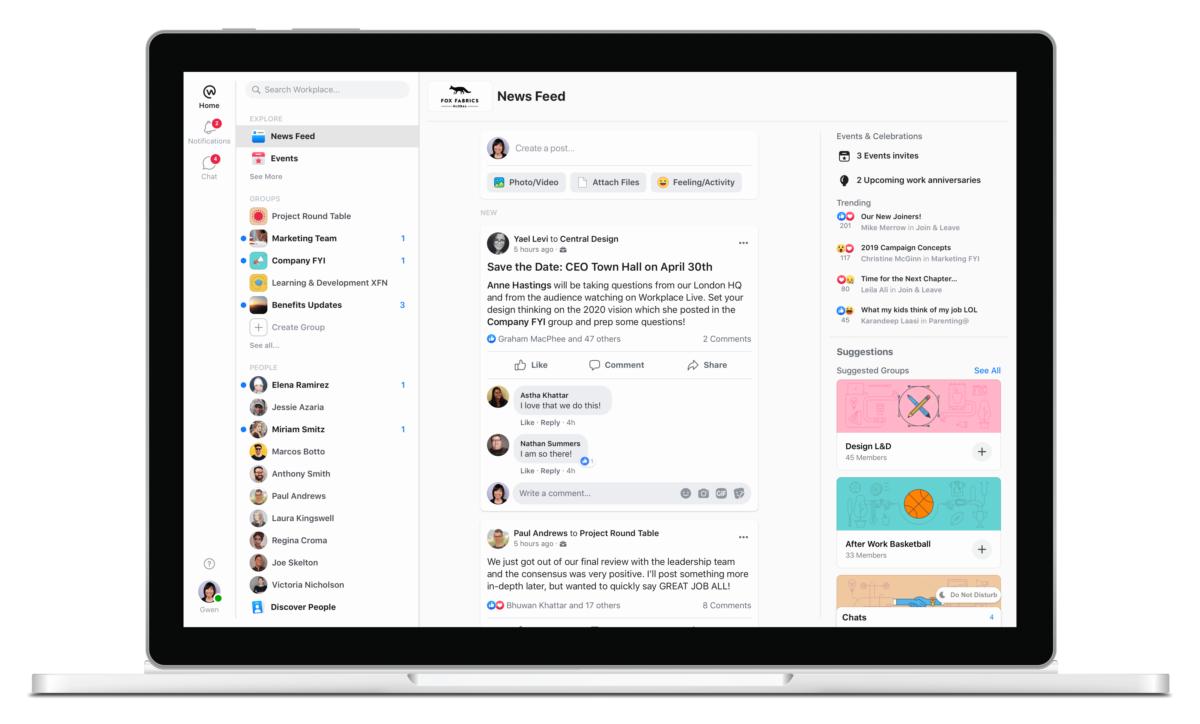 Workplace by Facebook is a collaboration software released in 2015. Facebook released it as a robust tool to centralize all business concerns and needs in just one dynamic hub. Workplace by Facebook is basically like Facebook, but for business. Facebook realized that it has been successful in bringing forth people and communities to life in the digital landscape and it went all-out when it opted to apply such a mechanism to the workplace as well.
Workplace by Facebook is so simple, in that there are no complex tools and features. Similar to Facebook, it comes with a Newsfeed with each user having their own timeline. Its edge comes in the fluid connection and centralized information dissemination to all team players.
That said, Workplace by Facebook is separate from the Facebook social media platform. A Facebook profile does not automatically translate to a Workplace by Facebook profile. Workplace by Facebook requires a new and separate account where all business and contact info are easily accessible to all members. Apart from being a collaboration software, Workplace from Facebook is also an efficient project management software.
Pro – Its familiar UI makes it user-friendly and easily explorable.

Con – Controversial data and privacy policies.
Points of Comparison
Users need to consider the following factors when it comes to comparing Zoom and Workplace by Facebook: pricing, collaboration tools, ease of communication, security, and integrations. This Zoom vs Workplace by Facebook comparison will guide readers through each essential point of comparison.
1. Pricing
In every successful endeavor, consistency is key. In choosing between the two, you need to consider the overhead cost that you'd be willing and actually capable to take on. Premium Zoom and Workplace by Facebook tools and features come for a fee. You need to do an honest inventory of your financial capabilities before committing to a software service. Your choice must be sound and viable enough to be maintained for at least three years.
Zoom offers four pricing plans: Basic, Pro, Business, and Enterprise. Basic is Zoom's forever free version while Pro is its most affordable plan that goes for $14.99 per month per host. Zoom's Business and Enterprise plans both go for $19.99 per month per host.
Workplace by Facebook offers a direct pricing matrix. Its Premium plan is its forever free version while its Advanced plan goes for $4 per active user per month. The more team players or employees you have, the higher your monthly fees would be.
If you have 20 employees and you'd opt for Workplace by Facebook, your monthly subscription fee would total to $80 per month. This makes Zoom better because its forever free version can take on as much as 100 participants at absolutely no cost. But this will only be a point of discussion if you run a big team.
2. Collaboration Tools
Collaboration tools are essential remote software features because they allow for seamless and effortless business continuity despite physical limits. The ability for easy access to task updates and real-time sharing of files and information can make or break any business endeavor.
Do you know the scope of necessity and demand for collaboration in your business? If you need in-depth collaboration tools, Workplace by Facebook is the better option for you.
Workplace by Facebook is the better app when it comes to collaboration because it is developed with an end-goal of centralizing access and connection to all important data across all team players in one singular hub. As it pretty much works just like Facebook, information dissemination, file-sharing, and event organizing can be done in just a few clicks. Just like Facebook, the platform enables easy searching. Users can just search for a topic or project title and all relevant information will conveniently be enlisted with proper time stamps and revision notices.
Zoom can also be used for collaboration but it can only efficiently work on the communication aspect. At the same time, it allows for advanced collaboration as it has tools for screen sharing and scheduling. However, tools for task updates and intensive project monitoring are not available.
3. Ease of Communication
Remote work requires open communication lines anytime. How big is your team? Do you need to be in touch with more than 50 people on a daily basis? Do you prefer video calls over chatting? If you have complex needs for collaborative communication tools, Zoom is better for you.
There are many options when it comes to different communication needs. For an overview of your options, do check this article for our guide on the solutions and tools for remote work communication.
Meanwhile, Workplace by Facebook allows for flexible communication options. Users can participate in a one-on-one chat, audio call, and video call. Group chats are also available and video calls with multiple participants can take on as much as 50 individuals. This makes it a good option for users with small teams.
Zoom is best for users with enterprise-grade needs when it comes to communications. The platform can take on as much as 1,000 participants in one video call. Tools for chatting and high-quality video calls are also present. Ease of use and convenience make Zoom the better communication tool because users need not register or create an account. Access to a link is just what a person needs to join a Zoom meeting and begin connecting with other users. No prior profile set-up and group membership are required. Workplace by Facebook only allows communication between users who are already part of the team with ready and registered profiles. You can also check out this article if you're looking for webinar tools.
4. Security
Collaboration requires a continuous inflow of user data and information. How much information do you share with your team? What protocols do you prefer when it comes to privacy.
Both Zoom and Workplace by Facebook have been on the receiving end of bad press when it comes to security. Free Zoom users complain of online meetings with weak firewalls that they become easily accessible to non-participants. Workplace by Facebook is owned by Facebook who has been battling cases and controversies involving user data.
Zoom is ultimately the better option when it comes to security as it has released software updates that make for highly-secured communication and file-sharing between Zoom participants. Workplace by Facebook claims to have strict privacy controls but its developer is still facing numerous cases and scandals involving the utilization and alleged profiting from user information. For solid security needs, third-party apps can be integrated.
5. Integrations
Collaboration tools become more streamlined and holistic when easy integration with third-party apps is possible. Do you know your particular needs when it comes to integrations? Do you have specific third-party apps that you need in your daily operations?
Both apps have built-in integrations with numerous third-party apps. Users with limited integration needs will find that both apps will perfectly suffice. However, users with complex needs for integration should opt for Zoom. Not only does Zoom has more built-in third-party apps integrations, but it also has an open API. Zoom's open API will make it possible for users to work with an unlimited number of apps.
What is the best collaboration software for you?
This Zoom vs Workplace by Facebook comparison article will work for you if you're going to take note of the following points:
Zoom is a video conferencing software best for users with complex and enterprise-grade communication needs.
Workplace by Facebook is a collaboration software best for users with in-depth needs for project monitoring and management.
Both apps offer a forever free version so feel free to explore both platforms to come up with the best collaboration software for your business needs. You can even choose to use both.