Nowadays, a quick search online can give you all the answers and information you need. A stable Internet connection can help you stream TV shows or even upload your content. The Internet is a place you always go back to, but unfortunately, it also offers countless dangers and threats. From a virus to malware, the Internet can not only invade your privacy but also steal your information.
This reality of the attacks has become more palpable in the past couple of years, and it only serves to emphasize that you need something to protect from such threats. Beyond backing up your data should an attack happen as per our article, addressing the grim reality also involves an antivirus platform.
While there are countless free programs out there, achieving an excellent level of security comes with a price. This article will be discussing two of the best antivirus programs out there: Norton Security and Malwarebytes. Through this Norton Security vs Malwarebytes comparison, you'll find out what kind of investment you can choose.
Norton Security vs Malwarebytes: Overview
Whether in terms of features or usability, both Norton Security and Malwarebytes are equipped with both benefits and disadvantages. Norton edges out Malwarebytes in areas like a wealth of features as well as protection and performance. Malwarebytes makes up for it by ensuring usability, price, and the satisfaction you gain by using it.
Norton Security offers flexibility when it comes to platform options. But Malwarebytes requires a small investment for customer support that won't fail you when you need it. The in-depth Norton Security vs Malwarebytes comparison will discuss these differences more.
Norton Security vs Malwarebytes: Functionalities and Capabilities
The first category you'll need to look at when you're trying to find an antivirus program is its features. No program is perfect but there is an option out there that can meet your needs. Norton Security's flexibility makes itself flexible when the topic is about features. Here are the various options that are available to you:
Norton AntiVirus Plus
Norton 360 Standard
Norton 360 Deluxe
Norton 360 Deluxe with LifeLock Select
Malwarebytes, though slightly lacking in flexibility compared to Norton Security, does offer three choices:
Malwarebytes Free
Malwarebytes Premium for You
Malwarebytes Premium from Home
Norton Security Features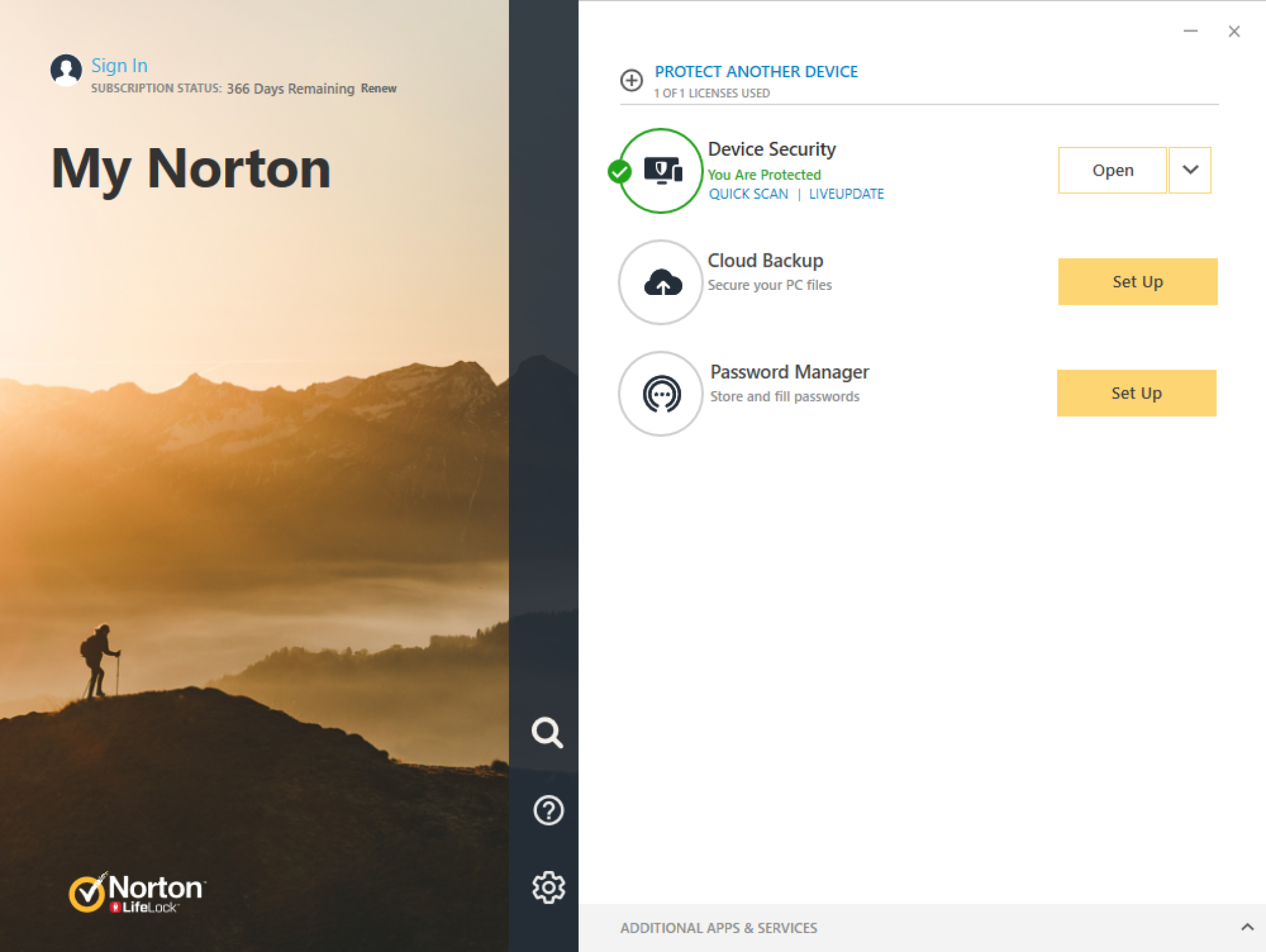 Norton's AntiVirus Plus package offers you the ability to purchase one license for every feature you subscribe to. This package includes a smart firewall, a password protector, and a password manager. For most people, these features are more than enough if you're only starting to discover the benefits of malware protection and online security.
Meanwhile, the Norton 360 Standard adds the abilities you can find in some of the top VPN software like identity and webcam protection. These features allow you to stop worrying about the fact that someone may find out where you live by tracking your IP address or that someone can use your webcam to take a look at your face. Moreover, it also offers you the ability to store information on a 10GB cloud.
Should you choose to go for the Norton 360 Deluxe the storage capacity increases from 10GB to 50GB. Furthermore, the 360 Deluxe offers 5 licenses instead of one, and you can use these to install Norton Security on your PC, Mac, or phone. If you're in charge of a small team or are looking for a solution for your family, then this package is the one to get.
The final package that Norton offers is the 360 Deluxe with LifeLock Select. It's equipped with the features discussed above alongside the ability to track dark web activity, manage and monitor your credit, finance protector, and an alert and alarm system.
Malwarebytes Features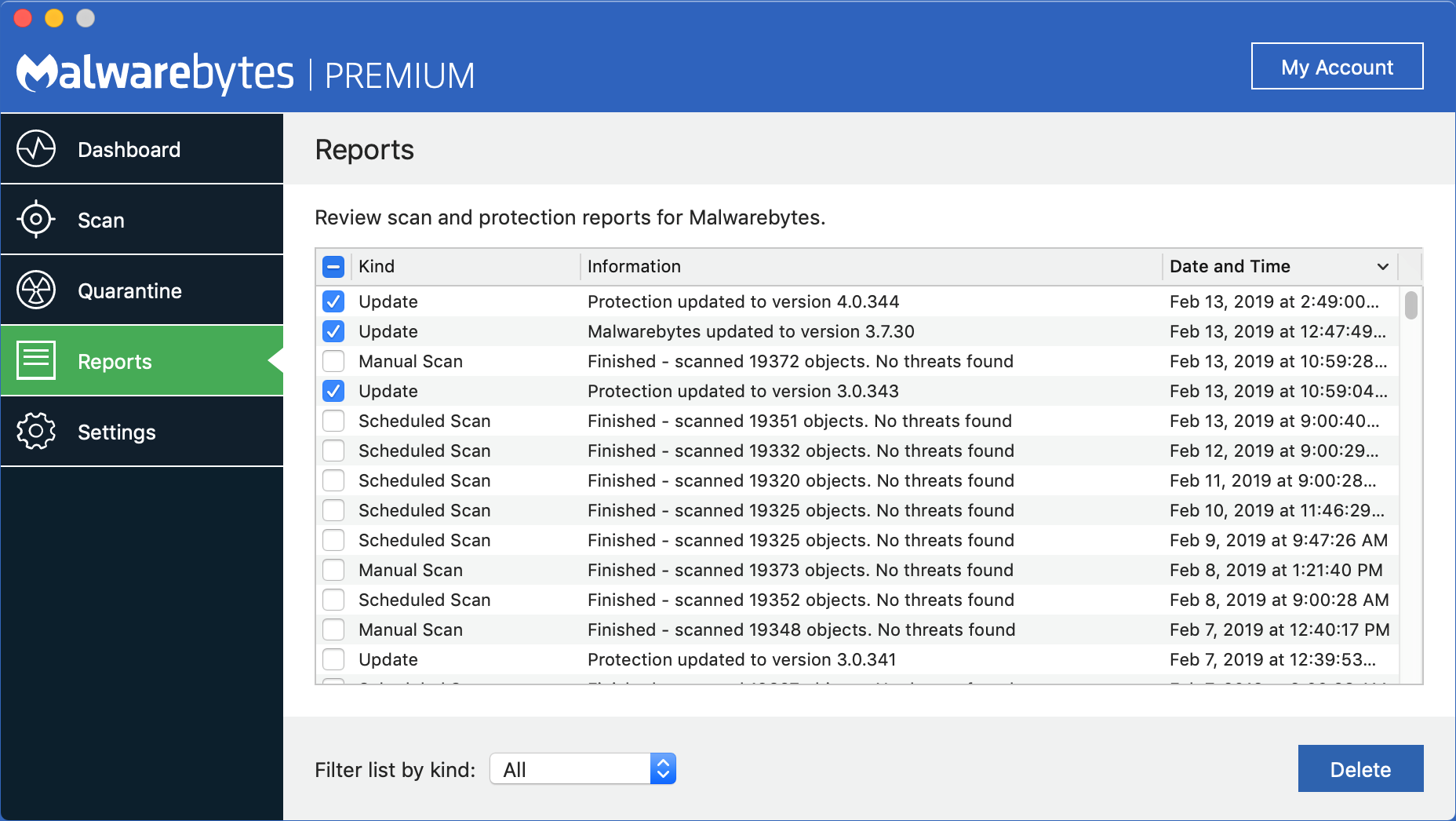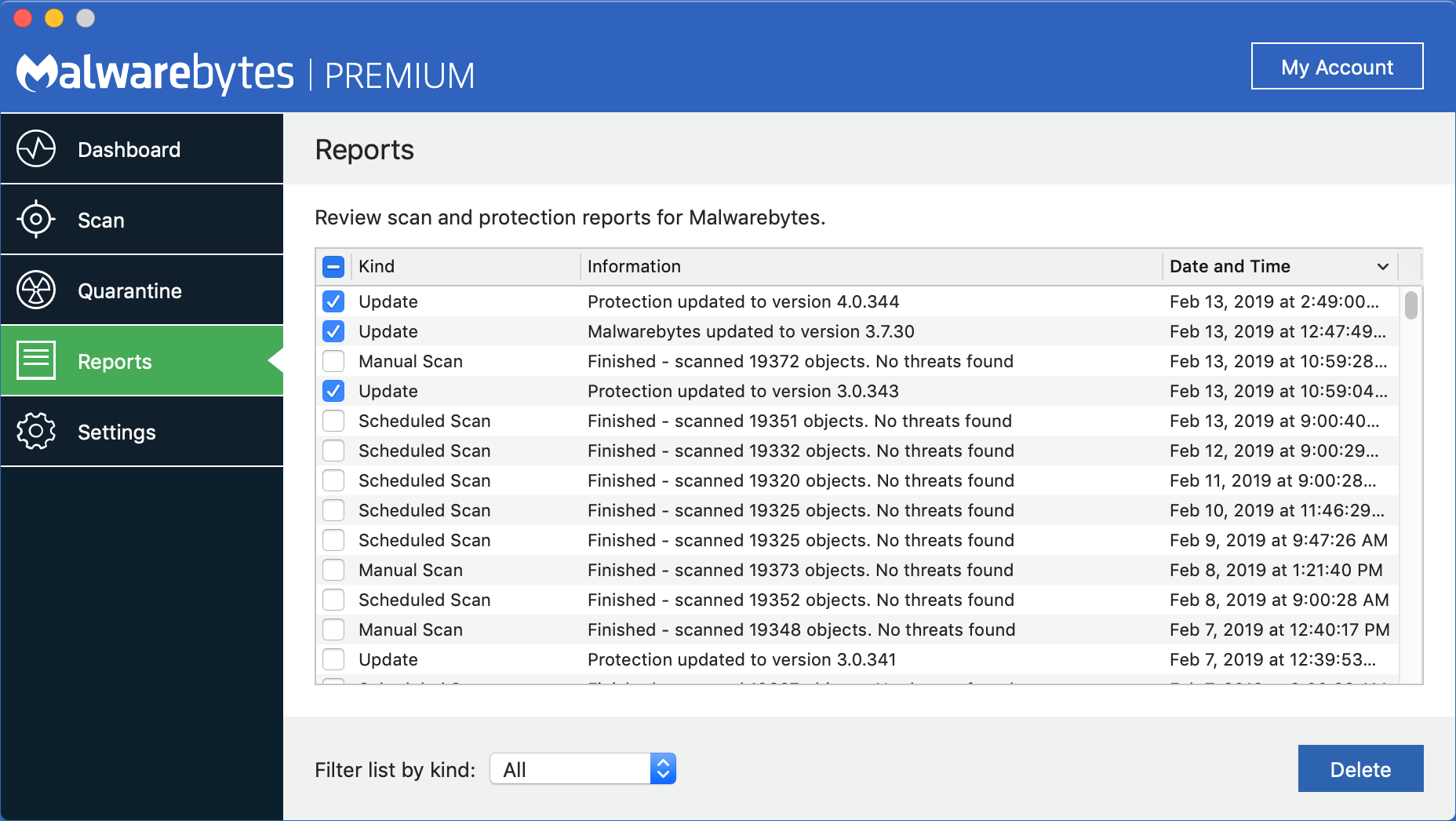 While Norton Security evidently offers a long list of features, Malwarebytes makes up for its lack of a free offer. The Malwarebytes Free is equipped with a protective firewall that can erase spyware, ransomware, and malware that it detects on your computer. The problem is that it doesn't stop anything from entering and is thus at a disadvantage when it comes to external protection.
Malwarebytes Premium for You is where the company offers the protection and shielding that you can't find on the free version. You can schedule both general and specific scans. It is also equipped with device-specific features. Windows and Android users have access to a Malwarebytes web browser, which is significantly more protected than other browsers. Android and Chromebook users can take advantage of app-based scrutiny, which prevents you from downloading apps that contain malware.
Families can benefit from Malwarebytes Premium for Home. This package is fundamentally the same as the Premium for You package but it does offer 10 licenses. Compared to Norton Security's maximum of 5 licenses, Malwarebytes Premium for Home may be a more cost-effective choice for big families or members who have multiple devices.
For a business-specific solution, the Malwarebytes for Teams is a good package as you can choose to include the company's Endpoint Protection and Endpoint Response.
Norton Security vs Malwarebytes: Protection and Performance
The features of your chosen antivirus program may not matter at all if the platform can't protect you from common and unknown malware or perform well enough to not sacrifice your device's performance. As such, the next part of the Norton Security vs Malwarebytes comparison is to look deeper into their respective protection and performance abilities.
Using unbiased tests conducted in 2018, it was found Norton Security scores perfectly when it comes to protection. On the other hand, Malwarebytes last participation in the same year indicates that it provides lesser protection. Furthermore, Malwarebytes did not participate in the 2019 evaluation. As a result, their 2018 scores may not be an accurate description of just how much protection Malwarebytes can offer you.
In terms of performance, Norton Security is significantly more reliable and dependable. This program's instant updates ensure that you are always equipped with the latest version, which prevents your Norton apps from slowing down your device. Meanwhile, Malwarebytes only slightly falls behind Norton, but it does offer regular updates though less frequent than its competitor.
Given the results of the protection and performance test, Norton Security is the clear winner. However, Malwarebytes does offer a free package and this might help evaluate the level of protection and performance that it now offers.
Norton Security vs Malwarebytes: User Experience
The Norton Security vs Malwarebytes comparison comes to a head with an in-depth look at user experience, which includes these programs' pricing, usability, and support.
Pricing
Noton Security's flexibility, protection, and performance come at a price. The details of each package are detailed below:
Norton AntiVirus Plus – $19.99/PC/year or $39.99/year for Mac or mobile device coverage
Norton 360 Standard – $49.99/year
Norton 360 Deluxe – $59.99/year
Norton 360 Deluxe with LifeLock Select – $99.99/year
On the other hand, Malwarebytes offers significantly cheaper pricing tiers:
Malwarebytes Free – Free
Malwarebytes Premium for You – $39.99/ universe license for all devices/year
Malwarebytes Premium from Home – $59.99/10 universe licenses/year
Considering the price tags for each package from either program, Malwarebytes edges out Norton Security. It's cheaper and more cost-effective especially when it comes to purchasing 10 universal licenses.
If you're looking for a business-specific solution, both Norton Security and Malwarebytes offer such a program. These are more complicated to price but it's based on how large your team or your company is.
Usability
User-friendliness is where Norton Security and Malwarebytes are levels with each other. Neither is better than the other, but both are well-equipped with a usable and informative dashboard.
For Norton Security, its UI immediately informs you about whether or not your computer or device is running smoothly, usually with the help of an easily discernible green checkmark. The dashboard also tells you when the last checkup and scan were and if there are updates that are available for download. Finally, you can use the desktop or mobile app to trigger various scanning and protection processes, making it easy and efficient for you to maintain your security.
Similar to Norton Security's user-friendliness, Malwarebytes also offers a whole lot of information with a single glance. The dashboard leads you to places like the update page, computer status, and scan history through horizontal tabs that are clearly labeled. One tab that is particularly useful is the Anti-Malware detector, which lets you pick a specific area of computer to scan. It provides increased confidence and fewer worries.
Support
Customer satisfaction and support are important because you need to have constant and reliable access to your program's developers. Without this connection, a technical issue could expose your devices to malware, spyware, and ransomware. Fortunately, both Norton Security and Malwarebytes offer excellent customer support.
Norton Security provides 24/7 chat, phone, and email customer support, which ensures that somebody can help you whenever you're having trouble with their platform. However, developers do lack continuity in that they take a long time to respond. This shortcoming may be attributed to the fact that they support significantly more customers than Malwarebytes does.
As was hinted above, Malwarebytes does win against Norton Security when it comes to customer support. Consumers have expressed that their availability and support are above average, which is more than what can be said about Norton Security. As such, if you're looking for good customer support above anything else, then Malwarebytes is the way to go.
While you can solve Norton Security's problems in customer experience by visiting our remote support software research, nothing quite wins against proper and effective in-house support.
In the end, protection is key
More often than not, you and others may rely on your devices' stock protection. However, it does mean that having no antivirus program means that the protection is only on a surface level, if at all. Whether you get Norton Security or Malwarebytes, both programs can protect not only your device but also your privacy and your identity.