With remote teams and gig workers redefining the workplace today, project management has become more complicated than ever. How do you keep a project on track to completion without resorting to time-consuming meetings and long email threads?
The answer lies in project management software. Project management tools improve transparency and encourage more efficient collaboration. Additionally, these systems can help project managers keep the entire team on the same page. Project goals can be easily defined, and everyone knows which tasks are assigned to them.
Despite the usefulness of project management platforms, adoption rates for the software remain low. Specifically, only 22% of companies use project management software. Interestingly, 66% of project managers say that they would use these tools more extensively with adequate support from their organization.
This is why we've prepared this guide on project management software. With it, we'll help you understand what these systems can do for your organization. Aside from discussing how these software work, we'll also list the top five project management tools and the latest project management trends to look forward to.
What is project management software?
Project management software is designed to help business owners and managers track a project's progress in terms of tasks and deliverables. Most systems designed for project management offer the same basic features–they allow you to create projects and define the tasks and subtasks for these projects.
Managers can set deadlines and priority levels for each task before these are assigned to the right workers. Moreover, the software serves as a central hub for project-related files and discussions. Users can easily upload relevant files and participate in in-context discussions about tasks and projects.
Aside from tracking project progress at the task level, project management tools provide managers with tools for scheduling, resource management, and budget management. Through calendar views, managers can see team members' schedules and workloads. More importantly, business owners and managers get access to data-driven reports and real-time dashboards on project progress and team performance.
List of Best Project Management Software
You'll have plenty of choices when it comes to project management software. These are the five most popular project management tools today:
Asana: Asana provides different views of your project – including timeline, list, and calendar – so you can easily visualize your work and divide projects into tasks and stages. This is a great choice for projects that have a lot of task dependencies, too. Asana's Premium plan starts at $9.99 per member per month.
Clarizen: Clarizen offers two project management solutions. Designed for large enterprises, Clarizen One provides features, such as enterprise-grade security and configurable workflow automation. On the other hand, Clarizen Go is more suited to small teams that need software for task management, multiple board views, and milestone tracking. Both solutions offer by-quote pricing.
Trello: Trello's strength lies in its simple, easy-to-use interface that lets you create boards and cards that correspond to projects and tasks, respectively. Individual users will love this platform's simplicity. The basic version of Trello software is free to use, while the Business Class plan starts $9.99 per user per month, and the Enterprise Plan costs $20.83 or less per user per month.
Jira: Jira is one of the most well-known project management systems today. The platform combines Scrum and Kanban methods to streamline workflows and organize issues. Jira's pricing plans start at a $10 monthly flat fee for up to 10 users.
Wrike: Wrike provides full visibility into projects' performance. The system lets you organize tasks and projects through tags and folders and provides audit reports for enterprises. Wrike is free to use for up to five users, and its paid plans start at $9.80 per user per month.
ProjectManager.com: The software combines project planning and scheduling into one platform. It also offers powerful tools for resource allocation and workload management. The software's Personal plan starts at $15 per user per month.
Microsoft Project: The software offers dynamic scheduling based on factors like project duration and effort needed. You also get interactive dashboards with Power BI visualization. The platform's pricing plans start at $10 per user per month.
OpenProject: OpenProject provides shared timelines to make collaboration easier. The platform also offers tools for visualizing and sharing product roadmaps. OpenProject's paid plans start at $5.42 (€4.95) per user per month.
Paymo: Paymo serves as a single source of truth for all your data. Easily shareable reports also ensure that even stakeholders are always in the loop. Prices for the platform's Small Office plans start at $9.56 per user
Mavenlink: Mavenlink makes it easier for project managers to oversee multiple projects through tools such as Gantt charts and customizable project templates. The platform offers a Teams plan starting at $19 per month.
Teamwork: Teamwork lets you customize your workflows through granular privacy settings, resource allocation, and time-tracking tools. The platform offers a free plan, but paid pricing plans with more features are available starting at $9 per month.
monday.com: Used by corporations such as Uber, BBC, and PayPal, monday.com makes it easy to manage your team's workload and track project progress down to the task level. The platform's Basic plan starts at $39 per month for 5 users.
Podio: With Podio, teams stay coordinated even when handling complex projects. Project managers also get options for overviews and customized reports. Podio's Basic plan costs $9 per month.
LiquidPlanner: Designed to be flexible, LiquidPlanner ensures that you can easily adjust schedules and completion dates as needed. The platform also provides cross-project visibility for project managers who like to multi-task. You can contact the vendor for details on LiquidPlanner's pricing.
Projectplace: Projectplace enables seamless communication within and across teams, allowing users to have conversations wherever they are on the platform. Contact the vendor for more details on the software's pricing.
EasyProjects: EasyProjects is a cloud-based project management solution ideal for teams and companies that need to simplify and automate their workflows. Pricing plans for the software start at $24/user/month.
GanttPRO: GanttPRO is an online project management software for project managers who build and manage Gantt charts. For individuals, pricing starts at $15/user/month, while teams from 5 users up to 100 users get a lower per-user monthly price.
Rodeo: Rodeo is a project management software ideal for small to mid-sized businesses. It allows you to measure budgets, monitor project status, track time, estimate costs, and create reports and invoices. Pricing starts at $14.99/month/user.
nTask: an incredible task management and project management application that allows its users to track and manage all of the tasks and activities that they have to perform regarding the project development process. The application has a free trial for all of its users to check out the application before the pay the starting subscription cost of $3/month/user.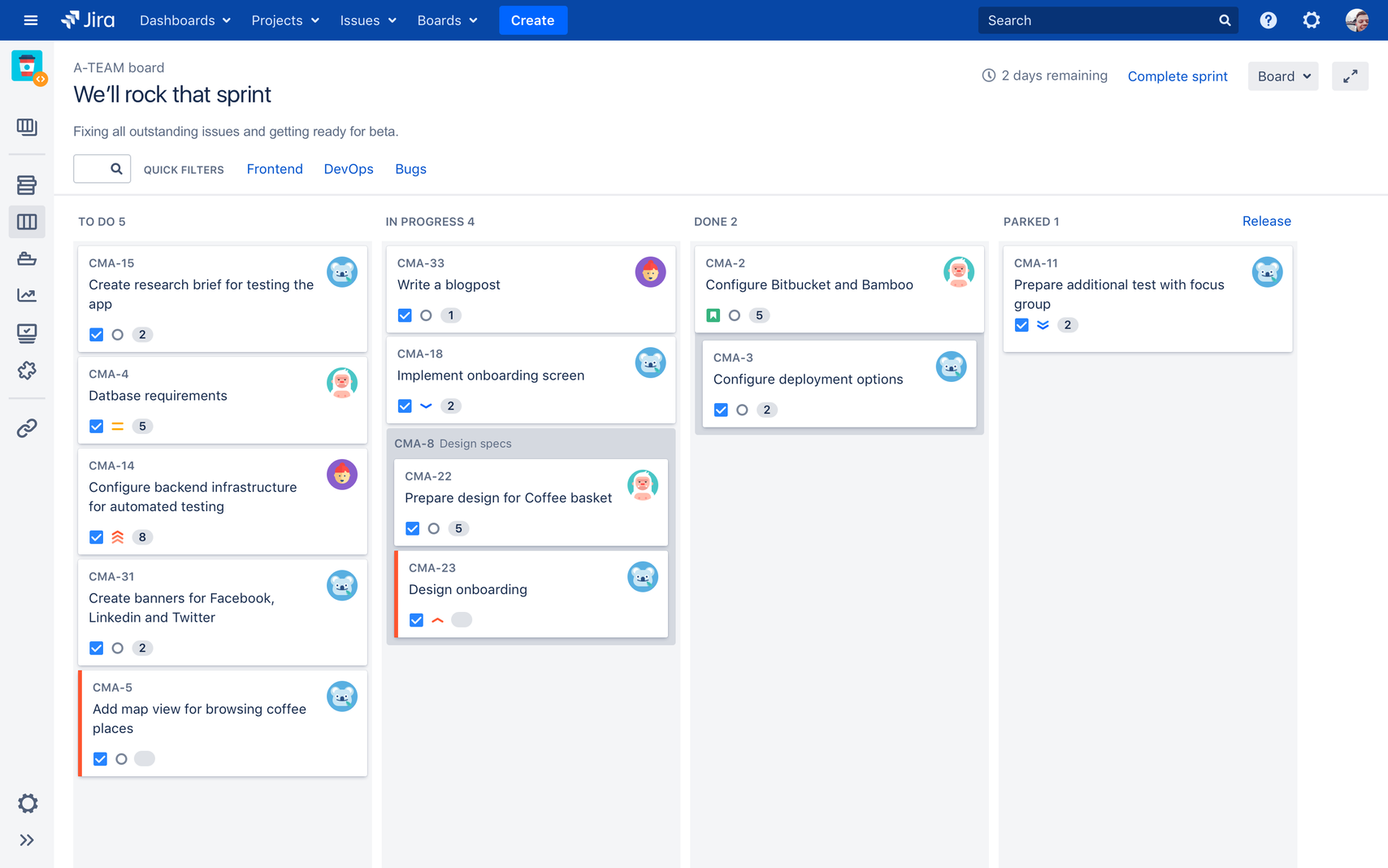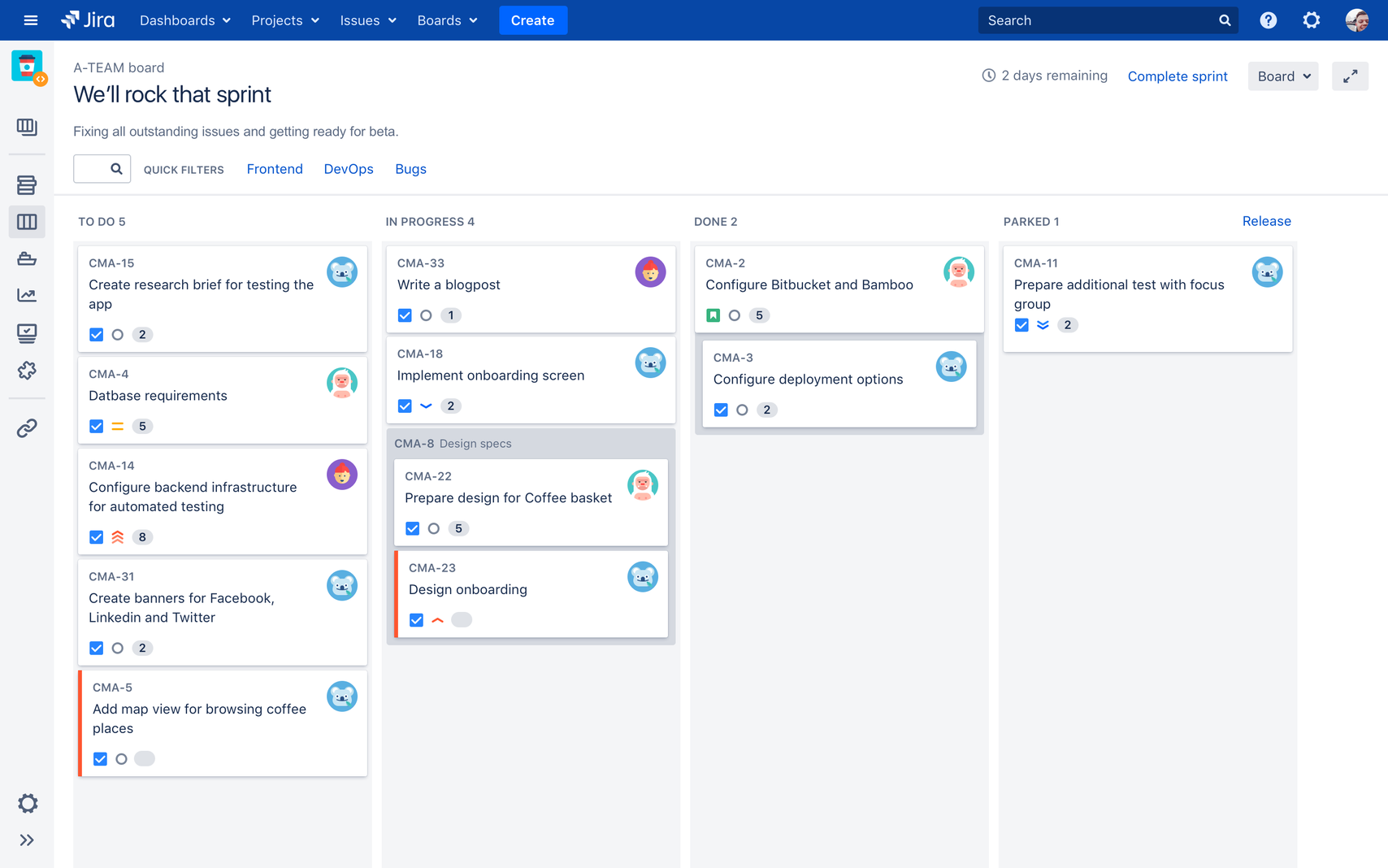 JIRA combines agile methodologies and Kanban boards to help users manage issues.
Key Features of Project Management Software
Each project management software comes with its own mix of features and capabilities. Most project management systems allow managers to create unique and templated tasks and projects. Likewise, these tools allow for easy collaboration through file-sharing and communication. These are just some of the critical features of an efficient project management software.
Task management – The best project management solutions enable task management, allowing managers to divide a project into smaller, trackable tasks with deadlines and priority levels. Users will be able to easily see the tasks that are assigned to them and mark these tasks as complete. Each project's progress is updated accordingly as tasks are completed.
File-sharing and communication – Users can attach a wide variety of files, including documents and images to projects and tasks. This ensures quick access to these files for anyone who needs it. Additionally, users can create in-context discussion threads for tasks, so relevant conversations are collected in one place. Some project management platforms also have built-in messaging features for added convenience.
Documentation – These systems can reliably store project information in one place, including scheduled and completed tasks, files, expenses, and meetings. Moreover, this feature provides business owners and managers with valuable information on past projects.
Reporting – Many project management software today can generate reports to shed light on project progress. Moreover, these reports help business owners and managers assess team performance against organizational KPIs. These tools can create customized reports on various metrics, including resource utilization and time spent on tasks.
Easy-to-use interface – Many of these systems offer interfaces that are easy to navigate and get familiar with. As a result, the software won't hinder users productivity; instead, it works as a tool for helping users complete their tasks more efficiently.
Benefits of Project Management Software
We've already touched on how project management software can benefit organizations. These systems can be crucial for managers who handle multiple projects at any given time, ensuring that each project is organized. Here are more benefits that these tools can bring:
Real-time updates on project progress – With project management software, managers can easily gauge any project's progress at any given time. You'll be able to see tasks pending completion, and you can spot potential bottlenecks before they occur. As a result, these systems can help you and your team save time and resources on meetings and lengthy email threads.
Easier collaboration – Project management tools make for hassle-free collaboration. Users can upload important files to the platform, so these files don't get lost in email inboxes. In this way, team members will have everything they need to complete their tasks on time. These software also come with features such as in-context comment threads and messaging for more efficient communication within teams.
Cost management – Many project management systems come with financial management tools that help managers control and mitigate costs. Some of these tools can help project costs, identify potential budget issues, and streamline the workflow to keep costs down. With these features, project management tools can ensure that projects are completed on time and within budget.
Accurate, customizable reporting – These platforms offer capabilities that allow managers to generate customized reports that are backed up by data. This is so you can get an accurate picture of your team's performance and measure that against your company's KPIs and goals.
Types of Project Management Software
There are various types of project management software available today, each with different capabilities to suit companies of all sizes and needs.
On-premise – This type of project management software calls for installation right on your company's servers. This means your files stay on your computers, giving you more control over your data. You'll also have to pay fees for a proprietary license to use the software.
Cloud-hosted – With these project management software, your files are uploaded to the cloud, and you can access them from any device with an Internet connection. Additionally, cloud-hosted project management tools don't require license fees. However, you will have to pay a monthly subscription fee to use the software.
Collaborative – Collaborative project management tools allow multiple users to edit or access project information. This type of project management platform is the ideal choice for more complex projects or those with sequential or parallel activities.
Open API – Some project management software have open API architectures to allow end-users to extend the software's capabilities. These systems are a great choice for users who want to customize the project management software's components to their specific needs.
Factors to Consider in Choosing Project Management Software
To ensure hassle-free adoption and maximum efficiency for your software of choice, look at these features first when searching for a project management tool for your team.
Ease of use – Make sure the project management software you choose has an easy-to-use interface that your team can easily master. This ensures that your team can focus on completing their tasks and not on looking for the software functions they need.
Flexible task management – You want to go with a project management tool that not only lets you create unique tasks and projects but also provides templates for easy project creation. This way, you can handle all types of projects.
Customizable reports – Go with a project management software that can give you accurate numbers on not only commonly used metrics but also specific KPIs tracked by your company. These reports help you pinpoint areas where your team needs improvement.
Reliable support – You want to make sure that the software offers sufficient support channels. This ensures you can get immediate help if something goes wrong with the system.
Latest Trends in Project Management
Project management is an ever-evolving industry, and many project management software are changing to address emerging trends. Here are some of the latest project management trends transforming the industry today:
PMTQ is more important than ever. With digital transformation becoming the norm rather than a passing trend, project managers must focus on developing their PMTQ or project management technology quotient. This measures a project manager's ability to adapt and integrate technology into projects and according to his organization's needs. When combined with EQ and IQ, PMTQ promotes a successful project management culture.
Flexibility in PM methodology use. The increasing complexity of projects now requires project managers to explore PM methodologies outside their preferences. Using just one methodology – whether agile, waterfall, or scrum – will no longer work for all projects. The most successful project managers have mastered many PM methodologies to ensure they can efficiently handle any project.
The use of more SaaS platforms. Project managers must rise to the challenge of managing virtual teams, and they'll have plenty of SaaS platforms to help them. Aside from cloud-based project management software, project managers can also use online conferencing solutions for virtual meetings and time tracking software to monitor employee productivity.
Potential Issues in Project Management Software
Project management software brings plenty of benefits to business owners and managers, but that's not to say you won't encounter specific issues with these tools.
Cost – Project management tools come at a variety of price points, which may not always match your company's budget. You can always sign up for a free trial first to see if the software will make for good investment for your organization.
Security – Security is another major concern when using project management software, especially those that are cloud-hosted. Many project management platforms address this issue by allowing managers to control user access to sensitive data.
Incompatible project management tools – Without proper research, you may end up getting a project management tool that's not compatible with your needs. Jira, for instance, is more suited to issue tracking and website and software development projects.