As any business would attest, purchasing software is no walk in the park. While they might have a particular software's usability at the top of their head, they could not do away with how the software scores on integrating with the other applications that they already use. In addition, they still have to make sure it performs well on scalability and that the developer moves with updates fast. Finally, they will have to see pricing plans that match their capability to pay.
This is not all, too. In many cases, businesses might not really know the particular software category they should be looking for. They have a vague idea that the solution is out there, but they have no particular idea where to start looking.
It is for these reasons that review sites like GetApp have become the go-to online resources for B2B software solutions buyers. These sites provide the crucial platform to match buyers and developers, providing information on the basis of usability, scalability, integration features, and pricing matrices, among others.
The popularity of product review platforms has been gathering momentum for some time. Currently, they have become the purveyor of trust in an industry that could easily look like a jungle of products without the guiding light of product reviews and rankings.
These product review sites are careful to establish trust among their users too, using objective metric systems and algorithms to score products. With these, review sites, would-be users, and product developers all win. The result is that 94% of consumers said they consider product reviews and ratings at the top of their list of buying considerations. But GetApp is not the only product review site of note on the world wide web. In this article, we present other powerful sites worthy of checking out.
1. FinancesOnline.com
FinancesOnline.com is among the most reliable and fastest-growing review directories available online. As with the other credible review sites out there, FinancesOnline.com provides independent, unbiased reviews of hundreds of B2B software solutions. But unlike the other sites that merely rely on reviews posted by users, FinancesOnline.com also has an in-house panel of experts that conduct analytical and thorough reviews of products.
The site thus combines its in-house expert reviews as well as assessments made by ordinary users to give B2B buyers a comprehensive overview and overall evaluation of software solutions. If you are a B2B vendor, you can gain a more solid presence online on the site—with minimum effort from your part—that will supplement the credibility of your application with these independent expert reviews. The platform enjoys a solid reputation based on efficient lead generation campaigns for SaaS and B2B software vendors. Most popular SaaS solutions that run their campaigns at FinancesOnline report a very high conversion rate, often exceeding 20%. But less popular products can be successful with their campaign, as an average conversion rate for less influential brands hovers around 10%. You can see for yourself if your app has been featured already on the site by merely typing in the product's name in the site's search field button. If it is not there, it's easy to ask them to include your company in the listing by requesting a review.
FinancesOnline.com is proactive: It constantly searches for new solutions to evaluate and prepares credible assessments for prospects. If you are a new B2B startup, FinancesOnline.com can quickly make you a star overnight, sending more customers your way and drastically improving your sales.
But what makes FinancesOnline.com different from the rest of the review sites? For one, the site uses a proprietary algorithm to evaluate a product's value that is based on key metrics to help prospective B2B buyers acquire a more informed assessment. Its SmartScore System can aggregate a score based on evaluating the main functionalities and features of your product as well as several important factors, such as customization, customer support, collaboration features, integration with other apps you are using, and mobility.
The site features a Customer Satisfaction Algorithm that weighs social media mentions, user reviews, and other comments about the product and then gives you an overall score that represents its general customer satisfaction. Many prospects will find this score practical, effectively helping them evaluate the user social proof for a product.
In addition, the best product solutions reviewed by FinancesOnline.com are also given specialist trust marks, excellence awards and certificates, and even niche seals vouching for the top quality of your app, dramatically improving the trust in your application and increasing business sales. The in-house experts of the site can award one (or several) quality awards and certificates to highlight your app's unique features, which may include an amazing free trial or outstanding user experience. Its unique Verified Quality Seal can also be featured not only on the review page on FinancesOnline.com but also on your own site. The seal given by the site is a solid guarantee that your solution provides top-notch quality services and has been evaluated positively by independent and credible experts. Marketing research shows that using these trust marks can increase product sales by as much as 14%.
2. Capterra
Capterra is one of the leading review sites out there, helping prospective B2B buyers select the right software solution for their business. The site reviews solutions that actually cater to each business's unique needs, helping connect them with the best vendors out there.
The site helps B2B buyers find the ideal software solution for their company by enabling them to identify and quickly navigate all their choices. The site likewise helps software companies or vendors engage these prospective buyers more effectively over the Internet.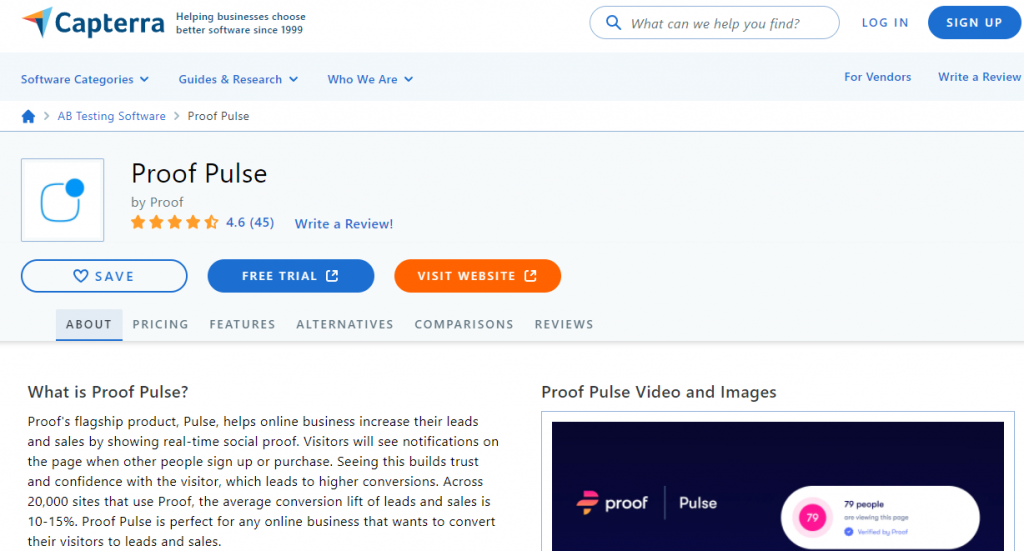 The site is one of the most comprehensive online resources of business software solutions, providing millions of consumers a way to search for any software solution out of the more than 300 software categories the site makes available.
This platform gives prospective buyers a set of relevant buyer's guides, helpful blog posts, as well as independent user reviews to help them evaluate various alternatives. The site's experts can also help you by recommending a shortlist matched to your company's specific needs. Feel free to check out these Capterra alternatives to learn more about similar platforms.
3. G2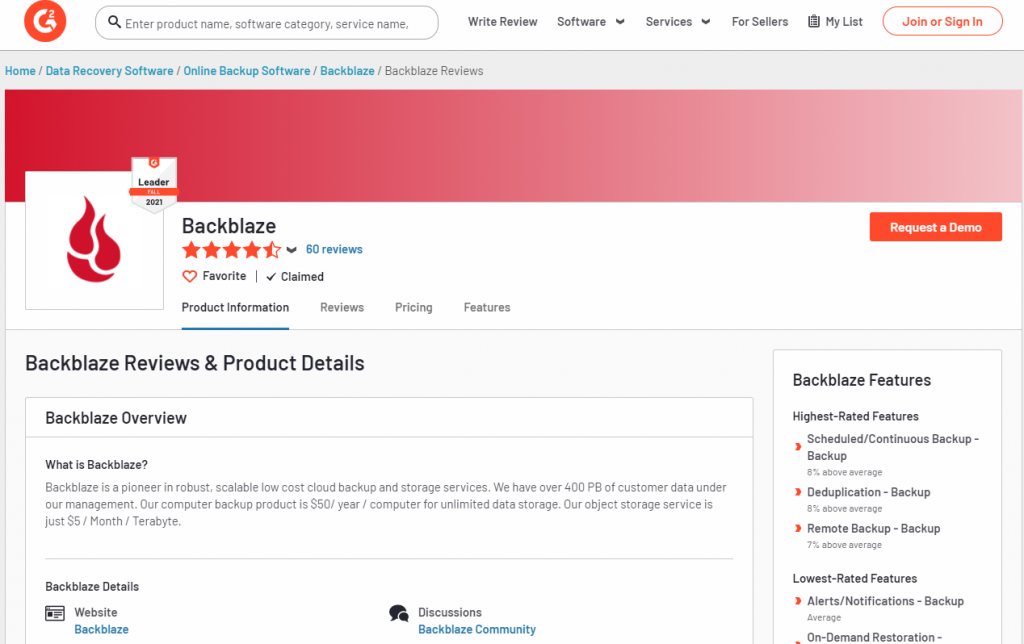 Formerly known as G2Crowd, G2 is one of the more popular software review directories online. It makes available a really impressive collection of user reviewers who share their thoughts and issues with a wide range of SaaS solutions stored on the site's database. G2 offers product evaluation based on a proprietary Grid system that puts each product on a scoring grid based on its satisfaction rating and market presence. G2crowd also offers paid access to market reports that allow users to compare specific solutions based on a variety of factors and aspects collected from actual users.
4. GoodFirms
GoodFirms offers a unique approach to reviews: it allows users to research not only individual applications but also the businesses or firms behind them, thus the business name.
The website lists a number of software categories as with the other platforms, with the difference that it provides a quick list of facts and figures instead of a lengthy description of the products and their features.
In place of a detailed product description, the platform presents information about the vendor and the application that might be useful to the prospective buyer, like contact information, focus areas, portfolios, and the like. The listed vendors can put their foot forward by providing their own resources too.
5. IT Central Station
IT Central Station is a top crowdsourced review website where B2B users can read independent user-generated reviews of software solutions designed for the enterprise tech community. Compared with other review sites, IT Central Station has a community manager verifying the identity of the reviewer who submitted a review.
The vetting process of the site involves accepting the user review through an interview and posting the said review online with the reviewer's approval.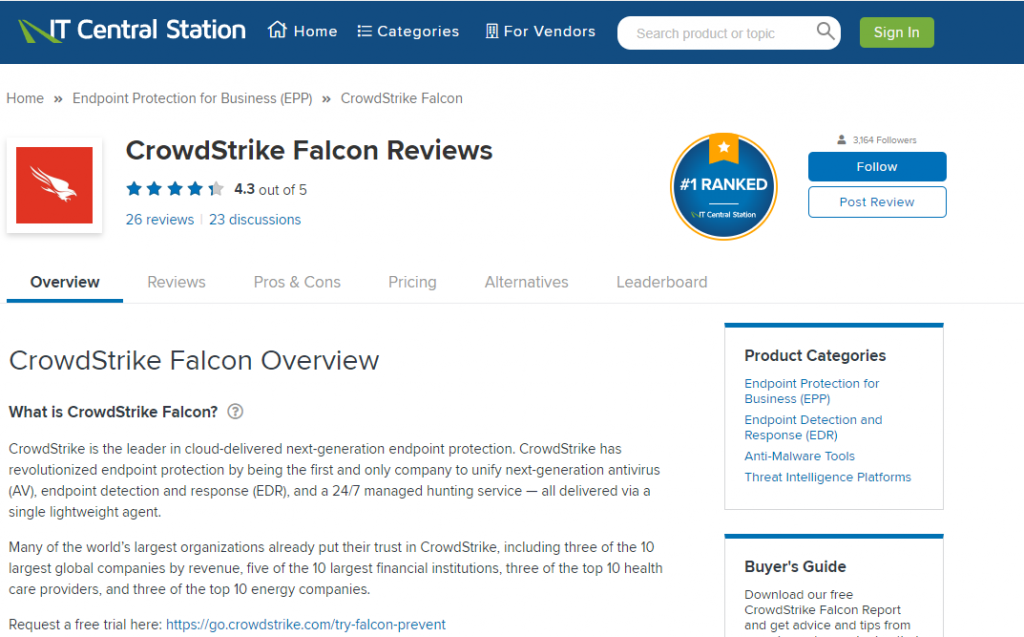 IT Central Station is a dynamic, real-time platform providing useful information as well as other relevant information for enterprise technology buyers. With the extensive experience of the founders of the site in startups and enterprise IT, IT Central Station is something like Yelp or TripAdvisor for enterprise technology.
This community website provides not only reviews but also recommendations and expert advice for technology buyers. It is known for offering information that is current, objective, and relevant.