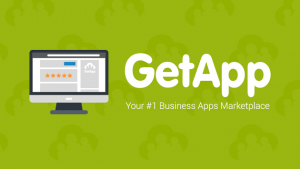 Today user reviews are a very popular factor affecting the buying process in a wide array of industries, from retail products to hotel bookings, with review platforms like Amazon and Yelp being important influencers. Buying process for B2B software doesn't differ from ordinary products in that regard. Business buyers refer to peer recommendations to check out user reviews and ratings before purchasing a software solution. More often than not, people say the most difficult part in the buying process is figuring out which software solution would answer all their requirements. In turn, they seek out recommendations from their colleagues and contacts about the various software solutions. According to a recent Capterra survey, 71% of software buyers go to their colleagues and peers for product recommendations.
It is no wonder then that review sites such as GetApp have become popular go-to online resources for B2B buyers. After all, these review sites provide great learning experiences to prepare buyers for the future next steps. For a buyer, going to sites such as GetApp could mean learning an important feedback during the product implementation process or other issues that will actually turn them into a more educated customer should they finally decide to purchase. For a software vendor, user reviews from these sites can provide amazing tips on products to launch or give updates on the product to keep their customers happy.
But GetApp is only one of the amazing review sites out there. Not all B2B products are listed in the said online resource. Neither does the site offer the only comprehensive information about software solutions. Here are five B2B directory alternatives that both B2B software buyers and vendors should check out to look for product information as well as engage prospects. Find out below why they stand out from the dozens of review sites out there.
1. FinancesOnline.com
FinancesOnline.com is among the most reliable and fastest growing review directories available online. Just like most of the credible review sites out there, FinancesOnline.com provides independent, unbiased reviews of hundreds of B2B software solutions. But unlike the other sites that merely rely on reviews posted by users, FinancesOnline.com also has an in-house panel of experts that conduct analytical and thorough reviews of products.
The site thus combines its in-house expert reviews as well as assessments made by ordinary users to give B2B buyers a very comprehensive overview and overall evaluation of software solutions. If you are a B2B vendor, you can gain a more solid presence online on the site—with minimum effort from your part—that will supplement the credibility of your tool with these independent expert reviews. The platform has a solid reputation as a provided of very efficient lead generation campaigns for SaaS and B2B software vendors. Most popular SaaS solutions that run their campaigns at FinancesOnline report a very high conversion rate, often exceeding 20%. Even less popular products can be successful with their campaign though, as an average conversion rate for less influential brands is still at around 10%. You can see for yourself if your tool has been featured already on the site by merely typing in the product's name in the site's search field button. If it is not there, it's easy to ask them to include your company in the listing by requesting a review.
FinancesOnline.com is also pro-active: It constantly looks out for new solutions to evaluate and prepares credible assessments for prospects. If you are a new B2B startup, FinancesOnline.com can quickly make you a star overnight, sending more customers your way and drastically improving your sales.
But what makes FinancesOnline.com different from the rest of the review sites? For one, the site uses a proprietary algorithm to evaluate a product's value that is based on various metrics to help prospective B2B buyers have a more informed assessment. Its SmartScore System can aggregate a score that is based on evaluating the main functionalities and features of your product as well as several important factors, such as customization, customer support, collaboration features, integration with other apps you are using, and mobility.
The site also has a Customer Satisfaction Algorithm, which looks at social media mentions, user reviews, and other comments about the product and then gives you an overal score that represents the general customer satisfaction with a given software. Many prospects will find this score practical, effectively helping them evaluate the user social proof for a product.
In addition, the best product solutions reviewed by FinancesOnline.com are also given specialist trust marks, excellence awards and certificates, and even niche seals vouching for the top quality of your tool, dramatically improving the trust on your tool and thus increase business sales. The in-house experts of the site can award one (or several) quality awards and certificates to highlight your tool's unique features, which may include amazing free trial or outstanding user experience. Its unique Verified Quality Seal can also be featured not only on the review page on FinancesOnline.com but also on your own site. The seal given by the site is a solid guarantee that your solution provides topnotch quality services and has been evaluated positively by independent and credible experts. Marketing research shows that using these trustmarks can increase product sales by as much as 14%.
2. Capterra
Capterra is one of the leading review sites out there, helping prospective B2B buyers in selecting the right software solution for their business, reviewing the solutions that actually cater their needs, and even connecting them with the best vendors out there.
The site helps B2B buyers find the ideal software solution for their company by enabling them to identify and quickly navigate all their choices. The site likewise helps software companies or vendors engage these prospective buyers more effectively over the Internet.
The site is one of the most comprehensive online resources of business software solutions, providing millions of consumers with a repository to search for their software solutions from the more than 300 software categories listed online.
This platform also  gives prospective leads a set of relevant buyer's guides, helpful blog posts, as well as independent user reviews to help the former evaluate various alternatives from a leading third-party user review site. The site's experts can also help you and recommend a shortlist matched to your company's specific needs. If you need to learn more about Capterra alternatives feel free to read our other article about this topic.
3. G2crowd
G2crowd is one of the more popular software review directories. It gathered a really impressive collection of user reviews who share their thoughts and issues with a wide range of SaaS solutions stored in G2crowd base. The site offers product evaluation based on their proprietary Grid system that puts each product on a scoring grid based on its satisfaction rating and market presence. G2crowd also offers paid access to market reports that allow users to compare specific solutions based on a variety of factors and aspects collected from actual users.
4. Ombud
Ombud is a community-based research website. Customers can engage technology users, analysts, and software vendors to make sure the buying decisions they are making actually match their business needs.
Ombud moves away from the usual limited and exclusive research process traditionally done by other review sites. Buyers can tailor their research according to their needs to the solutions available in minutes. They can compare top solutions side-by-side to bring complete transparency to what software vendors really deliver.
Ombud serves as an online intermediary between B2B buyers and sellers. It offers complete transparency into the capabilities and differentiators of your product, compared side-by-side online with your company's top competitors. Ombud markets its services to buyers, helping prospects recognize the return on investment on their next initiative.
5. IT Central Station
IT Central Station is a top crowdsourced review website where B2B users can read independent user-generated reviews of software solutions designed for the enterprise tech community. Compared with other review sites, IT Central Station has a community manager verifying the reviewer's identity who submitted a user review.
The vetting process of the site involves accepting the user review through an interview, and posting the said review online with the reviewer's approval.
IT Central Station is a dynamic, real-time platform providing user information as well as other relevant information for enterprise technology buyers. With the extensive experience of the founders of the site in startups and enterprise IT, IT Central Station is something like Yelp or TripAdvisor for enterprise technology.
This community website provides not only reviews but also recommendations and expert advice for technology buyers. It is known for offering user information that is current, objective, and relevant.