All things considered, it's easy to earn money. Sell a product or a service and people will generally pay you for the trouble. But you do this enough times, with enough volume, and it can be a headache to track all the money your customers need to pay you. This means a document that states how much money you are owed—like an invoice—is an essential piece of the financial ecosystem.
But we're back to square one. Maintaining a massive volume of invoices is a headache in itself. There must be a better way, right?
Enter invoicing software. It's an application designed to do just that by automating invoice creation, issuing, and management. Here's what it can do, how it can help your business, and 10 examples of the best in the field.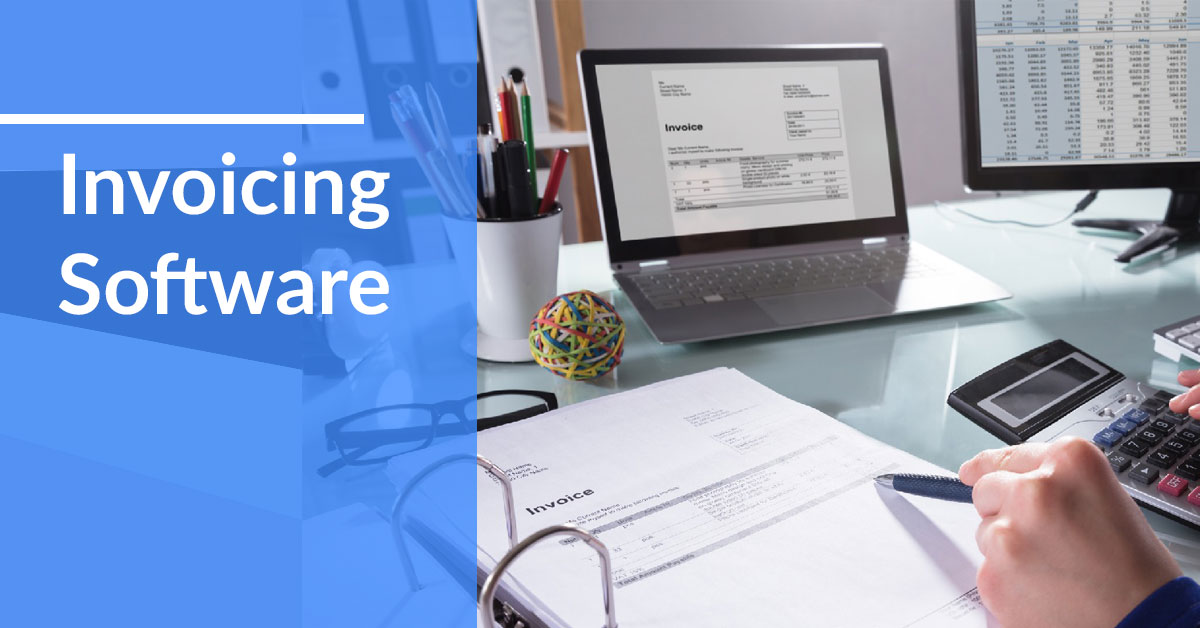 Invoicing Software Table of Contents
What Is Invoicing Software?
Invoicing software (also called billing and invoicing software) generally automates the creation and issuing of invoices, such as when a client or a customer requests for your product and/or service. A type of accounting software, invoicing programs can optimize the management of expenses and receivables in any company's backend. In other words, it helps get the company paid faster and more accurately.
To that end, products of this kind offer paperless, online-only invoices, recurring issuance, and payment reminders for accounts receivables. It also helps streamline tax compliance.
A smooth invoicing process can help save time and money, especially if you have a lot of products going in and out. It helps expedite the flow of money to where it's needed. When your system generates an invoice as soon as the client or a customer engages you and sends the invoice to them, the sooner you receive the money.
Types of Accounting Software
As mentioned before, invoicing software is part of a larger accounting software umbrella. While many accounting suites offer invoicing as well, others specialize in invoicing exclusively.
There are other types of accounting software, but all of them can help your business in different ways. While this depends on exactly what you need, the following types of accounting software are best suited to a specific area. Some types include:
Enterprise Resource Planning. ERP is a massive software category that includes several software types, including accounting (which invoicing certainly belongs to). This software involves planning and allocating limited resources, including money, to where they're best needed in the operation of a company. There are industry-specific ERPs (for sectors like manufacturing and construction, for example). Still, these are generally the biggest type of back-end software you will need, similar to CRM software.
Billing and Invoicing. This is the type we're tackling. It's used to perform and automate your routine accounting tasks, remove manual data entry altogether, and keep your accounting figures precise and up-to-date.
Payroll. These are standard tools for any commercially viable business that employs workers. Their main function is to calculate the exact payouts for each employee according to their contributions and hours worked versus deductibles, like tax and premiums.
List of Best Invoicing Software
There are a lot of invoicing software, with various functionalities and pricing. Here's a list of 10 great examples, in no particular order:
FreshBooks. FreshBooks is a robust billing and invoicing application that can manage key accounting processes easily and supports special modules for more extensibility.
Zoho Invoice. A member of the Zoho family, Zoho Invoice enables the creation, management, and distribution of invoices in different languages.
Xero. A lightweight accounting software that boasts out-of-the-box integrations with over 600 third-party apps, giving you the flexibility to handle anything accounting-related.
QuickBooks. One of the most popular accounting software worldwide, QuickBooks offers a wide range of tools not only for accounting but for sales, inventory, invoice management, and tax computations.
Wave. Wave's unique selling proposition is that it's completely free and open-source. It's used by millions of freelancers and startups around the world.
Sage Intacct. An all-in-one accounting software that you can customize to fit your needs, properly famed for its ability to automate financial and ERP tasks.
FreeAgent. Small businesses and freelancers enjoy FreeAgent because of its versatility, from invoice creation and management to monitoring expenses and tracking tax compliance.
Tipalti. Tipalti automates global payment processing and tax compliance, with enhanced security and fraud protection.
Invoicely. Like Wave, Invoicely is a free invoicing software. It allows for the creation of unlimited invoices for an unlimited number of customers.
FinancialForce Accounting. Built on the Salesforce platform, FinancialForce is designed for large companies that have outgrown entry-level systems but are not big enough to support their own intranet systems. It helps businesses streamline their financial management process through automation and collaboration tools. Also, it has robust reporting and tax management features.
TraQPayments.  Ideal for businesses of all scales, TraQPayments is a comprehensive payment collection platform that streamlines billing, invoicing, and payment processing. It supports multiple payment options to help businesses manage and accept online payments.
Pricing of Invoicing Software
Invoicing software are generally paid for, but some, like Wave, come for free because they're marketed to freelancers and startups. If you're looking for free invoicing, you should generally start for those that are geared toward this segment of professionals.
That said, many of these applications, including those above, offer a limited free trial. It's prudent to try them out before you fork over your cash, which will normally lock you in a recurring plan for at least a month to a year.
As far as pricing is concerned, invoicing tools aren't equal. It's your first order of business to consider price points, but pricing generally plays second fiddle to a software's overall feature set. Note that the more comprehensive this is, the more expensive the software usually is.
Furthermore, most modern software use the software-as-a-service (SaaS) model these days. Instead of installing it on your local machine, which used to be the case, now you just access it through the internet. You don't need any special equipment or upgrades; any browser will do. Vendors charge you for the service every month, just like utilities, but in terms of reliability and access anywhere, it more than makes up for it.
Features of Invoicing Software
Different software have different functions and features. While most invoicing software do the same thing—i.e. manage invoices—the degree to which they furnish these functions may vary. While you can't list every feature of every invoicing software that exists, some features are common to most.
To be more specific, an invoicing application should allow you to do the following:
Invoice creation. This allows you to create invoices for your services and/or products and customize them to your brand. Invoice creation makes up the bulk of an invoicing software and should draw relevant data from your business transactions like customer information, timesheets, projects, and more. It also facilitates paperless transactions.
Invoice report. Invoicing software eliminates external systems when you're reporting your invoices and complying with tax regulations.
Customer database. Summarizes customer information and transactions in one central database, where invoices can link to and draw data from.
Accepts multiple payment types. Invoicing software should help you save time by processing payments from different channels, such as ACH, credit cards, or payment gateway systems like PayPal.
Multiple currency support. Highly useful to global companies that deal with multiple currencies, especially if your products and services are available online. This feature supports automatic currency conversion and applicable taxes.
Many of the top-of-the-line invoicing software offer all or most of these functions. Note, however, that each provides a unique selling point that sets it apart from the others. If not that, at least, they include an approach that differs from how others do it, or to what degree each feature is emphasized in the product.
Benefits of Invoicing Software
There are two main benefits of invoicing software. First is that it automates mundane tasks, giving you more time to dedicate to more important roles. Second is that it's also more accurate than manual data entry, minimizing the chance of money slipping through the cracks.
Apart from that, here are other ways such a tool can benefit you:
Reduces late and/or missed payments. Invoicing software issues invoices on time, boosting your profitability and making your finances easier to track and forecast. It also ensures that you don't miss any outstanding payments.
Manages recurring payments. Automated billing means you can track recurring payments from the beginning to end of a subscription. This helps avoid overcharging, double charging, or premature cancellation of inactive accounts or accounts with payment issues.
Promotes transparency. Automation means you have access to unembellished data and objective truth. Your finances are transparent to every stakeholder, leading to more conscientious decision-making.
Maintains credibility. Sending invoices on time, especially with many invoicing software's personalization tools, can portray a more professional, credible image. Such an image can help improve how much your customers (and prospective ones) trust you.
Interesting Facts About Billing and Invoicing
Automating processes, no matter the industry, is a key trend worldwide. This is because automation minimizes errors and expedites workflows—twin benefits that are making companies more than willing to invest in these solutions. The downside, if anything, is that automation relies on computers and network infrastructure, creating another issue: cybersecurity.
However, these are all changing. Over half of C-level executives expect automation to have much better security in the coming years. Whether they're accounting software for small businesses or multinational enterprises, these changes will be universal.
Here are other interesting figures in the accounting industry:
The accounting industry, as a whole, won't change in a vacuum. Here are a few trends that will figure in the next few years:
Big Data
Everywhere you go, there's Big Data—and accounting is not spared. The analytics behind Big Data supports the operations of many companies through actionable insight. Understanding what Big Data is and how to leverage it are among the many things that will influence the accounting industry in the years to come.
Blockchain
The usage of blockchain, a distributed ledger technology, is one of the many gifts of rapid advancements in the field of computing. As it's practically unbreakable, blockchains can be used to authenticate and encrypt transactions. It can also lower the cost of maintaining and reconciling assets.
Remote Work
It's clear that the COVID-19 pandemic will force a lot of companies to rethink how their employees go to work. This is why one of the Big Four accounting organizations in the world, Deloitte, has released a handbook about how remote work will look like in the years to come post-pandemic. In the accounting sector, this means professionals like AP approvers will be out of the onsite office even more, and automation will become a necessity.
Staying on Top of Your Expenses With Invoicing Software
It's clear that the right invoicing tools can make your job much easier. You can track cash flow, bill customers for services rendered, and enjoy all these without lifting a finger because all of these are automated.
Unfortunately, though, a lot of people think that invoicing software are esoteric and need professional help to set up. That used to be true, but not anymore. Most modern invoicing software are cloud-based, meaning you can simply just log in with your credentials to start using them. Plus, most of their functions are already baked into existing accounting or ERP software, so you might already be using invoicing functions without knowing it.
If you need more help or functionalities in this regard, a similar software type is accounts payable software. Our list may point you to the best in class apps in this category.