Collaboration and productivity tools help groups or individuals achieve a common objective or goal. They also help save time and streamline the process.
Between Zoom of Copy Paste Upgrade, which software is better as a productivity and collaboration tool?
Zoom vs Copy Paste Upgrade Comparison: Overview
Our Zoom vs Copy Paste Upgrade comparison begins with an overview of what these applications can do.
Zoom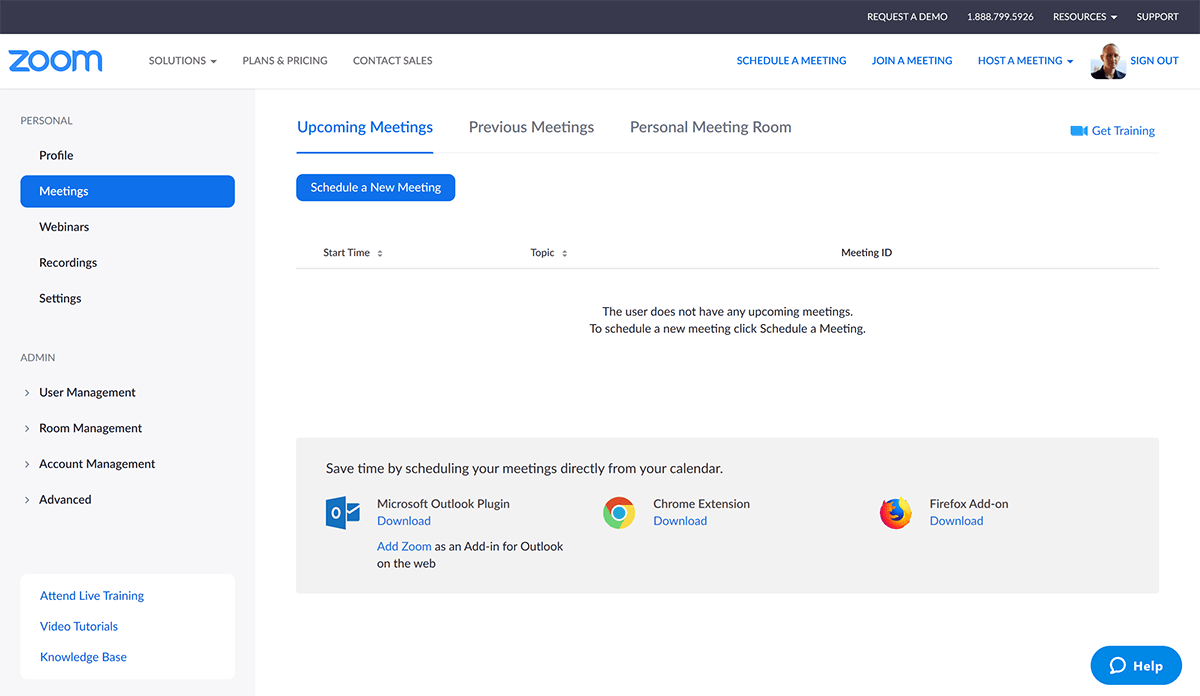 Zoom is one of the more popular video conferencing software on the market today. It is an online application primarily designed for video and/or audio conferencing offering HD video and audio meetings.
Zoom offers online video conferencing that lets users view both the presenter's screen and the panelists' screen. It can support video participants of up to 1,000 and up to 49 video participant screens.
We have more webinar software alternatives compiled for you. Check out our list.
Zoom is multi-functional as it allows users to do live chats even while the video conference is in progress. This application also allows team collaboration as users can do real-time sharing of files such as images and audio files.
There is also a recording option so the video conference session can be saved and shared for later viewing. Users can record each session either to their local media storage or to the cloud. There is even an option to have the audio automatically transcribed
Once the transcription is done, the text file is listed on the recorded meetings. The transcript can be displayed in the video, similar to a closed-caption feature on videos. Incidentally, we all know that electronic documents can pile up over time, but managing these files need not be an arduous task. Find out more about file management software, here.
Likewise, Zoom ensures that meetings are secured by encrypting sessions with role-based user security and passcode protection. The Breakout Room, for example, allows hosts to split their Zoom and put participants into different meeting sessions and then switch sessions as needed.
Zoom Chat, on the other hand, allows users to invite an internal or even an external participant to the conversation. Transitioning from a chat conversation to a meeting is also made easy with Zoom.
Copy Paste Upgrade
Copy Paste Upgrade is a productivity tool that allows users to copy and share text in two easy steps. As long as both devices use the same software, sharing textual content is easy. Copy Paste Upgrade is an ideal tool for copying and transferring text regardless of how long the text is.
Typically, we would share text by having them emailed or transferred using another device. To some, it is not a complicated process, though. But imagine the time one would consume if you multiply the volume of text that you would have to copy and share.
Copy Paste Upgrade helps solve that. Using this application, any text that you copy is shared automatically. Simply press Ctrl + C on your keyboard. The receiver then just need to press Ctrl + V to receive the text. There is no more need to use an external device or application to share your information.
Plans and Pricing Comparison
Zoom
Basic plan is free. It comes with the following features:
Invite up to 100 participants in a meeting
Unlimited one to one meetings
A time limit of up to 40 minutes per group meetings of three or more
Video conferencing: high-definition voice, high-definition video, full-screen or gallery view, active speaker, virtual background, and simultaneous screen sharing
Web conferencing: desktop sharing, meeting ID, private and group chat, host control, instant or scheduled meeting, and raise a hand
Group collaboration: breakout rooms, group messaging, multiple platform, whiteboard, co-annotation, and multi-share
Security features: secure SSL, AES 256 bit encryption
Pro plan is available for up to 9 hosts for $14.99 per month for each host. Here are its inclusions:
All the feature of the Basic plan's standard
Large Meeting add-on option with up to 1,000 participants
Account owner/admin management: assign, delete, assign roles
Customer personal meeting ID
Assign someone else to set up meetings
Account owner/admin feature controls: enable/disable recording, chat, encryption
Run reports
1GB of MP4 for videos or M4A for audio cloud recording
Business plan starts at 10 hosts for $199.9 monthly or $19.99 for each host per month. This is what users get:
Contains all the features of the Pro plan
Up to 300 participants can join a meeting
Large Meeting add-on option with up to 1,000 participants
Customized or Vanity URL
On-premise VM deployment option on any virtualization infrastructure
Admin dashboard: views stats on Zoom usage
Phone support
Zoom single sign-on (SSO)
Use your own branding
Create branded emails
Auto-generated cloud transcripts
Use your organization's email address domain to add account users
Schedule meeting with your organization's course activity and invite students from the learning management system with LTI integration
Enterprise plan is priced based on your organization's needs. It also includes:
Includes features of all the Business plan
Up to 500 participants for the Enterprise plan
Up to 1,000 participants for the Enterprise Plus
Unlimited cloud storage and dedicated customer success manager
Executive business reviews: trending adoption analysis, ROI tracking, product roadmap discussion
Copy Paste Upgrade
Copy Paste Upgrade is available for a one-time purchase of $4.99. They do not offer a subscription plan or an enterprise pricing plan at this time.
If you are looking for employee productivity tracking solutions to help boost your employee performance, click the link on our recent software ranking of employee monitoring software.
Comparison of Benefits
Benefits of Copy Paste Upgrade
Improves speed and accuracy for bookkeepers and accountants. Apart from speed, accuracy is crucial when we are dealing with accounting data. It would be difficult for anyone to copy a large string of numbers and ensure that everything is accurately transferred. Utilizing a Copy Paste Upgrade tool ensures that you don't miss a digit or a comma while performing your task more efficiently.
An essential tool for IT teams. IT specialists are in constant need of sharing data or programming codes to other members of the department. That means spending time copying and sending such codes either through an external device or email.
A simple mistake in copying could spell tons of hours locating and fixing the error or do the process all over again. Copy Paste Upgrade eliminates that risk while reducing the time to complete the task.
Simplifies coordination between content and marketing teams. The content and marketing coordinate and collaborate on a constant basis. Often, the process is long and tedious. Content needs to copied and pasted on the email or sent as an attachment for review by the marketing team.
If changes are needed, the marketing team sends it back using the same copying and pasting or sending it as an attachment. Copy Paste Upgrade simplifies this process to make it more efficient and fast.
Did you know that having a file management software can help improve productivity and make digital life easier for you? Find out why you need a file management software, here.
Benefits of Zoom
Improve engagement. Gone are the days of just looking at boring slide presentations or listening to just the audio of the speaker that often causes our minds to wander somewhere else during meetings.
Zoom's full HD capability provides a more immersive and engaging experience for both the presenter and participants. Zoom also allows participants and the presenter to feel like being in the same room. You see a live audience and interact with them in real-time.
Enhanced productivity with integrations. Zoom can be integrated with other third-party applications and platforms so users can enhance scheduling, content sharing, collaboration, and automation.
When integrated with Slack, for example, a user can start a Zoom call from a channel in the Slack platform or send a direct group message in the Slack message window.
Full video recording. Zoom users have the ability to record videos from participants and presenters. This is especially useful when it is needed to be shared with others who were not present in the meeting or if there are important points in the discussion that must be captured for later viewing.
Seamless transition between modes of communication. Zoom allows you to transition the chat conversation into a phone call. Then you even turn into a full meeting by adding new collaborators through chat, SMS, email, or phone invites. An inbound caller can also join the meeting with a function called Merge.
With Zoom Phone, you can move your call from your desk phone to your mobile app or desktop app. That means you can step out and be mobile while continuing with your call whenever you need to.
Which tool would you prefer?
After reading through the Zoom vs Copy Paste Upgrade comparison, which productivity tool do you think will work best for you? Here is what we think.
Copy Paste Upgrade a simple productivity tool, and it is a creative solution to copying and pasting problems. It may be a simple problem to solve, but the benefits as far as reducing time spent and enhancing efficiency cannot be discounted. It is a tool of choice for businesses and individuals looking to be more productive by eliminating the hassle of manual typing of textual data.
Meanwhile, Zoom is not just a platform for video conferencing and webinars. It offers productivity and collaboration functionality that allows users to share images and audio files and send text messages. Users can annotate and co-annotate, and add notes or comments on the document. Zoom is designed for businesses and organizations looking to enhance productivity and improve collaboration on a larger scale.