More businesses are now leveraging the power of digital marketing to connect with their prospective customers and enhance relationships with current customers. Hence, it is critical to choose the right digital marketing tool that will bring in the best possible results for your marketing campaigns.
Between OptinMonster and MailChimp, which digital marketing software should you choose for your business? Read on for our detailed comparison of these top two digital marketing tools.
What is OptinMonster?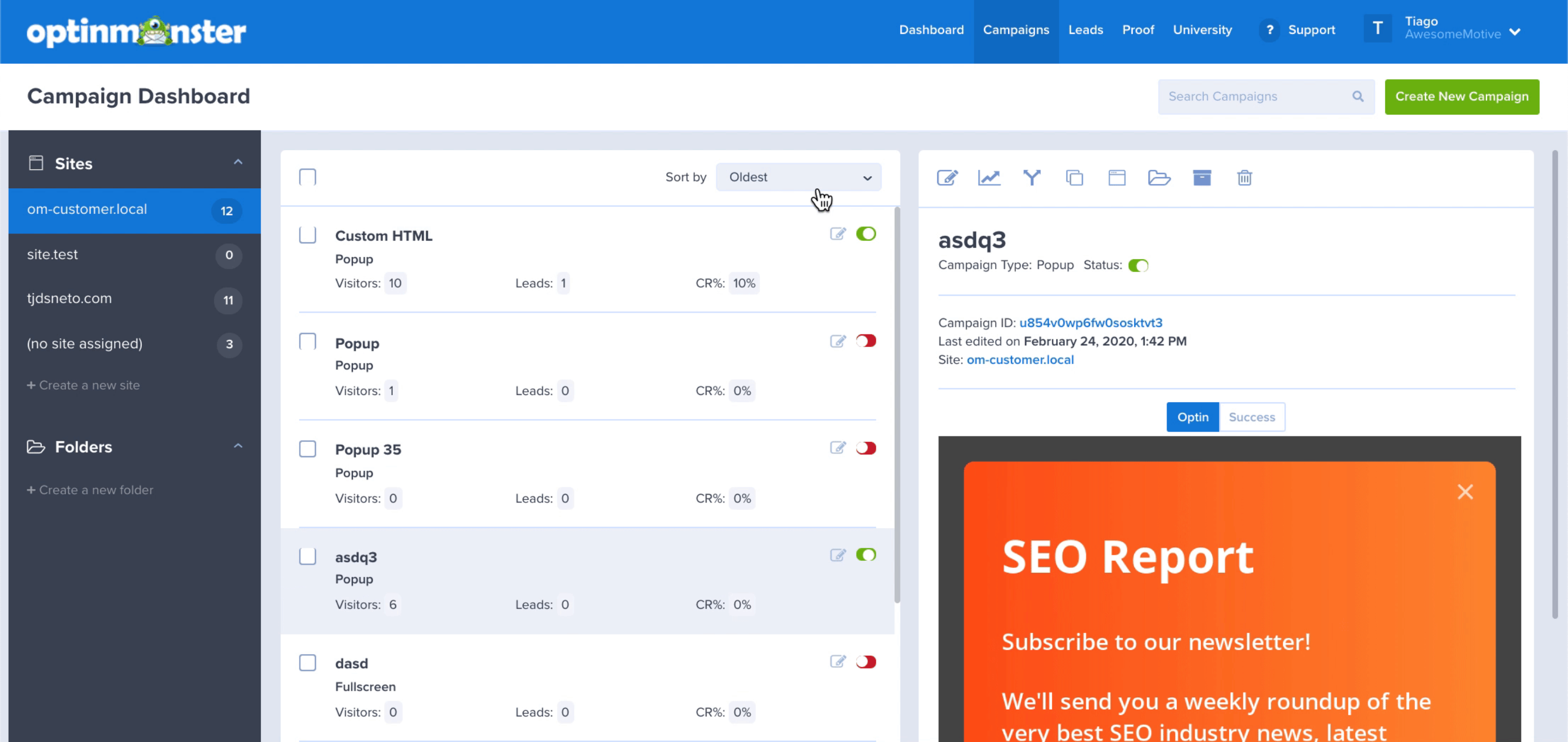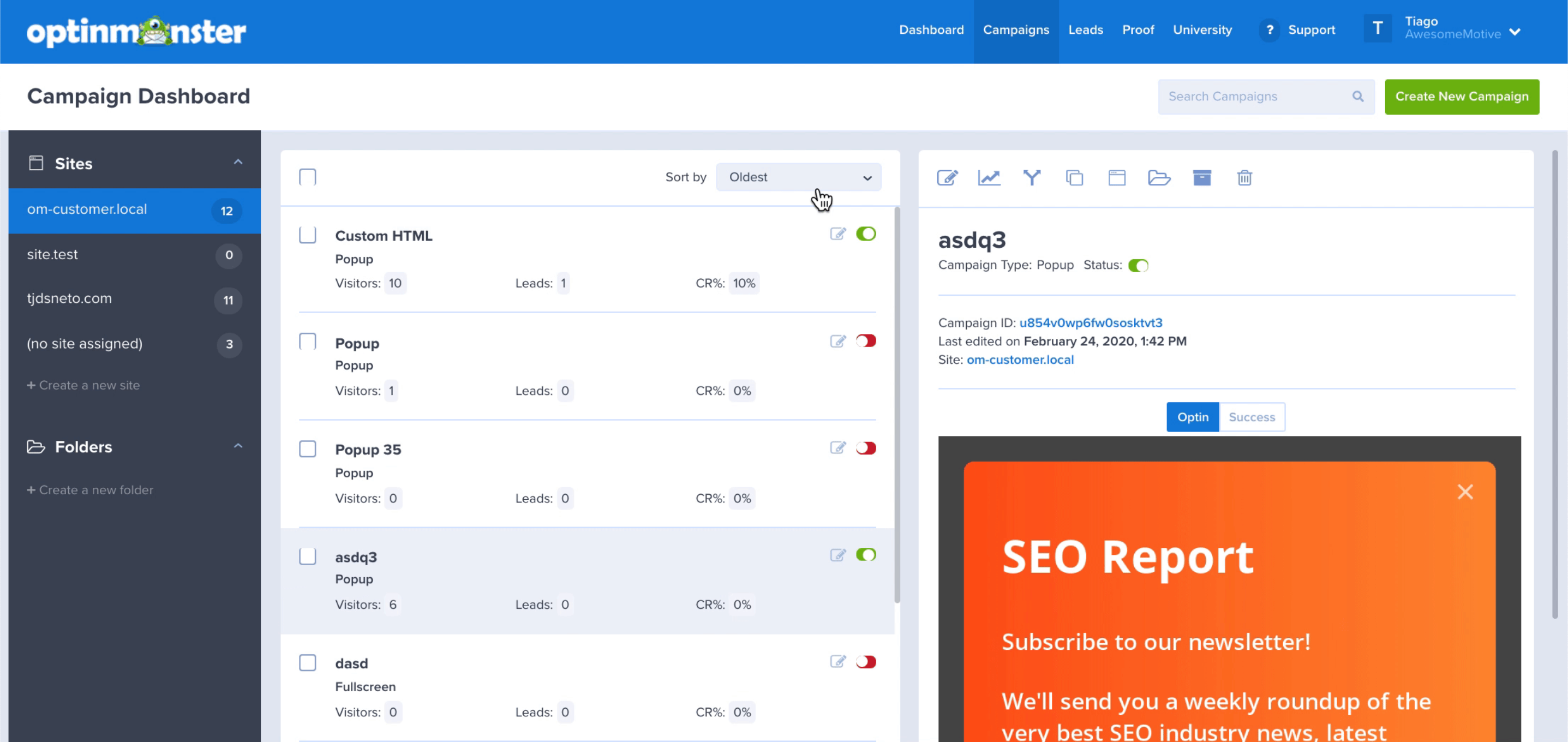 OptinMonster is a list building tool that allows users to build lead capture forms and grow their email list without having to learn to code. Since it was launched in 2013, OptinMonster has evolved from a WordPress plugin into a full-fledged SaaS solution.
OptinMonster boasts of a drag-and-drop opt-in form builder so users can create and customize forms by simply dropping and dragging elements. Otherwise, there are pre-built templates available for those who want to deploy their marketing campaigns on the fly.
OptinMonster provides six different smart campaign triggers so you can present your opt-in form without negatively affecting visitor experience. These campaign triggers are scroll trigger, exit-intent, 2-step opt-ins, inactivity sensor, time display control, and campaign scheduling.
Organizations can launch targeted campaigns to convert every type of visitor to a paying customer. One of these targeted campaigns is the Referrer Detection campaign, which will display your messages based on which website the visitor came from. Other campaigns include onsite follow-up campaigns, page-level targeting, cookie retargeting, onsite retargeting, geo-location targeting, device-based targeting, and AdBlock detection.
OptinMonster can be integrated with an array of email marketing applications, including AWeber, HubSpot, Salesforce, Infusionsoft, and Drip. Find out more about these kinds of software in our compilation of best email marketing software. OptinMonster also provides actionable insights, real-time behavior automation, and A/B or split testing tool.
What is MailChimp?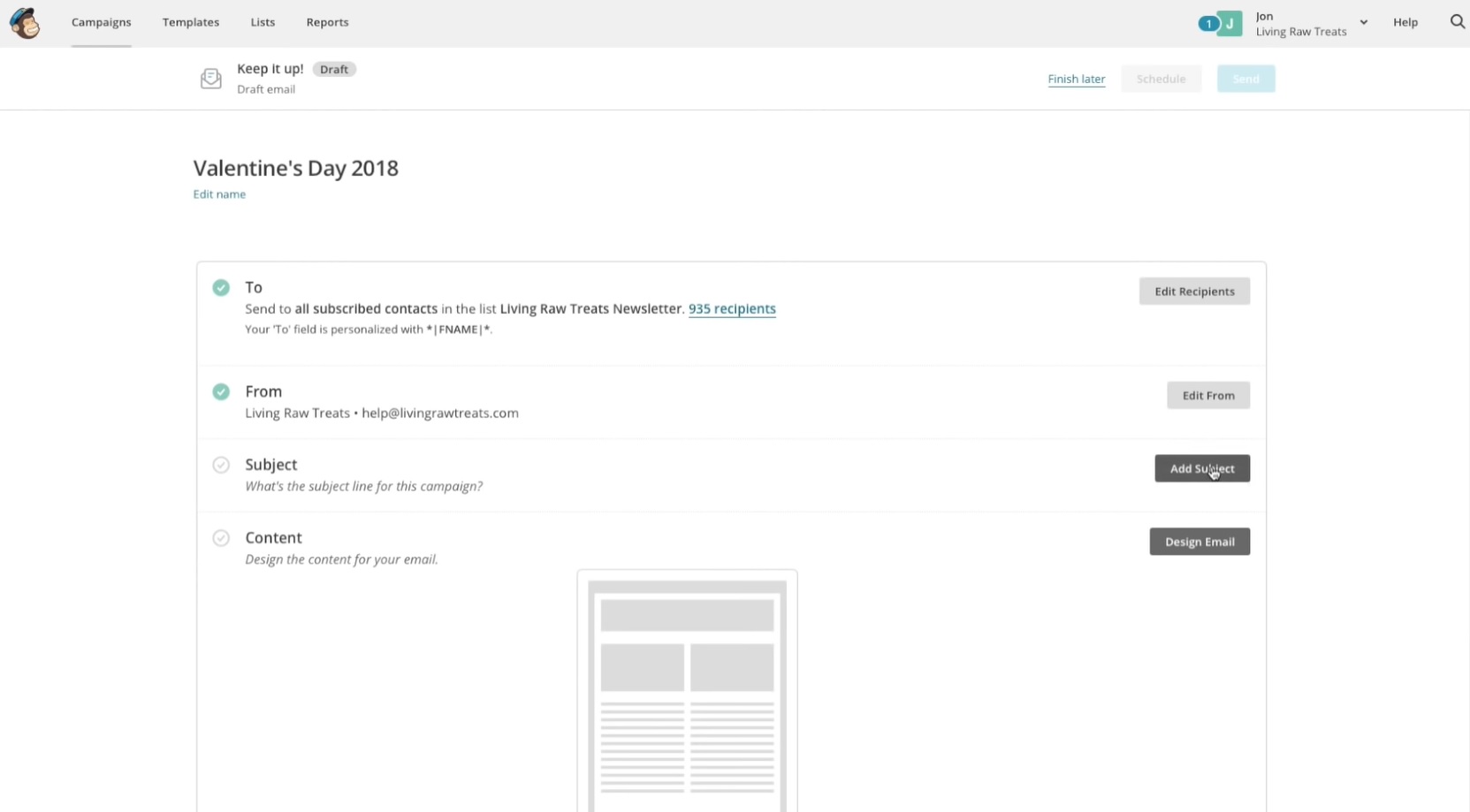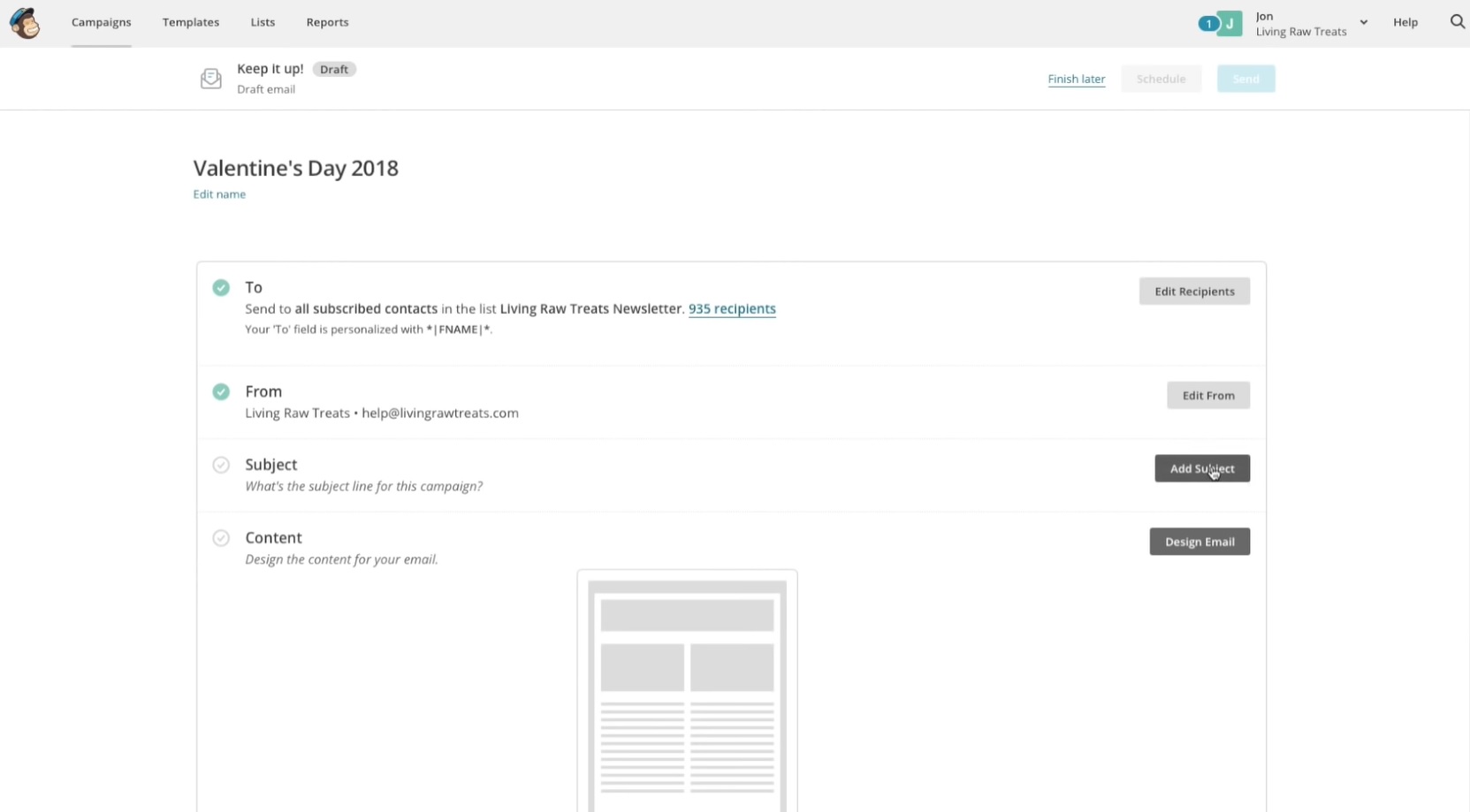 MailChimp is one of the top email marketing platforms and is designed for sending newsletters and automated marketing emails. Users can build their email lists using forms or by importing contacts.
MailChimp has grown from an email marketing solution and now offers additional online marketing tools, including landing pages, postcards, and digital ads. MailChimp also offers marketing CRM tools to help businesses better enhance relationships with their audience. Meanwhile, the analytics reports allow businesses to monitor trends and track campaign performance for a more informed decision.
MailChimp allows users to integrate their favorite app and online services to help make their marketing campaigns more efficient. Check this link and learn more about how marketing software can help your business, Some of the third-party apps that can be integrated with MailChimp include Adobe Photoshop, Zapier, WooCommerce, and Calendly.
Plans and pricing comparison
Next, in our OptinMonster vs MailChimp comparison, we will compare their plan and pricing. See below which plan suits your budget and online marketing needs.
OptinMonster Plans and Pricing
The Basic Plan good for one site, and it costs $9 per month and billed annually. Features of the Basic plan include unlimited campaigns for all campaign types, page-level targeting, list segmentation, success messages, list segmentation, simple reporting, and 3,500 pageviews.
The Plus Plan is good for two sites and 15,000 pageviews. It has all the features of the Basic plan and is billed annually for $19 per month. The Plus plan also provides integrated A/B testing, full reporting, content locking, attention activation, inactivity sensors, device targeting, MonsterEffects, and MonsterSounds.
The Pro Plan is good for three sites and 50,0000 pageviews. It has all the features that the Plus plan has and is billed annually for $29 per month. Some of the additional features of the Pro plan include Exit Intent Technology, mobile-specific campaigns, pro integrations, Yes/No forms, MonsterLinks, countdown times, campaign scheduling, UTM targeting, referrer detection, cast and form abandonment. The Pro plan also removes the OptinMonster branding and provides priority support.
The Growth Plan is the top-tier plan and costs $49 per month and billed annually. The plan is good for five sites and 250,000 pageviews. It includes all the features of the Plus plan. Additional features of the Growth plan include Onsite Retargeting, real-time personalization, follow-up campaigns, coupon wheel campaigns, success scripts, geo-location targeting, Adblock detection, custom branding, activity logging, advanced reporting, and ManyChat integration.
MailChimp Plans and Pricing
The Free plan is the basic plan that MailChimp offers. It is designed for novice users and small businesses. It offers up to 7 marketing channels, 1-step automation, basic templates, custom domains, surveys, website, and marketing CRM.
The Essentials plan starts at $9.99 a month and has all the features of the Free plan. Additional features include all email templates, multi-step automation, A/B split testing, custom branding, and 24/7 customer support.
The Standard plan starts at $14.99 a month. It has all the Essentials plan features plus advanced audience insights, customer journey build + branching points, retargeting ads, custom templates, and behavioral targeting automation series.
The Premium plan starts at $299 a month and has all the features of the Standard plan. Additional features include advanced segmentation, multivariate testing, phone support, and unlimited seats, and role-based access.
Benefits of using OptinMonster
Grow email list and attract leads
OptinMonster provides users with an array of opt-in forms to help collect and grow their email list. There is a campaign type to suit a specific conversion strategy, including a lightbox popup, a fullscreen welcome mat, a floating bar, countdown timer, and a sidebar form. There are more than 50 pre-built templates to choose from, designed to work on all types of devices.
Custom branding option
Top-tier subscribers can take advantage of the custom branding feature to help in building brand awareness. Also, OptinMonster has a drag-and-drop editor to help you customize your campaign according to your brand's style and the message you wish to convey.
Reduce cart abandonment and increase conversion
OptinMonster's Exit-Intent Technology automatically detects the website visitor's behavior. A targeted campaign is launched precisely the moment the visitor is about to leave. It's also capable of launching time-sensitive behavior offers to help reduce cart abandonment.
The Targeted Website Messages, on the other hand, show corresponding popups depending on whether its a regular customer, new visitor, or returning visitor. That allows you to make the appropriate offer to the right type of visitor.
Benefits of using MailChimp
Forever Free Plan
MailChimp's basic plan is "free forever." The plan is good enough for a subscriber list up to 2,000 and a monthly send of up to 12,000 emails. The free plan is suitable for light users and new businesses who are just starting to grow their list or simply want to save on costs.
Simple and easy to use
MailChimp is designed to be simple enough to use even for first-timers. You don't need to be tech-savvy to navigate through the interface as Mailchimp provides tips every step of the way so you can build your campaigns in a matter of minutes.
Grow and manage your mailing list
MailChimp is a useful tool to grow your mailing list. It provides customizable signup forms plus a task automation feature to help you streamline your process and concentrate on your marketing strategies. Our marketing automation software research and comparison further discuss what automation tools can do to make the marketing process more efficient.
You can also separate your list into groups so you can better manage your lists and customize your email messages according to your specific audience type.
How do you use OptinMonster and MailChimp?
In this last part of our OptinMonster vs MailChimp comparison, we will give you some of the steps you need to start using the services of OptinMonster and MailChimp. Please visit their respective websites for more detailed instructions.
Getting started with OptinMonster
Once you are logged into your OptinMonster account, you can press the "Create Campaign" button. A campaign could be a site-wide lightbox popup, a floating bar, a slide-in, an inline, or a full-screen campaign.
Choose the campaign template you would like to use or start with a blank slate. You can then configure and customize your form using the built-in editor. One of the settings you can configure includes the display settings, which indicates the duration the form will be hidden from if the user closes it or submits it.
Once configured, you click "Publish" and choose the website and platform on which the campaign will be published. You can either embed the code or use a dedicated plugin to make it easier to manage your campaign.
Getting started with MailChimp
To sign up for an account with MailChimp, enter your name and email address. Click the activation email that will be sent to you after signing up to activate your account. The first time you log in, you will be prompted to finish your setup by providing profile details.
The next step is to set up your audience. By default, MailChimp automatically generates the audience for you based on your setup details. You can then start adding contacts or edit your audience details.
MailChimp also generates a signup form so you can collect additional contacts. You can customize your sign up form by clicking on the Audience tab and choosing the "Audience dashboard." Next, you will select "Signup forms" from the Manage Audience options. You will then select "Form builder," followed by "Forms and response emails," and then select the signup form that you want to edit.
To create your first email campaign, click the Create tab and then choose "Email," enter the name of your campaign, and click "Begin." You will then choose the template from the Content section and then select "Design Email." Once you are satisfied with the design, you can add content by dragging and dropping blocks to add text, images, links, and more.
OptinMonster vs MailChimp Comparison: Which is a better digital marketing tool?
MailChimp allows users to send email campaigns and provides a detailed analysis of how effective the campaign was. As an added service, MailChimp also offers tools to help improve click-through and conversion rates.
OptinMonster, on the other hand, primarily focuses on conversion optimization. OptinMonster users can create targeted campaigns, including lead generation, onsite retargeting, and car abandonment. However, it does not provide the ability to send email campaigns.
MailChimp is suitable for small businesses and startups looking for an inexpensive way of sending out marketing emails. OptinMonster is for marketing agencies, eCommerce sites, and other small businesses looking for a powerful lead generation and conversion optimization tool.