Before, accountants use their large ledger books to record a business' financial statement. Due to recent developments, they can now utilize online accounting software solutions to save time by automating repetitive tasks. Since more and more companies use these programs, developers continually launch new tools and give updates on existing ones. Here is a list of bookkeeping software to help you track assets, expenses, and other financial information.
In this article, you will know the shared features of Xero and MYOB's entry-level software solutions.
Xero vs MYOB Essentials Overview
Xero is a cloud-based accounting program for small to medium enterprises (SMEs). The software requires a payment of $25 per month. This paid plan includes functionalities such as unlimited users, payroll for one employee, bank feeds, 20 bank transactions per month, five supplier bills per month, and five customer invoices per month. An upgrade to the $25 per month, the Xero's Standard edition offers unlimited invoices, bills, and bank transactions. Moreover, the $50 plan allows you to generate payroll for five employees.
Alternatively, MYOB Essentials require users to pay $29 per month to take advantage of the app's features. These functionalities include unlimited bank feed, transactions, supplier bills, users, and customer invoices. Also, it is an updated version of MYOB Live Accounts.
Since you already have an overview of the two programs, it's time for Xero vs MYOB Essentials comparison. Both platforms will be evaluated based on shared features, like the main dashboard, bank rules, bank feeds, bank reconciliation, billing, invoicing, payroll management, customer directory, and payroll management.
User Interface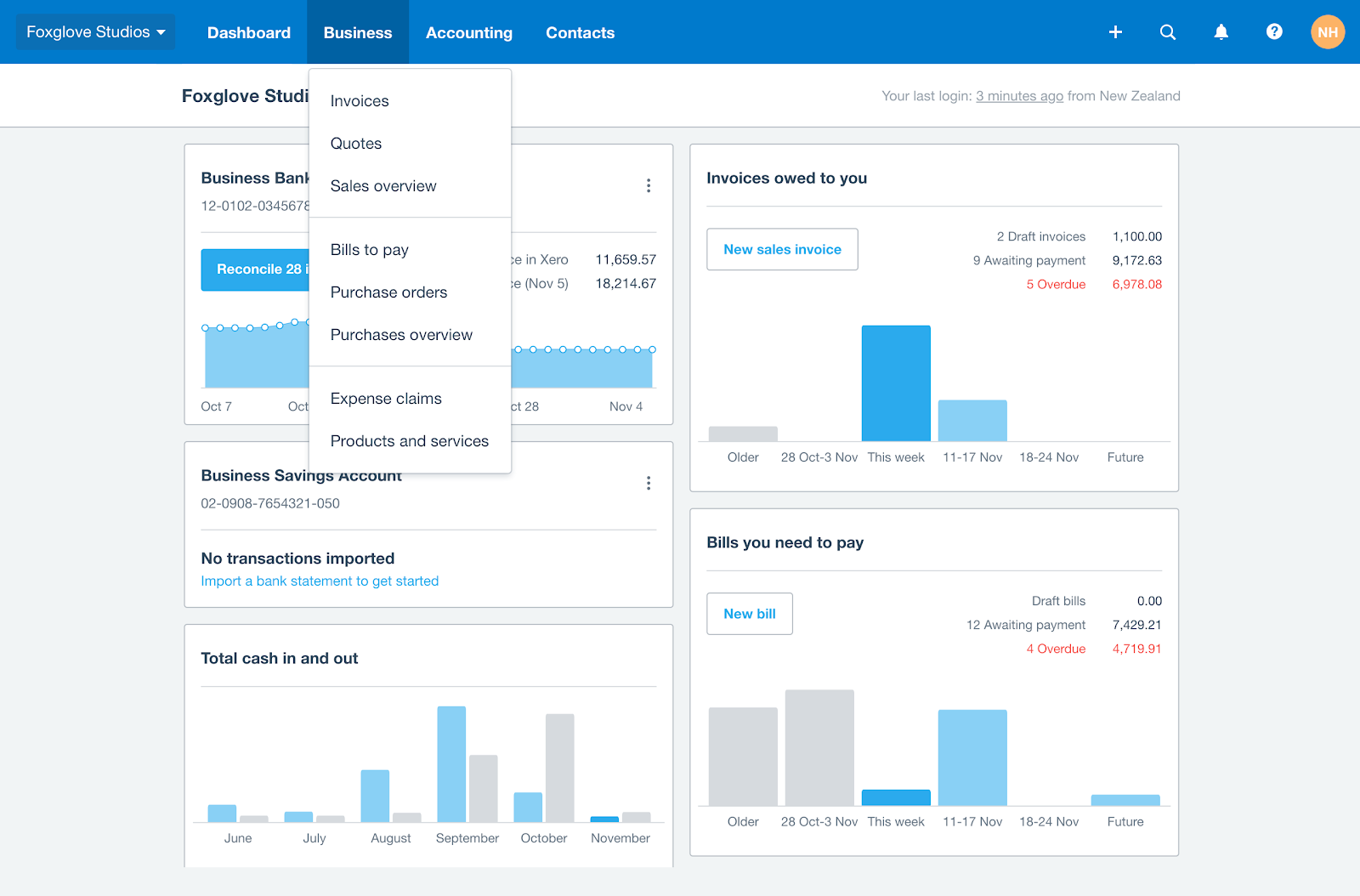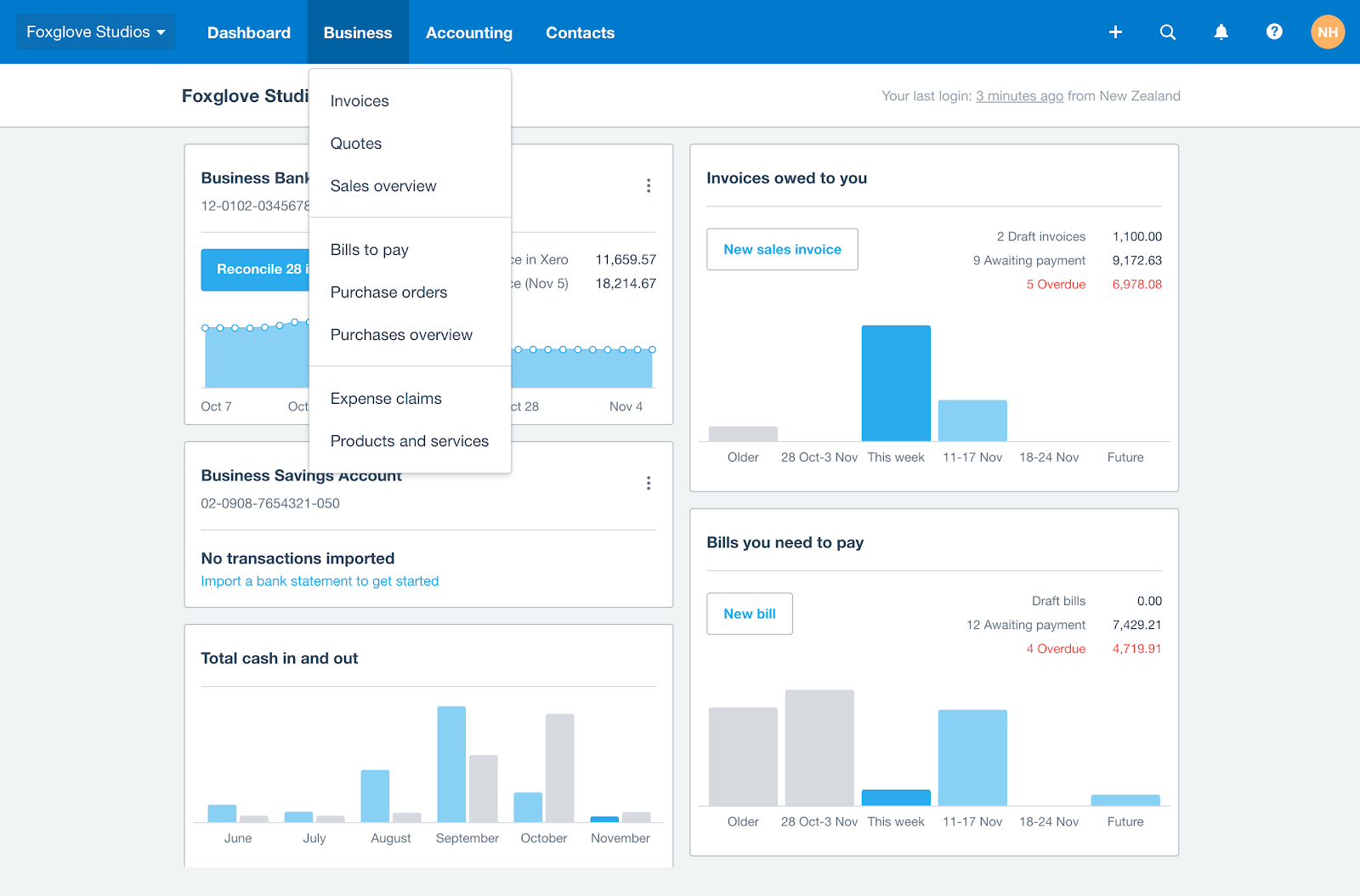 Xero provides you with a graph-based dashboard that you can customize based on your company's needs. With this platform, you can add the accounts that are of top priority. Moreover, the system allows you to see additional information quickly. With one click on the menu bar, you can access all of the program's features. Besides, the app's main screen includes on-going tasks that can help you focus on high-priority accounts.
Similarly, MYOB Essentials feature an intuitive dashboard that is easy to navigate even for first-time users. The program uses MYOB's conventional style; hence, first-time and previous users can learn how to use the Essentials quickly. With MYOB Essentials, you can have an overview of your business' financial standing through Bank Balance, Money In, and Money Out. What's more, you can access their particulars using one click.
Bank Feeds
Since Xero is a pioneer in online accounting programs, it already has established relationships with major banks. As a result, the system imports bank feeds directly from these financial institutions. Besides, Xero utilizes a third-party data analytics platform, Yodlee, for non-partner banks. To import bank details correctly, Yodlee asks for your online bank credentials through Xero. Yodlee then uses your credentials to copy your bank transactions and export them to your Xero application.
On the contrary, MYOB Essentials has acquired BackLink, a trusted data collection system. BackLink then provides MYOB users with secure and accurate feeds. To ensure your feeds' validity, BackLink employs data accuracy experts who review your account using internal business procedures.
Bank Rules
Xero provides its users with extensive bank rules that allow a maximum of seven rule conditions for your transactions. As a result, you can have an efficient matching process in your accounting platform. This automation then helps you avoid repetitive tasks like manual input of transactions. However, first-time users may have a difficult time taking advantage of this functionality.
On the other hand, MYOB Essentials only features the necessary tools for bank rules. For instance, it has no distinction between deposits and withdrawals. Moreover, the software doesn't have comprehensive allocation rules, so it is prone to erroneous automatic inputs. Due to this issue, MYOB poses numerous challenges for those who want to utilize bank rules.
Thus, in this Xero vs MYOB Essentials comparison, the former has an advantage in bank rules functionality.
Bank Reconciliations
Xero requires its users to manually approve all transactions linked to invoices, bills, and bank rules. With this platform, transactions made with bank rules automatically adjust your company's overall balance. What's more, Xero shows real-time updates on your balance. Since slight errors may occur, Xero advises its clients to regularly compare their balance on Xero with their physical financial statements.
In MYOB Essentials, the system assigns every transaction to your accounts located in the Bank Transaction tab. Like Xero, it automatically matches your transactions with bank rules to have an accurate balance. After finalizing your bank reconciliation, you can now see your MYOB and statement balance on the same screen.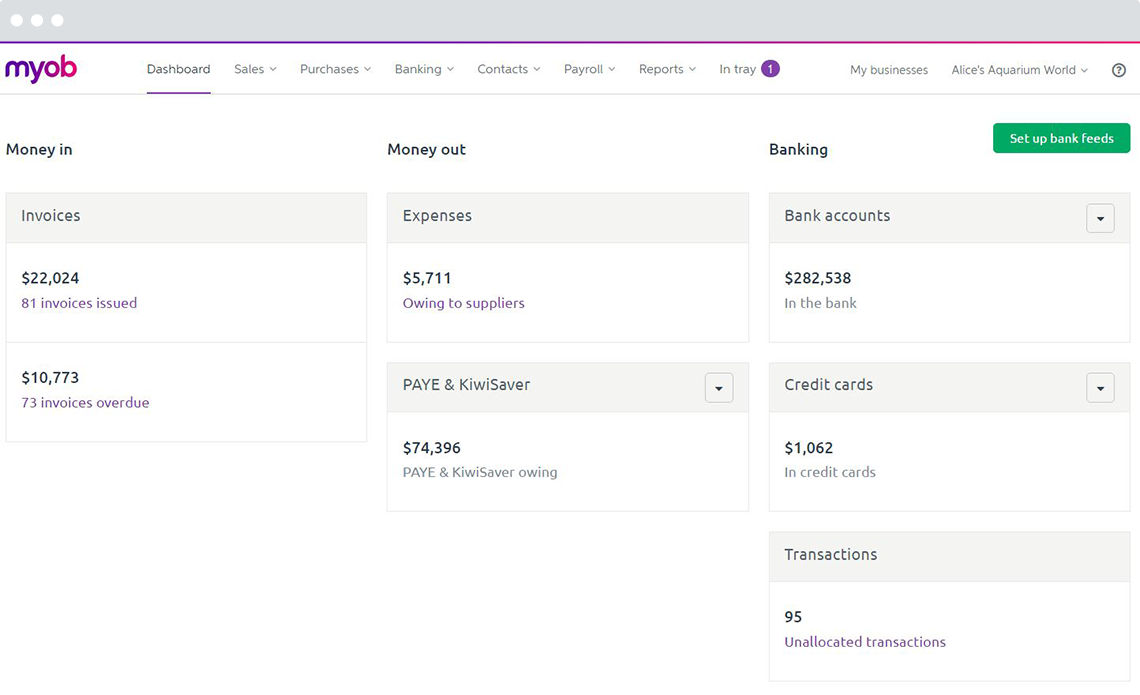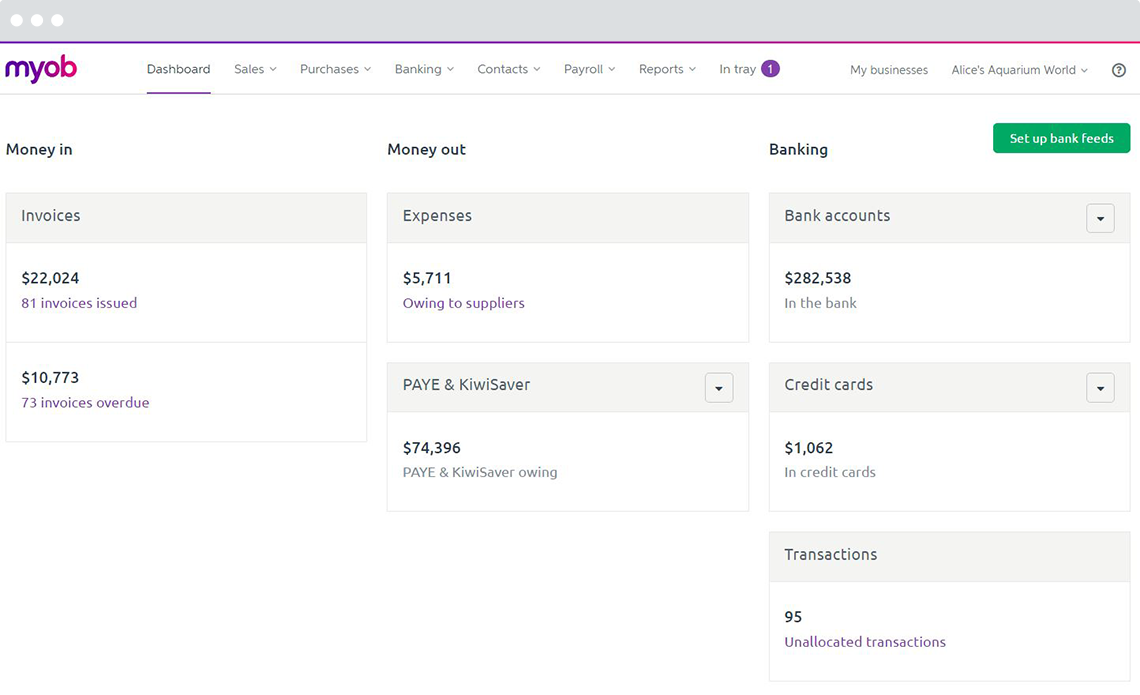 Inventory Management
Both Xero and MYOB Essentials do not have inventory tracking tools. You can check this list of best small business accounting software if you want a program with inventory management functionalities.
Even though Xero and MYOB Essentials can collate a list of items for sales and purchases, they cannot register each product's updated quantity. Fortunately, both systems provide third-party integrations to address these issues.
Billing & Invoicing
Xero is considered as one of the top invoicing software of 2020. The Starter version enables you to generate five bill transactions and five sales invoices per month. Additionally, the Standard plan allows for unlimited bills and invoices. But, Xero does not allow you to record a new customer or supplier's personal information during invoice creation. You first need to input the supplier's contact details on a separate tab.
On the contrary, MYOB Essentials offers unlimited bills and invoices. Even first-time users can quickly generate statements through the program's drop-down menu. Unlike Xero, MYOB allows you to readily create customer invoices with personal information.
Payroll Management
Xero's Starter plan can only accommodate one employee payroll, while on the Standard version, you can generate up to five employees' paysheet. If you want to unlock the payroll management tools for up to 10 employees, you need to pay for the Premium package. Additionally, the Premium 20 plan, which costs $70 per month, allows for up to 20 employees. As its name suggests, the Premium 50, which requires a payment of $50, enables you to create payroll for 50 employees.
Also, Xero features an employee portal that allows your team members to view payslips, apply for leave, and enter timesheets anytime and anywhere. However, this program requires a lengthy process from posting pay run to finalizing payments.
In terms of payroll management, MYOB Essentials poses a considerable advantage since it offers pay sheets for unlimited employees. Unlike Xero, this platform features an easy-to-follow three-step process.
Contact Management
An accounting program must have a list of your customers and suppliers. Both Xero and MYOB Essentials have basic listings of your partners and clients. This way, you can easily click on their brand or personal name to send invoices or payments.
It is worth noting that Xero has an advantage over MYOB because it features more extensive listing tools. Besides, the system offers invoice templates, default payment terms, and pre-set tax code per customer or supplier.
Accountant Invitation
With Xero, you can invite external accountants to collaborate with your employees. Besides, the platform allows these professionals to create year-end financial reports with the correct format. This functionality helps speed up the accounting process without compromising data accuracy.
Like Xero, MYOB can also request for other accountants' collaboration. The app allows you to invite bookkeepers and financial advisers to ensure your financial information's reliability.
Integrations
Xero offers a wide range of third-party integrations that you can utilize to upgrade your accounting experience. These programs include, but not limited to, Vend, Unleashed, and Re-Leased.
Similarly, MYOB also connects to third-party providers, such as ServiceM8, SmartJobs, and Shoeboxed.
Guides & Support
Since accounting tools are often complicated for first-time users, both apps give their customers extensive guides to uncover the benefits that each program provides.
Xero manages a community forum and 24/7 email support. This ensures that users from anywhere in the world get technical and general support anytime.
MYOB Essentials provides phone support, live chat, forum, and online support notes. Additionally, it features extended support for MYOB partners.
Other Functions
In terms of file sharing capabilities, Xero enables its users to attach and send documents alongside bills, invoices, and transactions. The system supports up to 1GB storage for Starter and 5GB for the Standard plan.
MYOB then features PayDirect, a smartphone application that enables you to take payments wherever you are. You just need an internet connection to take advantage of this program's functionality.
Which is the Better Accounting Program?
Xero features an intuitive user interface that is great for first-time users. However, the software's Starter plan places limitations on the number of transactions per month. Also, the Standard version is more costly than MYOB Essentials. Hence, Xero is not an ideal accounting program for start-ups.
Alternatively, MYOB Essentials is available in one plan, at $29 per month, and with comprehensive features. The software solution also allows for unlimited transactions that can help you automate your company's financial transactions. More importantly, it supplies secure storage for your financial information. Lastly, through the Bank Transactions tab, you can view your updated balance anytime and anywhere.
In conclusion, throughout the Xero vs MYOB Essentials comparison article, MYOB proves to be the better accounting platform for SMEs.