As we all immerse ourselves more and more into the digital landscape, we find ourselves handling an increasing amount of digital data. From emails to scanned copies of personal and work files to more photos that we have time to categorize, the big questions is where do we store all these files? There are so many online services available that it begs the question, which is the best digital storage service for me?
In this article, we will be doing a WeTransfer vs Dropbox comparison where we will outline the main features of each of these seamless sharing platforms to help you decide which medium is the best for you. If this is on your mind, check this file management software analysis.
What Does Online Storage Mean?
Online or cloud storage allows users to upload their files to an internet-based cloud platform that users can access through different devices. These apps or browser-based applications are digital spaces where you can store and access files safely and securely. Gone are the days where you have to lug around floppy disks and CDs which turned into USBs and hard-drives, now anyone who has a little bit of internet savvy can use these remote storage services for managing and sharing e-files.
This means your files will always be accessible to you no matter where you are as long as you have your device and an internet connection. There are also services that offer offline access meaning items you've tagged as available for offline access will only be the files that will be saved locally.
WeTransfer: The Basics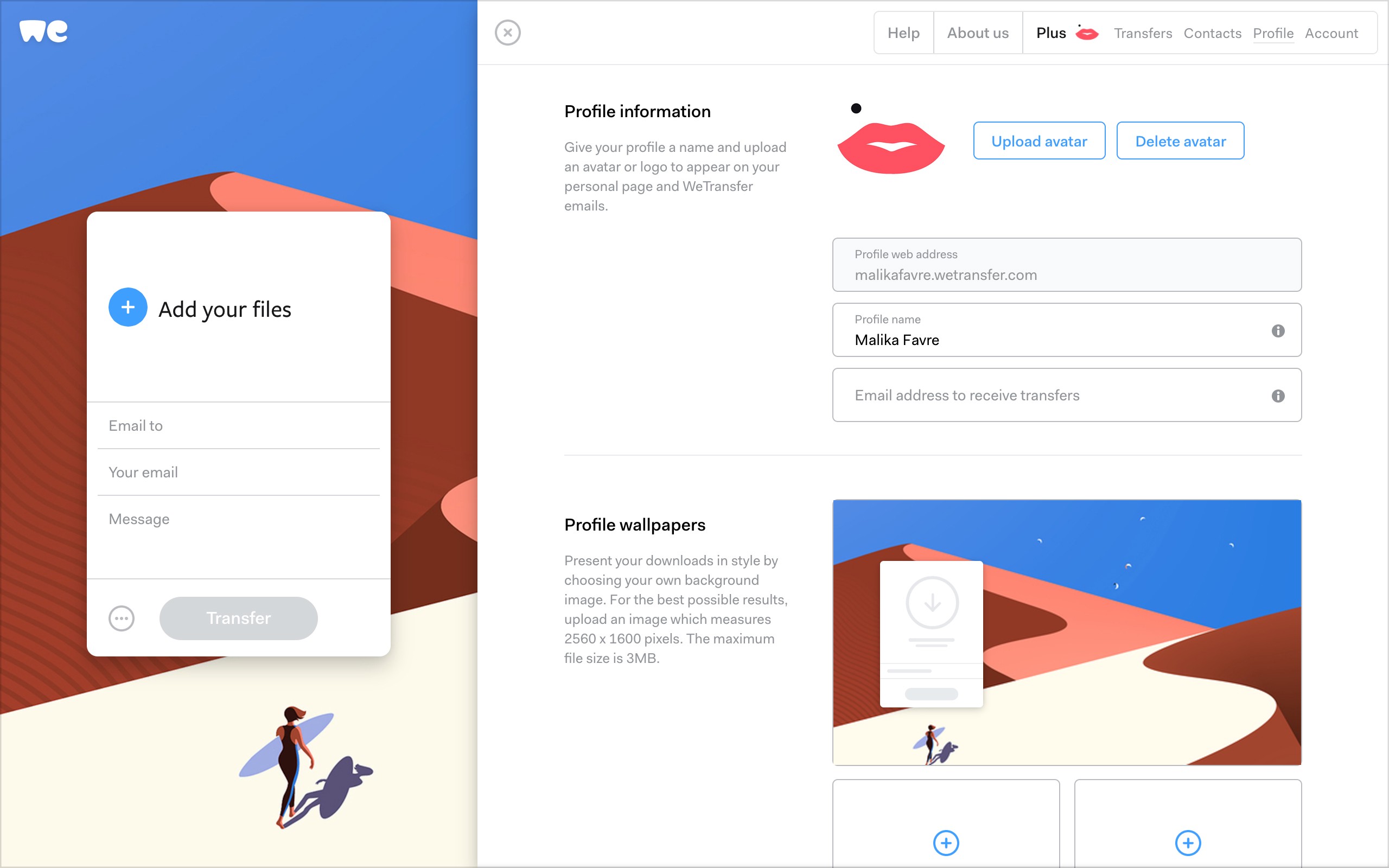 Most WeTransfer vs Dropbox comparison articles will tell you that WeTransfer is more well-known for business solutions. It is a cloud service that is especially handy for anyone who needs to transfer large files. Unlike other platforms that have a standard size cap that's enough for a couple of pictures or a moderately complicated PowerPoint with animation, WeTransfer also has features that are appealing for those in a corporate setting.
Right off the bat, one of the convenient features of WeTransfer is its no account file transfer. Users who have yet to create an account can send up a maximum of 2GB worth of files to up to 20 different email recipients simultaneously without having to sign in. However, for those now want to use for storage, they'll have to rate an account and this will give you access to up to 20GB at once. Those who are subscribed will be given 100GB of storage for frequently used files.
Other notable features offered by WeTransfer include branding customization through name incorporation in your URL, use of your company logo as well as personalizing your layout to suit your brand style.
Dropbox: The Basics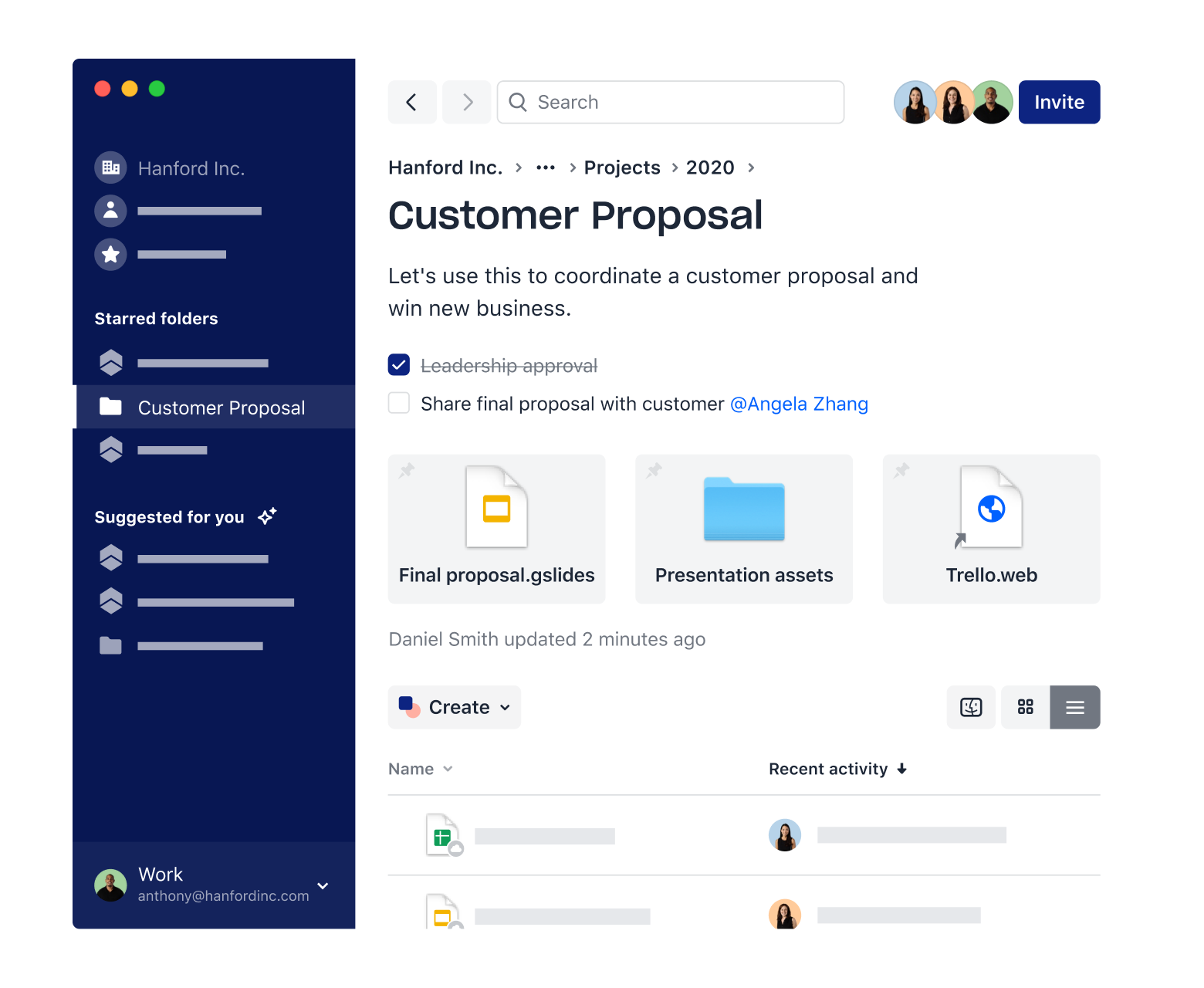 To be honest, to most, Dropbox needs no introduction; it is the go-to choice for people when looking for a platform to collaborate with others and manage files. Dropbox boasts of a range of functions that include file synchronization, seamless integration with other services and applications, as well as authorized folder access. Access is pre-determined; the admin of the folder can identify if someone will have view-only or edit permission.
When doing a WeTransfer vs Dropbox comparison on login, as mentioned, WeTransfer allows email file sharing without being an account holder with a data cap. Dropbox, however, needs users to be logged in when using the service. Additionally, Dropbox also shows users the history of files they have either shared or received.
Encryption and Security
Since this is a head to head comparison, it must be noted that both platforms have an end to end data security. Even when in transit, both service providers offer transport layer security or TLS which ensures two communicating applications have intact data integrity. Both WeTransfer and Dropbox use AES encryption, 256-bit, and 128-bit, respectively.
As an additional layer of protection, Dropbox offers users with two-factor authentication which puts an additional credential verification layer upon login. This is a feature that is not carried by WeTransfer. Two-factor authentication is a security layer that sends a security code to your registered mobile number that you key into the browser or application which is a condition to be granted access to the account.
Usability and Interface
In order to elevate the user experience, platforms spend a lot of time developing their dashboard and interface in the hopes of making it more intuitive and simple to use. Overly complicated systems are frustrating for some users who just want to maximize a service or feature. For this portion, let us compare workflow management software here.
WeTransfer is pretty simple to use, right at the home screen all the critical functionalities are available – downloading, file uploading, sharing and forwarding data, coping the file link as well as removing/ deleting the file.
Comparatively, Dropbox is widely known for its user experience, although some have harked on the platform as being complicated for a first time user, it has a pretty clean-cut homescreen that can be personalized and for business use, you can add a company logo.
Online Storage Pricing
The great thing about both these services is that they offer free-to-use versions of their platforms. This means WeTransfer and Dropbox both have limited membership features that are available without any cost to users. However, it must be emphasized that these will only include basic functions and low storage caps.
For WeTransfer, upgrading to the Pro version will cost $12 per month and provide users with access to features such as 1TB storage, single file size up to 20GB, custom URL, email transfer reaching 50 persons, and password sharing, customized emails, and adding backgrounds to videos and images, to name a few.
Dropbox Professional offers 3TB of storage, password protection, logo inclusion, and expiration dates for a price of $20 per month. There is also a Dropbox Business plan that offers a 15TB plan and for $25, unlimited storage.
Which Service Provider Should you Get? 
The answer to this question can not be made in one sweeping response. The fact of the matter is that it would be like comparing apples versus oranges. While both are online storage service providers, their clientele, expertise, and service features are completely different. Dropbox is a much more holistic service that offers a range of features that can be used for personal and commercial applications. In addition to storage services, it also offers a number of productivity features.
On the other hand, WeTransfer is ideal for those who are running transit campaigns or need to deliver outputs and products without necessarily needing to open another account. For those specific purposes, WeTransfer is the choice; it's easy to use with minimal requirements.
It is good to reiterate that either way, if you do not require that much storage, then costing will not be much of an issue since both offer free-to-use systems.
Based on our document controller software research, when it comes to choosing a service provider for your online storage needs, if the goal is to have a space to store your files with more functionality, then Dropbox may be the better option for you. However, the decision rests upon a number of factors such as your purpose,  your appetite to commit to opening an account, the storage space and services you require, and your budget, in case free options will not suffice.