Traditional file management applications such as File Explorer — the de facto file manager in Windows — are powerful enough only as far as personal use is concerned. Put simply, they are basic tools designed to help users manage files and folders on local computers. Beyond that, the applications lack business or advanced features that can make digital life easier and a lot more productive. 
For example, the solutions don't support operations such as splitting and merging. In addition, they don't offer data integrations and collaboration tools to enable experts working on complex projects to share files. Above all, the propensity of file duplication is a key disadvantage, especially when you consider their limited storage space. Fortunately, technology has given rise to robust file management software.
These platforms organize files and documents in hierarchical systems, creating a searchable database for quick access. Digital filing systems improve overall business workflows and allow you to set permission levels and user profiles to enhance security. This is just scratching the surface, the list of benefits goes on and on.
In this article, we've compiled a comprehensive guide to jumpstart your search for a reliable file management software. You'll learn what a file management system is, its benefits, features, and even the factors to consider when buying one. In this way, you'll have all the information you need to make a concrete buying decision.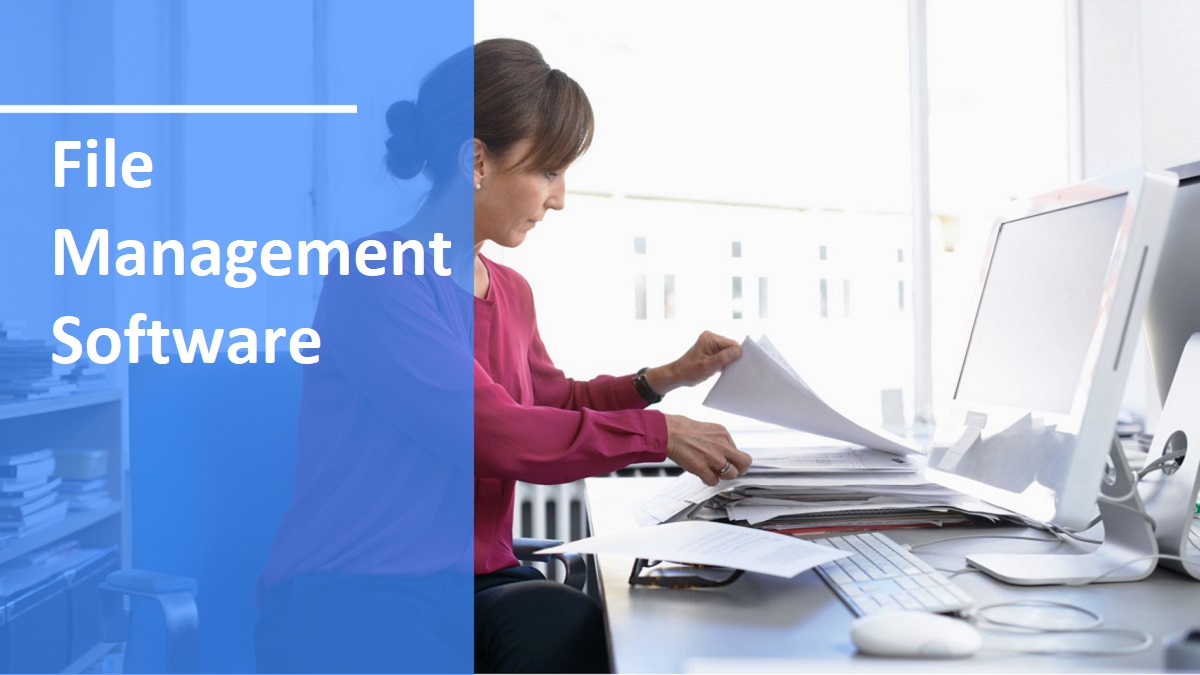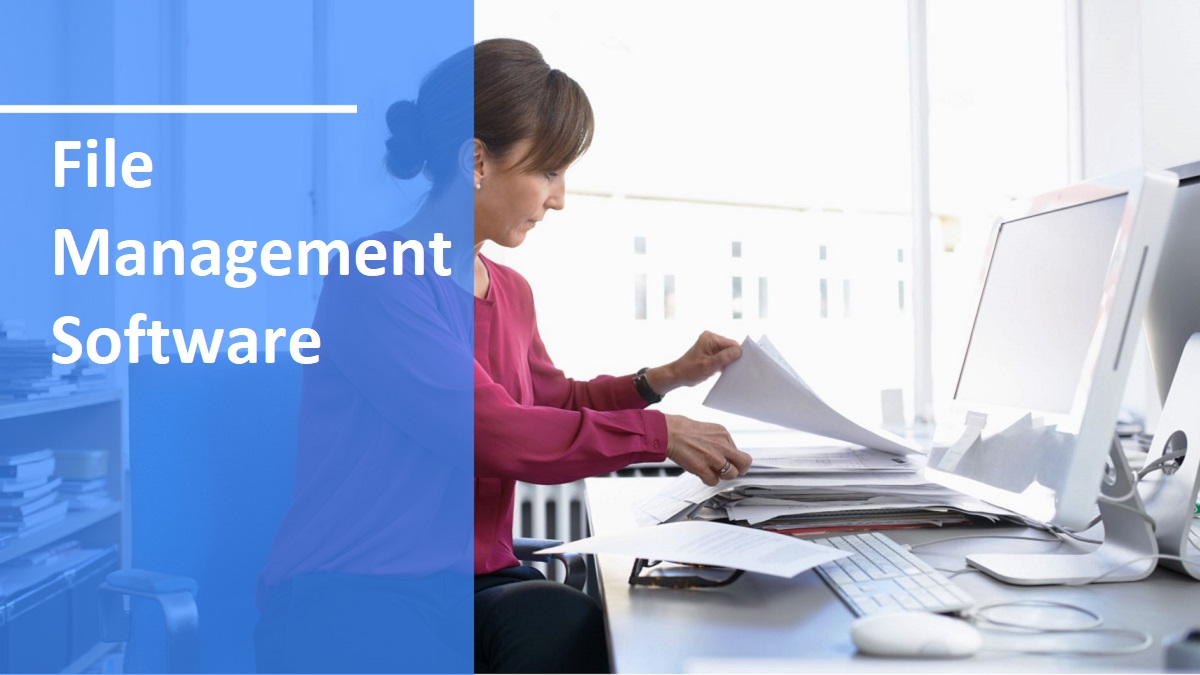 File Management Software Table of Contents
What is File Management Software?
A file management software is an application that enables users to create, store, and access files on a device — desktop, laptop, or mobile. Initially, file management systems were designed to handle only the storage of files. Lately, however, the applications have evolved into robust systems that enable users to handle a range of functions.
Some of the things you do with file management software include:
Create new files
Move files between locations
Organize files in multi-hierarchical arrangements.
Access all stored files in a single glance
Adjust basic metadata
Sort files based on different criteria such as date, name, file format, and size.
Whether you are handling just a few or millions of documents, the application can help you browse through folders and access the precise file in seconds. Moreover, if you need to remain on top of things like workflow, file security, or advanced organizing, a file manager is always there to help you out. The core capabilities and the intuitive interface of file management software make it an indispensable tool in the office environment. You can also visit sites like theonlineconverter, an online web-based application that helps you to make different files conversion for free to better manage files.
List of Best File Management Software
With every business embracing the digital wave, the use of electronic documents and files is now all the rage. Everything, from non-disclosure and employment agreements to financial and business reports, and everything in between, is managed digitally. The upsurge in the use of electronic documents has increased the demand for file management systems.
In response, developers have stepped up the creation of numerous solutions. Consequently, the market is now flooded with such tools and it's now a daunting task to find a befitting file management system. Luckily, we've compiled a list of the best file management software:
Difference Between File Management and Document Management
Let's now demystify the difference between file management and document management. It's fair to say that the line between these two functions is blurred. In fact, a quick search on Google serves up "old" articles and blogs that don't comprehensively put this topic across.
To understand the difference, you should first know exactly the definition of a document and a file. As per Merriam-Webster's definition, a document is an official or original paper used as proof, basis, or support for something. A document can also be defined as a computer file that contains text or information input, say, MS Word, Spreadsheet, or Google Doc.
On the other hand, a file is an aggregation of papers (documents) or data records collated and archived as a single unit for purposes of input and output. To make it simpler, think of a document as a digital contract or agreement and a file as the electronic cabinet or case by means of which these documents are kept in order.
With this in mind, file management is all about storage. In other words, with file management, less effort is extended towards the organization, you just concentrate on getting the documents into a file. Conversely, document management entails controlling documents including, those archived in files, from creation to destruction. It's a long process that includes multiple components such, as indexing, revision tracking, workflow management, document accessibility, and security.
All that said, this tech arena is changing fast, further obscuring the line between file management and document management solutions. Today, the functions are intertwined and most systems offer the best of both worlds.
Types of File Management Software
Before you think of the installation, you should first know the different types of file managers that exist. Fundamentally, there are two types you should consider, namely:
On-premise file managers
On-premise file management solutions are installed on local computers or servers. You may not have noted this, but the device you're using comes packed with a file management utility, primarily designed for personal use.
For example, if you use Windows OS, then the Windows Explorer (File Explorer for Windows 10) is a perfect example of an on-premise file manager. The application enables you to browse through internal or external storage for specific files. You can also easily open, edit, delete, and save files in Microsoft Word or Microsoft Excel. Besides, it's easy to create folders, organize files in hierarchical orders, and move files from one folder to the other.
There are equivalent utility programs for other operating systems. In Apple MacOS, you can manage files using Finder, Mac's built-in file management tool. In other Linux distributions, such as Ubuntu, you can use Nautilus, an equivalent application to manage files. Lastly, if the Android phone is your goto device, then you'll be at home managing files and folders using the File Manager.
A good example of an on-premise file management software is DigitalDrawer.
Cloud-based file managers
In business use cases, the Windows Explorer, and its equivalent tools, may not be equal to the task. To streamline the process and handle unending streams of data and files, you'll require a more robust and feature-packed solution.
Enter cloud-based file management software. As the name suggests, this type of application is hosted in the cloud and is designed with automation at its core. As such, it syncs data between your devices, maintaining a clear hierarchical order of files on the remote server. Beyond that, a cloud-based file manager enables you to access files anytime, anywhere via a web browser.
Some of the popular cloud-based file management solutions include Google Drive, Dropbox, Apple iCloud, and Microsoft OneDrive. Be sure to check this Apple iCloud vs Microsoft OneDrive guide to learn how the two platforms compare.
Benefits of File Management Software
There is no doubt, transitioning from a paper filing system to a fully digital one can be intimidating. However, the stark of benefits that come with digital file management makes the entire process worth the hassle. Some of the popular benefits include:
No more misfiling
Managing large volumes of documents filed and stored physically is a tedious process that's often prone to human error. In most cases, you'll certainly misfile a document, and then spend several hours to retrace it. Luckily, this is not the case with file management software.
The solution allows you to find the right folder for each file and transfer your documents accordingly within minutes. This prevents misfiling errors and facilitates a shorter working time, enabling you to progress quickly with other duties. Better still, accurate filing is a cost saver.
Eliminate files loss
According to present data, on average, businesses lose 7.5% of their documents completely. Problems begin when a critical document is lost and needs to be replaced. In this case, a business has to part with at least $122 to replace the lost document.
Losing a file means losing several documents, which in turn means incurring more costs in replacing them. A digital filing system stores documents in a secure database, hence minimizing the risk of losing them.
Reduce costs
A file management software solution reduces costs in multiple ways. It eliminates the cost of property rental to archive documents. In line with this, by eliminating paper-based filing, it greatly reduces the cost of manually handling and transferring files back and forth. In addition, it eliminates file loss and thus cuts the cost of replacing lost documents.
Streamline workflows
Retrieving paper-based documents can be a tiring, inconvenient, and time-consuming process. You have to physically search through multiple drawers in each cabinet just to spot a single file from millions of hard copies. This adds up to numerous hours of wasted labor and can easily cause gridlocks to vital projects.
With file management software, it takes but a moment to access a particular file, You don't have to leave your work desk, you just type a keyword and hit the search button. And in a flash, the application serves up all relevant files, leaving you to pick the right one. This streamlines workflows and saves you more time to focus on developing projects.
Improve employee productivity
In addition, a digital file manager organizes files in hierarchical structures making them easy to find. As such, it saves time, allowing employees to do more work within a given period. Even better, when used in a customer-facing situation, a file management system, enables employees to find relevant files quickly, hence expediting customer service.
Enhance security
Anyone with access to a file cabinet can open and look at or even steal a vital document. But, with a robust file management solution, you can set multiple layers of security to keep documents confidential. You can set passwords and permission levels to stipulate who can access a specific file. Moreover, advanced solutions offer audit trails that enable you to monitor who accessed what files, when, and what they did with it.
Features of File Management Software
Getting to know the key features of a file management software is paramount if you want to find the best solution for your business. These are the core features of file management software.
File lifecycle management
An incredible feature that comes in handy for organizations that deal with information that needs to be updated frequently. Take a healthcare institution, for example. The care providers need to track and maintain Protected Health Information (PHI) on a regular basis. The file lifecycle management feature makes it a breeze to track relevant files by date and activity.
File storage
This feature is the gist of file management software. The solution allows you to store files in an organized manner to lighten access, retrieval, and sharing of relevant information. Most importantly, centralizing file management prevents file loss or misfiling. Generally, the solutions store files on virtual servers that guarantee optimal security. This way, even when calamities, such as earthquakes, floods, or fire, strikes, your files remain intact.
User management
In most cases, data breaches don't occur through a system's frailty, they happen as a result of negligence on the employee's part. User management tools compel users to take responsibility for the errors they make. You can achieve this by creating a profile for each user and setting granular permission levels to restrict their level of access.
Encryption
This feature secures the file exchange and storage protocol to curtail loss or access by unauthorized individuals. A good file management software should offer Advanced Encryption Standard (AES) 256-bit protection for files stored in the cloud database. Besides, it should guarantee 128-bit encryption for files on "transit"—those sent via email or being upload to the cloud.
Compliance
In the wake of rampant data breaches, industries, as well as governments, have passed strict regulations and legislation to stop the escalation of this problem. Beyond file protection and organization, file management systems help businesses to remain compliant with these regulations. The compliance tool is all the more important for organizations operating within the healthcare, finance, government, and energy industries.
Factors to Consider When Buying File Management Software
When buying a file management software, you should consider the following.
Central file repository: Always go for solutions that offer a central repository for your files and documents. At its rudimentary, a filing system should not just store your files, it should also back them up more effectively. Centralizing the files sets them up for quick and easy access, sharing, viewing, and editing.
Time and cost savings: A digital filing system shouldn't inflate cost or increase the amount of time taken to file documents. This calls back to the first factor. If you have multiple, interdependent departments, then having a centralized filing system can help cut down time expended on handling file-related tasks.
Accessibility: Moreover, file management means more than just having the files in a central repository. For your businesses to run smoothly, you should use a solution that also offers effective yet easy-to-use access methods. Moreover, your files can only serve their purposes only if they are accessed by authorized people at the right time. This means your file management software should allow you to create user profiles and stipulate permission levels.
Integrations: Your filing system shouldn't be too rigid. It should offer the ability to work in tandem with other third-party systems to streamline operations. Having powerful integration capabilities helps break data silos and smoothen out the flow of data between systems.
Compliance: Does the solution adhere to industry regulations and legislation? Some industries, such as the healthcare sector have strict rules when it comes to data management. As such, you must ensure the system you're picking is fully compliant with compliance standards such as HIPAA.
Latest File Management Software Trends
Successful entrepreneurs set aside time every day to keep up with the latest development in their industry. You should do the same. And to get you started, we've researched the key file management trends. Staying informed on these trends will help you get the most of the solution you'll pick. Besides, it will help you remain ahead of the curve in your field.
Cloud storage continues to grow: Cloud technology has taken the world by storm and today, nearly all business operations happen online. As a result, businesses are continually looking for innovative file management to keep pace with the growing trend. Cloud file storage couldn't have come at a better time. The innovation has simplified file management and continues to earn plaudits, thanks to its affordability and accessibility.
Mobile access: People herald mobile technology as an able driver of modern business. The changing work environment and the growing remote workforce means people need to have access to vital files and documents anytime, anywhere. Fortunately, the proliferation of mobile devices, especially the smartphone, is a welcome relief to businesses that need to keep people connected. On the other hand, vendors have grabbed the opportunity and are now creating user-friendly platforms and mobile apps to simplify accessibility.
Increased affordability: Initially, businesses were not open to the idea of digital file management. Recently, however, the uptick in the adoption of file management software has created a competitive market. New innovations are coming in thick and fast, but the prices of these solutions continue to drop drastically.
Potential File Management Software Issues
Introducing new software in a business isn't always smooth sailing. There are roadblocks along the way and having enough knowledge about them can help you succeed. Some of the potential issues you should be aware of include:
Onboarding process: Implementing a solution that impacts every department in your business isn't a cakewalk. Whether your employees are tech-savvy or not, the transition to digital can present a steep learning curve for them. And even if you accomplish the onboarding process without a hitch, it may take days for everyone to get accustomed to the new way of filing.
Employee mindset: By nature, people are resistant to change and your employees are no exception. Implementing a new file management software will push employees out of their comfort zone and this might spark a wave of resistance. To counter this problem, invest in open and clear communication, prior, during, and even after the installation. Explain, in black and white, why you are implementing the new system. Make sure every employee is aware of the benefits and convenience the new software will deliver.
Find The Best File Management Software
And that's about it; our detailed file management software guide. Hopefully, we've covered enough ground to help you find a solution that streamlines filing. As you have seen, investing in a digital filing system can deliver numerous benefits that transcend file organization. However, to reap these benefits you should first find a reliable solution.
Luckily, we've shared some of the factors you need to consider to find the best file management software. Take all these into consideration and come up with definitive criteria that will help you wade through the bunch of solutions and spot the most effective.
But even as you rush to implement a digital filing system, be mindful of the potential issues that could arise as a result. In particular, ensure your employees are in the perfect frame of mind to see through the benefits of the online system. Most importantly, don't disregard the key trends in the file management space. The industry is constantly changing and you need to keep pace to remain relevant and compliant with set regulations.