Communication software is necessary among organizations and professionals because it allows them to connect via computers and other devices. It allows users to send messages, receive calls, share files, and the most important of them all, video conferencing.
Two of the most famous and leading video conferencing software in the world today are the Cisco Jabber and Skype for Business. They provide users a ton of amazing features that make them stand out among other video conferencing software brands.
Nowadays, organizations must have the best customer service software and communications software to survive and top the competition. However, since there are many communications software to choose from, businesses and professionals struggle to find the best choice.
To make your organization more productive and produce better results, you must find a video-conferencing application that will help you create more meaningful interactions with your colleagues, which can help you become more effective. Here is a list of lead generation software that might help boost your organization.
This article will help professionals like you to determine the features of each brand and what makes them different from each other. Let's start the Jabber vs Skype comparison.
Skype for Business Overview
Formerly known as Microsoft Lync, this version of Skype is mainly designed for professional use. Skype is the most famous and widely used video calling and conferencing application globally, with its over 400 million monthly users. Skype for Business is also created for the same purpose, but only with a different approach since Skype for Business is designed for professional use.
It makes instant messaging, online calls, meetings, and presentations much easier because of its advanced features. Since Skype for Business is owned and created by Microsoft, it is designed with Office integration, which is available for users when video conferencing. It is designed with a very simple interface, which makes it easy to use.
Besides, Skype for Business is also equipped with other Microsoft Office 365 products. With this, presentations and meetings are made easier among professionals regardless of where you are. Audio conferencing is also supported in Skype for Business. This means that User 1 can dial User 2 and answer by phone.
For example, your company has an online meeting; however, you are on the road driving. One participant in the meeting can dial your phone number, which then allows you to join the meeting by simply using your mobile phone.
This is an added feature that surely made a lot of difference for professionals. The ability to use your mobile phone to attend a meeting while driving or being elsewhere is a must for professionals who are always occupied.
Skype for Business Features
Improved look and feel
Audio conferencing
Integration with Skype directory
Call monitor
Rate my call
Quick access call controls
Some features from Microsoft Lync such as the Quick Actions buttons were not removed when they upgraded and designed Skype for Business. This feature allows users to create instant messaging or call someone with just one click. With this, users will not have to waste too much time searching for a command that they are looking for.
Audio conferencing is also another feature of Skype for Business. This feature allows you to make Skype calls to your colleagues only by using your mobile phone without compromising the audio quality. Also, your caller ID remains the same, and you will still have access to instant messaging, app sharing, and attachments.
Skype directory is also added to the user interface of Skype for Business. This allows you to connect with any Skype user. You only have to search for the person you want to contact, and if that person is not in your contact list, the Skype directory will do the searching for you.
If you are a professional who loves to multitask while attending an online meeting, you will undoubtedly like the Call monitor feature of Skype for Business. This additional functionality will help you stay involved in your meeting while doing other important tasks on your computer.
Skype for Business Pros and Cons
Pros:
More comfortable to share information regardless of your location
Allows integration with other Microsoft 365 apps
Supports a wide array of languages
Affordable premium plan at only $12.5 per month
Cons:
Call monitor has limited functionality
Only allows integration with limited applications
No free trial
Cisco Jabber Overview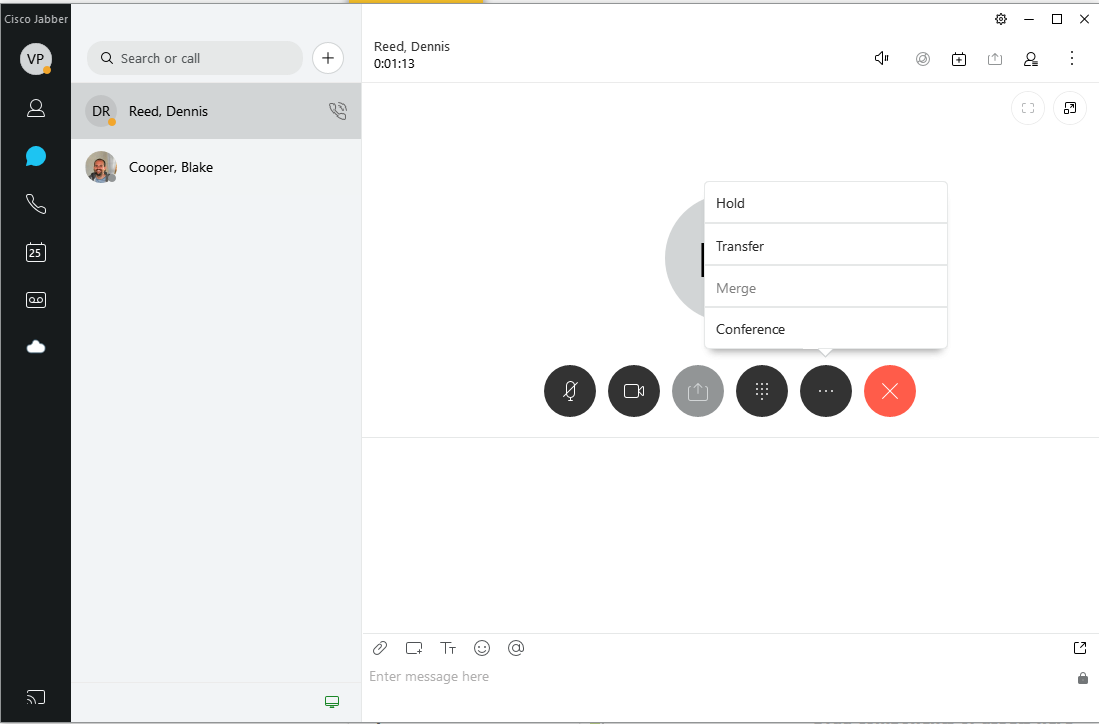 Cisco has already spent decades of experience if you talk about hardware-based video conferencing. This makes it one of the most popular networking and video conferencing brands.
It is considered as a direct competitor of Skype for Business because they both offer similar features. However, Jabber offers several features that Skype for Business does not. These features will be further discussed in this Jabber vs Skype comparison.
Jabber is a unified communication software that gives users access to other platforms and devices like Skype for Business. In addition, it also gives you access to presence, instant messaging, voice messaging, voice & video call, desktop sharing, and video conferencing. Jabber assures its users a more secure and reliable communication.
However, what makes Cisco Jabber exceptional is its software development kit, which allows you to enhance web-based applications. This development kit can help users make decisions faster, increase workforce productivity, and improve results.
Cisco Jabber Features
Instantly interact with instant messaging and presence
Business-class IP voice
A complete collaboration for your iPad
Communication from Microsoft Office
Mobile collaboration – anywhere on any device
Communication within web applications
Cisco Jabber makes things easier by letting you access instant messaging and see the availability of your contacts at one glance, which allows you to start a conversation without hassle. It also features high definition video calls and desktop sharing, making your video conferences or meetings more productive.
Cisco Jabber is also powered by Cisco's Unified Communications technology. This allows you to unify real-time communications capabilities such as voice, video, instant messaging, conferencing, and unified messaging. With this, you can create a more robust and flexible workforce while using secure communication.
In addition to these features, Cisco Jabber also integrates with third-party platforms such as Microsoft Office. This allows users to check on the availability of other users and connect with them by using Microsoft Office.
Lastly, the software development kit which is the most significant feature of Cisco Jabber. It allows you to enhance your favorite web-based applications, which eventually leads to making decisions faster and becoming more efficient in what you do. Moreover, the software development kit lets users stay within a web-based application while accessing other videos without switching to other applications.
This feature is essential for professionals because it allows them to communicate efficiently, resulting in more meaningful interactions and improved business productivity.
Cisco Jabber Pros and Cons
Pros:
Ensures consistent communication
Offers integrations with many applications aside from Microsoft Office
Cisco has a long experience in hardware-based video conferencing
Cons:
The premium plan is too pricey
Low customer experience
Unfamiliar interface
Cisco Jabber vs. Skype User Reviews
Aside from this comparison, another way to help you decide on which video conferencing application to choose is by checking what users have to say with these applications.
According to some reviews of Cisco Jabber, the application is an easy-to-use messaging tool which is best for small businesses and organizations. However, they think that the Cisco Jabber needs to upgrade the quality of its features and display.
On the other hand, Skype for Business users say that it is a great application because it is a simple, flexible, and complete messaging platform for internal communication. As for its negative reviews, users think that the functionality of Skype for Business mobile should be updated due to some glitches that users have experienced.
You can also weigh and compare customer support software reviews to give you a more unobstructed view of which of the two applications would be best.
Choosing What's Right For You
In the Jabber vs Skype comparison conclusion, both applications provided similar and almost comparable features that can help professionals improve the quality of their video conferencing experience. Although one can be better than the other, Cisco Jabber and Skype for Business were able to maximize their features to give their users a much improved and advanced video-conferencing application.
You can only determine which of the two applications is more suited for you by gradually using them. For some people, Skype for Business may be more suited for them because of its audio conferencing feature, allowing users to join a meeting or conference via their mobile phone. In contrast, other people may prefer Cisco Jabber because it is one of the most trusted software brands since it has created a reputation for more than 30 years of designing and developing network hardware and software.
In addition, both Cisco Jabber and Skype for Business provide instant messaging, voice messaging, voice calls, video calls, desktop, and attachments sharing, and Microsoft Office integrations. These are the essential features an excellent video conferencing application must have. Therefore, it is safe to say that both Cisco Jabber and Skype for Business are worth trying.