If you're on the hunt for a project management solution, then chances are that your business operations rely on collaboration and teamwork. Productivity is the keyword of business success today. If your team ends up dedicating too much time and effort to collaborate and communicate about the tasks you've assigned to them, then your overall productivity suffers.
As a response to these issues, the market has been infiltrated with countless project management that if you learn more here, you'll end up overwhelmed with the choices offered. Even when you need to know what you need, project management solutions can provide different tools. As such, to help you with the decision-making process, we pinpointed two solutions that have gained popularity for these platforms' flexibility and features.
Wrike and Monday.com rose through the ranks primarily because of the attractive pricing packages that both systems offer. Despite being more affordable than other project management software, this Wrike vs Monday.com comparison will emphasize that neither of these systems compromises where it matters.
Wrike Overview
Both Wrike and Monday.com offer a long list of tools that you can use to improve project management strategies, collaborative teamwork, and individual productivity.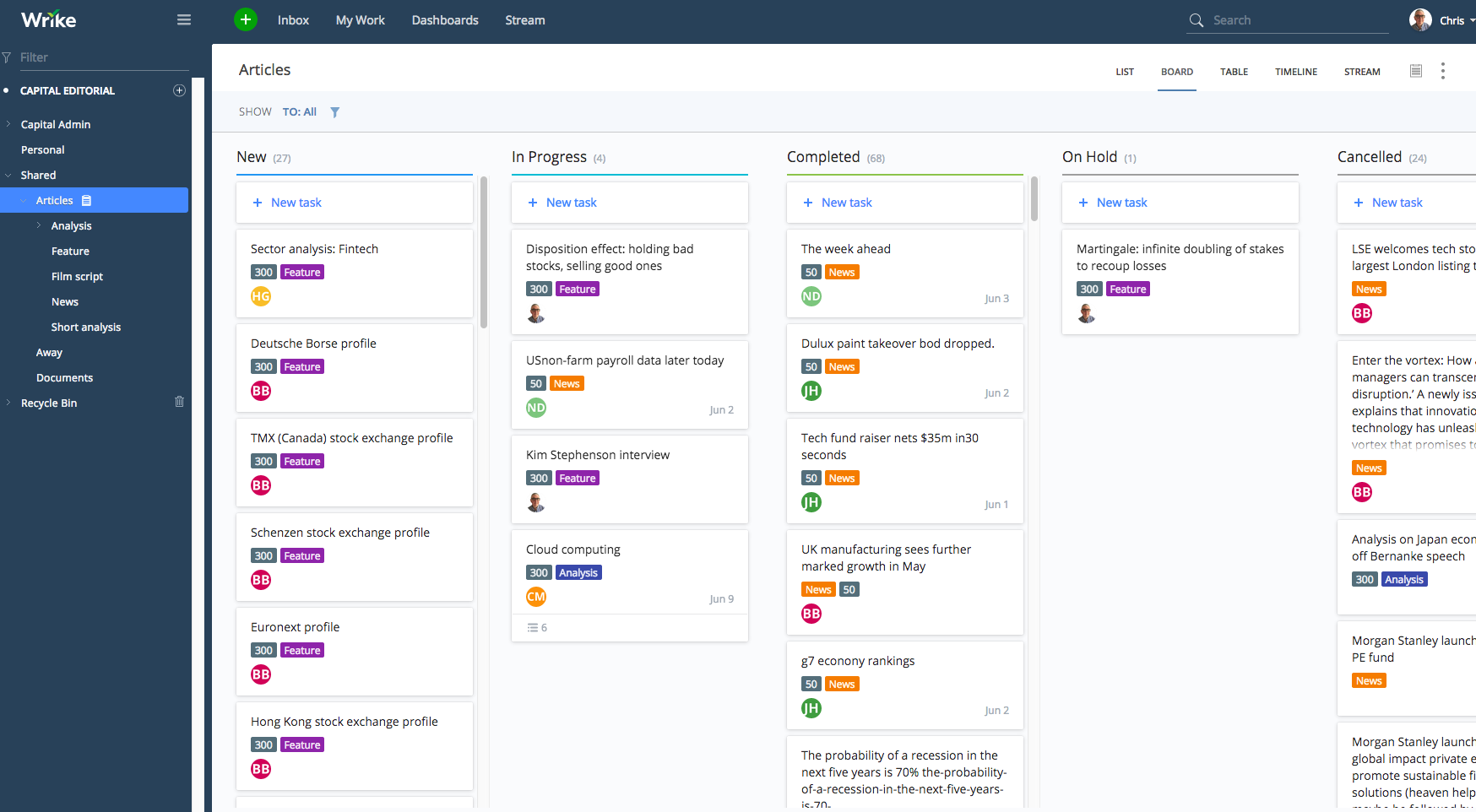 Wrike excels in providing a well-rounded platform wherein you and your team can keep track not only of your projects but also of your clients and team members. The following are only some of the features that Wrike offers:
Budget Management
Client Management
Document Management
Task View Flexibility
Time Tracking and Management
Collaboration and Communication Tools
Customizable Forms
Gantt Chart
Business Reports
Considering Wrike's features, it is easy to see that this platform ensures that all aspects of project management are covered. Through the customizable forms that this platform provides, you can instantly create and distribute marketing promotions, complete creative-based projects, and even send out professional memos throughout your team.
Another feature of Wrike that is particularly useful is the availability of task view flexibility – a tool that is normally offered in dedicated solutions beyond project management like the ones on our guide. You can choose to see your projects as lists or through a continuously updated board. Gantt Chart view is also an option alongside Workload view – two types of presentation that let you visualize progress as well as the productivity of each of your members.
Wrike takes all of its features and converts the information it collects into actionable business reports. These reports can be customized according to what you need to see. You can also be assured that the information it will provide is updated with data collected in real-time. From project progress to time tracking, you can access important insights as soon as you go to this platform's reports dashboard.
Given Wrike's comprehensive abilities, Monday.com counters by providing more customization tools and innovative features that can help you and your team with project management from start to finish. Among Monday.com's features are the following:
Idea Management
Customizable Templates
Time Tracking and Management
Data Fields
Document Management
Communication Tools
Monday.com Overview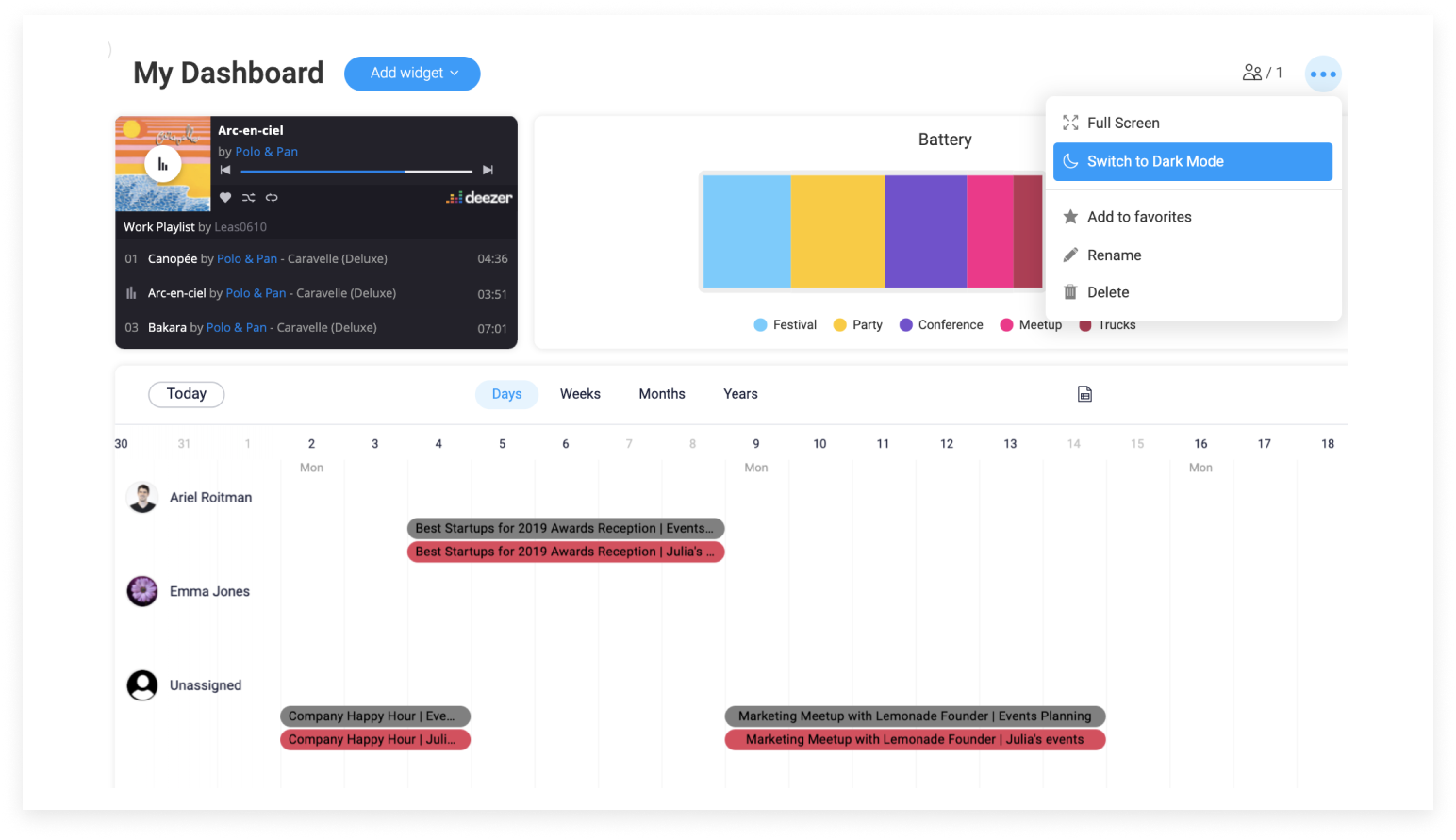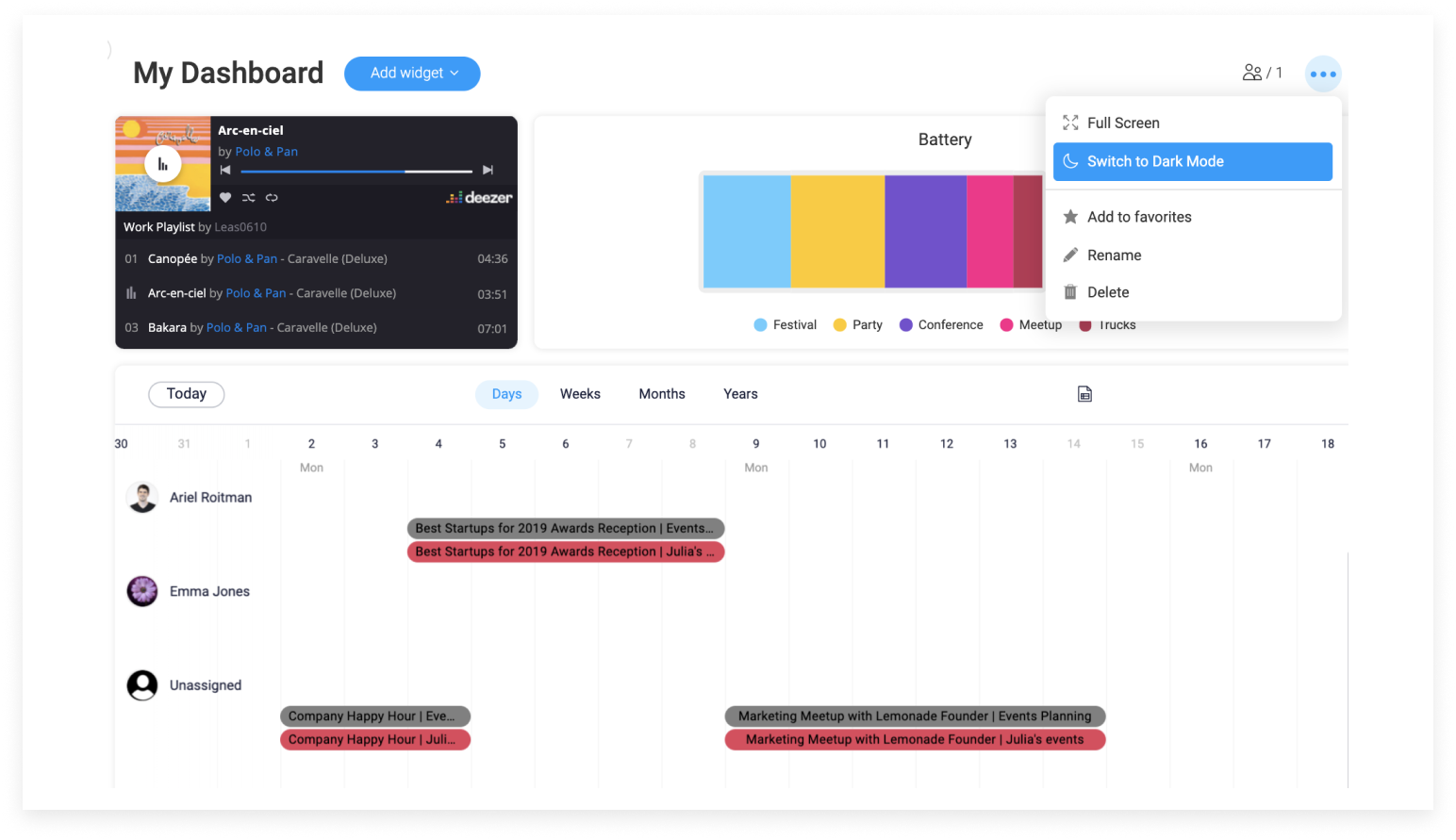 Perhaps the most interesting of Monday.com's features is its ability to manage ideas. As soon as you or your team think of something that could propel your company to success, Monday.com enables you to share those ideas and allows your team to criticize and comment on the idea. For productivity, this feature ensures that you and your team are constantly in touch not only on what you need to do but also what you want to do.
Whereas Wrike provides you with customizable forms, Monday.com is filled to the brim with customizable templates to help you in specific tasks. For instance, this platform offers a template for video production. There's also a template for scheduling surgeries. Beyond customize the templates to fit your needs, Monday.com also ensures that it is easy to share with your team through the communication and collaboration tools that this platform comes with.
Monday.com's project views enable it to cater to the needs of a wide variety of businesses. It provides the option to get information about your projects and tasks from a table, Kanban, calendar, and Gantt Chart view, among others. As such, IT departments and construction companies may find Monday.com's design to be more preferable.
Platform Design
Even with all the right features, project management software cannot be useful if it isn't user-friendly and designed to help you make the best of tools available. As such, the next part of this Wrike vs Monday comparison deals with how both platforms are designed and what you can expect before and when you get started.
If you take the time to read this, you would know what to expect from productivity-based platforms. For project management systems, increased productivity means getting a platform that is specifically designed to be usable and intuitive.
Monday.com makes all its customization tools as soon as you enter the platform. All you need to do is to upload your projects and tasks. Once it reflects on the dashboard, you can go on to adding and removing data fields and choosing the task view option that you want. For everything else that you may want to see or use, you can use the integrated search bar, which will lead you to the right feature to help you achieve what you want to do.
In terms of design, Monday.com features a bright color scheme and customizable branding. This design helps in making your team members and new hires feel more comfortable in using the platform. Changing e-mail headers is also as easy to access as it is for all of Monday.com's features.
On the other hand, Wrike is designed to increase usability only after the initial setup and configuration. At first, you may have difficulty trying to go through everything that you can implement to the platform. However, Wrike makes up for it by using a standard user interface that is often used by professional project managers. As such, if you or your team have experience in project management, Wrike's platform will feel familiar, especially in functions.
Most of Wrike's design relies on the built-in Assistant, which is made to help you and your team to focus on your priorities. It also functions similar to Monday.com's integrated search tool in that it provides assistance whenever you may need it. While it may not have the bright and vivid scheme of the previous platform, Wrike comes with presets and themes that you can choose from to help you with personalization and branding.
Customer Experience
Aside from features and platform design, this Wrike vs Monday.com comparison also provides a discussion on customer experience. In this section, you will learn how both systems perform in other categories like integrations and customer service, which is essential if you want to have confidence in the platform you choose.
Wrike integrates with productivity-based systems like Microsoft applications, Gmail, Slack, and Salesforce, among others. Furthermore, this platform gives you access to the hundreds of systems available through Zapier. The availability of these integrations ensures that you and your team can gain access to the apps you need to complete your workflow.
Monday.com offers a different list of integrations in that this platform focuses more on task-based and communication apps. As such, you can take advantage of Monday.com's integration with Slack, Dropbox, Asana, and Pipedrive, among others. Furthermore, this platform also offers API integration, which enables you and your developers to create and add software that can further improve your productivity and workflow
Before heading on to the final part of this comparison, you need to understand what both platforms offer in terms of customer service and support. Aside from the integrated search bar for Monday.com and Wrike's assistant, both platforms can be contacted through phone and email 24/7. The developers behind both platforms provide you with events like conferences, meetings, and training sessions to help you in implementation and making the most out of the system you chose. As a result, Wrike and Monday.com provide stellar customer service that inspires confidence.
Pricing
This Wrike vs Monday.com comparison mentioned that both platforms are preferred because of their affordable and attractive pricing.
Wrike offers three main pricing packages: Free, Professional, and Business. These plans vary depending on how many users it can support. The Free plan is perfect for teams with 5 or fewer members; the Professional plan is the best choice for those with 5 to 15 members; finally, the business plan is perfect for the use of teams with up to 200 users. It should also be noted that these pricing packages may also vary in which features are offered and how much storage is available. The monthly payment for each plan are detailed below:
Wrike Free – $0/month
Wrike Professional – $9.80/month
Wrike Business – $24.80/month
On the other hand, Monday.com does not offer a free plan but does provide more options for you and your team to choose from. This platform is available through four pricing packages: Basic, Standard, Pro, and Enterprise. The Basic plan is best for a small team while the Standard plan can accommodate the needs of a larger team except when it comes to time tracking. If you manage a big team and will need all of Monday.com's features, then you may want to go for the Pro and Enterprise plans. The cost of each plan is detailed below:
Monday.com Basic – $39/month
Monday.com Standard – $49/month
Monday.com Pro – $79/month
Monday.com Enterprise – Quote-based
Overall, both Wrike and Monday.com are more affordable and accessible compared to other project management solutions in the market.
Matching Needs
Thus far, you have seen the many differences and similarities of Wrike and Monday.com. As such, to wrap things up for this comparison, you'll need to know who best benefits from the capabilities of both systems.
If you need a more professional-looking platform as well as informative reports that you can share to anyone, then you may want to go Wrike. Manufacturing and advertising companies are some of the industries that rely on this platform. Furthermore, if you need a system for tracking and billing time, then Wrike is more than capable of meeting these needs. Finally, if you expect to be working and collaborating with many customers and freelancers, then Wrike is the best option for you.
Meanwhile, Monday.com is best used by those looking for a user-friendly project management platform. If you value intuitiveness and flexibility in use, then Monday.com edges out Wrike in these categories. If you work more with creative templates instead of forms, Monday.com's tools should be more than enough to kick-off and finish projects like video production.
You should also remember that Monday.com is the preferred choice of those who are in need of uncompromising security and compliance. For instance, surgeons and healthcare teams can benefit from this platform's HIPAA compliance compared to Wrike's limited security.