At an age when consumers are all about convenience, online payment solutions are inarguably among the applications millions are thankful for. Not only do they provide hassle-free cashless transactions for customers, but they are also designed to help optimize business operations, especially for ecommerce sites—we also compare ecommerce software reviews to find out the best platforms in this category.
This article compares two known payment applications—Apple Pay and PayPal Payments Pro (or PayPal Pro)—to help you see which one works better, especially for business enterprises. In this Apple Pay vs. PayPal Payments Pro comparison, we will highlight not only their features and how they work but also their pros and cons.
What Is Apple Pay?
Apple Pay is Apple company's cashless payment solution available on iOS devices. This application allows its users to use their iPhone and iWatch to pay for their purchases instead of the actual credit card, debit card, or cash. This application also enables its users to send and request money from other Apple Pay users via the Messages app.
Setting up your Apple Pay account is also easy. All you have to do is open the Wallet app and scan your credit or debit card to add them to your Wallet. Once your card is added, you can use Apple Pay to complete transactions.
Aside from physical and online store purchases, you can also use Apple Pay for App Store purchases. It can also be used as a mode of payment for Apple Music, Apple News+, and Apple Arcade subscriptions. And if you would like to upgrade your iCloud storage or get hold of other Apple services, Apple Pay can also be used in these circumstances.
Outside the Apple ecosystem, Apple Pay can be used in restaurants, hotels, transit apps, and even colleges and universities. There are also nonprofit organizations that accept donations via Apple Pay transactions.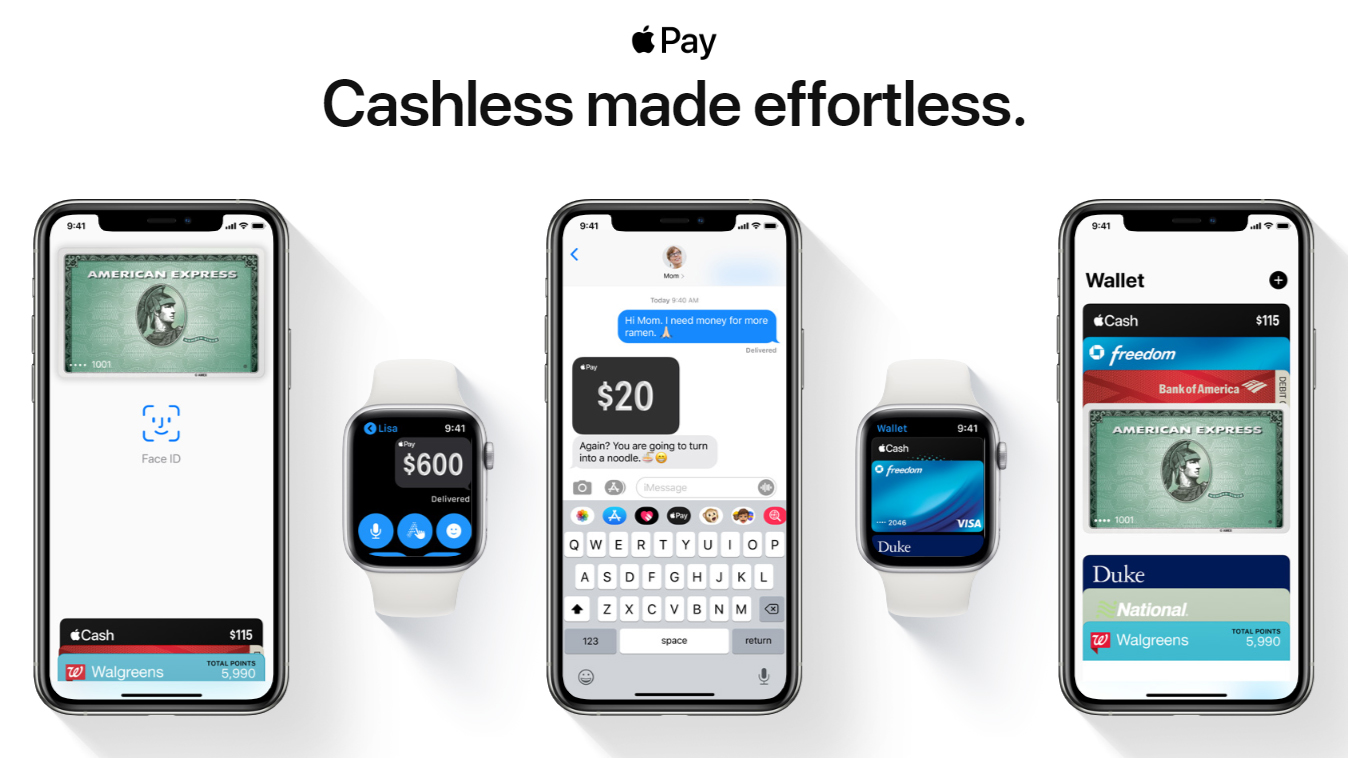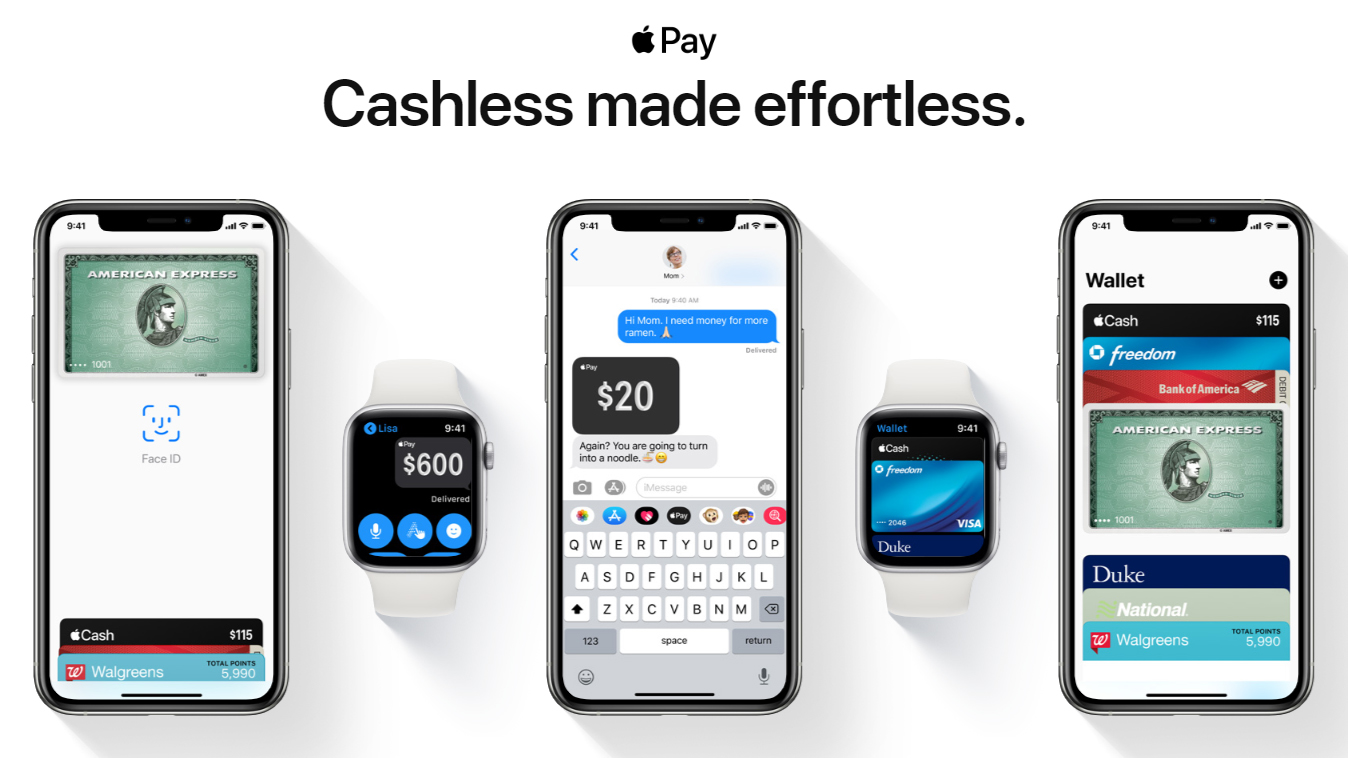 Apple Pay for merchants
For physical stores to start accepting Apple Pay transactions, they must first have a contactless payment-capable POS terminal that also supports NFC and FeliCa—you can check out point of sale software. Also, the business must accept any of the following payment options:
Visa

Mastercard

AmEx

Discover

Interac

EFTPOS

China Union Pay

JCB

Suica

QUICKPay, etc.
It is also important to note that cards supported vary, depending on the region.
Online businesses can also add Apple Pay capability to their websites or Business Chat by contacting designated Apple developers.
Features
Apple Wallet

One-touch pay

Send and receive funds

Supports Siri assistance

Can transfer up to $10,000 in a single transaction

Available in more than 60 countries
Security
Cashless payments using applications that store debit cards, credit cards, and bank accounts information can be a source of worry. Apple Pay, however, addresses this by creating a secure payment platform for its users. Every payment transaction with Apply Pay requires Face ID, Touch ID, or passcode confirmation from the device owner. Apple Pay also does not provide the actual credit/debit card information to stores, thus, keeping the customer's card details protected.
Integrations
Apple Pay integrates with the Messages app and Apple Pay Cash.
Pricing
Merchants can start accepting Apple Pay transactions with no extra charge.
Advantages of using Apple Pay
Free for both merchants and customers

No need to sign up and fill out forms to enable Apple Pay

Fast, convenient, and secure

Accepted in millions of stores worldwide as well as in transit apps and colleges and universities in the US.

Available in more countries and regions 
Disadvantages of using Apple Pay
Only works with iOS devices
What Is PayPal Payments Pro?
PayPal Payments Pro is PayPal's payment solution for business enterprises. This application is designed to be flexible to fit any type of business. It also supports a broad range of payment options, including major credit and debit cards, PayPal Credit (US territory only), bank transfers, in-person transactions, as well as phone and fax payments via Virtual Terminal.
This application also has fully customizable APIs, which allow merchants to design their own payment systems. Invoices are also digital and sent to the customers via email. Invoice templates can also be customized according to your business' branding.
Features
Web payments

Online invoicing

Phone payments

In-person payments

Shopping cart integration

Supports multiple payment options

Supports PayPal Credit

Open APIs
Security
PayPal takes potential security risks seriously. It offers advanced fraud protection, which is an automatic fraud screening feature. Sellers and customers are also protected by PayPal's Seller Protection Policy. Merchants also have the option to add more risk filters but this comes with additional charges.
Integrations
PayPal Payments Pro integrates with third-party applications, such as the shopping cart software, which include the following:
Shopify

Magento

WooCommerce, etc.
Pricing
In this Apple Pay vs. PayPal Payments Pro comparison, pricing is one of the categories where these two payment solutions vary the most. Unlike Apple Pay,, which is free to use, PayPal Payments Pro comes with a price tag of $30/month and an additional 2.9% + $0.30 for every transaction.
Advantages of using PayPal Payments Pro
Does require customers to have PayPal account

Has more payment options with the inclusion of PayPal Credit

Provides fully customizable APIs
Disadvantages of using PayPal Payments Pro
Subscription payment and additional charges can be pricey, especially for smaller and startup businesses.

Currently available only in the US, Canada, and the UK.
Conclusion
This Apple Pay vs. PayPal Pro comparison shows that both online payment platforms have robust features that make transactions easier, more convenient, and secure. Apple Pay, however, is still more consumer-centric despite the support it has for merchants and its availability worldwide.
PayPal Payments Pro, on the other hand, is designed with businesses in mind. Its downside, however, is its limited availability and the cost of subscription and additional charges, which can be too costly for smaller businesses. You can check out our Stripe vs Paypal comparison to see if the platform is worth the investment.