Project management tools play a critical role in project planning, execution, and tracking. Without this platform to manage all your activities, it can be difficult to accomplish a project or deliver results on time. 
Two of these project management and collaboration solutions available for organizations are Bitrix24 and Trello. Let's find out which of these two software is the better choice for your next project.
Bitrix24 vs Trello Comparison: Overview
To start off with our comparison, we will have an overview of what they are about and what they can do.
Bitrix24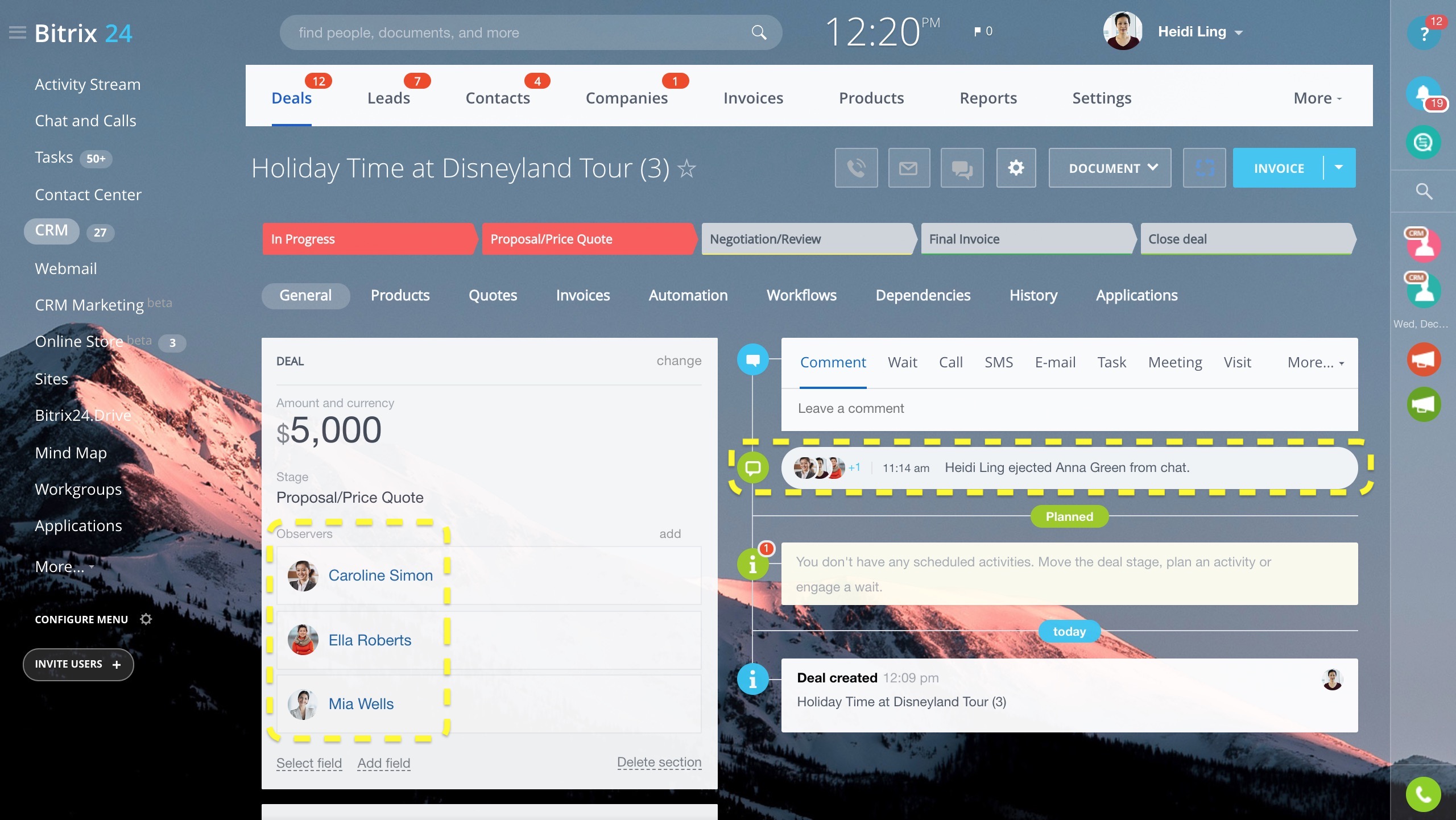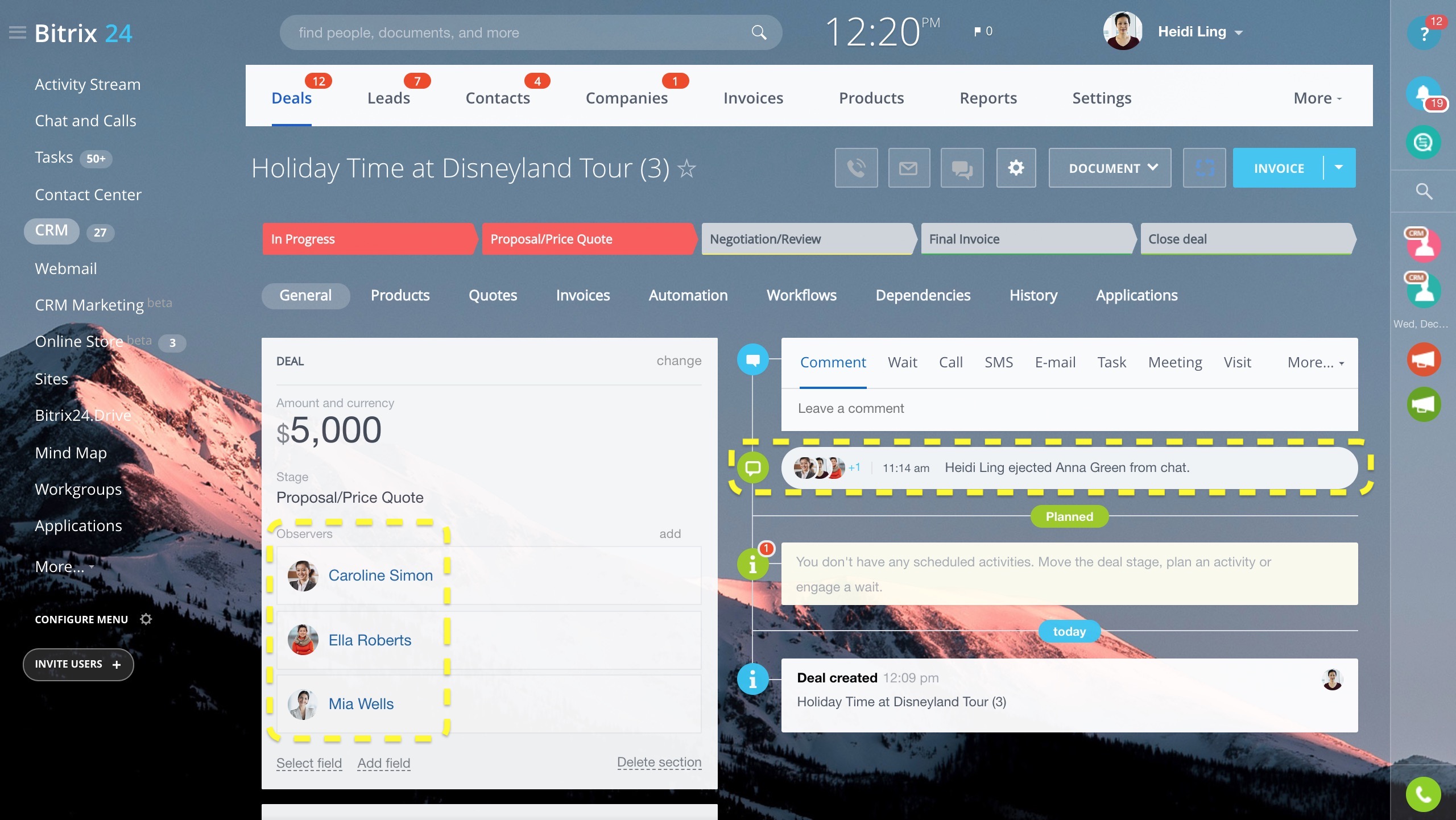 Bitrix24 is a robust CRM tool combined with project management and sales management capabilities that is perfect for startups, small, and mid-sized businesses. To make it an all-in-one platform, Bitrix24 also throws in a bunch of additional features including marketing automation, social media integration, sales forecasting, and pipeline management.
As a project and task management tool, Bitrix24 offers tools to enhance the efficiency of individual users and the team as a whole. The project management module is ideal for communicating, brainstorming, and managing projects. 
Organizations are provided with the necessary tools to help them plan, organize, and track their progress including Gantt Chart, Task Dependencies, Kanban, Employee Workload Management, and Task Counters.
Bitrix24 provides secure document cloud-based storage with online multiple-user editing and customized document approval workflows. Users also have the ability to send invites to a meeting as well as appointment scheduling functions. 
Bitrix24 has dedicated telephony to allow users to call clients and colleagues from the portal. Phone calls are logged and recorded right inside the CRM. Meanwhile, the Human Resources Management system features an employee directory, a self-service portal, time management, absence chart, work reports, and other tools.
Trello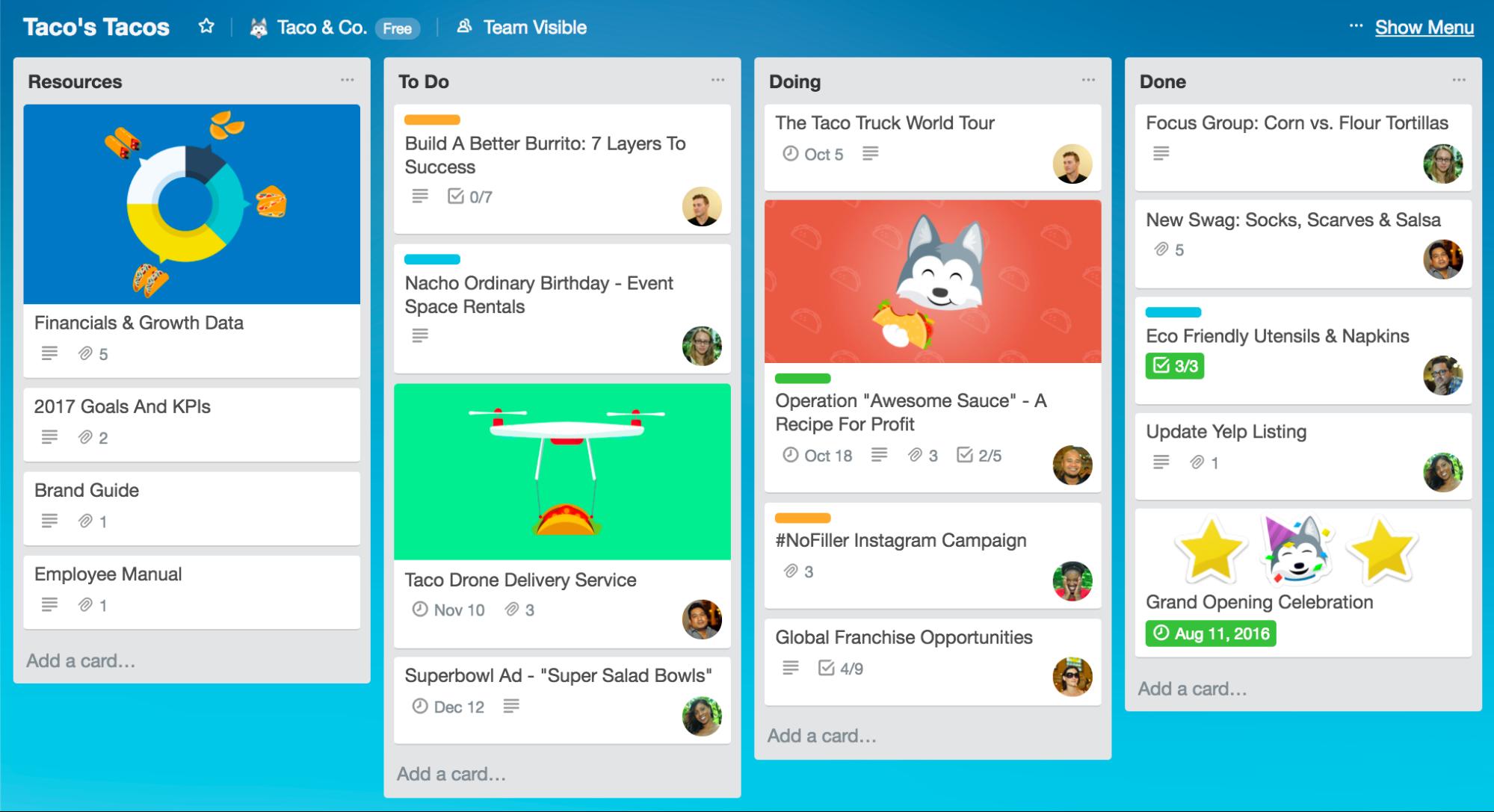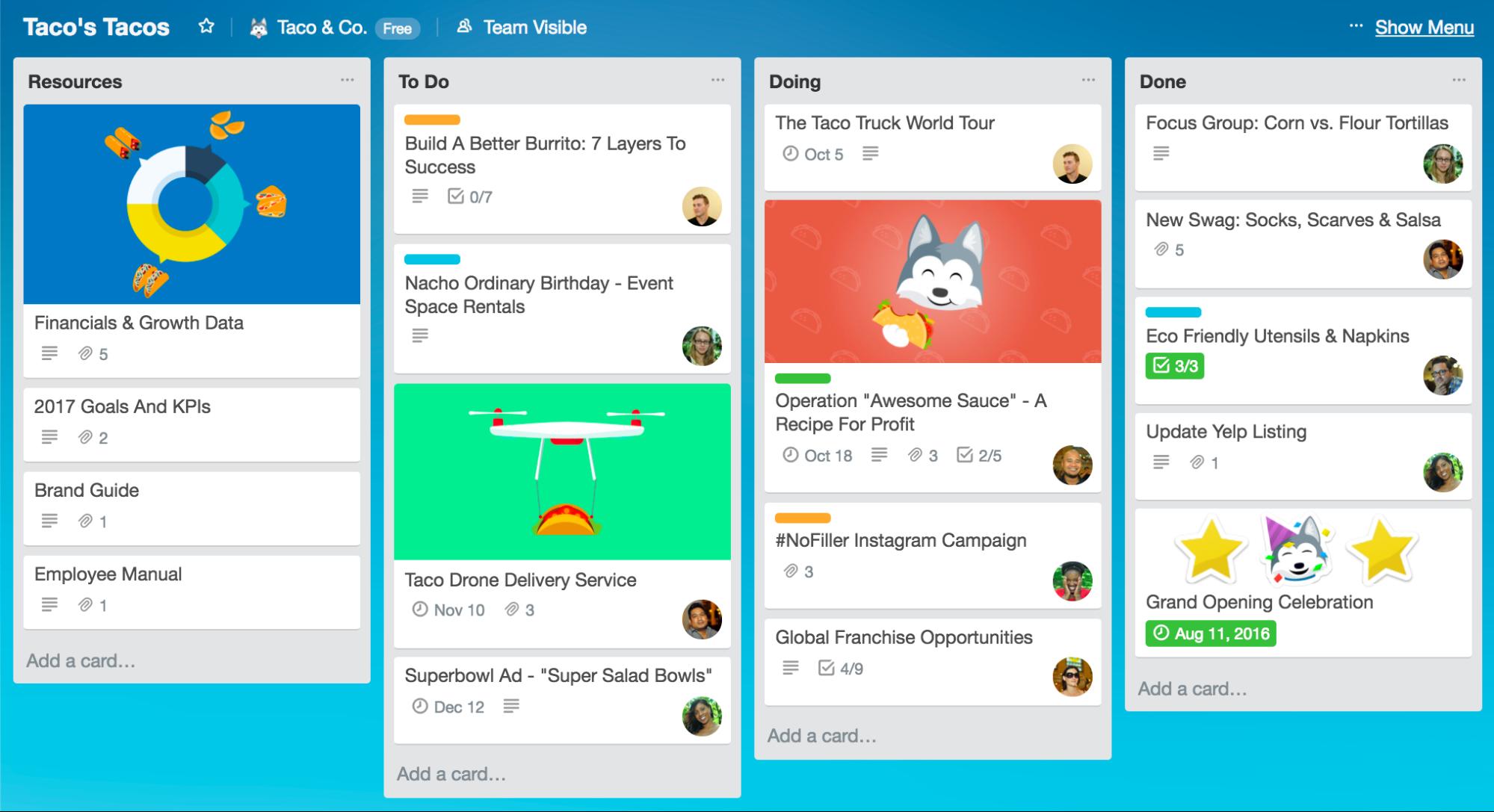 Trello is a visual collaboration and project management software. Trello allows individuals and teams to collaborate on tasks as well as organize and share projects. 
What sets Trello apart is its simplicity. It uses Kanban as a method of organizing and tracking tasks. A Kanban board contains details about the project. 
Project details are organized into lists. Each list contains individual cards that further breaks down details about the project including individual members assigned for the task, checklist, attachments, and comments. Cards can be labeled and filtered for easy searching and access. 
Trello also provides users what is called Power-ups. It allows users to add features and integrations to enhance collaboration and productivity. With Trello, users can also automate different processes using Butler — a built-in feature in every board. Automation can be achieved by setting rules that allow it to respond to an event and perform your desired action.
Trello is also available for mobile devices including tablets and smartwatches. It automatically syncs any changes or additions made on boards, lists, or cards across all devices.
How much do they cost?
Next in our Bitrix24 vs Trello comparison, we will have a look at what features each plan offer and how much they cost.
Bitrix24 plans and pricing
Like Trello, Bitrix24 has a free plan for up to 12 users. The free plan provides 5GB of cloud storage space, plus CRM, document management, and task management tools. Users can also take advantage of Bitrix24's online store creator. It also comes complete with a payment system and a phone system. Additional features include video conferencing and chats.
The next tier is Start+ plan at $24 per month. Bitrix24 calls this an experimental plan that can be used by up to two users and is designed for microbusinesses that needs a website and CRM. This plan expands the website limit to 10 sites, premium CRM features, and technical support plus 5GB additional cloud storage space.
Another Bitrix24 special plan is CRM+ at $69 per month. It provides advanced CRM features and tools and caters to a maximum of six users.  Project+ plan is also available at $69 per month and can be used by a maximum of 24 people.
The Bitrix24 Standard plan is designed to help companies automate their workflow and enhance efficiency. The Standard plan has features not offered on the CRM+ including expanding the allowed users to up 50 and five account administrators.
You might want to take a look at a research on workflow software analysis we previously published.
Other features of the Standard plan include absence charts, bulk emails, 10 websites, customer telephony permission, and custom task fields. The Standard plan price is $99 per month.
The Bitrix24 Professional plan is the most comprehensive of all its plans. It has all the features offered in all plans. It allows for an unlimited number of stores, users, administrators, robotic process automation, and call duration, plus 1,024GB of online storage. This plan is suited for companies regardless of their size.
Trello plans and pricing
Trello is free to use. The free plan already comes with unlimited personal boards, cards, and lists. Each file attachment is limited to 10MB and up to 10 team boards can accommodate per account.
Upgrading to Business Class provides subscribers with unlimited personal boards, cards, and lists. Users can upload files of up to 250MB each. Additional features include an advanced checklist, priority support, custom backgrounds and stickers, and security settings. 
Teams are also provided with unlimited power-up (calendars, automation, third-party reporting, and more, plus admin and security features. All these features for a price of $9.99 per user, per month.
Meanwhile, the Enterprise plan price is $17.50 per user, per month. It includes the features of Business Class plus additional admin and security features.
How do you manage a project using Bitrix24 or Trello?
Bitrix24
Bitrix24 Project Management module is a useful tool for project planning, executing, and evaluating. A project's timeline typically includes three elements: a start date, end date, and the milestones in between. 
Project planning can be performed in several ways including the use of Gantt charts, project calendars, and Kanban boards. Bitrix24 provides workload planning tools to help managers determine the number of hours needed from each employee to accomplish a task and compare it to the actual time spent. Expense tracking and other resource management tools are also available.
Tasks are created either manually or automatically as a repeated task or part of business processes. For each task, you will need to indicate the author, assigned person for the task, participants, and observer. You can create tasks for an individual, several employees, or an entire workgroup or department. 
Tasks can be accessed using the task manager, workgroup, calendar, mobile application, or activity stream. Employees working on the project are assigned roles that determine how much access they have, especially on sensitive aspects of the project. 
We have a list of the top project tracking software that you also might want to check out.
Trello
To get started with Trello you need to familiarize yourself with the Trello board, which is very easy. The Trello is divided into boards, lists, cards, and menus. The Trello board is the place where you will keep track of your project. Here is where you will organize all related tasks and where you and your team members will collaborate. 
The Lists are columns where you organize your cards according to stages of progress. You can either use it as a workflow or just a place to keep and organize information, files, or ideas about your project. You can learn more about workflow management tools here.
Cards are the basic unit of the Trello board. Cards contain your tasks, ideas, and attachments. You can customize and drag them across lists. You can find the Menu on the right side of the board. 
The menu is the place where you can control settings, filter your cards, manage your team members, and activate your Power-Ups. There is also the activity feed which displays everything that has taken place regarding the project.
To create a board, you can either click the "Create new board" or the "plus" button that you can find at the header. After that, name your board. Once your board is up,  you can start adding lists. You can design it as a workflow, indicating stages like "To Do", "In-Progress", and "Completed."
The next step is to add cards to your lists by clicking "Add a card." On your card, be as detailed as possible. Include description, members, labels, checklist, due date, and attachment. To invite collaborators to your project, just click the "Invite" button and select the team member or invite by email address or name.
Trello's user interface is intuitive and does not look intimidating. Menus are located at the top-most where you can easily find them. Trello also offers support and help in case you get lost. 
You would also find some informative articles right in its knowledge base section. Also, there is a dedicated community page very useful where you could ask for help. If all else fails, you may contact Trello using its online form. 
Bitrix24 vs Trello Comparison: Which is the better choice?
Bitirix24 is no doubt a very powerful customer relations management and project management software. It is affordable compared to other applications that offer similar features. Yet, its extensive lineup of tools can be overwhelming to some. Also, some smaller businesses may not even utilize all the tools available for them. 
Given its plethora of tools and the learning curve and time investment required for its full utilization,  Bitrix24 may be worth the investment for startups, medium-sized, and large organizations. 
Trello is well suited for small teams and small organizations looking for a user-friendly yet powerful tool to manage their project. Using it does not require elaborate training; even newcomers would find it easy to catch up with the team. Trello is for teams and organizations that need a dedicated project management tool, nothing more, nothing less.