Wherever you go on the internet, you can find leads. But there is the challenge of ensuring that you are focusing on the right channel when searching for qualified leads. However, there are several places on the internet where you can be sure to find them–social media networking sites.
Then again, you are faced with the challenge of figuring out who among the myriad users your prospective customers are. You can use tags, hashtags, and keywords to look for leads on these platforms. However, that is a time-consuming affair and it's possible that most of the time, the users you thought could become your clients end up not being interested.
You can also rely on social media advertising that costs $47 to $58 per lead. Such an amount is not easy for every business, though, especially small ones and startups. What should you do then? Should you just rely on the tools and techniques you already have in place that have worked for you? Doing so, though, means you are losing a handful of business opportunities.
Fortunately, you can remedy that problem with a lead generation software. This platform has different types and comes in different forms but the main thing it does is help you capture new business opportunities. Not just on social media but other corners of the internet as well.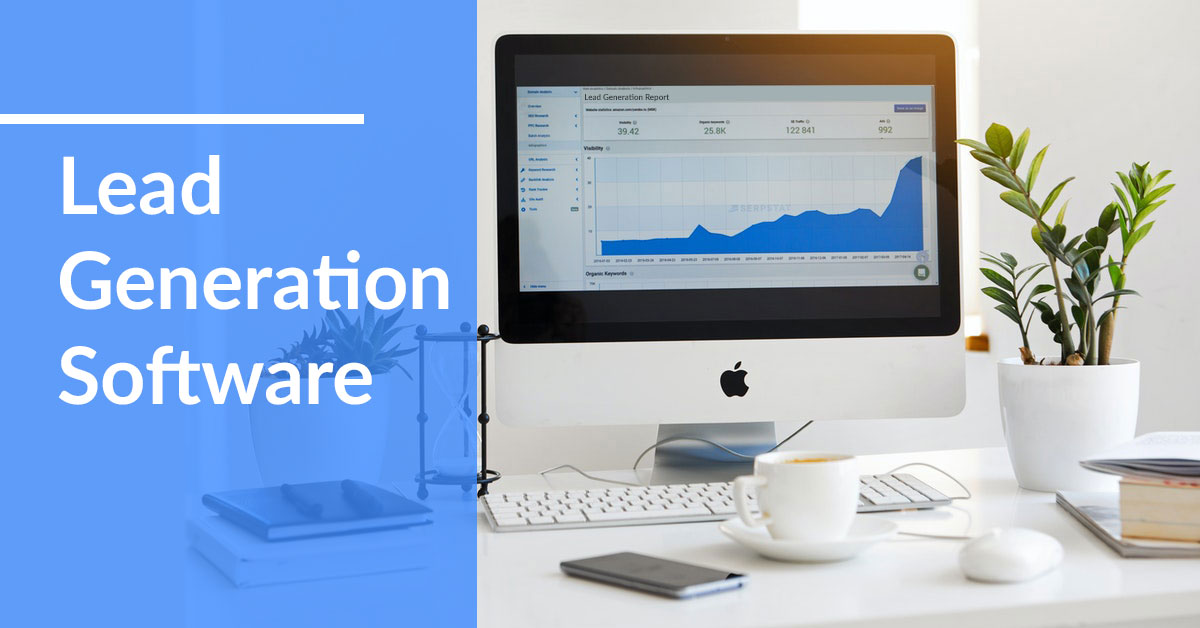 Lead Generation Software Table of Contents
What is Lead Generation Software?
Lead generation software is a special tool that lead generation specialists utilize to find new clients. It can also have a database where users can store leads after acquiring them.
A lead generation solution does not necessarily have to be a software that most of us are familiar with. Indeed, there are tools that are web-based only, which are simple yet effective. These can be cost-efficient, too, since their vendors usually offer flexible payment terms.
List of Best Lead Generation Software
There are numerous lead generation applications that claim to be the best. Because of that, you may have a hard time selecting one. In that case, we are here to help, as we narrowed down your selections to the top 10 lead generation solutions:
How does Lead Generation Software work?
Capturing Leads
The main purpose of lead generation software is to help organizations find leads. To that end, it lets you capture new leads from different sources, such as social media, emails, and events. This also allows businesses to identify new business opportunities with information from marketers, customer support representatives, sales agents, and leads themselves.
Verifying Leads
Some leads end up being unworkable because of fake names, email addresses, and telephone numbers. That is why before it proceeds to the next step, a lead generation solution validates data first.
Assigning Leads
Though lead generation platforms are focused on aiding businesses discover leads, there are those that have lead assignment functions, too. This is usually done automatically as long as you have set up the assignment rules. However, if you choose to do so, you can still do it manually or you can make changes to automatic lead assignments later on.
Inbound Marketing
As mentioned above, lead generation solutions have other ways of assisting you in looking for leads other than through databases. They also do this with inbound marketing tools. The most common feature of inbound marketing tools that can be found in lead generation interfaces is form builders.
What are the Types of Lead Generation Software?
There are all-in-one lead generation software but there are also those that focus on a single function of lead generation. Hence the following types of solutions:
Lead Capture Tools
This type focuses on getting information about leads from various sources. With this, sales representatives can easily identify new business opportunities.
Lead Intelligence Software
Lead generation software like these verify and clean lead information. This ensures that you are working with the best data for successful campaigns.
Lead Scoring Platforms
Lead scoring platforms help you determine the potential of every opportunity that comes your way. By scoring them using scales and benchmarks, you can be certain that your sales team works only with valuable and qualified leads. This way, you can save time and focus only on leads that have high chances of conversion.
Lead Mining Solutions
New opportunities do not always have to be external. With a lead mining solution, you can find potential ways to increase your sales with the data you already have.
Who is Lead Generation Software For?
No doubt all organizations want to find more customers. But exactly how does a lead generation software serve businesses of different sizes?
Small Businesses Looking for More Patrons
Small businesses do not have the same capacity as medium and large companies that have sizeable marketing budgets. That is why they need economical lead generation tools for them to find more customers. With such a solution, they can create forms, which they can put up on their websites. Thus, they can gather information from potential customers easily.
Medium-sized Companies Wanting to Expand Their Reach
Though they have ample following, medium-sized enterprises can still benefit from lead generation software. This allows them to make hyper-targeted campaigns so that they can attract their intended audiences. At this point, organizations can also begin integrating their marketing efforts to amplify their lead generation.
Large Enterprises Wanting to have a Larger Following
Attracting new customers is the beginning of a loyal following. By finding new consumers who appreciate their offerings, large corporations can have more relationships to nurture. By doing so, they can develop relationships that last.
What are the Features of Lead Generation Software?
Though every lead generation software has unique features, there are still tools and functionalities that are common among them.
Lead Database
A common feature of lead generation software is a database full of potential leads.
Filters
For lead databases, you can expect to find general filters and custom searches. With these functions, you can find the right leads for your company quickly.
Lead Qualification
This can be done automatically. Some lead generation platforms let you set criteria for leads, allowing you to take a hands-off approach to determine how hot every lead that enters the system is.
Mining for Leads
Some times, great information already exists within reach. With a lead mining tool, organizations can gather data from accessible sources such as their received emails, main and adjunct websites, and social networking accounts.
Form Builder
One of the common ways to gather new information is through forms. Businesses have the opportunity to create attractive forms with the help of lead generation tools. Usually, these can be done by dragging and dropping elements to save time and to make things easier for those who are not familiar with codes.
Integration
Lead generation solutions can work in tandem with other sales platforms and marketing software. That is why they come with integration capabilities.
What are the Benefits of Lead Generation Software?
The average cost per lead varies in every industry. For the education sector, the average cost is $55. Meanwhile, in retail, leads have an average cost of $35. The IT, computer, and technical services industry have it hard, as they shell out $208 per lead on average.
With that information, companies may want to turn their backs on lead generation software. However, there are benefits that can be gained from it–including driving down your own cost per lead.
New Customer Identification
One of the most efficient ways of getting to know new customers is by asking them directly for their information. This way, leads can give their full consent for using their data to contact them.
Data Maximization
There are some data within a company's system that can still be maximized to discover more business opportunities. With a lead generation software that has a lead mining capability, an organization can find new leads within their own network. Moreover, this can allow them to add more information to a lead's profile to get a comprehensive understanding of a potential customer.
No Time Wasted
A lead generation platform that can verify lead information can help save companies time. Thus, they can focus only on leads that they can work on. As such, sales agents can through a lead list faster. By doing so, a business can close more deals in a shorter amount of time.
On-Point Lead Assignment
With a lead generation solution, sales teams can work on leads that they have a higher chance of converting. That is because when leads enter the system, the software assesses them–what products or services they are interested in and whether they are ready to purchase or not. Organizations can also add more characteristics or criteria to ascertain to which sales team a lead should go to.
Full Funnel
The point of lead generation is to fill the marketing funnel. This is to ensure that the business has plenty of potential customers starting from the top. Yes, the number of leads trickles at the bottom of the funnel. However, it is still important to engage leads, as long as they are top-quality. This allows the sales team to capture as much information as possible, as they could be useful in contacting leads again in the future.
What are the Latest Trends in Lead Generation Software?
Current trends in lead generation practices tend to lean towards lead generation software. To that end, here are the latest happenings in the field, of which you can take advantage:
Websites are still the best sources for new leads. In a survey, 74% of marketers still rely on web forms to generate leads.
Data leads the way. Analytics plays a huge role in the success of marketers. Indeed, marketers who perform A/B tests on their forms have 10% higher conversion rates than those who do not. On the other hand, those who utilize form analytics are 15% more satisfied with their lead generation strategies.
Ebooks are attractive lead magnets. Almost 50% of marketers rely on ebooks to gather leads' email addresses. This may be a familiar tactic to many, as there are websites that only enable visitors to download ebooks once they provide their email addresses.
Lead quality over quantity. Thirty-five percent of marketers do not have a clear-cut lead qualification workflow. Meanwhile, 9% are not even sure whether they do or not. Collecting leads is important but it is more crucial to ensure those are qualified leads.
Things To Consider When Buying a Lead Generation Software
To be successful in your lead generation, there are some things you have to keep in mind. And they're not just about picking the right lead generation software. That's right; before you make a selection you have to think about the following:
Your ideal customer. There are lead generation tools that have features that allow you to really target your prospective audience. That is why you need to discern who your ideal customer is so that you can sign up for a solution that has the right set of features.
Ethics. It may seem odd to consider ethics in lead generation but it is an important point. Some tools use trackers to follow website visitors across the web while others deploy trojans, malware, and similar questionable techniques. To make sure that you are not breaking regulations, you can check the Federal Trade Commission rules on lead generation.
Ease of use. This is an important consideration when choosing a lead generation software. You have to make sure the interface is user-friendly or your sales and marketing team will not maximize use of the tool.
Customer support. It cannot be helped that there would be troubles with a solution. But that is why customer support exists. Before signing up with a vendor, do your research on their customer service so that you can be assured of having reliable assistance.
Also, think about your budget. There are some platforms that offer add-on services. These may seem economical but the costs do add up. Moreover, you have to be careful in utilizing software with flexible payment solutions. You have to keep track of the products/tools/services you use to ensure that you do not go over budget. Thus, you can continue to have the cash for lead generation in the coming months.