Today's customers want answers, and they want it fast. As more and more customers get used to customer service, they also have increasingly high expectations. According to data from Statista, for instance, over six in 10 Americans have engaged with a customer service representative in one way or another.
Giving customers quick responses to their queries is simply not a rote task that agents have to accomplish. It is very well the lifeblood of the business. A poor service experience will wreak havoc on your bottom line. According to Microsoft's State of Global Customer Service Report, 95% of consumers say that customer service is a crucial factor in brand loyalty. On the other hand, 61% of customers reported that they switched to another brand because of poor customer service.
Set against the backdrop of an exceedingly competitive industry, the role of the customer service representative has become even more important. Whether thru phone, chat, email, or other channels, your agents are your first line of defense, keeping customer satisfaction high. To ensure that agents continuously exceed customer expectations, it's best to use the right customer service software.
In this guide, get to know what customer service software is all about and how it works. You can explore the different top solutions in the market today and determine what's important when considering your options.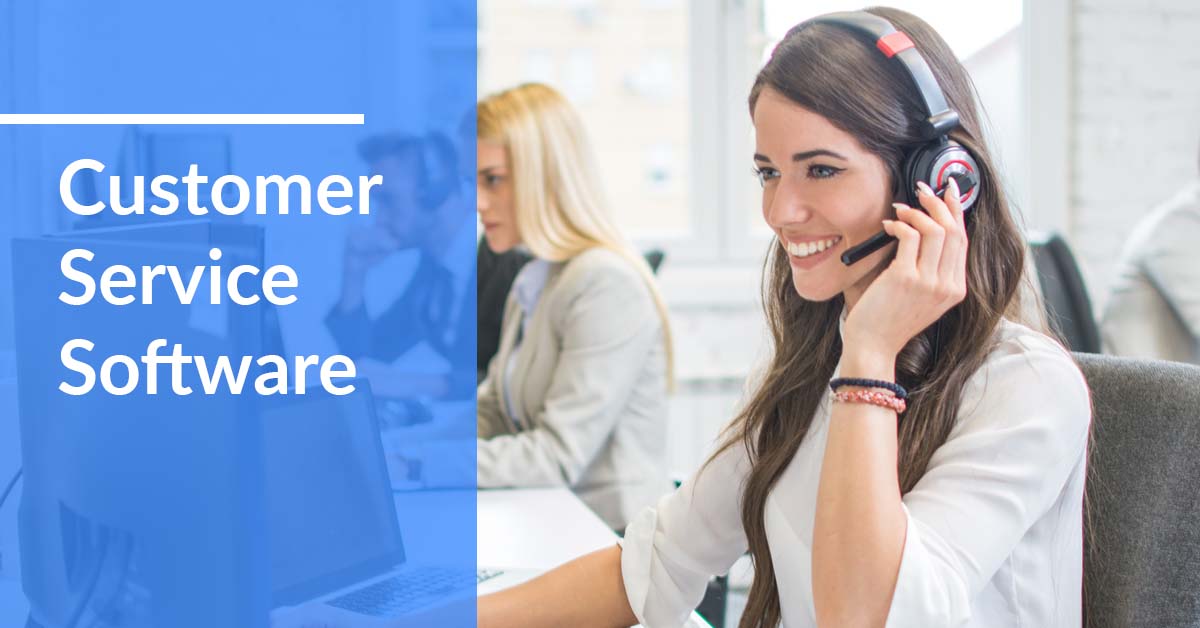 Customer Service Software Table of Contents
What is Customer Service Software?
Customer service software is a set of tools used by businesses to respond to customer support requests in an efficient, organized way. At the outset, it can be used to collect customer data. This way, the agent gains the context of the situation before interacting with the customer. Agents can use customer service software to view the customer's profile as well as relevant resources to answer the customer's issue. Such software also helps them collaborate with other agents who have the expertise to resolve the customer's concern.
For team leaders and operations managers, customer service software helps them gain insight into the team or site's performance. They can pull up reports for key performance indicators (KPIs) to see how agents are performing against standards. More advanced software makes it possible to get forecasts so you can deploy the right workforce size to match anticipated volumes.
It can also be utilized to host self-service options for customers. This helps reduce wait times and empowers customers to find the answers they need on their own.
List of Best Customer Service Software
There are hundreds of solutions depending on features, scale, industry, and more. Here are a few that stand out:
How Customer Service Software Works
One can think of customer service software as the gateway between your customers and your support team. When a customer reaches out to your company through phone, chat, email, or other channels, the software logs that interaction. The agent assisting the customer will be able to see the customer's information, like his profile, account details, and previous interactions. This information helps the agent deliver personalized service to the customer.
As the agent works on resolving the issue, he can utilize various software tools to make the process faster. He can ask for help from other people in case the issue needs someone else's expertise. The agent can browse through relevant knowledge base articles and send them to the customer. He can access templates so he can chat or email the customer more quickly. Whatever action the agent or other agents do to resolve the issue, the software logs it to avoid duplicate efforts. Once the issue is resolved, the software can send out a survey to confirm if the solution is satisfactory to the customer.
The functions of a customer service software don't end when the customer hangs up or closes the chat window. It can also analyze agent performance, customer satisfaction trends, and other metrics that are important to your business. The management team can utilize these to drive improvement in their operations and to achieve higher levels of customer satisfaction.
Customer Service Software Features
Data Collection.

Customer service software usually has data collection methods so you know who your agents are talking to. This can be implemented in different ways. For phone support, your IVR can ask customers for their account numbers or other information. For chat support, agents can manually ask for this information or have a chatbot automatically do it.

Organizational tools.

Good customer service software sets agents up for success by letting them work quickly and effectively. For example, filter views for tickets help you find what you're looking for much faster. Likewise, adding tags to a ticket lets you know its contents at a glance.

Collaboration.

Sometimes, it takes team effort to resolve the customer's issue. Most customer service software usually logs all activities related to the ticket or interaction. This way, you know what action other people have taken. You can work together through private notes visible to your team only. Some software even let you chat with other team members within the ticket itself. 

Customer Response.

The software should make it easy for agents to get back to a large volume of customer emails and chats. For instance, they can use canned messages to save time in responding to commonly asked questions. Formatting options for adding text and images or your agent's signature help make support responses informative but friendly and professional.

Integrations.

Customer service software should help you make the most out of the apps you already use. By integrating into other apps, agents don't have to switch back and forth between different systems to get information.

Analytics.

A great customer service solution gives you access to reporting tools so you know how you are doing against metrics. You can analyze areas for improvement to make your customer experience even better.
Customer Service Software Benefits
Monitor customer inquiries.

When you get a lot of emails, chats or phone calls, there's a chance that these go unanswered without a system in place. But with customer service software, you can keep track of all inquiries that come in. You can see all requests in one platform that's visible to all team members.

Connect customers to the right agent. Nothing frustrates a customer more than being passed around to different departments. Customer service software lets you set up workflow rules for assigning interactions. You can assign them based on channel, skill, or agent workload. You can also opt to divide the work equally between team members. Consequently, customers can get an immediate response, which should be around 30 minutes based on a 2018 Hubspot survey.
Respond to customers faster.

You can set up service level agreements so customers know a resolution timeframe. Automatic email notifications ensure that you don't miss out on important updates on a ticket.

Give customers 24/7 support.

For some businesses, providing customers with round-the-clock customer service is not feasible. Software that comes with self-service options can be a cost-effective way to support customers. You can set up a knowledge base of FAQs and how-tos that customers can access anytime.

Gain measurable insight into your business.

Reporting and analytics tools help you quantify performance into relevant business metrics. Dashboards give you a real-time view of team performance. On the other hand, you can generate scheduled reports or build custom ones, depending on your needs.

Helps support growth.

As your organization grows, you, too, must be ready to support a wider customer base. The right tool will help you to apply customer segmentation so you can still offer personalized service at different levels. Moreover, you can get rid of repetitive and time-consuming tasks with automation.
Types of Customer Service Software
Help Desk Software: At its core, help desk software turns customer service requests into tickets. This software keeps a history of customer interactions from different channels into a searchable database. With it, you can prioritize tickets or transfer it to another agent for resolution.
Service Desk Software:

Service desk software has features similar to help desk software. It helps businesses keep track of incidents affecting its users and is mostly used in IT departments. Unlike help desk software, service desk software is usually proactive. 

Live Chat Software:

Live chat software lets you connect to your customers when they visit your website. This can be done by embedding a chat widget on your site. With it, customers can ask questions or get feedback. Businesses can leverage live chat to convert visitors to customers or engage with existing customers in real-time.

Call Center Software:

If you provide phone support, call center software lets you handle both inbound and outbound calls. Such software typically has routing capabilities so customers can reach an agent with the right training and expertise. Agents can pull up customer records for better insight into the customer issue. With call center software, businesses can set up their IVR for customers to find in-phone help without speaking to an agent.

CRM Software: Customer Relationship Management or CRM software stores client data in one platform that all departments in your organization can access. Salespeople frequently use CRM to record opportunities and manage their pipeline. However, customer service reps can also use it for tracking and escalating cases.
Customer Service Software Trends
Remote customer service.

With cloud-based customer service software, employers can offer home-based jobs to agents. The flexibility to work remotely allows agents to enjoy a better work-life balance, lessening attrition rates at your contact center. By using VOIP instead of a traditional PBX, businesses can save on hardware and energy costs. Moreover, a remote workforce can enable organizations to better cope with disruptions like a pandemic. 

Cobrowsing. Cobrowsing is similar to screen sharing but requires no software to download. With cobrowsing, the agent can assist the customer with navigating a website, web app, or mobile app in real-time. The agent can guide the customer with highlighting tools for showing the right buttons to click. If the customer needs to provide his information, data masking ensures confidentiality by preventing agents from viewing his information. You can create customer loyalty with cobrowsing and video, which studies show to lift conversion by 138% compared to chat.  
Video chat.

As this technology becomes commonplace, businesses are starting to use video chat to get a leg up above the competition. Video chat provides a high level of service that mimics the one-on-one interaction you get with in-person support. One-click buttons to launch a video chat helps customers reach a live person quickly. However, it should only be reserved for technical or highly complicated issues that are difficult to resolve through traditional chat. 
Potential Issues with Customer Service Software
Dealing with irate customers.

In the customer service industry, encountering angry customers seems on par for the course. While skilled agents know how to deal with these customers, it doesn't always have to be that stressful. Some software have customer sentiment analysis feature that can pick up customer tone and language so you know how they are feeling. The customer can then receive priority support according to the business rules you have set. Subsequently, the agent handling the interaction will know how to be more empathic towards the customer. 

Risk of disclosing confidential client data.

Working in customer service, reps access sensitive account information every day like account balances and credit card numbers. The risk of a data breach is real, whether done intentionally or by mistake. And with new regulations imposing hefty fines for data theft, it's a cost your business cannot afford to make. Customer service software helps you eliminate this risk with features like data encryption, single sign-on, role-based data access, and more.

Maintaining consistent service levels.

Maintaining high service levels can positively impact service quality. Consequently, this drives revenue to your business. Customer service software have time tracking features so you know how long it takes for agents to process a ticket. Other software include workforce management features so that you can deploy the right number of agents for the expected call volume.

Driving continuous improvement.

A great customer service organization will find ways to make the customer journey better. Customer service software helps you do this by giving you a complete, context-driven view of the customer's situation from all touchpoints. With customer satisfaction (CSAT) surveys, you understand customer pain points and uncover trends in interactions.
Factors to Consider when Looking for Customer Service Software
The sheer number of customer service software available in the market might make it hard for you to find a solution. Narrow down your search by following these tips:
Think about your customer.

Figure out what channels they prefer using to reach out to you. Do they like to send an email when there's an issue? Do they call you or browse self-help articles first? Factoring in their needs ensures that the solution will enhance their experience.
Determine the channels you excel in.

Some software offers omnichannel support, which is a great choice if you have a complex, multi-channel setup. On the other hand, others specialize in a specific type of support like help desk, live chat, or voice support. Identify one or two channels your team excels in, and go from there.
List down essential and non-essential features.

It's easy to get distracted with a list of features that you might not need. Go through your daily processes and figure out what features are must-have vs. nice-to-have. This makes the elimination process quicker and easier.

Test it out.

Some features may sound good on paper, only to find out that they don't perform as expected in real life. You can avoid this by taking advantage of a free trial. Create a testing team within your organization to see how the software holds up to your daily tasks.