Businesses face countless challenges throughout the operation process. From handling administrative tasks to completing projects, you and your team can encounter obstacles that can prevent productivity, collaboration, and teamwork. Much has been done to try and resolve this problem, and these efforts have led to the development of project management software.
If you check this before going through this article, then you'll understand that there are many options available to you and your business. Choosing the best project management solution can take a long time, especially if you're trying to research each and every platform.
As such, to help you in your decision-making process, this article focuses on two of the most popular project management solutions in the market: ClickUp and Monday.com. This ClickUp vs Monday.com comparison will tell you what both platforms are for through their differences in features and pricing, among others.
Overview and Similarities: ClickUp vs monday.com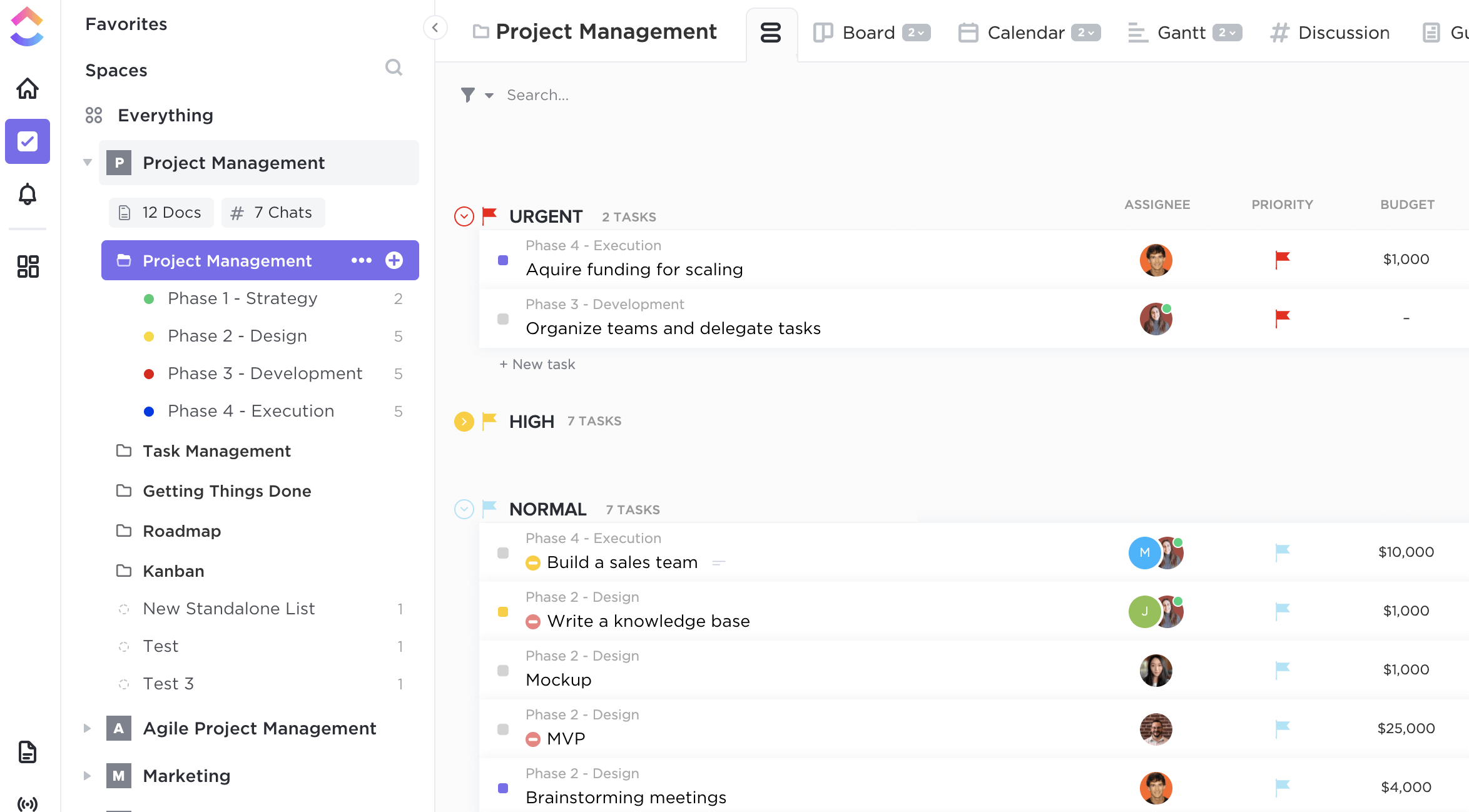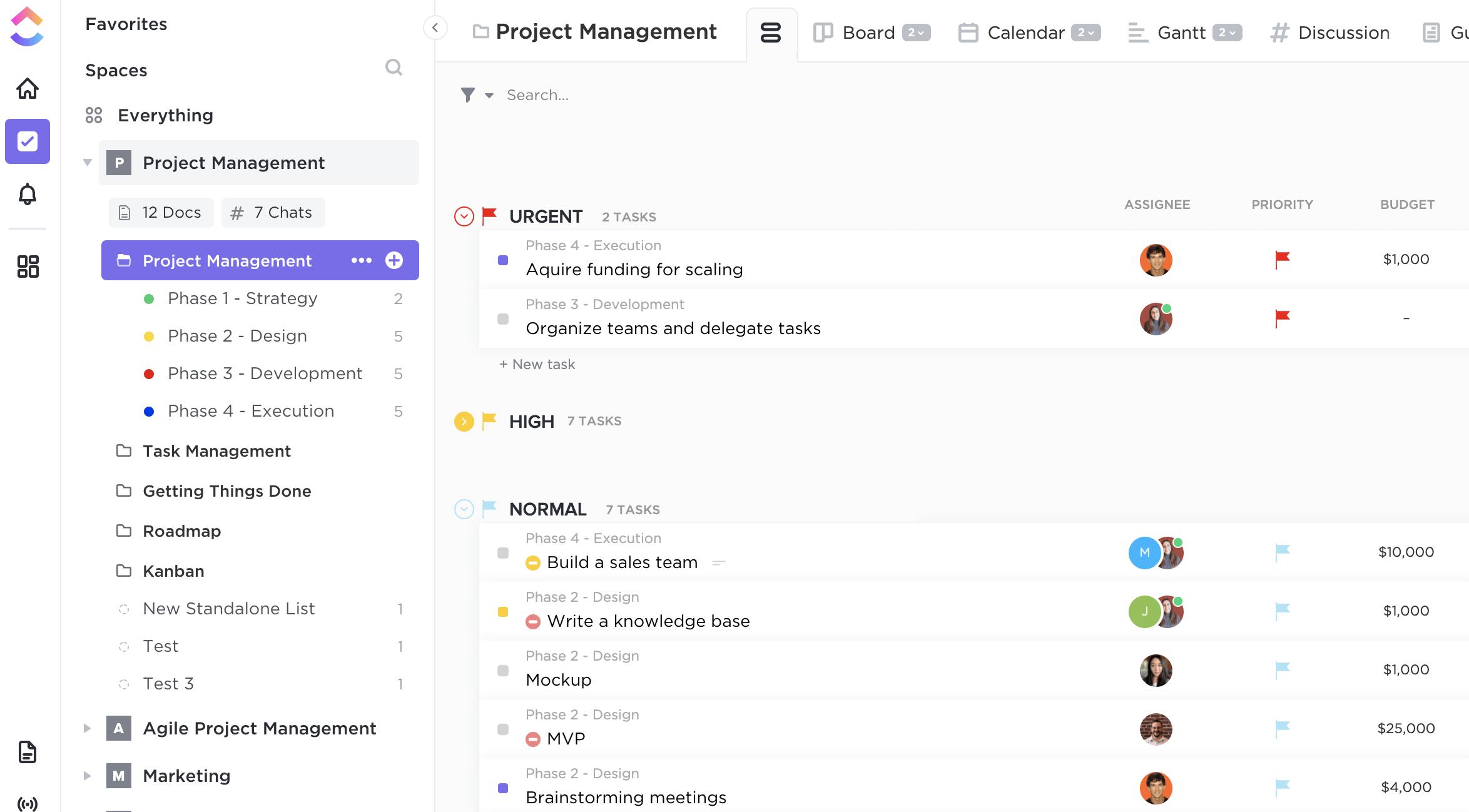 ClickUp is a recognized solution for users who need project management software that combines tools like spreadsheets and email management. On the other hand, Monday.com focuses on project management in that it provides you and your team with tools that supports collaboration and complex planning.
Despite their difference in implementation strategy, both ClickUp and Monday.com are equipped with an informative dashboard, a mobile app, and calendar software integration. Both also ensure that you and your team can maximize the platform as soon as you start with the help of numerous tutorials that you can access online. Finally, ClickUp and Monday.com allow you to ensure that each of your team members is tasked with a manageable workload, see when they're online, and track which part of your projects they're working on.
Capabilities
Beyond the similarities mentioned above, ClickUp and Monday.com also host a long list of features that you can help you choose between these two platforms. ClickUp's capabilities include the following:
Dashboard View Options
Process and Task Management
Assigned Comments
Note-Taking
Project Descriptions
Time Management
In terms of ClickUp's dashboard, you can customize it to show you your projects and tasks in the list, board, box, calendar, Gantt, file, and form views. This flexibility in dashboard viewing ensures that you and your team can access the information you need at a glance.
As a project management solution, ClickUp also provides you with the ability to oversee your process. Specifically, this platform offers a checklist template, which enables you and your team to keep track of project-specific tasks that have been completed and those that are still in process. Furthermore, ClickUp also provides you with the ability to identify recurring tasks and have it appear whenever you create a new project. This feature isn't available on Monday.com.
Beyond the features mentioned above, ClickUp also offers a collaboration-based design, which enables you and your team to input project descriptions based on the objectives, results, and targets that you've identified. You can also use this platform to share files and information that you think is relevant to the task at hand. Finally, ClickUp allows you to convert people's comments and ideas into tasks – a feature that is also missing in Monday.com.
ClickUp ensures that no matter which tool you use, whether file-sharing or chat, the results and updates are available to you in real-time. You can access this platform from the desktop and mobile apps as well as connect to it through smart home devices, such as Alexa and Google Home.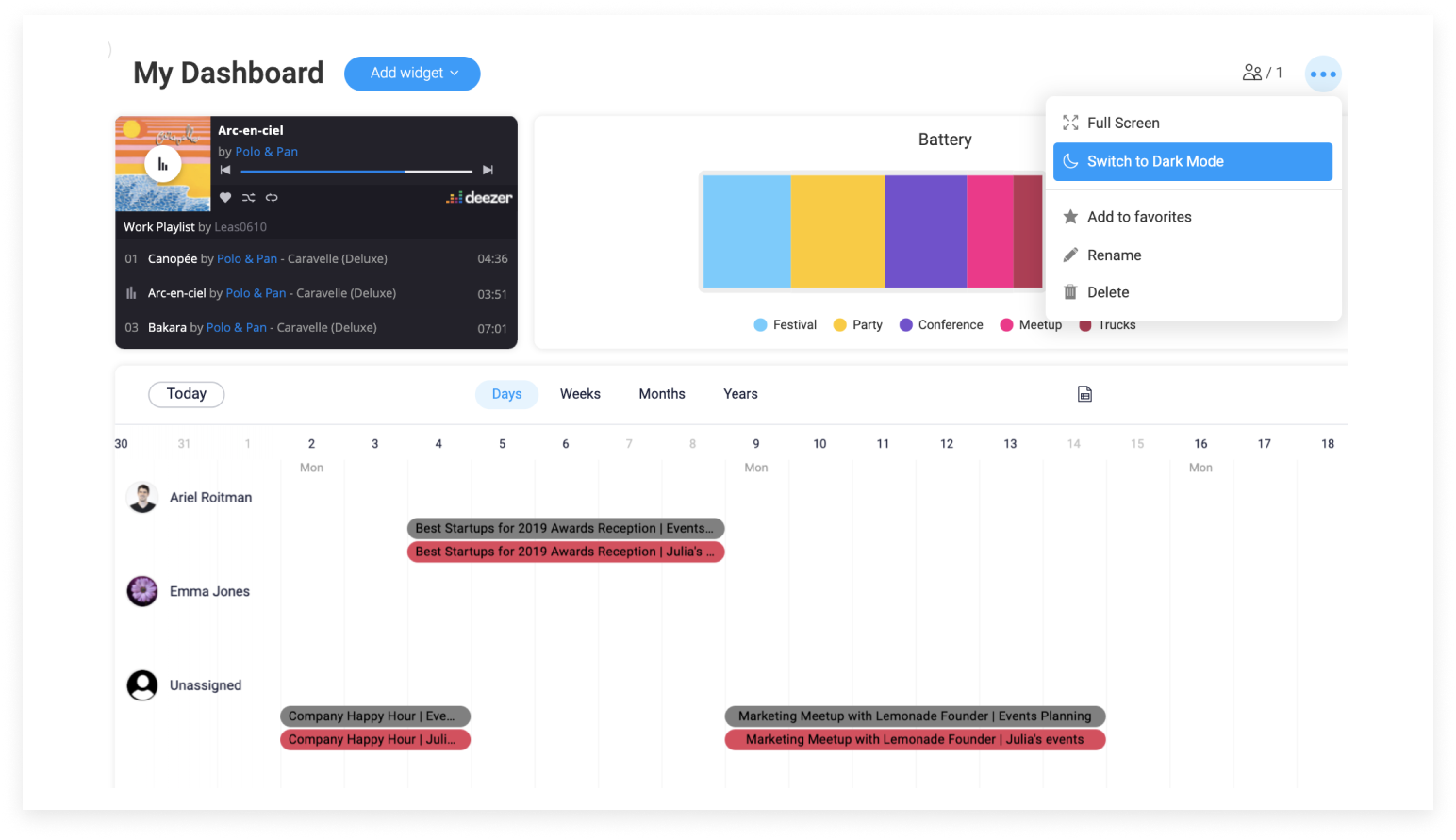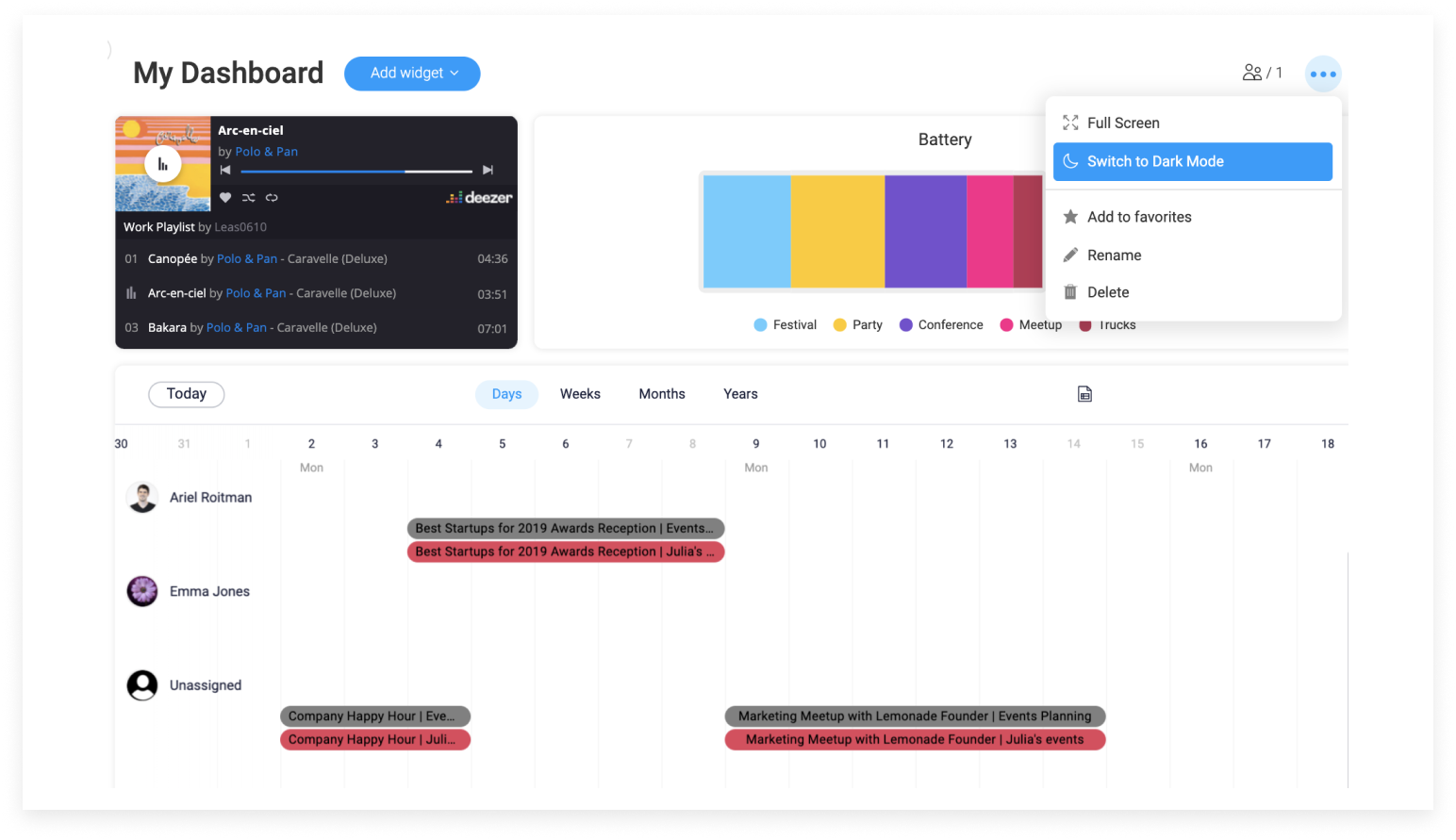 Monday.com offers a more focused set of features, which includes:
Dashboard and Overviews
Widgets
Project Organization
Data and Productivity Visualization
Time Management
Collaboration
While lacking the level of customization that ClickUp offers, Monday.com's dashboard stands on par with the previous platform's version as it provides information in a way that it is easy to read and digest. Aside from being able to see ongoing projects, a calendar, and a time tracker, among others, you can also implement widgets. This addition allows you to add any other information that you may want to see, such as the visualization charts.
Speaking of visualization, Monday.com is known for its business reports as it provides data in well-designed charts that you can color-code for better information processing. You can use this feature to display company key performance indicators, your budget tracker, and your team's overall progress.
In terms of collaboration, Monday.com's features are boiled down to the basics to simplify the process. It doesn't have the ability to convert comments into tasks the way ClickUp does, but Monday.com allows you to write updates, feedback, and comments. You can also let your managers and leaders approve tasks. If you really need a better task-specific management solution, then you may want to read more here.
Like ClickUp, any changes you make on Monday.com are available in real-time. You can also access this platform on your mobile device.
Ease of Use and Support
Beyond the features, this ClickUp vs Monday.com comparison also considers how easy it is to use both platforms because, despite its capabilities, a system that isn't usable fails to help you where it matters. In this case, ClickUp falls slightly behind Monday.com.
Because of the long list of features that ClickUp offers, the platform isn't as easy to use as Monday.com. It requires time to get used to, particularly if this is the first project management solution that you'll be using. Even with the tutorials available online, you and your team can still be overwhelmed with the many things that you need to do to set up this platform according to what you need to see and use. As a result, you may need to take a while to fully take advantage of what ClickUp has to offer.
Beyond the problems you may encounter as a result of the platform design, ClickUp does offer extensive integrations, which can improve your experience moving forward. Among these integrations are the following:
YouTube
Google Apps
Buffer
Email Apps
File-Sharing Apps (i.e. Dropbox and Google Drive)
ClickUp further makes up for this disadvantage with the help of customer support. Whichever plan you get, you and your team will have access to this platform's 24/7 support along with the ability to contact them through their website or through the chatbot. You can also email them if your concerns aren't urgent. Finally, Clickup offers webinars and training particularly to new users, which can help the transition process feel a little less overwhelming than it would be without the developers' support.
Meanwhile, Monday.com, despite offering fewer features, does feel more straightforward and is far more usable than ClickUp. The interface comes with a beginner-friendly design that enables you and your team to jump into its tools as soon as you start. Moreover, Monday.com is also intuitive, which streamlines not only the setup process but also any other customization that you may want to implement. Where Monday.com shines is the ease you experience when creating, generating, and sharing reports, which is essential if you want to immediately see the insight it offers.
Similar to ClickUp, Monday.com also offers integrations, which includes the following:
Microsoft Excel
Salesforce
Zendesk
Communication Apps (i.e. Slack and Zoom)
Trello
Google Drive and Dropbox
In terms of customer support, Monday.com isn't as connected as ClickUp. You can only request support through their website or through email – both of which can take time. However, they do offer video tutorials, training, and community support to help you and your team connect with other users.
Pricing
If you take the time to read our article, you know that anything that can improve you and your team's productivity comes at a price that can determine whether or not the platform you're using is cost-effective. The same trend is true for project management software, and, as such, this ClickUp vs Monday.com comparison provides the pricing details that you need to know before you settle on either platform.
Perhaps the one thing that could make ClickUp a more appealing choice than Monday.com is the fact that ClickUp offers a free plan. While it does limit what you can do in the platform, it does allow you to have to take advantage of it for a maximum of 100 uses. If you upgrade to the Unlimited plan, which costs $5 per user per month, then you'll gain access to features such as custom exporting and workload assignment, among others.
ClickUp's Business plan costs $9 per user per month, and it offers up more features like process automation and branding customization. Finally, the Enterprise plan, which is quote-based, enables you to further customize the platform as well as gain specialized features like HIPAA Compliance.
On the other hand, Monday.com doesn't offer a free plan but is available in four pricing packages. The Basic plan costs $39 per month, which requires you to have at least five users and offers your team with basic features, such as views, boards, and customizations along with 5GB of storage. The Standard plan offers 50GB of storage alongside integrations and a more flexible dashboard. Teams that need more from the platform may want to upgrade to this plan instead of getting the Basic version.
Monday.com's Pro plan will set you back $79 per month but will include almost all of the platform's capabilities, such as formula columns and private project boards. This platform also offers an Enterprise plan that is quote-based. Like ClickUp's version, this plan is where larger teams and companies can get the benefit of having extra security.
Beyond Project Management
Given the capabilities and characteristics of both platforms, your decision will need to be based on what you need it for. Monday.com is the more attractive choice for those who want to focus on improving project management efforts as well as overall team productivity, communication, and collaboration.
On the other hand, ClickUp offers more features that will allow you and your team to go beyond project management. As such, if you need a platform that will allow you to take advantage of ideas communicated through comments, then ClickUp is the better choice.