Whether you're a small startup or an established company, your business most likely has teams, and those teams handle tasks where they pass on data to another team member in order to complete the task. This sequence of data movement is called workflow and was traditionally managed manually. 
For example, in a content production team, a writer emails an article to the editor. The editor reviews the article, and once done, notifies the proofreader and requests the graphic designer to submit some designs needed for the content. The designer then sends different layouts and informs the editor on every instance that he/she sends new material that needs to be reviewed. Meanwhile, the proofreader, after going through the article, might have some concerns that have to be communicated again to the editor, who may again need to notify the writer. 
Can you imagine how exhausting this back and forth communication is? Add to that the reality that many companies today are composed of dispersed team members, such as remote workers and outsourced personnel from across the globe. Project collaterals and documents can easily get lost in the digital space, and delays can be devastating to productivity and your bottom line.
In fact, among employees, executives, and educators, 96% cited ineffective communication as a reason for workplace failures. In comparison, 97% said lack of team alignment has a direct effect on the outcome of their work. This collaboration nightmare is just one of the many dilemmas that workflow software can solve.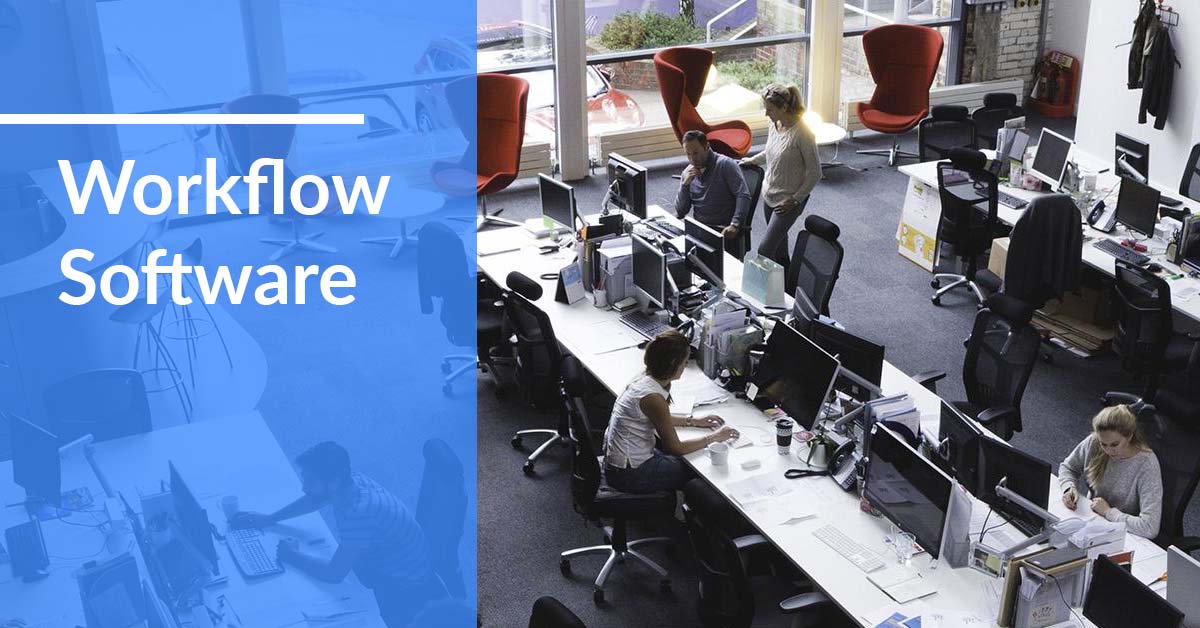 Workflow Software Table of Contents
What Is Workflow Software?
Workflow software lets you streamline your team's workflows through the use of powerful automation and customization features. It is programmed to handle the timely flow of data between team members by sending out automated notifications and reminders. When a writer finishes a draft, they might hit a submit button, and the software automatically places the draft into a "For Approval" folder and notifies the editor of the new task. The entire content team can track tasks without manually sending emails, updating spreadsheets, or searching for hours for files they need to accomplish their work.
Most workflow software employ a visual, drag-and-drop interface to make it easier for teams to define, monitor, and manage both standard and specific workflow processes. Moreover, web-based workflow software provides a virtual hub where different departments, teams, and even remote workers can work together and overcome collaboration challenges. Everyone has visibility and can track the status of tasks or projects they're involved in. Custom notifications and automatic follow-ups can be set up for specific individuals or managers using predefined rules.
Additionally, documents, images, and knowledge bases can all be neatly stored and organized right inside your platform for easy access to your team members. Modern workflow software also integrates with popular office tools, minimizing app switching and allowing employees to get more done in one place.
Workflow software is different from task management software in that the latter is limited to handling uncommon or unique processes that may vary between teams or departments. It also offers fewer customization and integration features and is more suitable for managing separate projects or tasks.
List of Best Workflow Software
Important Features of Workflow Software
Different workflow software offer varying capabilities and functions, but the modern ones should have the most important features below:
Integration

. A good workflow software must allow for seamless integration with your team's existing work tools so people can work efficiently. Common services that you should look for include Zendesk, SAP, Google Calendar, and SalesForce. 

SLA Status Indicators.

Effective workflow software uses color codes and similar features so you can have a visual view of which tasks are on track and which ones need your attention. This becomes a very important, time-saving feature for every manager, supervisor, or project team leader.

KPI-based Reports.

You can't improve what you can't measure, so having KPI-based reports capability built into your workflow software can make a huge difference in determining which processes in your workflow work and which ones need to be revised or replaced. Moreover, with data on key metrics, you can not only keep track of your team's performance but also identify which issues need to be addressed before they become a massive hindrance to achieving your project or business goals. 

Role-based access control.

Since workflows may contain information and materials for specific team members only, a modern workflow software should provide role-based access control features. With this, administrators, managers, or team leaders can have better control over what each user can see or edit while accessing the platform.

Notifications and Reminders. 

This is one of the basic features you should expect from any workflow software product. It should be able to send automatic notifications and reminders to inform individuals if they are next in line when it comes to completing a task sequence. Notifications and reminders can be sent via email or push notifications on a mobile phone or device. Also, look for a product that allows customization of the type of notifications individual members can receive.

WYSIWYG form designer. You'll need a simple form designer in your workflow software to make collaboration and coordination among your team members more convenient. Users of the software should be able to fill out the form easily and view them in real-time.
Benefits of Using Workflow Software
Increased productivity.

Since workflow software automates mundane and repetitive tasks, it frees up your team members so they can focus their efforts on tasks that need their skills and creativity. In a survey,

almost 60% of employees believed that they could save six or more hours per week

with automation features incorporated into their workflow. Also, since your team has a single place where they can organize, access, and revise files and documents, you can save time on manually searching, adding, or archiving data. As a result, you could see a rise in productivity levels in your team and an increase in the quality of the output they're producing.

Enhanced communication and collaboration. Most modern workflow software is web-based and offers mobile access, which means users can access what they need to accomplish their tasks even if they're not confined in a traditional office. Your team can work with the best talents in different regions or locations, and multiple employees can access the system simultaneously. Some products offer an app for offline workflow, so your team can work even in situations where internet connection is poor or has been disrupted.
Cost-effective Way to Collaborate. The great thing about cloud-based products like workflow software is that most providers offer affordable and flexible subscription plans that can suit the budgets of both SMEs and large organizations. You can also receive expert technical support, training, and guides and documentation from most SaaS vendors so you can address any issue you might have when using your product.
Should You Invest in Workflow Software?
If you're looking for an efficient way to manage your team's workflow, or if you want more control over how processes are executed within different teams or departments in your organization, using a workflow software can be a worthwhile investment. Most workflow software products employ customizable and scalable features, so you can enjoy more flexibility as your project demands change or grow.
When you do find a product that you think is perfect for your needs, we recommend that you avail of the free trial being offered by the provider if there is any. As we mentioned, different products will offer a variety of capabilities, and it doesn't necessarily mean that more features will automatically solve your team's workflow problems. For more product comparisons, check out some alternative products here.