Virtual learning has shown massive upside over the last decade as education and the internet combine to offer everyone an opportunity to acquire new skills. The implementation of online learning software has enabled teachers to handle administrative work, plan lessons, and monitor student's performance, engagement, and activity.
Two of the most sought-after virtual learning solutions in the market today are Schoology and Google Classroom. Both solutions can mix unique activities that enhance students' engagement and add more gamification to the learning process. In this Schoology vs Google Classroom comparison article, we will take a comprehensive analysis of the pros and cons and the distinctive features of each solution to guide you in your next purchase.
Schoology Overview
Schoology is a dynamic online learning management platform that assists teachers in becoming more informed about their student's assignments, grades, and classes. Based in New York, the software is developed by Jeremy Friedman, Ryan Whang, and Tim Trinidad in 2009 in the hopes of providing educational organizations with all the tools needed to manage an online classroom. 
A core objective of Schoology is to promote collaboration with constant checkpoints to make sure students are engaging with the educational material being put out by their teachers. The most recent addition to the software's powerful plugins is assessment management, which is a relatively popular feature in the best learning management software. You can read our article on the top learning management systems to find out more about assessment management.
In retrospect, assessment management provides teachers with sufficient tools to assess the student's progress and make the necessary adjustments to the learning process. The software also lets teachers provide students with feedback, which can be a catalyst to improve the latter's overall performance. On the flip side, Schoology also allows universities to set standards and evaluate the abilities of their educators.
Additionally, assessment management also enables teachers to establish teams based on courses to determine standards. Schoology users can update standards to apply to multiple classes at once and make it easier for evaluators to test students on several skills using diverse media with pictures and videos. 
What's more, Schoology also offers a flexible learning platform that integrates content management and the process of attendance and grade recording. This added feature allows teachers to devote more time to learning rather than spending it on administrative responsibilities. A more detailed take about the best content management solutions that integrate with learning management platforms is available in our software reviews. 
Furthermore, Schoology has progressive mobile apps that provide essential classroom management capabilities that can transform any course into a one-on-one learning experience. Through its mobile apps, Schoology users can offer next-level accessibility to information while enabling their students to learn at their own pace and ensure that they do not miss any information.
Pros:
Excellent Support Resources

Sufficient Third-Party Integrations

Single Sign-On for Subscriptions

Constant Improvements and Modifications
Cons:
Occasional Video Crashes

Some Third-Party Integrations Need Technical Support to Implement

Inability to Force-submit Quizzes and Tests

Lack of Folder Sharing Capabilities
Google Classroom Overview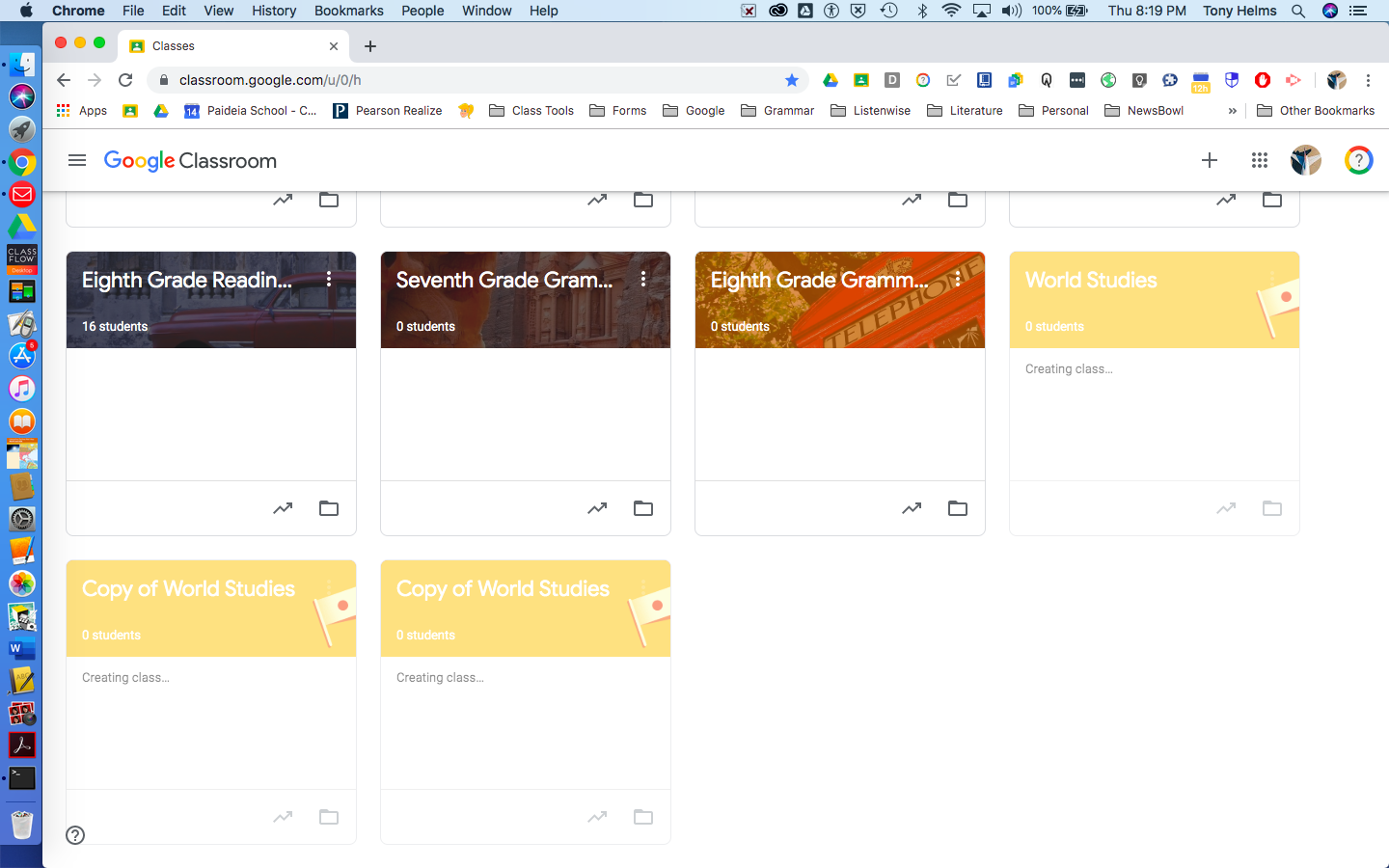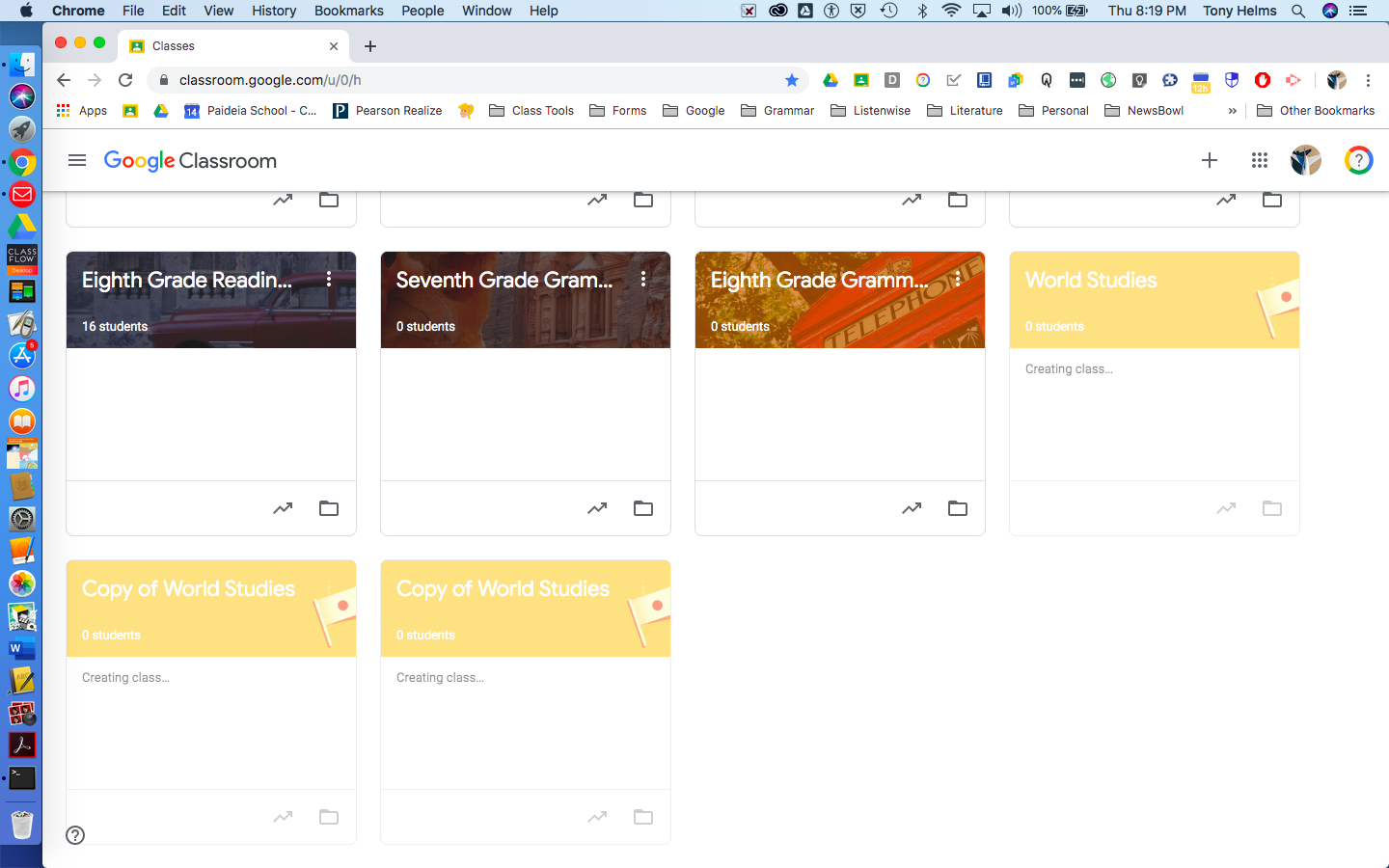 Google Classroom is an open-source learning platform developed in 2014 to centralize the creation, distribution, and grading of assignments as well as the process of sharing files between teachers and students. At present, the software is being used by 40 to 100 million users worldwide which include the World Learning Incorporated, Citizen Schools Inc, and Lindenwood University. 
As part of the Google Apps for Education suite, the software aims to promote paperless learning in the classroom by enabling students to send their assignments online and allowing teachers to grade them immediately. With Google Classroom, teachers can establish online classes, ask students to attend their courses, and create and send out assignments. Students and teachers can also communicate about the tasks within the platform thanks to its social-media like interface that makes it easier for users to navigate the software. 
Teachers can send a unique code to students who are interested in joining their Google Classroom class. This code can be automatically imported from the domain of the educational institution to ensure consistency. This makes it more straightforward for teachers and educational institutions to send out announcements, find questions, and keep track of each lesson they give out to students. 
Similar to Schoology, Google Classroom is also brimming with powerful mobile apps and a host of business management software integrations that include the American Museum of National History, Curiosity, and Discovery Education. Through its integrations with business management solutions, users can automate their workflow and promote centralized management of all student information. You can check our list of business management platforms to find out what solutions may work with Google Classroom. 
Since Google developed the software, updates on new releases are also relatively frequent. More recently, Google Classroom released an update that provided users with the ability to edit class information such as room number, subject, and description. A new classwork page was also in store in the latest update which enabled teachers to post materials, assignments, and questions for students to view. 
While the software is free, students and teachers can only use the solution if their educational institution is registered on the Google for Education platform. Google Classroom also provides excellent support resources that include a Help Center where users can access various topics such as troubleshooting. 
Pros:
Easy to Use and Accessible

Effective Sharing and Communication

Paperless Learning

User-friendly and Clean Interface
Cons:
Limited Integration Options

Lack of Automated Updates

Lack of Automated Tests and Quizzes

Editing Challenges
Both Schoology and Google Classroom enable students to learn at their pace on several devices, anywhere there is an internet connection. They also allow teachers to deliver immediate feedback and help break up the learning to make it more manageable. While they are similar in most ways, these solutions are entirely different and have unique features as detailed in this Schoology vs Google Classroom comparison section.
Communication
Communication is an essential feature that is present on Schoology and Google Classroom. With Schoology, teachers can communicate with students, parents, faculty, and stakeholders all at once, thanks to mobile alerts, in-platform messages, and mass updates. It also simplifies the sharing of instructional resources and empowers faculty members to add them to their courses instantly. 
Other than that, Schoology also increases student engagement because the software uses technologies they love to use outside of the classroom. This way, teachers can enable them to be active participants in a moderated classroom environment that promotes creativity, discussion, and collaboration.
On the other hand, Google Classroom also has a myriad of communication tools which include the ability to email all students at once. The software can also send email summaries to parents and guardians to ensure that they are informed about events and student's progress. 
Google Classroom also boasts a Stream section wherein teachers can post announcements, assignments, and questions. It also lets teachers spark discussions through its questions feature, which can help them acquire baseline data before starting a lesson and evaluate student's knowledge on a homework reading assignment. 
Data and Analytics
Data and analytics are vital components of a learning management system because of its ability to generate feedback, and both Schoology and Google Classroom has them in spades. Schoology makes it easier for instructors to monitor the student's progress through its preloaded standards which are packed with the ability to view grading expectations and averages. 
Quizzes in Schoology also have a results tab wherein instructors can view the student scores and the statistical averages for the group to make the required adjustments to the learning process. Next-gen analytics are also on tap for teachers to gain a complete perspective of students through their school years. 
Meanwhile, Google Classroom also allows teachers to use analytics to provide instant feedback and monitor a student's progress to enhance overall performance. It also tracks classes, active users, usage trends, and posts created by teachers and students. However, it is worth noting that its analytics is not as advanced as Schoology and only limited to the current performance of students. 
Integrations
Schoology and Google Classroom are also equipped with a plethora of powerful third-party integrations that expand the functionalities of each solution. These integrations make it seamless to share information and help foster collaboration all the while saving teachers and students time. 
Among the integrations of Schoology include eduCanon, Google Drive, Evernote, YouTube, Turnitin, Khan Academy, Big Blue Button, OneDrive, Respondus, and Brain Nook. It also provides users with premium Application Programming Interface (API) access for customized integrations. 
Not to be outdone is Google Classroom, which works seamlessly with Squigl, Writable, Pearson Education, PBS, StudyTracks, Additio App, Actively Learn, and Edlio CMS. Besides that, the software also integrates with Google products such as Gmail, Google Drive, Chromebooks, Calendar, Docs, and Sheets.
Pricing
Schoology and Google Classroom are free to use, but users can also take advantage of paid plans to enjoy more functionalities. Users who are interested in Schoology can request for a demo to get a comprehensive walk-through of the product before committing to a subscription. 
The paid enterprise plan, which includes a powerful analytics feature, is only available on a quote basis. It is specially designed for teachers who want to monitor the progress of their students to come up with practical techniques that speed up the overall learning process. 
On the one hand, Google Classroom is free to use, but users are required to sign up for the Google for Education package to start using the software. It also has a paid plan which is available on a quotation basis and comes with features such as Chromebook workshops, authoring tools, content topics, and professional development meetings. 
Choosing the Right Learning Management System
There is nothing more challenging than choosing the right learning management system as users will have to consider features, third-party integrations, and the learning process to ensure that it can meet course objectives. In this Schoology vs Google Classroom comparison guide, we outlined the essential information that makes each solution relatively unique from one another. 
In a nutshell, Schoology may work best for corporations and higher education because of its ability to generate comprehensive analytics. Similarly, Google Classroom is targeted for higher education markets, but it may suit well for K-12 learning because of its somewhat familiar user interface. Either way, both Schoology and Google Classroom have excellent functionalities that make online learning a breeze and an enjoyable experience.