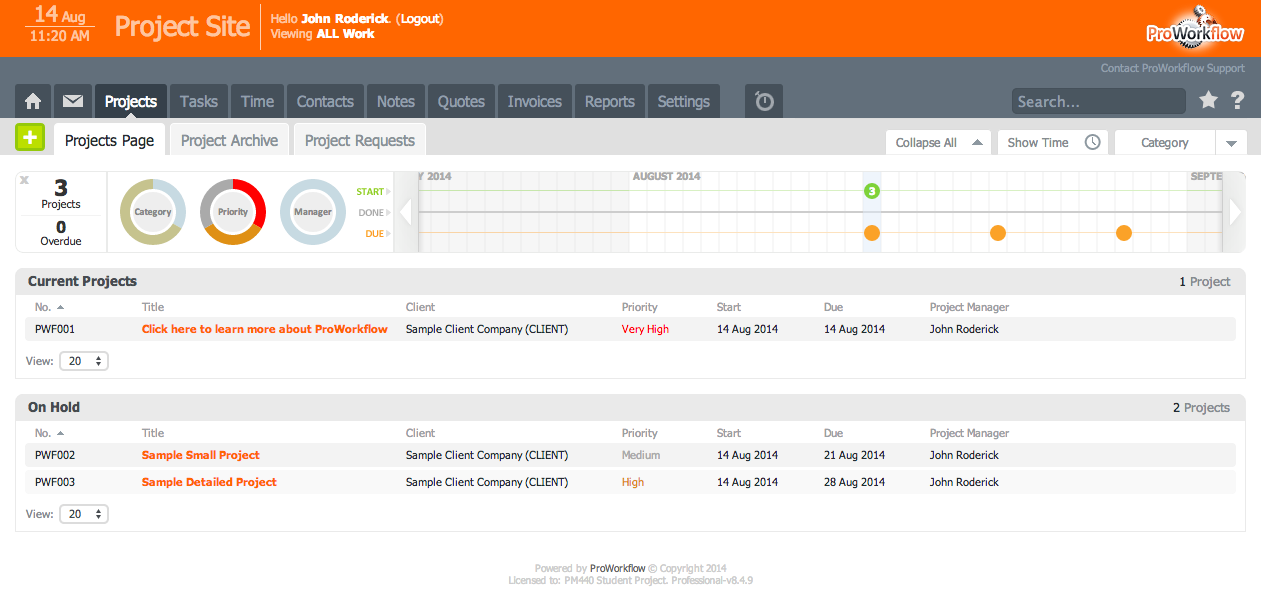 The benefits of ProWorkflow are its rich project management features, user-friendly functions, and powerful reporting tools. Here are more details.
Rich project management features
Users can take advantage of the system's global overview of projects and manage them easily through the interactive timelines. Future projects can be planned while considering the important factors such as workforce requirement and deadlines. Current projects can be broken down into tasks and subtasks, have their priorities set and use them as templates for future projects.
Resources and time are efficiently managed through ProWorkflow's time tracking and budgeting tools. They can streamline projects and tasks processes and create invoices and quotes based on the comparison between budgeted time and actual time expended on the project. The platform can calculate workforce requirements and the doable project scopes.
Users can manage their contacts effectively through tagging, enabling permissions or disabling them, personalizing data, Google Maps integration and more. They can also get alerts and notification for updates that require their attention.
User-friendly
ProWorkflow has many features that make project management easier to accomplish. It has a Project Dashboard that acts as a central console for displaying all project information and streamlines the management of workloads and workflows. It also utilizes the drag-and-drop mechanic known for its ease of use.
There is a Bulk Task Editor, which is a tool that allows quick creation and assignment of tasks. Users can also make templates for future projects that have a lot of common features. Files from the desktop can be uploaded and shared by simply dragging them in place.
Robust reporting tool
Better educated decisions can be derived from the identified and measured metrics gained through ProWorkflow's powerful reporting tools. Users can take advantage of the system's dedicated support that allows them to customize the reports they generate or they can simply choose from an available template.