With the continuous involvement of technology, it comes as no surprise that an extensive range of project management tools has been developed to help project managers in every aspect of their daily workload. Through the use of project management tools, business leaders can quickly establish a hierarchy of tasks for effective and efficient completion. 
Moreover, these tools also help create a seamless team workflow which contributes to the sustainable future and overall growth of an organization. Among the most fully-functional project management tools used by PMs include OpenProject and Redmine. Outlined in this OpenProject vs Redmine comparison article is a transparent evaluation of each solution to help you find the best project management software for your business. 
OpenProject Overview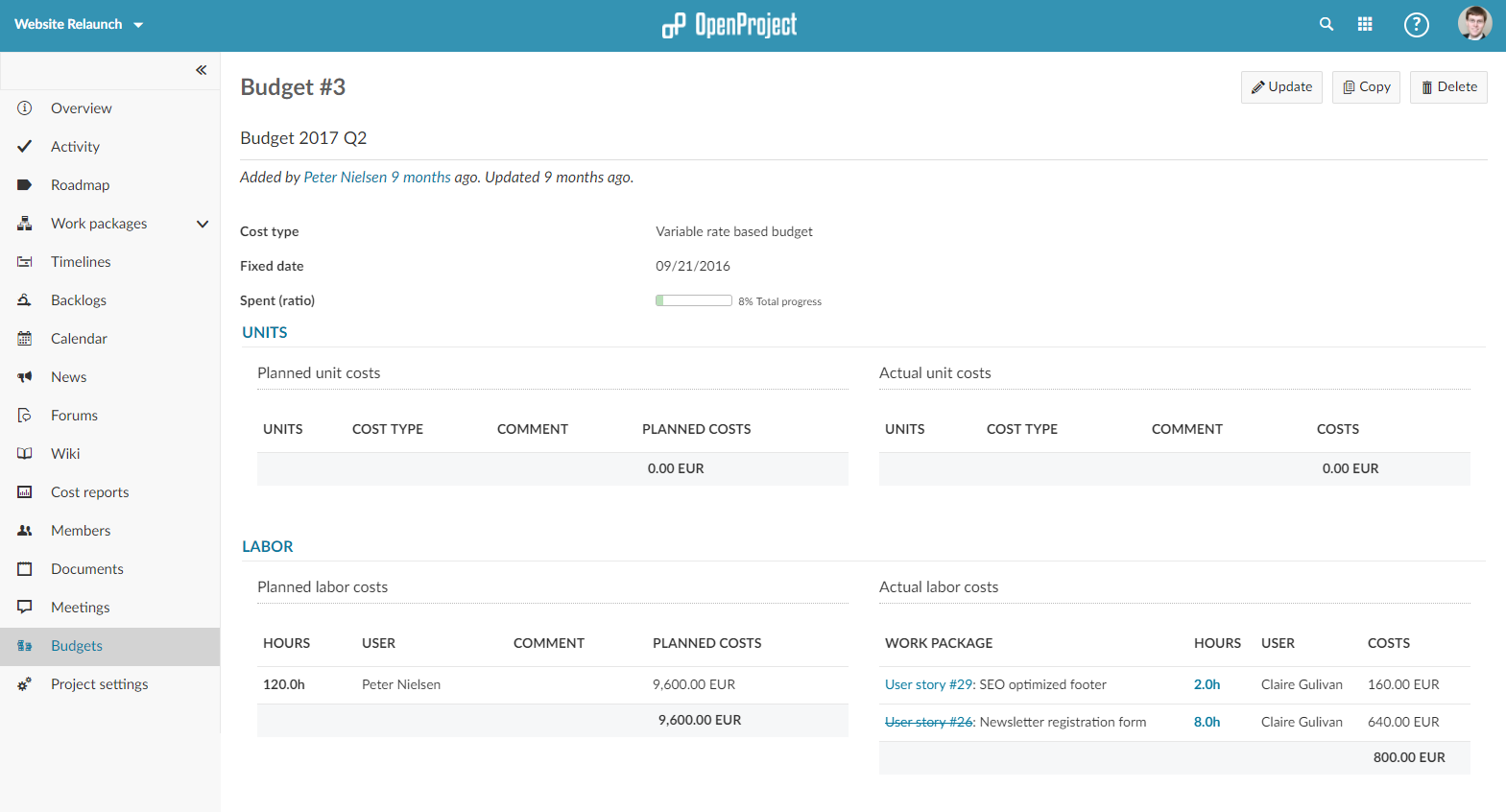 OpenProject is a free and open-source project management solution equipped with industry-grade tools and functionalities to help project managers and their teams work collaboratively and seamlessly on their projects. Established in 2012, this web-based project management software has evolved to become a robust yet easy-to-use application with plugins that support teams across the entire lifecycle of the project. 
With OpenProject, users can gather ideas and specify project scope to create a plan that displays how and when the project can provide deliverables. Transparency on all levels can also be achieved with the solution through the sharing of product roadmaps and plans with colleagues, shareholders, and client's to ensure smooth collaboration. This is relatively similar to some of the top collaboration tools on our list which also allow administrators to be more transparent about their tasks.
It also integrates seamlessly with Scrum, allowing users to create and handle backlogs and monitor the progress of each project through burndown sources. Plus, OpenProject is geared with high-level security plugins that can identify potential security threats in seconds and prevent massive data breaches. 
What's more, OpenProject is also scalable and can be tailored to meet your unique business requirements and ensure that it yields a high return on investments. Users can opt to customize the software itself. However, hiring the OpenProject team to adjust it is the most recommended option, especially for organizations with little to no knowledge about the technicalities of coding.
Other than that, this versatile project management solution also works well with agile projects thanks to its collaborative features that assist teams in breaking down a project into several stages and the iteration process. It also supports more than 30 languages, including French, Spanish, English, and German, not to mention its intelligent workflows that harmonize emerging projects in the back, middle, and front. You can read and compare workflow software here and see how they stack up against OpenProject in terms of workflow and collaboration.
Furthermore, using OpenProject, project managers can develop schedules and environments that will empower team members, spark creativity, and optimize resources. While OpenProject does offer a forever free community edition, users can opt for the Cloud and Enterprise editions should they need more features to complement with their project management tasks. 
Pros:
Open-source and Free

Web-based and Can be Used on Modern Browsers

Comprehensive Gantt Charts 

Easy and Intuitive User Interface
Cons:
Lack of Customizable Landing Pages

Slow Bug Fixing Methods

Connectivity Issues

Does Not Have Mobile Apps
Redmine Overview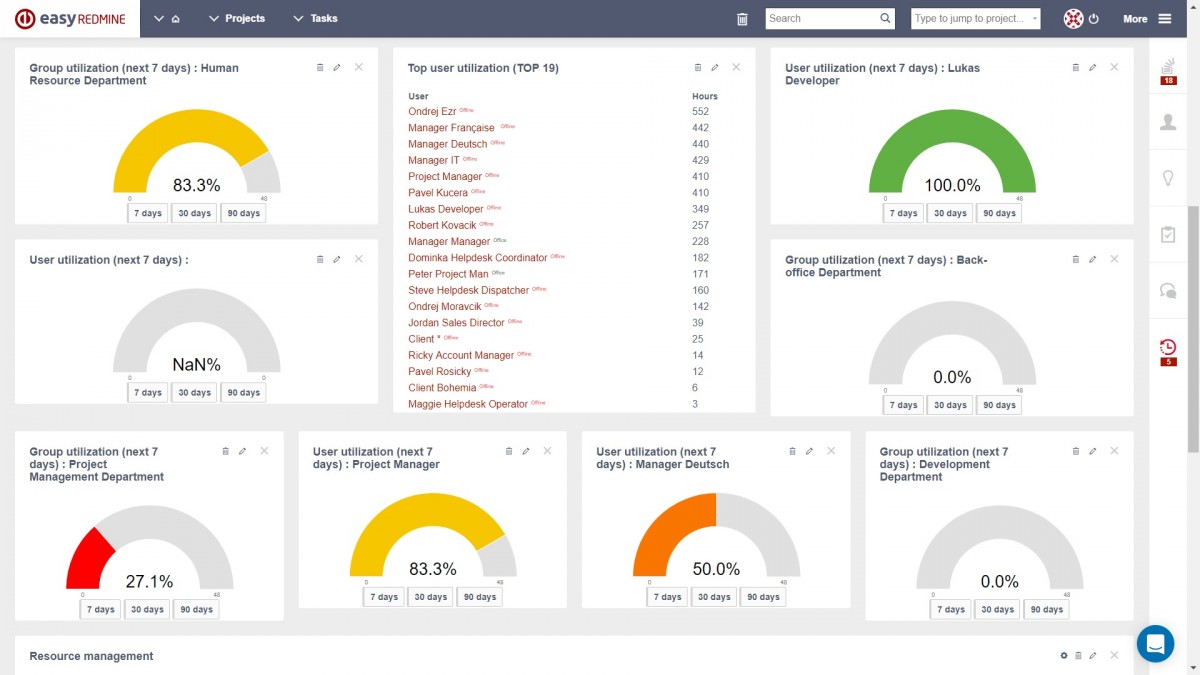 Redmine is a project management and issue tracking software that allows users to manage projects and associated sub-projects and keep track of issues to optimize the entire process. Built on the Ruby on Rails programming framework, this cross-database software allows user administrators to allocate each member to have different roles in the project to ensure that progress is monitored at every phase. 
Redmine is free to use, yet it enables users to customize the software to fit their business needs. Many options for customization are located within the platform's menu wherein you can create and organize tasks, priorities, workflow stages, and categories. 
Users can also choose to create as many fields as they want on tickets for easy classification and filtering. Alternatively, Redmine also lets you build versions of your products and services and monitor their development on its slick dashboard, which features a modern interface.
Like most open-source tools, Redmine was designed to be downloaded and installed on your server, which makes it relatively versatile and, at the same time, demanding. This is because users will have to consider particular factors such as the type of operating system, RAM size, and system requirements to ensure that the software will work smoothly in the device. 
Besides that, this multidimensional project management tool also uses calendars and Gantt charts to display project information, task assignments, and deadlines. Redmine also shows a graphical presentation that your employees can utilize to envision their workflow better. This makes it more straightforward for users to facilitate monitoring and analysis since their entire project workload is presented in a centralized location.
Unlike other open-source solutions, Redmine is entirely free and does not offer any paid plans. Users can also opt to download third-party Redmine bundles such as the BitNami Redmine Stack and the TurnKey Redmine Appliance to ensure that the solution is compatible with their devices. 
Pros:
Internal Wiki

Flexible Hosting Options

Customizable

Easy to Upgrade
Cons:
Complex Dashboard Plugins

Lack of Online Documentation

Memory Hog

Time-consuming Installation Process
One is hardly able to remain on top of the evolving project-related software landscape. Although not as feature-packed as the project management solutions in our software ranking, OpenProject and Redmine have managed to stay on the upper echelon of the best open-source tools thanks to its innovative features and plugins. In this OpenProject vs Redmine comparison, we will take a look at why these solutions stand out and how they differ with one another. 
Project Management
Redmine and OpenProject are free and open-source solutions that were initially developed to help project managers navigate the complexities of their tasks. Although they might seem quite alike in a single glance, these solutions differ in their project management capabilities, with the former focusing more on providing users with a comprehensive issue tracking tool. 
While it does display project assignments and task deadlines using Gantt charts and calendars, Redmine works more as a monitoring tool because of its ability to write custom statuses and define types of issues while writing protocols for each model. Nevertheless, it does have a time-tracking tool that enables users to monitor the number of hours spent on each project and evaluate individual progress even though it is not a fully-featured project management tool. 
The same cannot be said for OpenProject, which is brimming with project management capabilities such as task management and project planning. Initially, the solution was developed because of accessibility, security, and performance requirements not available on its predecessors such as Redmine. 
Dissimilar to Redmine, OpenProject enables teams to characterize project objectives and the work to be done related to the scope, not to mention, evaluate required activities and come up with a plan that makes it easier to assign tasks and get results. Best of all, the solution is also geared with tools for costs spent, project budgets, and time-tracking, thereby allowing users to create custom reports that provide resource allocation and project performance.  
Integrations
Third-party integrations are becoming a crucial ingredient in the usability of a project management tool. It enables project managers to mitigate issues and ensure that work processes are done effectively and efficiently. 
While OpenProject is a far more superior project management application than Redmine, it should be noted that the former only directly integrates with Microsoft PowerPoint for intuitive viewing of project schedules. On the flip side, it does have an Application Programming Interface (API), which means that users can customize the software to add further integrations. 
Meanwhile, Redmine works splendidly with TestRail, Orangutan, Taco, Redmine Mylyn Connector, PyCharm Native Redmine Support, TestLodge, and Turtlemine. Other integrations also include Typethink Redmine Linker, Netbeans Redmine Integration, SpiraTest, PractiTest, Tortoise Redmine Issues Plugin, Klaros-Testmanagement, TestCaseDB, Netbeans Task Repository, and Visual Studio Redmine Task List. 
However, the most prominent integration of Redmine is its pair-up with Drupal, one of the most powerful content management systems (CMS). Through its Drupal integration, project managers will not only be able to track each project but also have a system that allows them to create and modify digital content.
Pricing Plans
OpenProject and Redmine also sing a different tune when it comes to pricing plans. While OpenProject offers a Community Edition that is free forever, users can also opt for paid plans such as the Cloud and Enterprise versions. 
The Cloud version, which is billed €4.95 per month, caters to a minimum of five users and has premium features and support. Unlike the Community Edition, this version is hosted by OpenProject experts to ensure accuracy and prevent installation errors. 
The Enterprise edition, meanwhile, is an upgraded version of the Cloud plan and is mainly designed for large businesses. It provides enterprise-grade on-premise support and robust security features such as LDAP authentication and two-factor authentication. 
Users can get the Enterprise plan for €5.95 per month. The Cloud and Enterprise plans also come with free trials to immerse interested users with the complete functionality of the solution before committing to a subscription. 
Finding the Most Suitable Software
Both project management solutions provide users with a myriad of benefits, but it does not come without some drawbacks as detailed in this OpenProject vs Redmine comparison. Although both applications provide incredible collaboration features, OpenProject may be a better option for project managers who want to focus on managing tasks and ensuring that it meets client deadlines solely. 
On the one hand, Redmine can be quite useful in tracking bottlenecks related to your project to avoid exhausting financial resources for corrective measures. One way or another, both Redmine and OpenProject can bring extensive benefits to every business as long as it fits your daily operations perfectly.