The mobile app industry is expected to generate more than $189 billion in 2020. To date, Apple Store and Google Play offer more than 5 million apps to smartphone users. The industry is expanding at an escalating rate and demand for app development is more than what the IT industry can handle.  The demand to make app development easier and faster gave rise to the advent of rapid application development software.
Rapid application development (RAD) software are empowering IT tools that make app development and creation as easy as ordering food at McDonald's. With RAD software, users can create apps without the need for coding or programming knowledge. Users just need to have a vision of what they want and click specific tools and attribute to create them. RAD software are pretty much like build-a-bear shops but for apps. RAD software are also used by businesses and large enterprises that want to fully customize and automate unique workflow processes without the need for hiring developers or a whole IT department.
Two of today's most popular RAD software are Microsoft PowerApps and OutSystems. If you're looking to create an app of your own and you're looking for just the right tool to use that requires no meticulous coding and programming, then this Microsoft PowerApps vs OutSystems comparison article is exactly for you. We will point out the main differences between the two platforms to help you in deciding which among the two rapid application development software is best for you. A RAD software goes hand in hand with solid AI tools, click here if you want to read further on the latest analytics trends and tools.
What do users say about Microsoft PowerApps and OutSystems?
Microsoft PowerApps and OutSystems are leading rapid application development software because both platforms truly offer easy-to-use tools for app development and deployment. Microsoft PowerApps users love how the platform allows for easy integration and instant custom development. For OutSystems users, they love how the platform offers real-time monitoring of bugs, possible upgrades, and patches.
About Microsoft PowerApps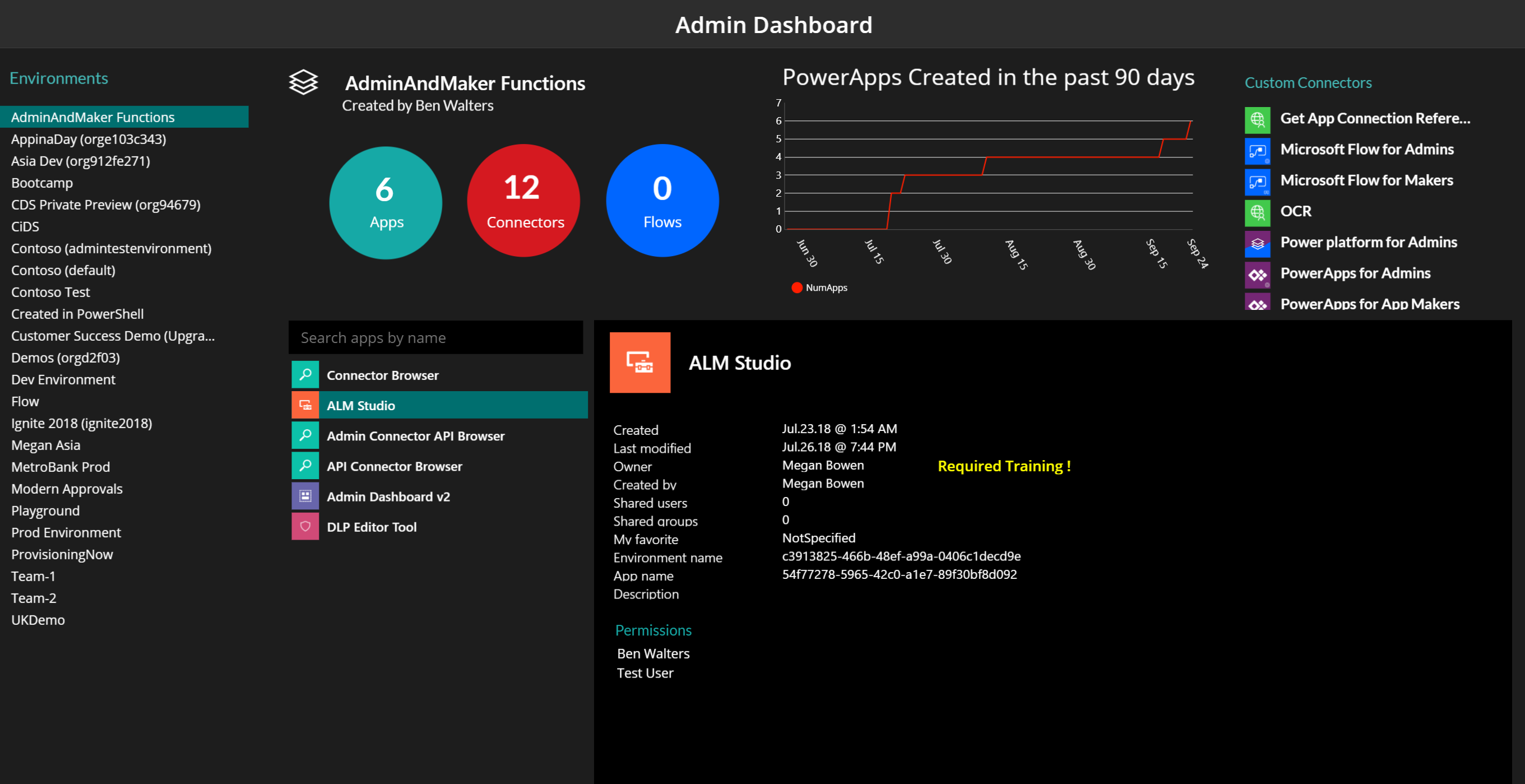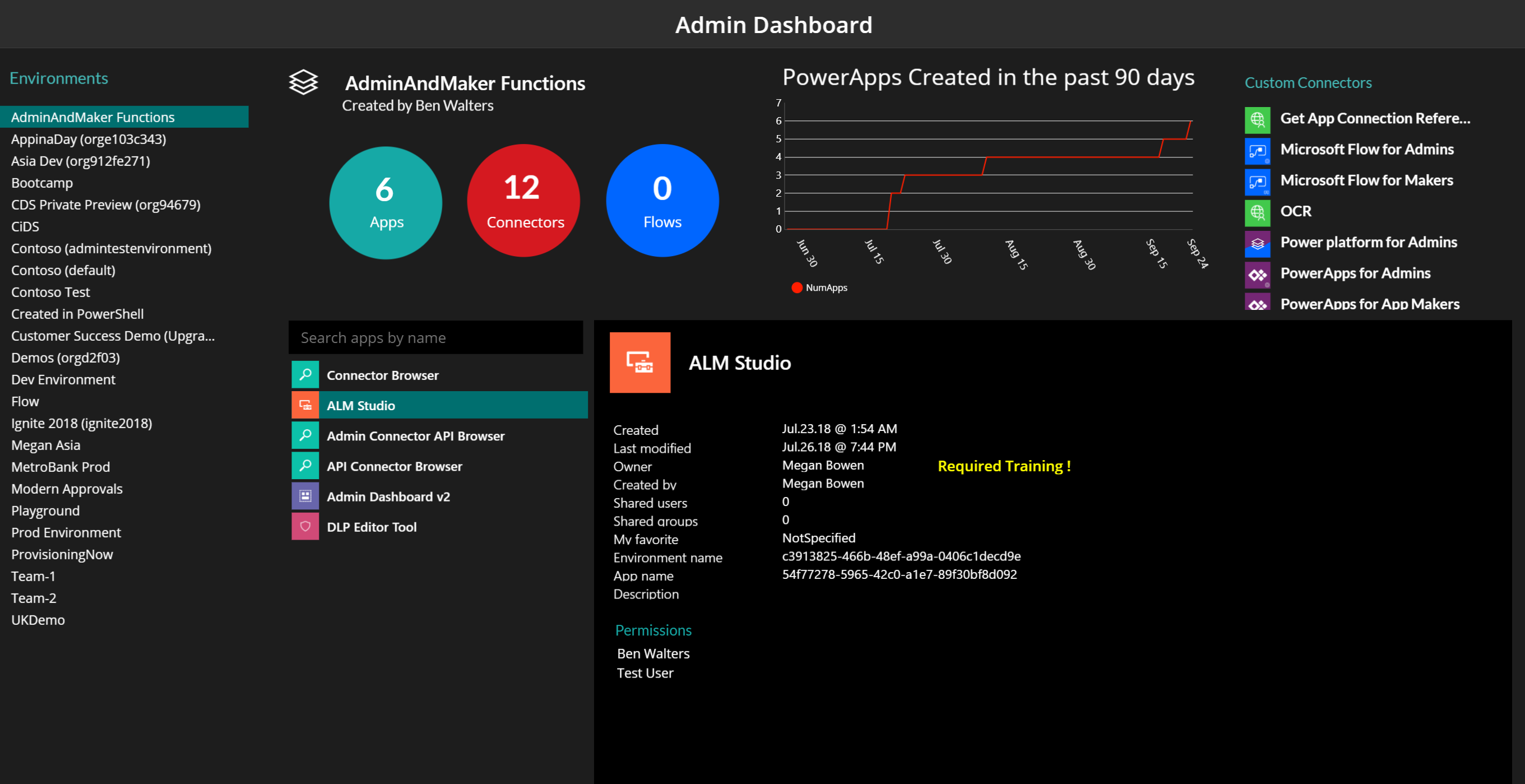 Since Microsoft PowerApps' release in 2016, it has been offering more and more tools to make app development quick and easy. It's a popular no-code development platform because users with zero coding experience can freely develop, visualize, and create their desired app or software. Apart from mobile app creation, Microsoft PowerApps is also ideal for businesses and enterprises that want to create unique workflow systems for their daily operations. Without the need for coding and programming, it can create a fully automated workflow infrastructure with specialized and customized tools and features. Its clients include NASCAR, Pepsi, Virgin Atlantic, and American Red Cross.
Pro – No coding is necessary.

Con – Limited access to edit mode. Only one user can access an app's edit dashboard.
About OutSystems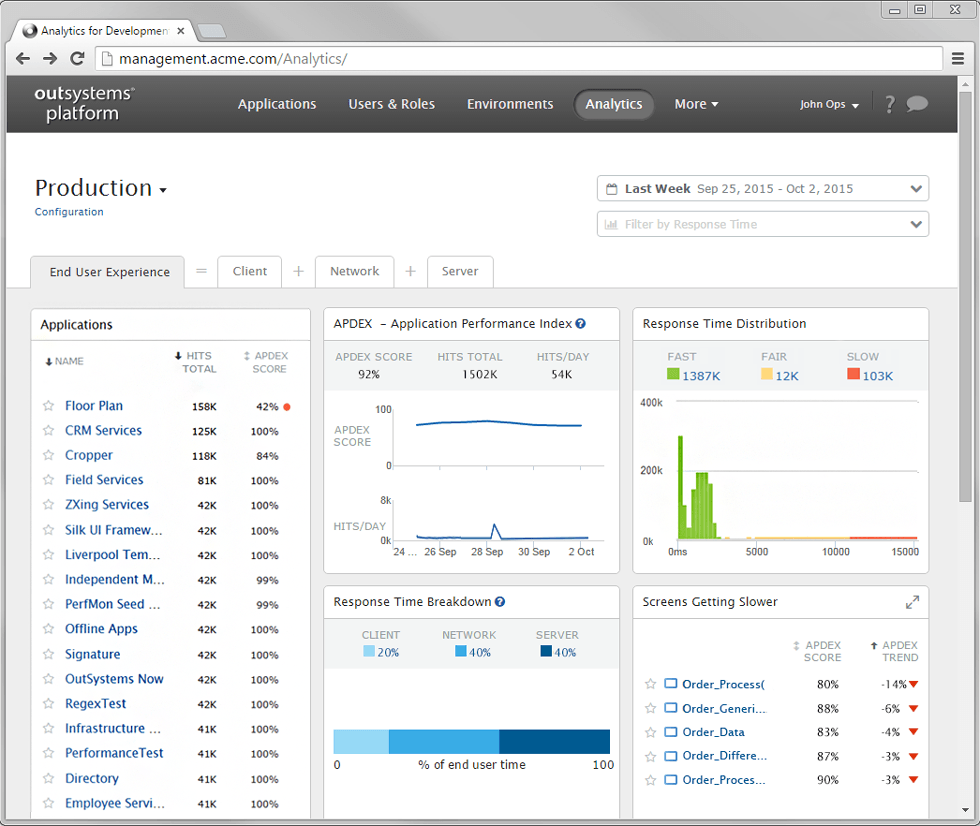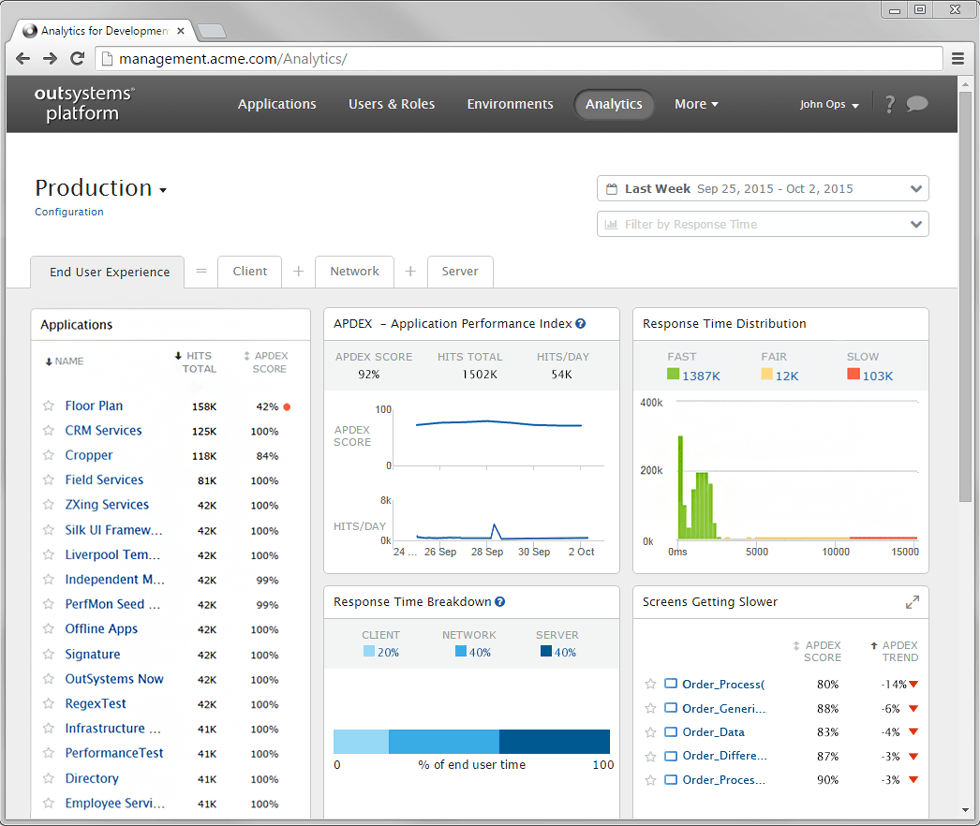 OutSystems came 15 years earlier than Microsoft PowerApps. It was launched in 2001 mainly as a low-code enterprise platform that allows businesses to create fully customized apps for their own use. Today, it also caters to users that create mobile apps for commercial purposes. Similar to Microsoft PowerApps, OutSystems users need not know intensive coding and programming skills. However, it is not a no-code platform. A bit of coding is still required that's why it's referred to as a low-code development platform. It was first in offering specialized toolsets for the creation of mobile apps – from conceptualizing, visualizing, creating, completing, deploying, and release to app stores like Apple Store and Google Play. Its many clients include Bacardi, Intel, Warner Bros. Entertainment Inc., and Honda.
Pro – App developers are provided the necessary tools from conceptualization to release.

Con – Steep pricing.
Points of Comparison
Comparing the two RAD software need not take much of your time because users just need to consider the following essential factors: pricing, visual support, ease of use, deployment, business intelligence, and integrations.
Pricing
This Microsoft PowerApps vs OutSystems comparison article will not be complete without discussing pricing. The two platforms are essentially similar in offered tools but their offered plans and packages are very different. For starters, OutSystems has a forever free version while Microsoft PowerApps does not have one.
Microsoft PowerApps does not have a free version but it offers two very simple plans: one for running single apps and another for running unlimited apps. Its Run Single Apps plan goes for $10 per user per app per month while its Run Unlimited Apps plan goes for $40 per user per month. Custom portals and business intelligence tools can be availed of at a separate price.
OutSystems offers four plans: Free, Basic, Standard, and Enterprise. It's forever free version is robust enough to handle unlimited applications as all four plans allow for unlimited app capacity. Its Enterprise plan is quote-based while its Basic plan and Standard plan goes for at least $4,000 per month and $10,000 per month respectively.
Both Microsoft PowerApps and OutSystems offer free trial periods to users.
Visual Support
Visualization tools are at the heart of every RAD software. Through it, coding can be dispensed with altogether. Both platforms offer solid visualization tools with simple and user-friendly UI. On both platforms, all app attributes can be customized and designed using a drag-and-drop interface.
Edits can be done easily and all aspects are automatically adjusted every step of the way.
OutSystems tools for visualization can seamlessly process a user's data model, business logic, operational workflow, and user interface by integrating data from different sources. Just like Microsoft PowerApps, OutSystems tools can be accessed offline. Hence, users are free to explore and design even if they're not connected to the internet. An edge that OutSystems has over Microsoft PowerApps is its feature that integrates visualization tools with real-time evaluation of client functionality. OutSystems can also easily execute batch processes.
Microsoft PowerApps visualize data via CDS and premium integration connectors. A special edge that it has is the tool that allows users to input environment parameters and user policy settings. Such attributes are automatically applied and effected upon a developed app. Specialized tools for collaboration are available.
Both platforms give users access to an open API that allows for further customization of developer tools. For more information on the latest tools for data utilization, read our article where we compare data visualization software reviews.
Ease of Use
Both platforms are commendable because they allow users to create apps and customized software without the need for straining, time-consuming, and taxing code work. Both apps allow non-IT professionals to create apps and build complex digital workflows without having to hire developers.
However, when it comes to ease of use per se Microsoft PowerApps is way better.
Microsoft PowerApps is better when it comes to ease of use because it requires zero code work from users. OutSystems is user-friendly and easily navigable but some factors and aspects will still require users to input codes and technical parameters.
Deployment
When it comes to deployment, OutSystems is more flexible as it can run on Windows, Mac, and Linux devices. Both platforms can be operated on Android and iOS devices. Microsoft PowerApps can also run on Windows Mobile. OutSystems is fully cloud-hosted while Microsoft PowerApps has an on-premise version.
When it comes to lifecycle tools, OutSystems is more dependable. It has tools that can assist developers every step of the way — from conceptualization to app upload in app stores. Packages for mobile apps can be had in just a click. Microsoft PowerApps does not provide such an easy and hassle-free functionality as third-party integrations and further customization can be required.
Business Intelligence
The two platforms offer robust business intelligence tools. However, OutSystems is better.
OutSystems' business intelligence toolsets are better because real-time data, feedback, and evaluation can be had every step of the way. It also seamlessly offer live data on app usage and performance.
Microsoft PowerApps allows for apps to have AI but such toolset is sold separately. Unlike OutSystems, it does not inform users of relevant data, reports, and summaries during and after development. However, its AI tools are more in-depth as users have the total freedom to customize the kind of AI that they want. Companies with dedicated developers that can fully customize and program AI use will benefit from Microsoft PowerApps' separate AI toolset.
If you're on the lookout for the latest trends and strategies in business intelligence, check out our software ranking of leading business intelligence software today.
Integrations
App development is data-heavy. One thing that new developers realize when they embark on app-building is the fact that an enterprise can only go as far as its data will allow it. App development is a complex work that requires massive integration with different apps for streamlined and simplified work.
Of the two, OutSystems has more built-in integrations with third-party apps like PayPal, ZenDesk, and Okta. Microsoft PowerApps has lesser built-in integrations but its edge lies on its seamless compatibility with all Microsoft products.
Users that demand for complex integrations need not be worried as both platforms come with an open API. With an open API, both Microsoft PowerApps and OutSystems can integrate with any third-party app.
What is the best rapid application development software for you?
To simplify the points discussed in this Microsoft PowerApps vs OutSystems comparison article, please take note of the following questions that you should ask yourself:
1. How much are you willing to spend for a RAD software?
2. Do you have any coding knowledge?
3. Do you prefer a fully cloud-hosted RAD software?
4. Do you prefer a RAD software that is deployed on-premise?
5. What are your business intelligence needs?
The answers to the following questions will simplify your choice between Microsoft PowerApps and OutSystems. Per our evaluation, we highly recommend OutSystems to users with limited financial means as it comes with a forever free version. On the other hand, Microsoft PowerApps is best for users with zero technical experience because using it requires absolutely no code work.