Writing is an important part of daily life. It can create organizations, mend misunderstandings, and bridge differences. It is a potent tool for change. Economically, deals get finalized every single minute with the use of contracts. It's impossible to imagine any kind of business without the fundamental need for writing. Today's modern life, with all its many complex demands, is built with words.
With the demand for words, the demand to use and apply the right word is premium. Hence, having a word processing software is essential for any individual, collective, or business endeavor. Microsoft Word and Grammarly are two of today's leading word processing apps.
If you're looking to use any of the two stellar word processing software, it's best to read this article first. This Microsoft Word vs Grammarly comparison will highlight important points of comparison between the two word processors. Do you need Grammarly when you already have Microsoft Word? Do you need Microsoft Word when you already use Grammarly? Without further ado, let's dive into the comparisons.
What do users say about Microsoft Word vs Grammarly?
Users of both Microsoft Word and Grammarly have been vocal when it comes to how the two apps have been beneficial and of great use to their daily needs and businesses. Microsoft Word users love how the app offers an array of robust tools for document creation and the fact that it is very easy to use.
On the other hand, Grammarly users laud how the app makes it easy for them to spot errors and correct mistakes in their writing.
About Microsoft Word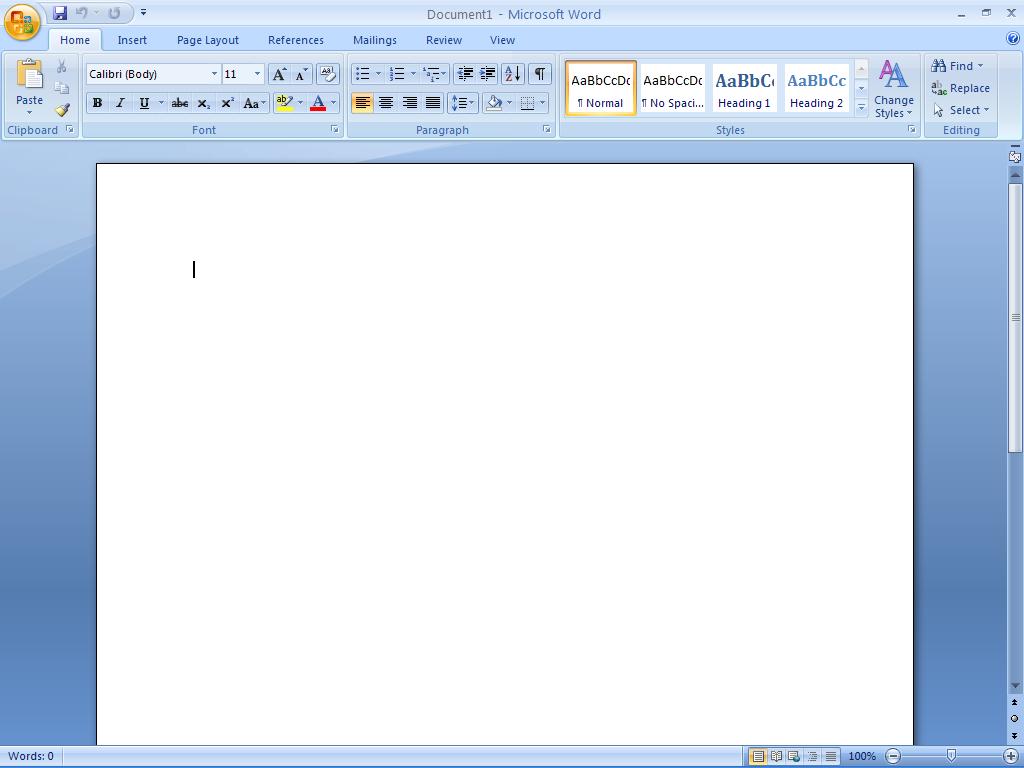 Microsoft Word is a software giant. Individuals all over the world use it every day. It is the word processing software of Microsoft's Office suite. To date, there are over 1.2 billion users of Microsoft Office. Since its launch in 1988, it has been offering robust word processing tools to help users in their writing and documentation needs. Apart from writing, users can insert images, create tables, and draw shapes through the software. It also has a spell checker.
Microsoft Word can work in multiple languages. It can also work with all kinds of professions: engineering, law, medicine, and more. If you're in the medical field and you're looking for more tools to organize and handle your practice, do check out our list of best practice management software.
Pro –  Users can lock their documents for better security.

Con – Microsoft Word files can be a pain to access when users don't have Microsoft Word installed.
About Grammarly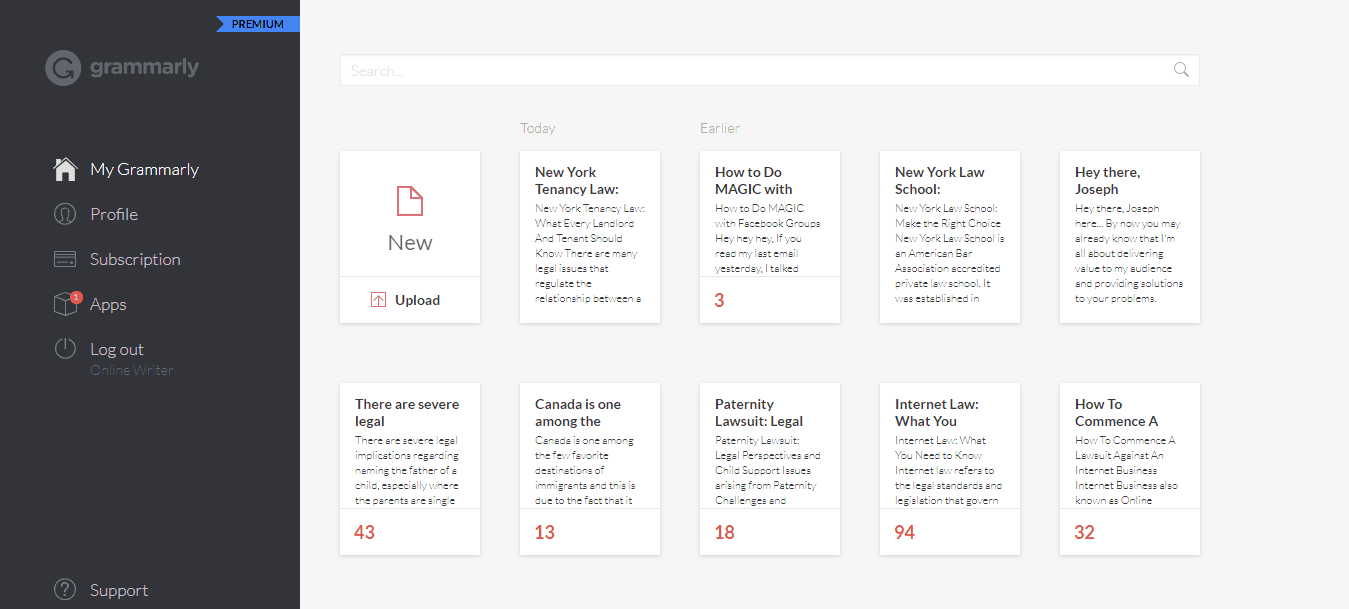 Grammarly is a relatively new word processing app if compared to Microsoft Word. But despite the fact that it was only launched in 2009, it already boasts of over 10 million daily users. It can seem like it's similar to Microsoft Word but the two are actually very different.
For starters, Microsoft Word can be deployed on-premise or via the cloud while Grammarly is purely cloud-based. The other essential differences between the two will be discussed in the article. But just so it's already clear, Grammarly is a dedicated grammar-checker that uses advanced AI to correct errors and mistakes in real-time via the cloud.
Pro – Can be accessed anytime and anywhere through any device.

Con – Internet connection is necessary for access.
Points of Comparison
This Microsoft Word vs Grammarly comparison article will simplify and streamline your decision-making. In truth, you just really need to consider the following factors when you're looking to compare and evaluate Microsoft Word vis a vis Grammarly: pricing, ease of use, deployment, correction tools, security, and integrations.
Pricing
Good document processing comes for a fee. The difference between Microsoft Word and Grammarly is not just the price but the pricing scheme.
Microsoft Word can be bought for a one-time price of $139.99. Such a purchase comes with a lifetime license that can be used by one personal computer or Mac. No monthly recurring fee is required.
Pricing is very different when it comes to Grammarly as it comes with a monthly fee. Pricing is offered in three tiers: Monthly, Quarterly, and Annual. Grammarly's Monthly plan is its most expensive plan that goes for $29.95/month. Annual is its lowest-pain plan as users need to only pay $11.66/month. Quarterly-plan is priced at $19.98/month.
For those with a limited budget, both Microsoft Word and Grammarly can be accessed for free. For Microsoft Word users just need to create a Microsoft account to access an online version of Microsoft Word together with the entire Office suite. Grammarly has a free version that can be installed for free upon user sign-up.
Ease of Use
There are three important points to consider when it comes to ease of use: deployment, accessibility, compatibility, and design.
When it comes to deployment, Microsoft Word is more flexible as it has an on-premise version. This on-premise version can be installed and used anytime without the need for an internet connection. Grammarly does not have an on-premise version. Grammarly use requires an internet connection. The talk of internet connection brings us to the topic of accessibility.
Device compatibility and accessibility
For accessibility, both platforms can be easily accessible depending on the nature of the work and availability of internet connection. Microsoft Word, when installed on-premise, can be accessed anytime and anywhere on the very desktop, laptop, or device where it is installed. Using it requires no internet connection. It has an online version that can also be accessible so long as there is an internet connection.
For Grammarly though, internet connection is always required. The good thing is, it is not unit-specific. It can be installed in any browser so users can freely use it on any device. Unlike Microsoft Word's on-premise version, which can only be used in a unit where it is installed. If you want to learn about the latest trends and tools when it comes to accessing and controlling files, you can learn more here.
Both Microsoft Word and Grammarly are outstanding when it comes to compatibility and design. Both can be used by Windows, Mac, and Linux users. When it comes to design, both boast of extremely user-friendly UI that requires no previous technical knowledge from new users.
Overall Toolset
When it comes to features, Microsoft Word definitely brings home the bacon as it offers hundreds of tools for document creation. It can incorporate images, tables, graphs, calendars, and shapes in every file. What Grammarly does is basically just a tool in Microsoft Word's offered toolset which is, spell check.
But what sets Grammarly apart when it comes to spell checking is it goes above and beyond the standard checking protocols that Microsoft Word offers. Grammarly does not only check spellings, spacings, and punctuation marks, it can also check grammar and syntax. Hence, it has been a game-changer in the field of word processing.
Correction Tools
As highlighted in the previous point of comparison, Grammarly goes above and beyond when it comes to correcting word files. Naturally, this makes Grammarly the better option and app to consider and prioritize if a person is after creating word files that have correct sentences with no misspelled words and grammatical errors.
Microsoft Word's correction tool is limited to word-spelling, punctuation marks, and spacings. This is where Grammarly shines as it uses advanced AI to correct not just spellings, spaces, and punctuation marks, but also grammar and syntax.
This is possible because Grammarly deploys a top-of-the-line AI that only gets better and better as more users utilize. The more word that it processes, the better it gets at analyzing grammar, syntax, and natural language. This makes Grammarly the definitive choice for users that are writers by profession.
Security
Microsoft Word is the better option when it comes to security as it comes with an on-premise version that can be password-protected. Grammarly is not user-specific when it comes to saving files as it works through browser extensions and integrations. Microsoft Word also has an auto-save function that is more potent when it comes to securing file fidelity. You can check this guide if you want to learn about more tools that you can use to control and protect your documents.
Integrations
Microsoft Word can integrate with any third-party apps that can integrate with Microsoft Office. It integrates with content management software, cloud storage software, and more. It can even integrate with Grammarly.
Grammarly is a flexible app as it is accessible via the cloud and can be installed through extensions and integrations. Once it is installed as an extension in a browser or word processing app, it automatically corrects any composed text in any given website or processor.
What is the best word processing app for you?
By the end of this Microsoft Word vs Grammarly comparison article, you probably already know which between the two products is perfect for you.
So, do you need Grammarly when you already have Microsoft Word? Yes and no.
The answer is yes if you're not yet very good in English and you need to improve on your grammar and overall writing skills. Since Microsoft Word only does basic corrections like spelling, spacing, and punctuation checks, you would do well if you'd use Grammarly to improve on writing. Grammarly offers real-time correction that comes with a short explanation. The answer is no if you're already good in English and just need reminders when it comes to basic technical errors like spacing, punctuation marks, and spelling.
To the question, if you need Microsoft Word when you already have Grammarly, the answer is also a yes and a no. You would need Microsoft Word if you need a word processor that can do complex tasks for document creations even if you already have Grammarly. Grammarly can only ever do complex grammar corrections. It cannot create tables, graphs, and calendars. If you already have Grammarly, you can opt to not have Microsoft Word if you already have a word processing app apart from Microsoft Word.
You just need to remember the main difference between the two, Microsoft Word is a word processor that can do spell check while Grammarly is a dedicated app for the correction of spelling, grammar, and more. If you need more than just grammar-correction, you should opt for Microsoft Word as it offers an array of tools and features for document creation. But, if you just need to improve on your writing, Grammarly should definitely be your tool of choice.