The IT industry relies heavily on what the technology it offers can do for its users and how it is unique from its competitors. As such, much of your business' resources are dedicated to creating a product that is not only unique but also reliable. And when that app succumbs to technical and performance issues, you risk the chance of losing your customers. This issue is what an application performance monitoring (APM) solution seeks to address.
An APM is a form of technology that you can use to monitor anything that goes on within your applications. It goes beyond troubleshooting and takes it a step further by taking your application's entire structure and analyzing it brick by brick. This elevated version of troubleshooting enables you to pinpoint bugs and resolve them accordingly.
Looking for the right APM tool for your needs is similar to the experience of looking for any other technology-related solution, like backup systems, which you can learn about it here. The internet will give you thousands of results, and it can be hard to pinpoint the one that can fit your needs. To help you cut down on the time you need to invest to make a good decision, this Datadog vs New Relic comparison focuses on two of the best multi-tier APM.
Datadog vs New Relic: At a Glance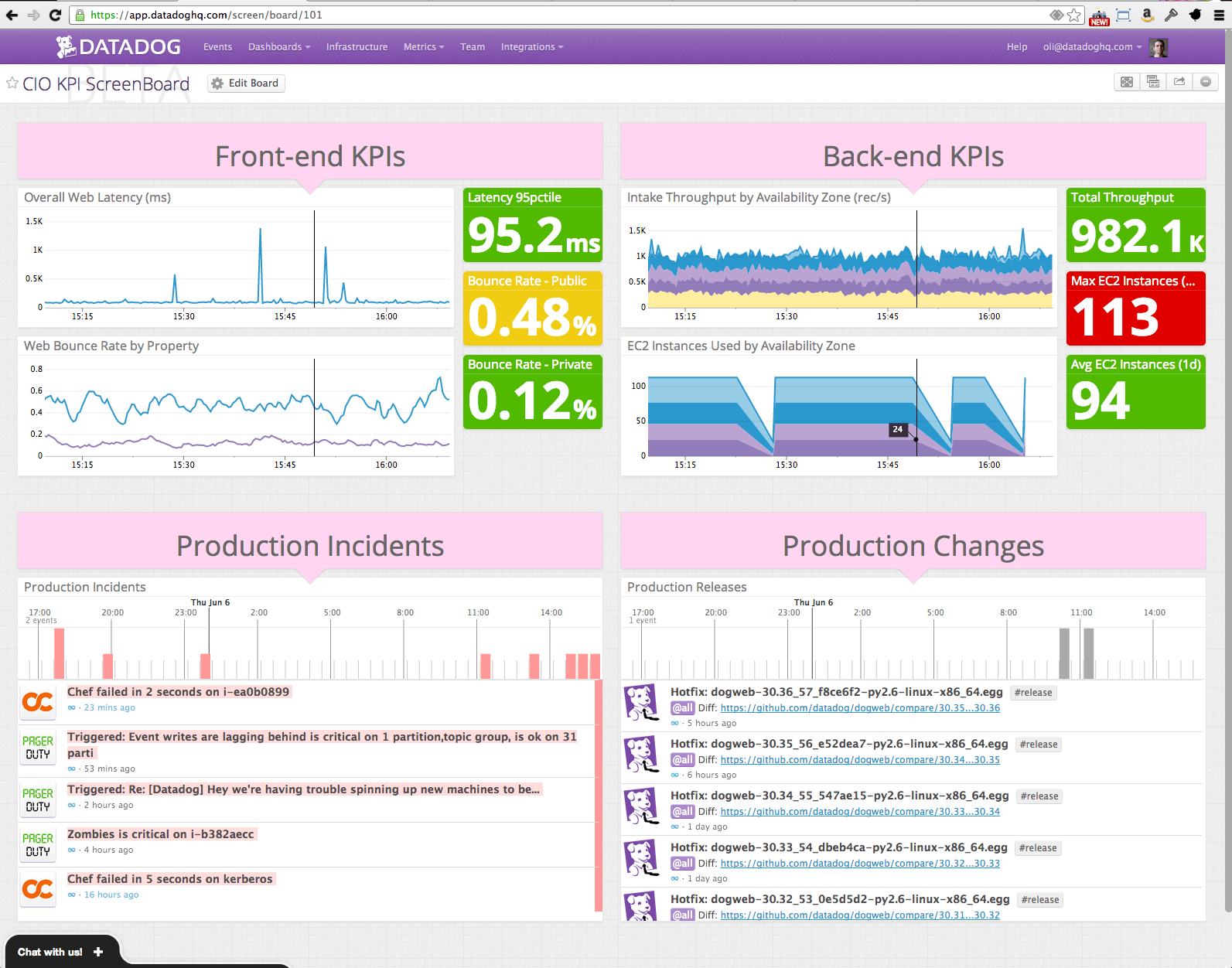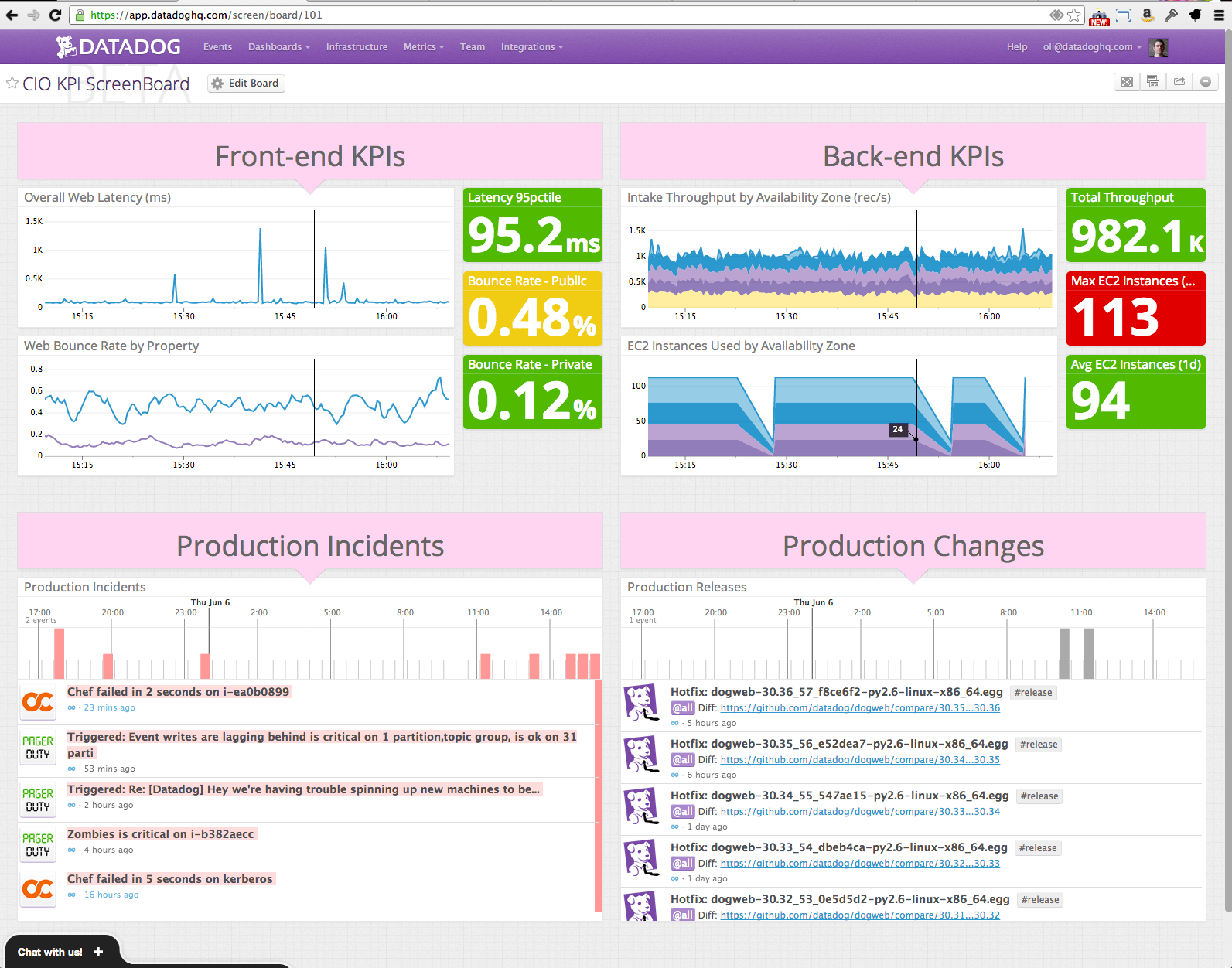 Because both Datadog and New Relic can monitor and analyze multiple types of applications, these platforms are often called APM tools to symbolize its umbrella capabilities.
The history of Datadog began in 2011 when it was announced as an APM tool for both web-based and mobile applications. It emphasizes the function and capabilities of architecture and design that revolves around agents. When left the way it is, these agents can already reach, monitor, and troubleshoot various operating systems and cloud hosts, among others. However, the strength of Datadog lies in its custom agents as it allows you and your team to dictate how it will operate based on your needs. This platform offers information on different views such as graphs and timelines.
On the other hand, New Relic was established earlier. It was launched in 2008, and this platform has continued to gain popularity over the years. It began and continues to be an APM tool that prioritizes the movement and design of developers. New Relic may also be familiar to you as it was used by the U.S. government to troubleshoot Healthcare.gov, which suffered all kinds of issues back in 2013. In line with its developer-based design, New Relic offers flexible implementation, whether cloud or on-premise, as well as real-time monitoring capabilities.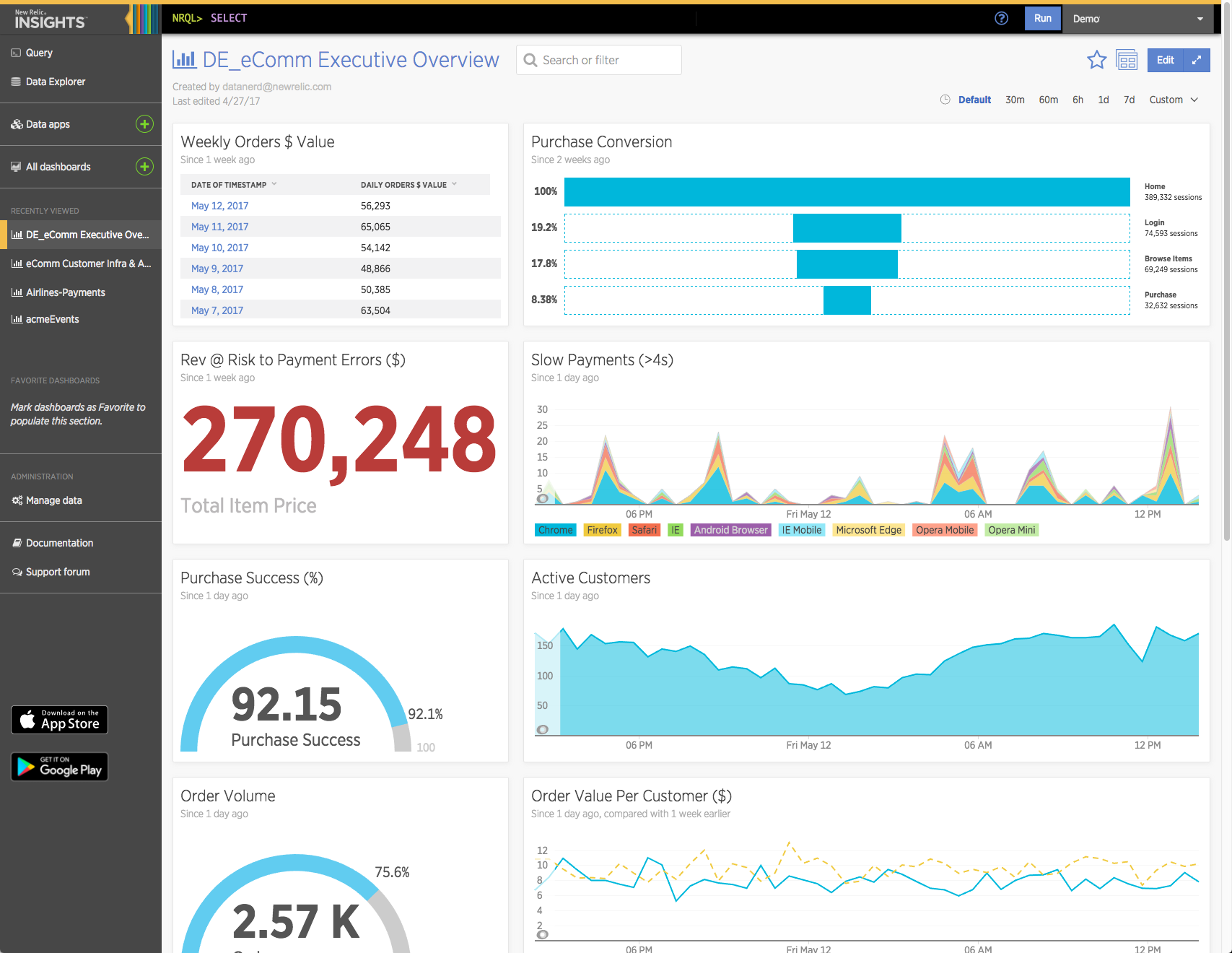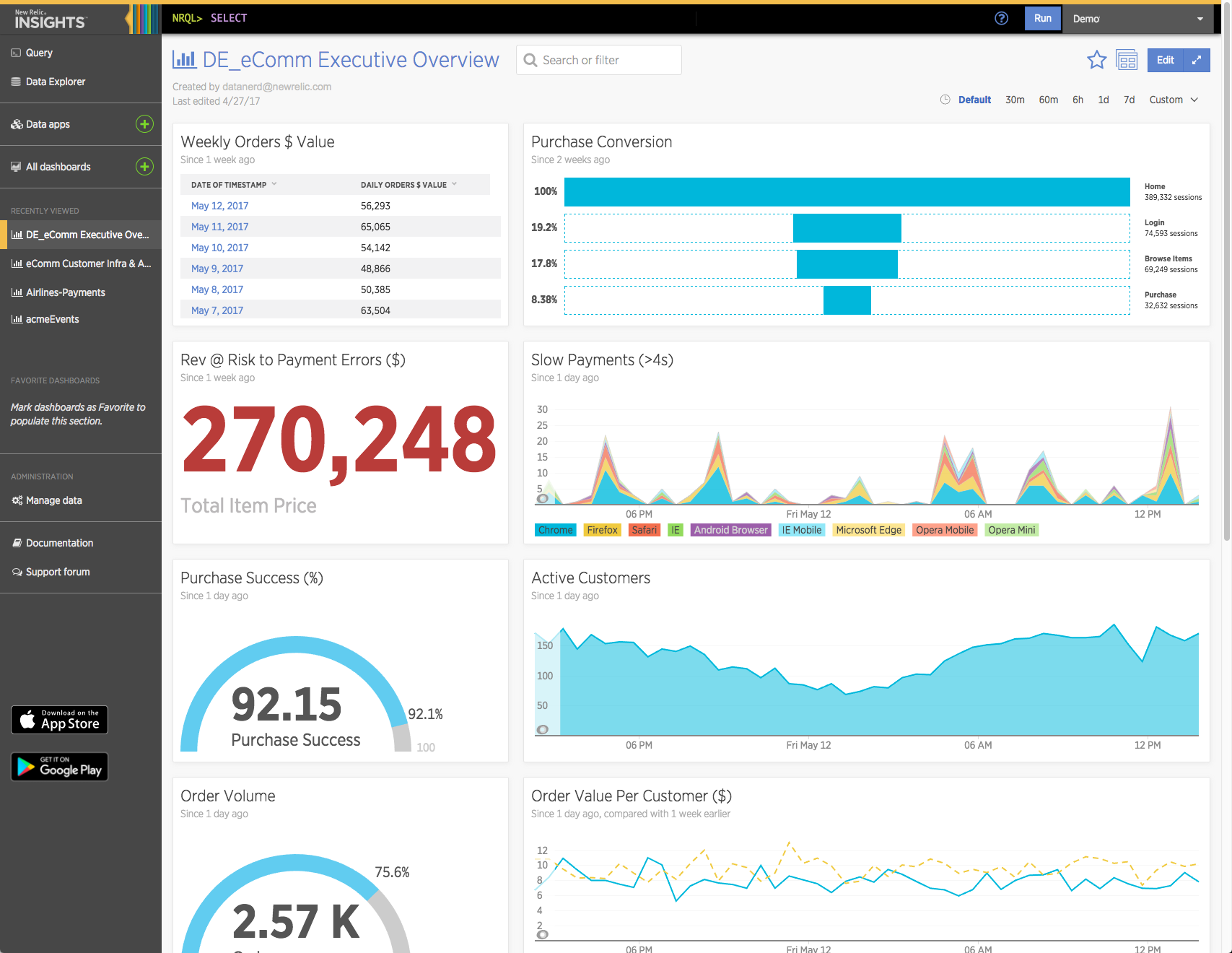 Datadog vs New Relic: Features and Functionalities
Both Datadog and New Relic offer a different set of features beyond the core APM functionalities. As was previously mentioned, Datadog excels in troubleshooting processes that are complex and specific. This platform gained its reputation because it can identify bugs and issues with pinpoint accuracy, which is essential if developers and IT professionals are to address the issues that their web application encountered.
In contrast, New Relic does not come equipped with Datadog's accuracy as well as metric logs, but it does come out on top when it comes to providing real-time reports. The information it collects is readily available on this platform's dashboard, which is convenient for speed checking and constant monitoring efforts. Furthermore, New Relic's design is one that allows it to perform better than average in all APM aspects, including those that Datadog exemplifies.
That said, New Relic does recover its lack in metric and infrastructure when it comes to API integration. This platform takes advantage of REST API, which makes endpoints easier to find and interact with it through the help of an informative user interface. Moreover, New Relic's API design logs and provides documentation in real-time, which makes it easier for you to monitor progress and integration efforts.
Considering the API tools of New Relic, it becomes apparent that this is where Datadog may not be the best option. Their version of REST API enables you to efficiently move data to and from the system, but it does lack the abilities and functionalities of New Relic's API version.
Datadog's counter comes in the form of its list of third-party integrations, which is in par with what New Relic offers. Both offer support for Bitium, PagerDuty, and Slack, among many others. As such, in this category of features, both ensure that you have the third-party integrations you need readily available.
Datadog vs New Relic: Benefits
Aside from APM-specific tools, you will also need to consider the benefits when trying to accomplish a Datadog vs New Relic comparison. Such benefits in an APM solution may come in the form of user-friendliness, support, and overall experience – all of which will be discussed below.
Usability is an essential characteristic of any kind of SaaS software. Both Datadog and New Relic seem to understand this as their platforms are equally intuitive and easy to use. For Datadog, usability is apparent when it comes to the user interface, which makes it easy for you to not only take advantage of its features but also create a custom dashboard.
On the other hand, New Relic's usability is on par with some of the best data visualization software on the market. This platform provides data in such a way that it is easily understandable and immediately recognizable. As a result, you can address performance problems and other issues as soon as New Relic provides you with a real-time update on the web and mobile applications on your watch.
Another benefit of both Datadog and New Relic is community support, which is essential especially considering their APM and API functionalities. Datadog offers a repository where all of the community's offers and contributions can be viewed and used for implementation.  On the other hand, New Relic's community support is mainly based on social interactions through forums and other activities such as meetups and popular community resources. As such, both platforms ensure that you have access to the massive community of developers that can take Datadog and New Relic a step further.
In addition to community support, both Datadog and New Relic also ensures that you have access to new releases. These platforms achieve this goal through its cloud implementation, despite New Relic's option for an on-premise implementation. Datadog and New Relic also consider any security concerns you may have about a cloud SaaS and addresses it through security measures like Datadog's email protection and New Relic's data encryption.
Perhaps the most important benefit of Datadog and New Relic is the learning curve and training that you'll have to go through, which is remarkably manageable. You and your team can learn to use these platforms through the training videos that the vendors provide as well as through community resources.
Datadog vs New Relic: Pricing
When discussing the cost that you'll have to pay to get access to Datadog and New Relic's features and functionalities, you may want to consider the capabilities where both platforms lack. For instance, to get Datadog's level of functionality in metrics and logs on New Relic, you'll have to find an additional solution. For another, Datadog's disadvantage in data analysis compared to New Relic's abilities, you may need to check this article for an additional solution to fill in the gap.
That said, Datadog and New Relic are available in pricing packages that won't break the bank while also allowing new entrants to take advantage of their features. The difference between the two starts in the pricing strategy implemented.
New Relic is available through metered rates, which are set at $0.10 per hour. On the other hand, Datadog determines the price based on how many hosts you need with the lowest pricing package at $15 per host and per month for a maximum of 500 hosts. As such, if you compare the two platforms side by side, New Relic comes out as the more expensive option in addition to having a pricing schema that will challenge your budget and financial planning.
Regardless of pricing, Datadog and New Relic ensure that you and your team have access to vendor support – an important factor considering the role of APM SaaS. Both platforms bypass pricing tiers and instead offers comprehensive online and phone support for any paid plan and all free users.
Datadog vs New Relic: APM Considerations
Given the results of this Datadog vs New Relic comparison, it may be said that both platforms are well-equipped with the tools attributed to APM tools. Beyond pricing, your decision will need to rely on what you need.
Do you need a platform to achieve ground-up and comprehensive troubleshooting? If so, then you may want to go for Datadog. On the other hand, if you need informative and efficient data analysis and visualization to boost your response time and performance, then New Relic's platform is the way to go. In addition, New Relic's community support and strategy mean that it is the better choice for developers of both web and mobile applications. Finally, if you need a simple user interface that doesn't sacrifice complicated capabilities, then Datadog should be your choice.