Most medical practices these days start by doing everything manually. That means they have physical logbooks of visitors to the clinic, use paper charts, and secretaries still do appointment scheduling over the phone or through email. While it may seem like those practices are saving money, they can actually be losing it.
That is because they have to spend on paper. Plus, assistants spend a lot of time organizing the calendar of appointments to ensure that there are no overlaps. What's more, because of manual systems, it is almost impossible for clinics to always remind patients about their visits to the doctor.
This can result in loss of revenue. On top of that, the health of patients who forget about their appointments may be put at risk.
Therefore, a great idea would be to implement a practice management software even if your practice is a small one. This can organize your day, schedule patient's appointments using an appointment scheduling software, remind clients of their visits, and even expedite billing and insurance processing.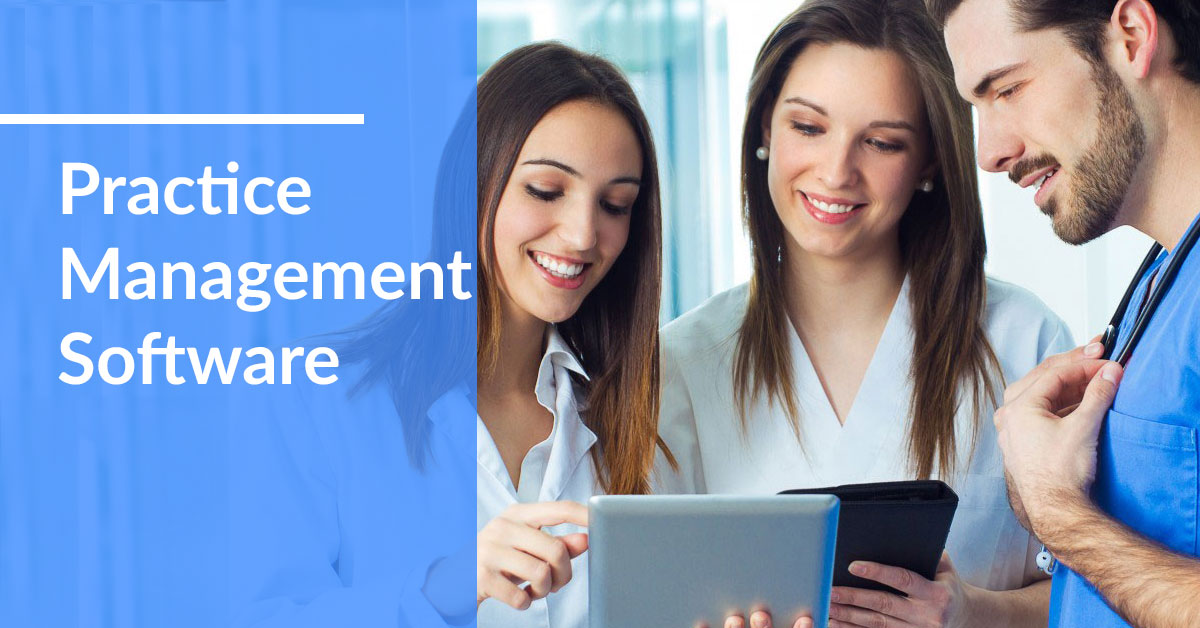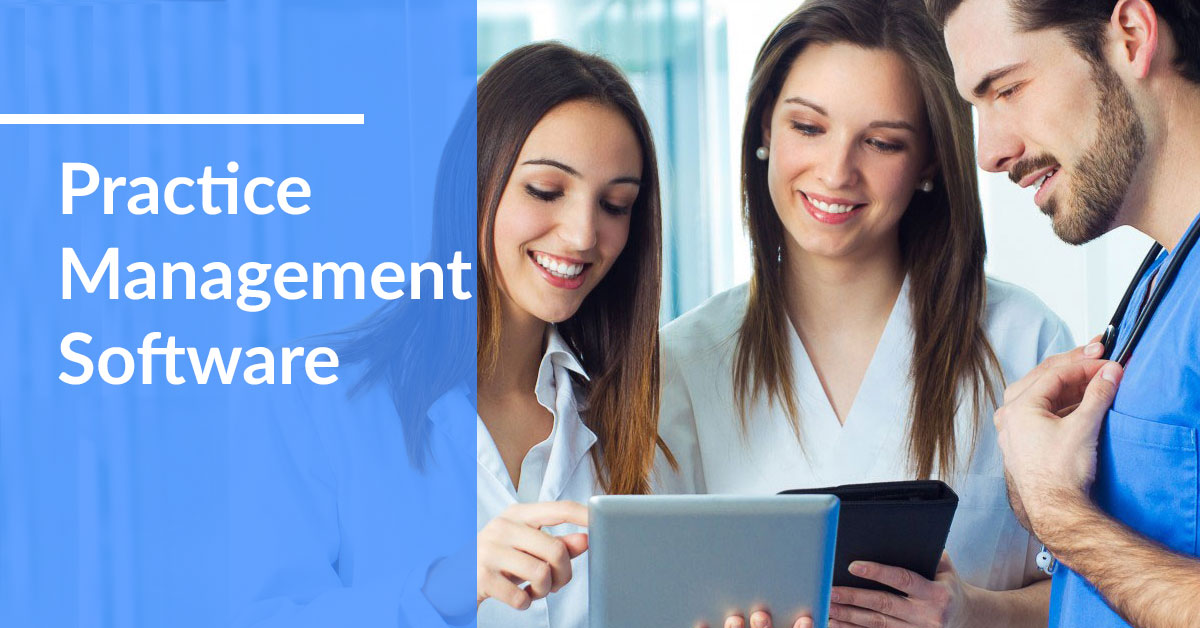 Practice Management Software Table of Contents
What is Practice Management Software?
Practice management software for medical professionals allow them to oversee their daily tasks in their clinics, hospitals, and wards. This can keep patient information within reach, enable seamless appointment scheduling, and keep track of follow-up visits. Other functionalities include billing, card payment acceptance, insurance processing, and reporting.
List of Best Practice Management Software
There are numerous practice management solutions that vie for your attention in the market. However, only a handful are reliable and deliver on their promises. That is why we prepared this list of best practice management platforms–so that you can narrow down your search and find one that works for you quickly.
How Does Practice Management Software Work?
Captures Patient Data
A practice management software has a module dedicated to gathering information about the patient. This does not necessarily have to be a chart; it can simply be a profile that shows an individual's basic data like name, birthdate, address, contact information, and primary concern for consultation.
Tracks Appointments
Even a small clinic can have so many patients that physicians and their assistants can find it challenging to keep track of the schedules. That is where a practice management solution comes in handy–it has a scheduling and appointment tracking module that makes it easy to see which patient is up next for consultation. Some interfaces even have automatic reminders so that patients do not miss their appointments.
Keeps Billing and Insurance Information
Making insurance claims can be a difficult task. A practice management platform streamlines the process because it keeps relevant insurance information of patients. This way, small practices, and hospitals do not have to spend so much time on back and forth communication with insurance companies.
Additionally, clinics and large medical institutions can ensure that they are paid what they are due with transparent billing data. This lets users see whether patients are up to date with their payments. Thus, they can contact individuals who are behind and even come up with flexible payment terms.
Multi-Clinic Use
Some clinics may have multiple physicians. With that in mind, practice management software include multi-clinic capabilities. This enables assistants to oversee the information of several doctors while ensuring that the overall workflow remains streamlined. And concerning employees, physicians can integrate a payroll software for small business that would enable them to pay their aides accurately and on time.
What are the Types of Practice Management Software? 
Though sharing similarities, practice management solutions can differ in terms of deployment. Here are the four main types according to installation and access:
1. Desktop-Based PMS. A single license allows only one user to work with the software on an individual desktop. This is suitable for small practices but not advisable for multi-practice clinics and large medical institutions.
2. Client-Server PMS. This kind of software means that a practice has a server where the solution is pre-installed. This enables users across the network to access it through that server. While it makes the platform accessible, it does so at a steep cost.
3. Cloud-Based PMS. Over the past few years, it has become common for practice management software to be accessible via the cloud. Not only is this more convenient, but it is also more cost-efficient.
4. Mobile PMS. Software can also be available on mobile as native apps. Because of this, medical practitioners and their assistants can view relevant information any time and even when they are on the go.
Who is Practice Management Software for? 
Practice management software is designed for all medical practitioners and their assistants or secretaries.
1. Single-practice clinics. Even lone physicians need practice management software. This allows them to keep track of their appointments so that they can always be ready for the next patient.
2. Multi-practice offices. Physicians that share an office space usually share a secretary, too. To make administrative tasks easier for the front desk, they can utilize a practice management solution. This way, the front-facing assistant can easily tell which patient goes to this or that physician.
3. Large practices. Institutions that have numerous clinics would greatly benefit from a practice management platform. With this, they can handle a large number of patients without breaking a sweat.
What are the Features of Practice Management Software?
1. Patient Profile. An important component of a medical PMS is patient profile. This allows the physician to view basic information about an individual, such as age, sex, civil status, height, and weight. It can also include blood pressure and body temperature.
2. Patient Scheduling. PMS come with calendars where physicians can view patient availability. Through this, they can schedule appointments without overlapping with other patients or events.
3. Automatic Appointment Reminders. Missed appointments are missed earnings. To prevent losing opportunities and to ensure the good health of patients, PMS can send them appointment reminders automatically. This also reduces the burden on the office assistant.
4. Billing. This feature makes it easier for practices to tell patients how much they have to pay for an appointment. This can also show users any balance a patient may have. This can also be interfaced with accounting software for a broader view of a practice's finances.
5. Insurance Processing. In case a patient has insurance, this component can assist a clinic in verifying their eligibility and coverage. This can be done in a matter of minutes to prevent bottlenecks.
6. Code Sets. PMS can include code sets for the Healthcare Common Procedure Coding System, Classification of Diseases, and Common Procedure Coding.
7. Integrations. By integrating with other solutions, a clinic can have a complete tech stack that can include an EHR.
What are the Benefits of Practice Management Software?
1. Smooth clinic workflows. A reliable PMS means users can access important clinic and patient information easily. It also means they can view billing and insurance records from the past when needed.
2. No more missed appointments. Missing client appointments do not only mean lost potential earnings, but it also means the physician cannot track the health status of the individual. A practice management solution can prevent this from happening because it can send automatic appointment reminders. In relation to that, clinics can employ an email marketing software to keep patients updated with promotions and health bundles.
3. Organized information. Patient data is not the only information that a PMS can keep. It can also store records of bills, insurance claims, and internal reports. This can also lead to rapid reimbursements, especially with insurance.
4. Updated data. Some PMSes are connected to a broader health network. Because of this, they can draw the latest patient information from the server, which could help them make better diagnoses.
What are the Latest Trends in Practice Management Software?
1. Internet of Medical Things. Medical practices, clinical trials, and more are relying on Internet of Medical Things or IoMT to track the status of patients wherever they are. Among the technologies used in this manner are fitness trackers, smart sensors, and mobile apps. Because of their rising ubiquity, wearable medical tech can number 30 billion worldwide by 2021.
2. Telehealth Services. Making medical services more accessible means that telehealth is also on an upward trend. Since not all patients can go to where their physicians are, they can go to a special video chat platform instead to communicate with healthcare providers. Experts predict that the telehealth industry will be worth $113.1 billion by 2025.
Considerations in Selecting a Practice Management Software
As a physician, you only want the best for your patient. If that includes having a smooth-running clinic, then you would also want a platform that allows you to streamline your administrative processes.
That is where practice management software comes in. It can be easy to go for the platform that is highest-rated and has the most bells and whistles. But that can go against you, especially if your practice is a small one.
As such, you have to think about the following things before settling for a specific software:
Practice size. Some practice management software are designed for one-physician clinics, while others support multiple practices.
Existing tools. If you have existing tools that help you oversee your practice, you have to think whether a PMS would eclipse or enhance those. One possible scenario is that you may already have an appointment scheduling software and that the solution you are looking to implement has the same feature.
Adaptability. Healthcare technology is always evolving so you would want a software that can keep up through updates and patches.
Reports. Many PMS only offer standard reports. So it can be frustrating when you want custom reports and drill down for more insights.
With those things in mind, you can be better equipped when doing in-depth research on practice management software in your shortlist.