Most businesses use Instagram as an advertising medium for their products and services. Since there are millions of posts every day, it is essential to publish ads regularly. As a response to consumer needs, brands post social media ads more than once daily. Additionally, they post stories to increase their products' visibility. However, it is time-consuming to design and plan Instagram stories each day, especially during peak seasons.
Fortunately, here is a list of scheduling software that can help in running your advertising campaigns. With these programs, you can set reminders for publishing content on social media. Popular brands utilize these software solutions to leverage among their competitors. It's a common practice for big companies to design ads months before publication date and set a schedule for posting.
Later and Hootsuite are two reliable apps that manage your social media advertising campaigns. In this Later vs Hootsuite comparison article, you will know of their features and their performance.
Later Overview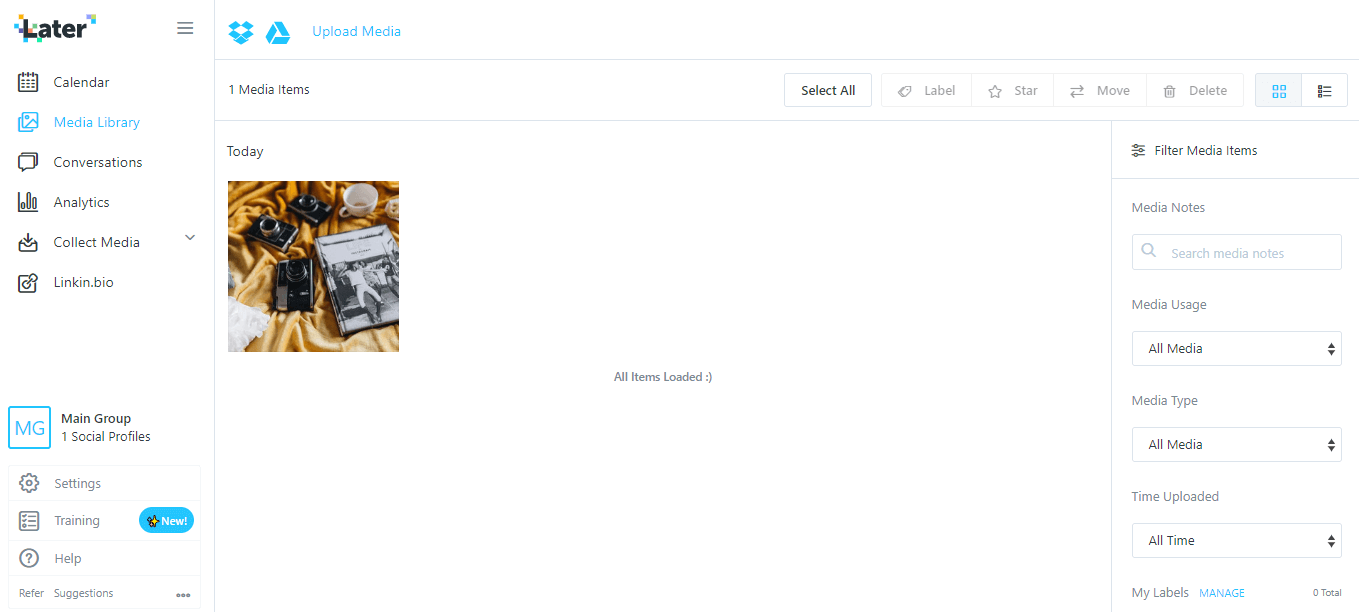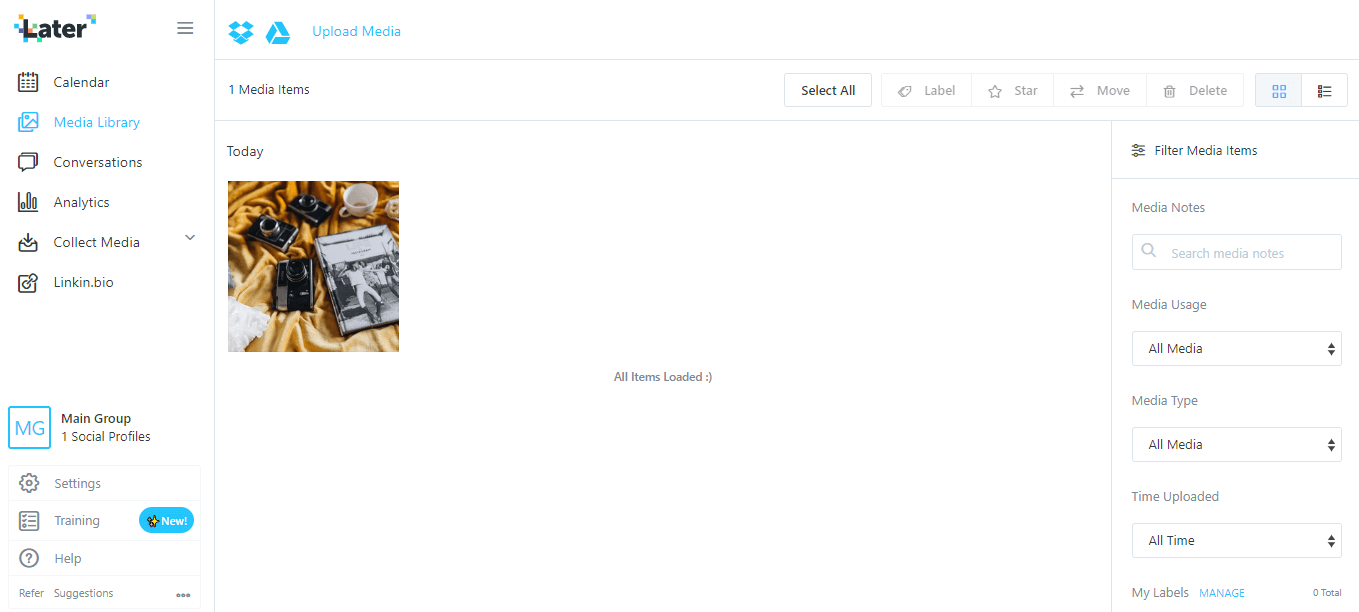 Later is a social marketing platform that connects with Twitter, Facebook, Instagram, and Pinterest. In 2014, it launched by the name, Latergramme. As the name suggests, the program was initially made for managing Instagram accounts. It then became more popular because the platform expanded its services to other social networking sites. The marketing platform has an established brand due to its useful and practical assistance that streamline their customers' social media accounts.
Hootsuite Overview
Alternatively, Hootsuite has been in the industry since 2008.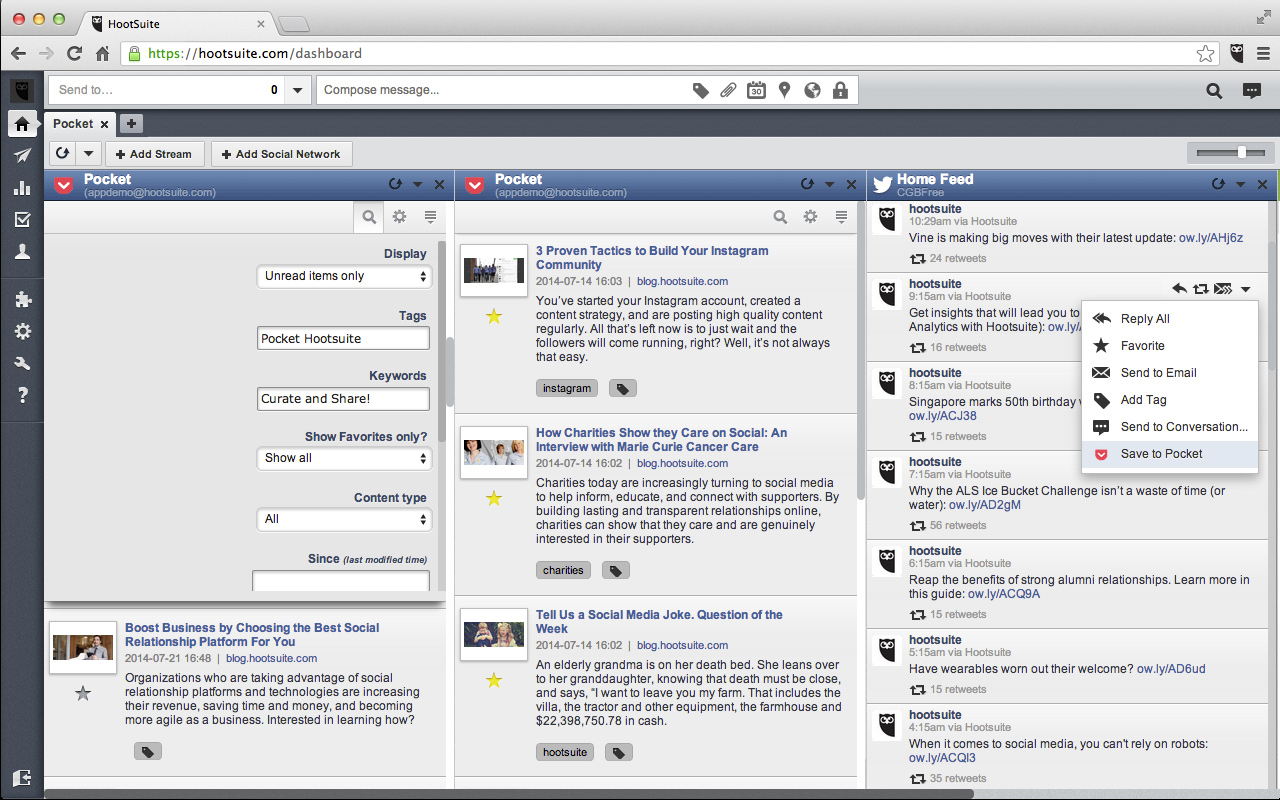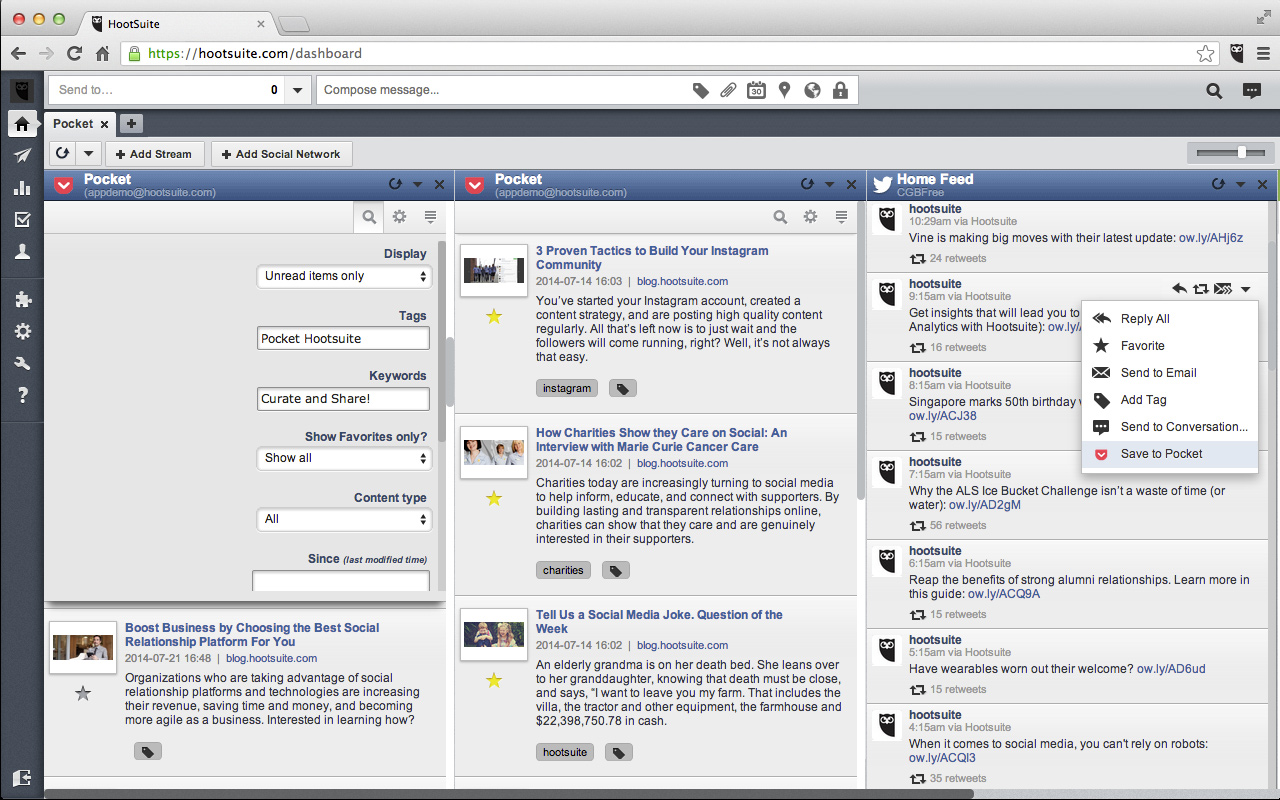 It is included in the list of top social media management software since it integrates with almost all networking sites. This way, you can run your advertising campaigns from various websites using one platform. Additionally, Hootsuite offers comprehensive tools that can help you upgrade your social media ads. In effect, you can take advantage of social networking sites' broad customer base.
Later vs Hootsuite: Feature Comparison
Since you already have an overview of both platforms, it's time for the main Later vs Hootsuite comparison. In this article, you will discover how they perform based on shared features, such as content scheduling tools, user interface, and additional functionalities.
Signing-Up
Most often, the sign-up process for online platforms is the same. The system requires a valid email address to start using the software tool. After that stage, the program will redirect you to your Instagram account or other social media platforms. This way, you can connect your social networking pages to the scheduler.
Later's website features a quick registering process. With this program, you need to click the Sign-Up button on their site. Then, you will be redirected to the Create Account page, where you need to input a valid email address and a chosen password. The website also allows you to change your timezone. As a result, you can schedule your posts easily. Hence, Later provides an uncomplicated sign-up procedure.
On the other hand, if you click the Sign-Up button on Hootsuite's website, the site will guide you to their Pricing Plans page. Then, you need to choose from various options, and all of them offer a free 30-day trial. However, upon registering, you already need to input your credit card details. After the free trial, the system charges you unless you cancel it before the 30-day period ends.
Usability
Every online platform must feature an intuitive user interface. This way, social media managers can use their programs quickly. It also enables you to focus on growing your company instead of navigating a complicated dashboard. Moreover, an easy-to-use platform must include tools with names that complement their functions. Hence, a program with a simple design and accessible tools provide users with an enjoyable and trouble-free experience.
Later features a modern interface that appeals to every user. More importantly, the system offers built-in tutorials that help you navigate the platform. Through the interactive guides, you can familiarize yourself with the various tools available in the Later website. It also has a great, straightforward design, perfect for first-time users.
On the contrary, Hootsuite's dashboard is more complicated than Later's interface. It includes different panels that are challenging for first-time users. Additionally, it gets more confusing if you add multiple social media pages. But, it is understandable that Hootsuite has a sophisticated dashboard since it provides more extensive functions than the other program.
Scheduling Tools
In today's business world, time management is essential. You can read this article on appointment scheduling software solutions to discover the best schedulers for your company. Aside from scheduling your meetings, it is also vital to plan your ads wisely. Both Later and Hootsuite's primary responsibility involves organizing your social media campaigns. This way, you can save time and resources and avoid ineffective ad strategies.
Later requires you to download the application on your device before linking your Instagram account. Fortunately, the platform features a cross-platform availability since it can be downloaded on Android and iOS-run devices. Upon downloading the program, the system requires you to log-in using a registered email address. After that process, you can now use your smartphone to schedule social media posts and stories. However, the platform does not allow automatic posting on Instagram.
With Later, you need to design an ad, and the system will notify you regarding the advertisement's scheduled posting. After receiving alerts, you must manually copy the image and text to your Instagram account.
Alternatively, Hootsuite offers automatic publishing of stories and posts. What's more, you can link multiple accounts to the platform. With Hootsuite, you only need to upload an ad, and after approving its preview, you can set a preferred date and time of publishing. Hence, the platform provides a more convenient way of handling social media pages.
Pricing
When choosing a social media management platform, the first step is to assess your company's needs in relation to your preferred budget. Both Later and Hootsuite offers various pricing plans for their customers.
Later offers five pricing options, and these are Free, Plus, Premium, Starter, and Brand. With the Free version, you don't need to worry about paid plans. However, the system only allows one profile per social media site with a maximum post of 30 per website. On the contrary, the Plus option costs $7.5 per month with maximum allowable posts of 100 per month. Moreover, you need to pay $16 monthly if you want to take advantage of the Premium version. This option allows you to post 250 social media ads per month with two profiles for each platform. The Starter plan then enables you to publish unlimited posts on three social media accounts. Lastly, the Brand version allows for unlimited stories and posts on five social networking sites.
On the other hand, Hootsuite has more costly plans for their clients. The platform's Professional version costs $19 per month and allows for unlimited scheduling on ten social media profiles. Then, the Team option requires a fee of $99 per month. This option enables you to publish unlimited posts on 20 social media accounts. Hootsuite's Business plan may not be ideal for small businesses since it costs $599 per month. Fortunately, it allows you to link 35 social networking sites. Lastly, you need to contact their sales team to get a quote for the Enterprise plan.
Additional Features
Aside from the scheduling functionalities, the two platforms also offer other tools to help you reach out to your target market.
For instance, Later includes a bio link functionality, Linkin.bio. The tool allows you to design landing pages. Through this feature, you can create more successful marketing campaigns for your subscribers and followers. It is worth noting that Hootsuite does not offer a similar tool. Hence, Later poses a considerable advantage when it comes to landing pages.
Hootsuite provides you with social campaign tracking tools that enable you to evaluate your company's marketing strategies. The system also allows you to include social ads that contribute to your campaign's overall success. Lastly, Hootsuite connects with more social media platforms; hence, it has more users than Later.
What Do You Need for Your Business?
Throughout the Later vs Hootsuite comparison, you learned their features and their performance based on shared functionalities. Both platforms have their benefits and disadvantages. But, the question remains, which program is best for your company?
Later proves to be a better app for start-ups and small businesses since it offers affordable pricing options. The platform even provides a free version for people who want to try the program's social media management tools. However, there are some adjustments for Later users since it does not provide automatic postings on your social networks.
Alternatively, Hootsuite is ideal for medium to large enterprises because it has more comprehensive functionalities than Later. It also offers costly plans that may not be available for individuals and start-ups. An advantage is that this platform allows automatic publishing of social media posts and stories.
Hence, no platform is more capable than the other. Hootsuite has more expensive options because it offers complex social media management tools, but Later also provides its users with unique functionality like the Linkin.bio. It all comes down to what your business needs and how much you can spend on these tools.