Social media has upended the world, and part of it is because organizations can now talk directly with their loyal consumers. Doing so effectively, however, requires a powerful platform to connect and engage other than the stock social media management tools most social networks come with.
That begs the question: what is a good social media management software? And, upon answering that, what makes one great and not simply good?
Today's article talks about what social media management software is, what benefits you can gain from using it, and what the industry will look like in the years to come.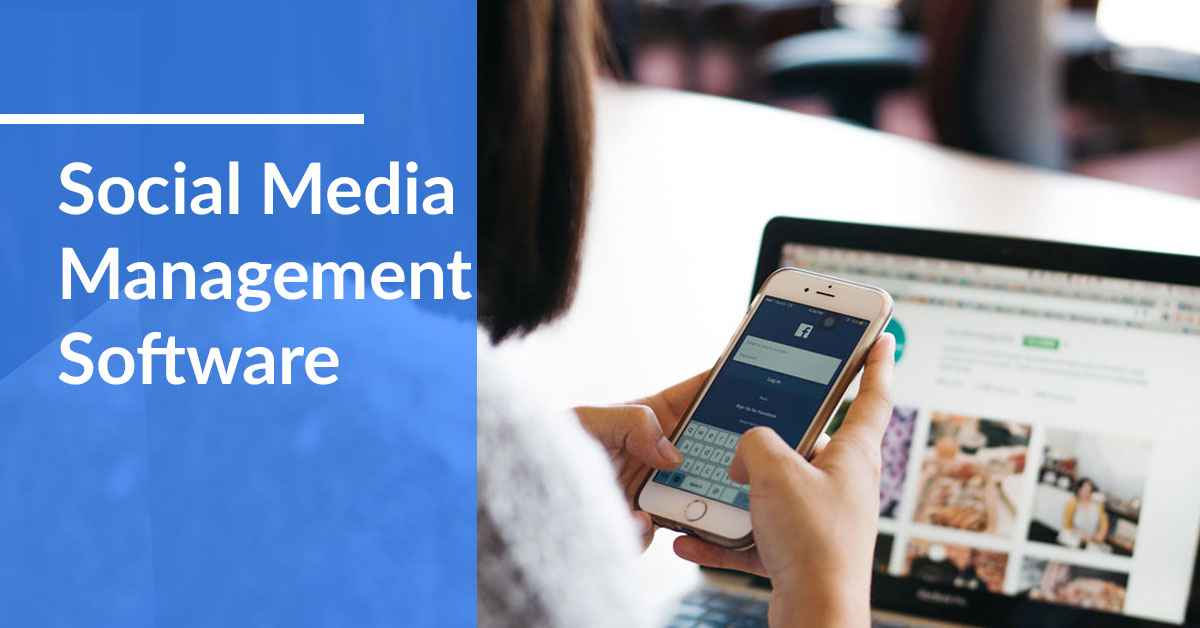 Technology Addiction Statistics Table of Contents
What Is Social Media Management Software?
Social media management software is simple enough: it offers you tools to administrate your organization's social media space. It has features that make posting and publishing content easy, such as scheduling posts, moderating comments and responses, boosting campaigns, suggesting content, and even the best voice changer software if needed. Businesses use these components together to improve visibility, facilitate discussions, and manage their brand.
While you can certainly manage your social media page with the platform's built-in page manager, using specialized software will net you more advantages. For one, these applications can used as social media scheduler tools which allow you to coordinate individual campaigns spread out across networks and platforms. Most (if not all) can analyze the activity and engagement on your content so you can either recycle them or find insights on which ones work well.
And it's not just about scheduling and analyzing content performance. Many social media management software are full of other interesting features, including keyword search, mentions monitoring, and topic or hashtag following. They also have a "social inbox" where all mentions and messages from your following are displayed, further streamlining the experience.
List of Best Social Media Management Software
There are a lot of social media management software, with various functionalities and pricing. Here's a list of 10 great examples, in no order:
HubSpot: HubSpot is a free, advanced social media management software. It's famed for its user-friendly UI and a complete suite of marketing, monitoring, lead management, and other social media tools.
Zoho Social: Part of the Zoho family of products, Zoho Social can automate key social media management processes, such as publishing and report generation, and analyze their campaign performance.
Salesforce Social Studio: Salesforce's Social Studio module is a stand-alone application that streamlines publishing, monitoring, and engagement using optimized collaboration.
Hootsuite: Hootsuite can schedule and manage posts on multiple social media profiles all in an easy-to-use central dashboard.
Sprout Social: A feature-rich social media manager that can help startups and SMEs get social media traction with a bevy of useful tools.
Sendible: A social media management platform that allows you to do all social media managing in one dashboard, complete with collaboration, analytics, and support for almost all social networks.
Falcon.io: Best for social media listening and engagement, Falcon.io allows you to manage, publish posts, and engage your customer base with the advantage of digital marketing.
Buffer: An all-in-one social media management tool that uses single sign-on for all social networks and includes scheduling, publishing, and analytics functions.
Facebook Pages Manager: A tool for Facebook page admins, Pages Manager is an in-house Facebook tool that can let you tinker with Facebook pages under the hood.
Tweetdeck: Reinvents the Twitter experience by giving you more options and performance in terms of scheduling, publishing, and viewing tweets.
Social Champ: An intuitive platform developed to help users oversee multiple social accounts, manage content creation, collate messages and comments, as well as track metrics for their social media profiles.
Need more tools to help you out? Here's a bonus and fun tool to help you stand out:
Facetuneapp: To stand out on social media, sometimes you need to give it a bit more of a personal touch. Selfie is a great option to do that. The best selfie app from Facetune can help you take great selfies that fit your needs.
SkedSocial: It's different from other platforms because its focus is on the visual aspects of creating an attractive Instagram feed, and for visual marketing. No more notifications to post at 6:42 PM on a Saturday!
Pricing of Social Media Management Software
Not all social media management software are free. However, many of these applications have a limited free trial, so it's a good idea to try them out before you commit to a paid plan.
In terms of pricing, social media management tools aren't equal. You ought to look at price flexibility, but it's a good idea to look at the software's feature set first. In general, the more features and integrations such a tool has, the more expensive it is.
Note that many modern software are now using a software-as-a-service (SaaS) model. This means that you access the software's functionality through the internet, and you're paying a recurring monthly or annual fee. While this does mean that it's more expensive in the long run, it's also more reliable. Plus, because it's on the cloud, you can access your data anywhere and anytime you have an internet connection.
Targeted Businesses
Any business with social media presence can take advantage of a social media management software, but the following get increased benefits:
Advertising and marketing agencies. Alongside marketing software, these companies can utilize premium social media management software plans with a large number of users for multiple clients.
Ecommerce websites. Online shops can benefit from social media management so they can engage with customers buying on their social media storefront.
NGOs and nonprofits. Social media use is extremely important for these organizations whose main way of revenue is donor contributions. By raising awareness to their causes through social media, they can engage more people to support their initiatives.
What Makes a Great Social Media Management Software?
Software, generally speaking, have different functions and features (and the degree and breadth they furnish them). It's simply impossible to list every feature of every social media management software that exists. However, some features are common to most, such as social engagement, publishing, and analytics.
To be more specific, a social media management application should allow you to do the following things:
Plan content. A great tool can give you options to plan your social media content using a calendar, assign tasks to your team, or store assets for future content.
Publish posts. You can publish your content using news, stories, and other media. It also has features to automate the publishing of content.
Engage your customers. It should allow you to respond to inquiries. Other ways to engage your audience include gamification, referrals, polls, giveaways, and actual discussion about a timely topic.
Generate data on social analytics. This feature exposes your audience sentiment, helping you identify which content and trends can better serve the interests of your customers.
Collaborate with your team. Helps you manage multiple social media profiles or let an entire team coordinate with each other to manage the organization's social media presence.
Many of the top-tier social media management software offer all or most of these functions. Note, however, that each provides a unique selling point that sets it apart from the others. If not that, at least, they include an approach that differs from how others do it, or to what degree each feature is emphasized in the product.
Benefits of Social Media Management Software
There are two main benefits of social media management. First is giving you the ability to create, schedule, and automate post publishing in line with your social media marketing strategy. Second is collecting consumer data and response on your social media marketing campaigns.
Apart from that, here are other ways such a tool can benefit you:
Analyze your competition and online chatter surrounding their products and services.
Respond to customer queries and complaints.
Manage multiple social media profiles across different social networks.
Engage your followers by allowing them direct access to you or your representatives.
Personalize interaction with each follower using customer data, habits, and query.
Protect your reputation by ensuring that there is only one "official" account (using most social networks' verification process).
Utilize many functions of a collaboration software for your social media team.
Types of Social Media Management Software
Though often packaged as one monolithic tool, social media management software comes in different types and flavors. Some are more concerned with scheduling and publishing content, while others are focused on social listening. Here are some major types:
Social marketing. Use this type to launch and manage creative assets on your social networks and run marketing campaigns and ads on them. Most social media software fall under this category.
Social conversation. Similar to a customer support software, but used to respond to messages and queries posted on social media. This is the second most common type of social media management software.
Social listening. This type can find and monitor what's being said about your brand and/or company. It can also gauge people's sentiments on your competitors and your industry in general.
Social analytics. This software offers insight on your social media campaigns, activity, and following.
That said, the best social media management software offer all or multiple types, while others are stand-alone.
Social Media Trends and Usage Statistics
Anecdotally speaking, you know that social media is everywhere. From celebrities to your next-door neighbor, almost everyone is on social media. It acts as your profile and identity on the internet, and some online services even use this digital entity to log you on to their ecosystem.
But the numbers paint an even more staggering picture of social media penetration. Here are a few choice numbers:
Social Media Trends
Usage of social media is spreading and growing even more, if that's possible. Here's what you can expect from this industry in the next few years:
Social commerce. It's no secret that engaged customers are loyal customers, and you can engage them much better when you're talking directly to them. Social media can facilitate these conversations. This is why businesses are increasing spending on social media. In 2020, social media ad spending reached US$105 billion with an over 13% year-on-year growth.
Look at the industry's year-on-year ad spending in visual form below:
Real-time engagement. Customers expect almost real-time response on their queries. Emails take too long, and even SMS are unreliable. To keep consumers engaged, some businesses are rolling out chatbots and machine learning capabilities on their support channels.
More live channels. Social media networks that offer live content are becoming in vogue, and this is a trend that's likely going to increase even more in the coming years. All major social networks already support live streaming media on top of those that are already predicated on fast consumption of digital media (like Snapchat and TikTok). Using these channels effectively means you can cover all your bases and you can engage on users wherever they are.
Engaging and Listening to Your Social Networks
A few decades ago, companies used to send out flyers and plan surveys meticulously to obtain an idea of customer sentiment. The main thrust is the same in 2020: find the "pulse" of your consumers and retool your support and products around what they respond well to. The difference today, however, is that you get results far faster, from a more diverse base, when you use a social media management software or even a survey software.
Using one is not simply email-blasting everyone that has liked your page or followed your tweets, however. While you can indeed get data more quickly alongside a more accurate representation of their sentiment, designing a campaign and engaging your customers are still unchanged from how it was decades, even a century ago.
This is why the right social media manager can help you find your beat and your personality. By using an appropriate tool, you can connect to more people, communicate with them, and help your company reach out. That said, because there are a lot of social media management software available, you should do your research—which reading this article is part of—to find one that addresses your needs.