Nowadays, businesses resort to hiring remote workers. This way, they can improve efficiency while reducing operational costs. Besides, the global industry encourages companies to transact with international companies. However, this progress requires people to have tools for online meetings.
Fortunately, through technological advances, developers created online conferencing platforms to connect team members. With these programs, people from anywhere in the world can collaborate with internal and external teams. You can check our remote work software analysis to know the top platforms for remote work.
Join.me and GoToMeeting are two well-known remote software solutions. In this article, you will know about their features and functionalities. But before tackling the main Join.me vs GoToMeeting comparison, here is an introduction of the two applications.
Join.me Overview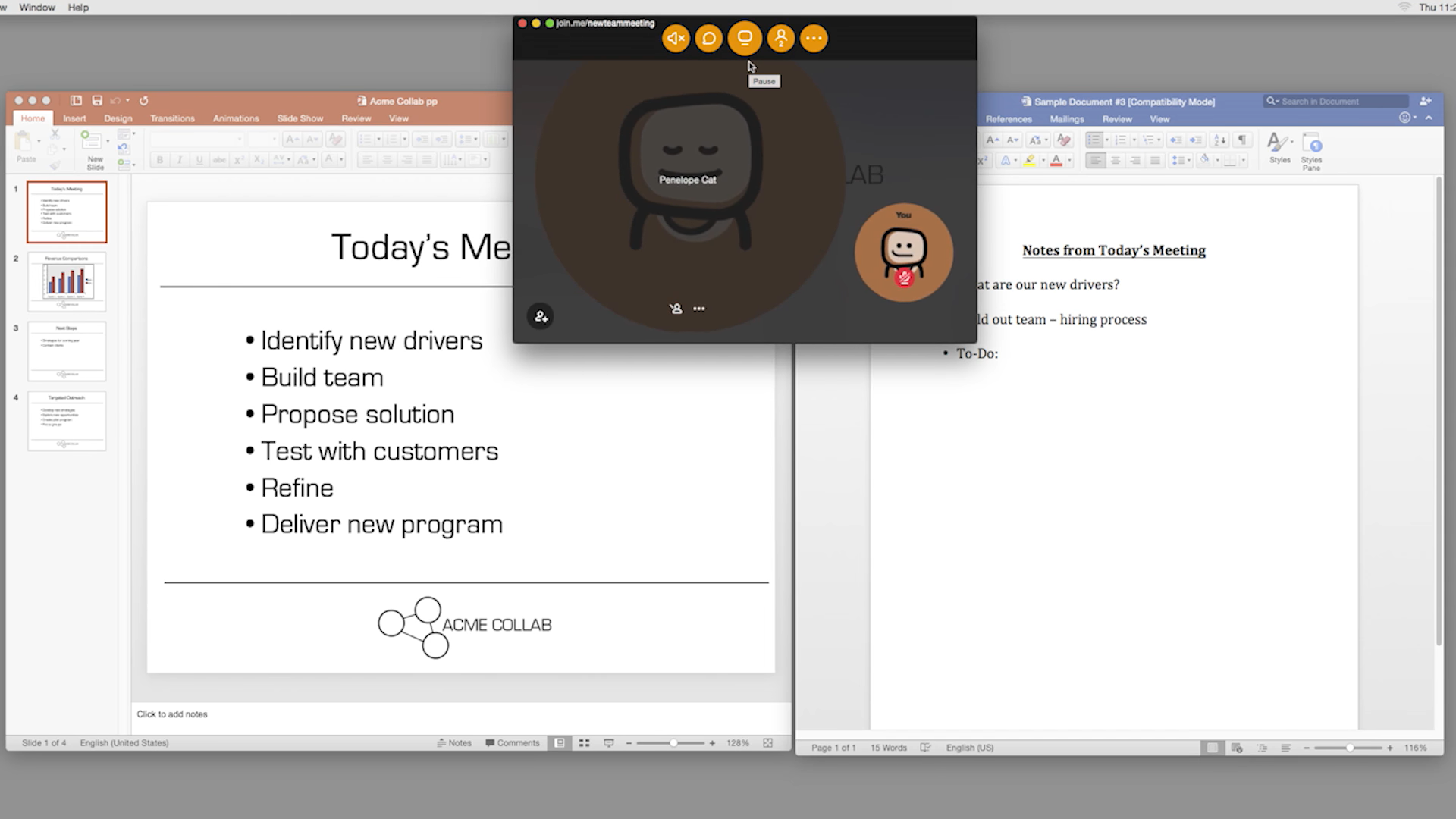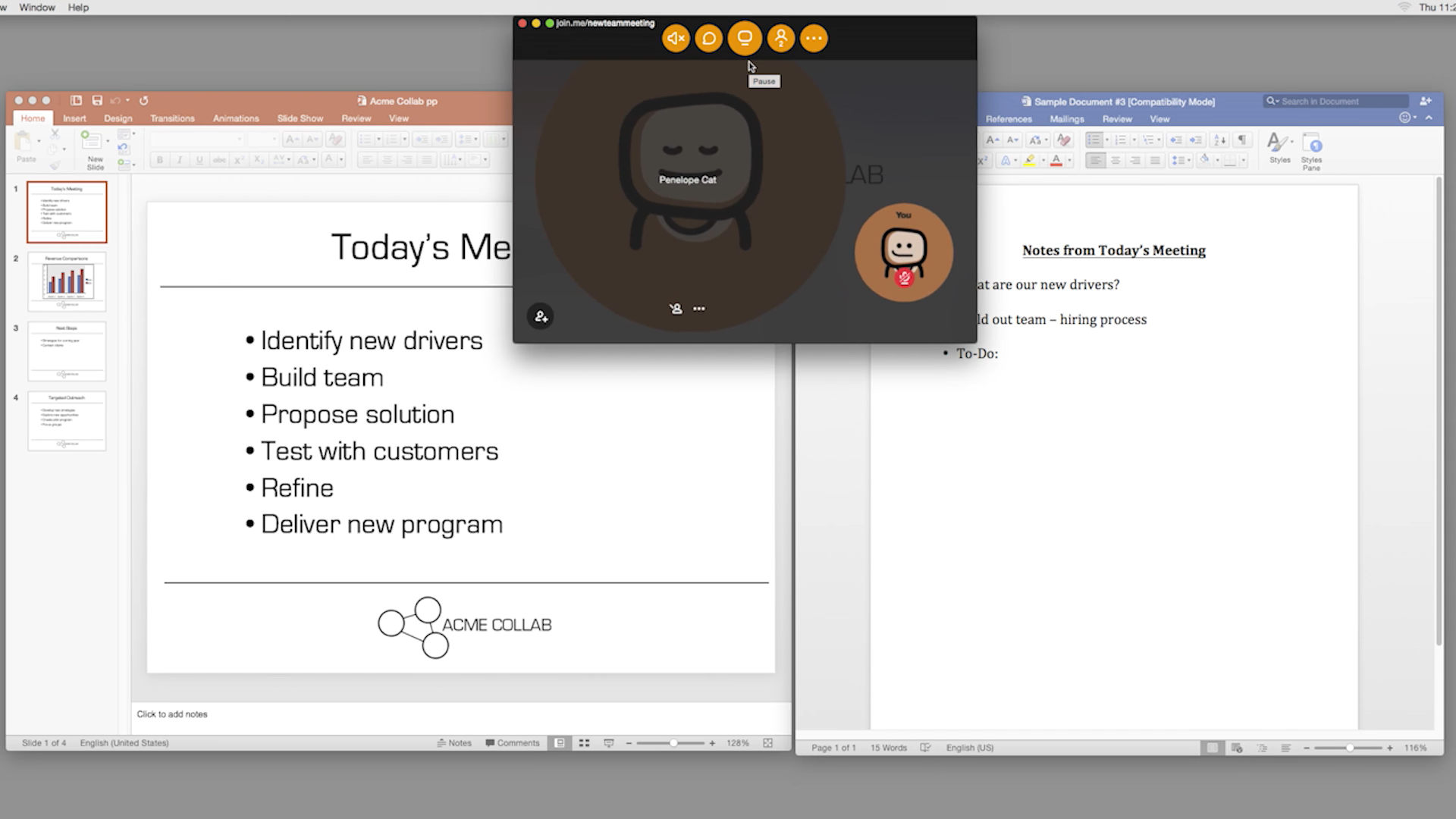 Join.me is a web-based platform for individuals, organizations, and businesses that seek to engage in online meetings. Freelancers, start-ups, and small companies often use this program since it features an intuitive user interface. Also, the app's simple design makes it ideal even for first-time users. Due to the program's user-friendliness, it does not require hundreds of training sessions and complex installations. Hence, you can focus on your work and not on learning how to start a video conference.
With Join.me, you can host a meeting, attend a session, and collaborate with your team from wherever you are. As a result, this program bridges the gap caused by remote work. You can then finish projects successfully, even though you are at different locations. What's more, the app's flexible pricing plans contribute to its benefits for small businesses.
GoToMeeting Overview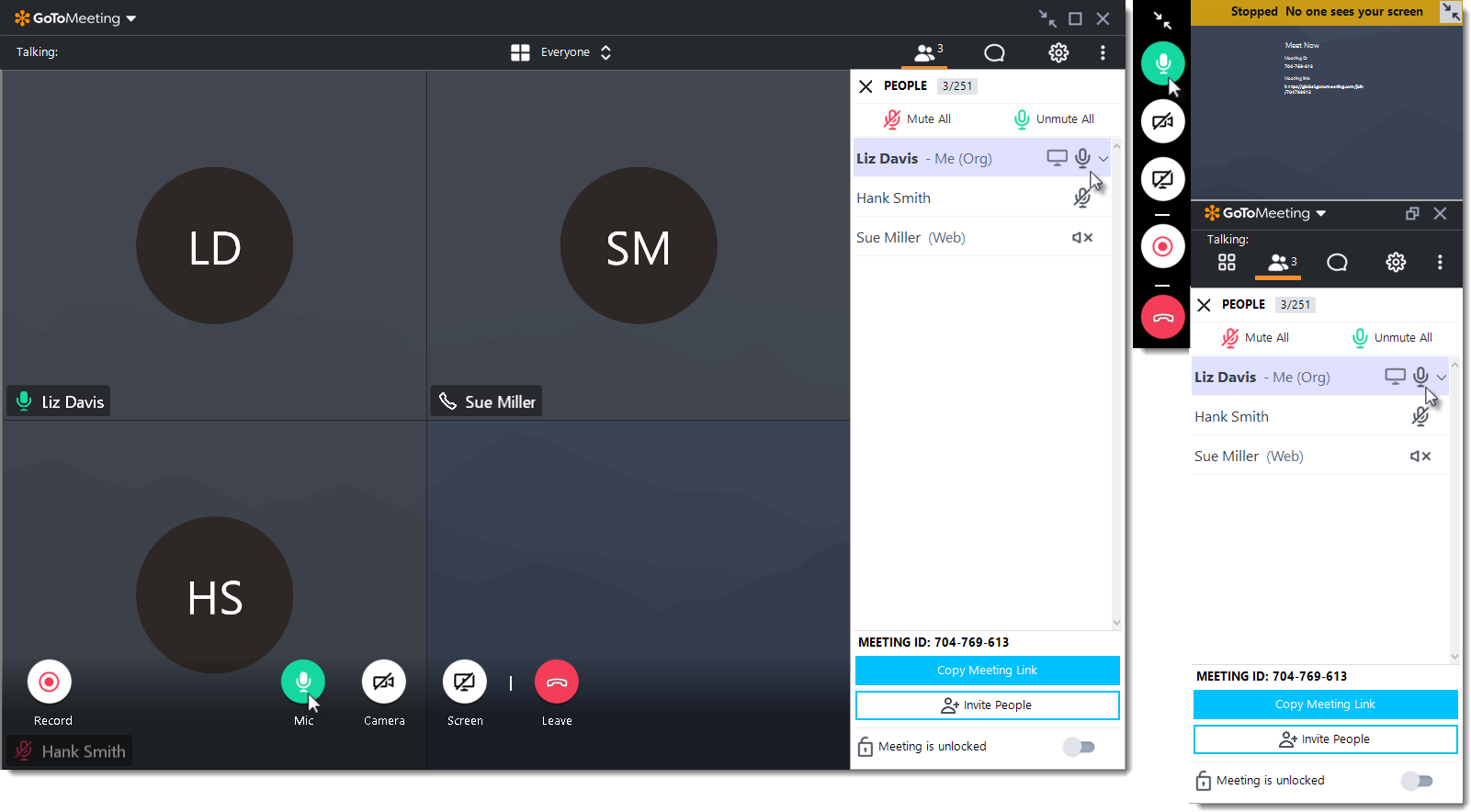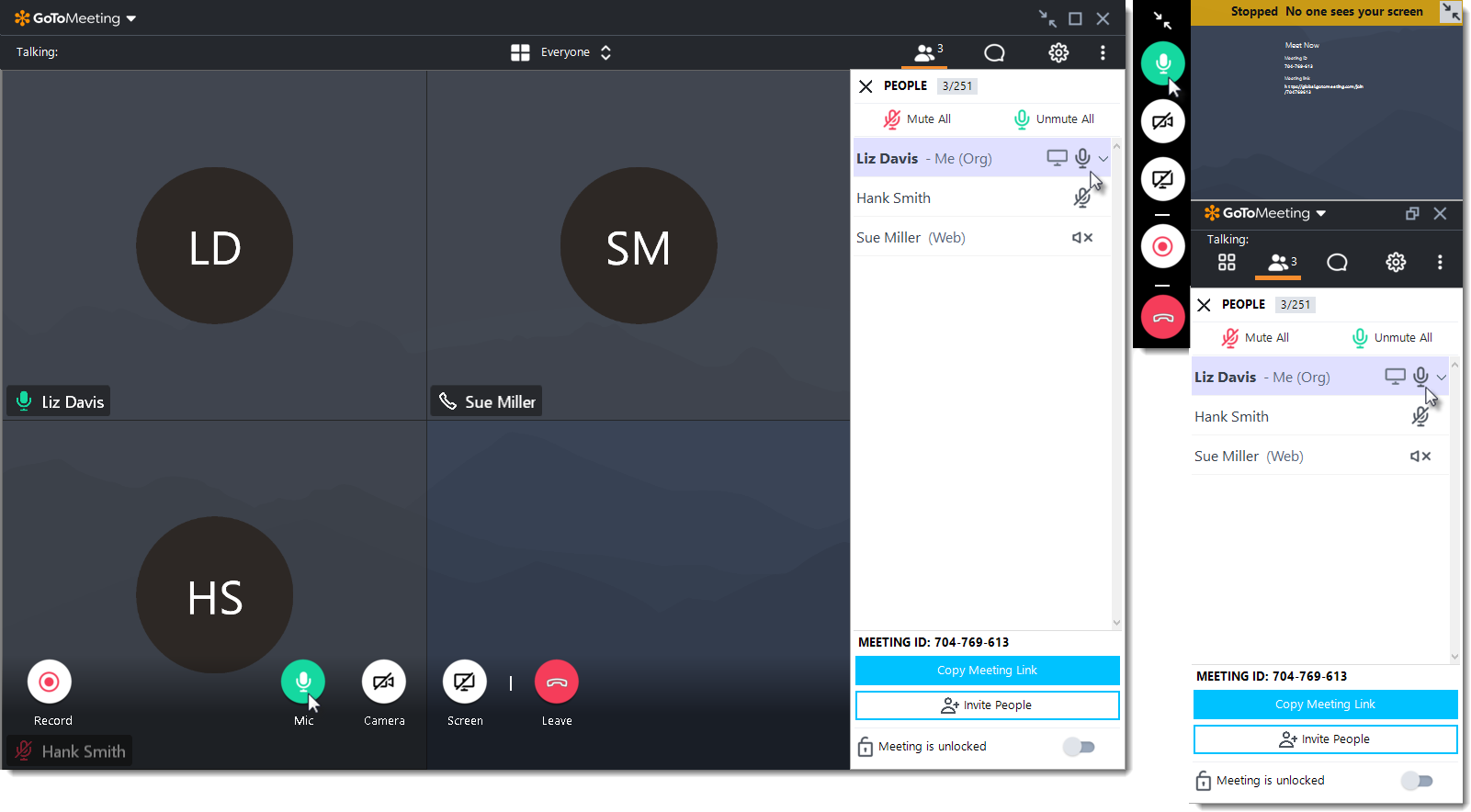 Since 2004, GoToMeeting has been offering its video conferencing services to businesses of all sizes. For more than a decade, companies choose the program for its comprehensive features yet simple dashboard. Despite its availability to companies of all sizes, this cloud-based platform is often used by businesses that have international branches.
With GoToMeeting, you can join and start meetings instantly. It also offers an intuitive interface that is great even for people who are new to the program. What's more, it provides excellent tools to respond to other business needs. Thus, GoToMeeting is an excellent choice for companies that want more functionality from a video conferencing tool.
Join.me Benefits
With Join.me, you can engage in business presentations, such as meetings and conferences. It also allows you to collaborate and communicate with your employees. With a click, you can initiate online meetings with internal and external individuals. Hence, Join.me provides an efficient way to meet team members from all over the world.
Below are some of Join.me's benefits:
Secure platform maintained by best developers
Responds to the needs of remote workers
Intuitive interface
Not exclusive to the downloadable app
Instant meetings through the "Start" and "Join" button
Moreover, Join.me's free version features VoIP functionality. The system permits up to 10 participants for this pricing option. Fortunately, if you need more individuals, then you can choose from the paid versions. These premium plans also come with additional tools.
If your business handles numerous calls from partners and clients, you can choose the best call center apps from this list. These programs will help you provide excellent customer service. This way, you can increase brand trust and awareness.
GoToMeeting Benefits
With GoToMeeting, you can have a reliable video conferencing program for a low cost. It offers comprehensive tools that businesses can utilize to improve their productivity. Additionally, this platform enables you to host and join meetings quickly. Here are some of GoToMeeting's benefits:
Customized URL for initiating and joining a meeting
Multi-platform availability
Multi-national toll-free numbers for international partners
Secure meetings due to a unique password for each session
Comparison of Features
Since you already know the benefits they provide, it's time to examine their shared features through the main Join.me vs GoToMeeting comparison. Both platforms will be evaluated based on video conferencing tools, security, recording, invitation tools, integrations, and pricing options.
Conference Tools
Join.me and GoToMeeting gained popularity due to their video conferencing tools. Moreover, they have other functionalities that respond to your business' needs even after the session. Some of their features include drawing tools, desktop sharing, application sharing, screen sharing, file transfer, annotation, video conferencing, instant messaging, and attendee removal.
Through the use of both programs, you can share various file types while the meeting is on-going. It also allows for screen sharing, which helps you present more clearly. Besides, instant messaging functionality eliminates the need for another application. More importantly, the video conferencing tools allow you to have a more personal meeting with workmates and clients.
But, both platforms offer tools that are unique to them. For instance, Join.me allows its users to choose between full screen and partial screen modes. It also provides whiteboards that help participants during their presentations. Alternatively, GoToMeeting includes break-out sessions and co-browsing. With these features, you can focus on small group meetings.
Session Security
Both Join.me and GoToMeeting offer extensive security features on their platforms. This way, business files, and documents are safe from security breaches. They also ensure that every meeting is exclusive to the involved parties. Information is more sensitive during the digital age, and both software solutions have set-up regulatory-compliant security layers for their customers.
Join.me and GoToMeeting utilize user authentication and encryption. Additionally, they have security control on desktop sharing, which ensures that other participants or uninvolved individuals cannot manage other attendees' desktops.
However, GoToMeeting provides users with one-time password protection. Through this feature, the system generates a unique PIN for every session. The additional security assures you and your team member that no outsider can join the online meeting.
Post-Meeting Tools
In terms of post-meeting functionality, Join.me allows you to record online sessions. This way, you can review a meeting's essential points. The feature also helps in the creation of meeting notes. This functionality is especially useful in webinars and training sessions, where there are numerous topics to cover. You can read and compare webinar software reviews in this guide to know the top 10 webinar programs for 2020.
On the contrary, GoToMeeting provides users with more extensive meeting follow-up tools. These features include surveys, polls, reports, and inactivity time outs. With GoToMeeting, you can create polls, which are shown during the meeting. Additionally, the system automatically generates a survey that you can use to review past sessions. Lastly, a session will automatically end if there are no participants within two hours since the meeting's start time.
Invite Capabilities
Both Join.me and GoToMeeting allow you to schedule meetings quickly. Moreover, the two platforms support recurring sessions. This way, you can launch the same online conference for your team. These meetings do not involve a specified date and time. Hence, they can be used whenever you need to communicate with staff or clients.
The programs also include calendars where they can schedule online meetings. Join.me and GoToMeeting even permit users to initiate instant sessions. You can then resolve problems and collaborate quickly through instant appointments. Their systems only require one click to launch a conference.
Integrations
In terms of integrations, Join.me connects with various applications, such as Google Calendar and Outlook. These platforms allow you to schedule meetings using external calendars. As a result, you don't need to open the Join.me app just to schedule appointments. Additionally, Join.me also connects with Salesforce.
On the other hand, GoToMeeting offers more integrations than Join.me. You can connect GoToMeeting with Slack, Zapier, Microsoft Office 365, Hatchbuck, Acuity Scheduling, 1CRM, Podio, Salesforce Sales Cloud, and Accord LMS. Hence, GoToMeeting poses a considerable advantage when it comes to the number of integrations.
Pricing Plans
Both Join.me and GoToMeeting offers free versions. Join.me's free plan enables you to add 10 participants for each session. You can also take advantage of the system's screen sharing and internet calling functionality. Alternatively, GoToMeeting's free version allows for three attendees. Besides, you can use screen sharing tools and initiate instant meetings.
Join.me's Pro plan costs $18 monthly and allows for up to 50 participants, an evident upgrade from the free version. With this option, you can enjoy ten video feeds and unlimited international calling. You can also customize your online rooms through this plan. Alternatively, GoToMeeting's Starter plan requires a fee of $19 per month. You can add 10 participants through this version and initiate dial-in conference calls.
Join.me's Business option costs $25 per month and offers access to premium meetings and enterprise authentication. More importantly, you can invite up to 250 attendees using this plan. On the contrary, you need to pay $29 per month to take advantage of GoToMeeting's Pro version. With this plan, you can add up to 50 individuals and utilize the system's recording, drawing, and keyboard sharing tools. You can also have personalized meeting rooms with the Pro plan.
Also, GoToMeeting offers a fourth choice, the Plus version. The plan costs $49 per month and enables you to add up to 100 participants. You can also take advantage of the app's sight board and directory.
Which is the Right Choice?
Throughout the Join.me vs GoToMeeting comparison, Join.me proved to be the better choice when it comes to the maximum number of attendees. However, if you look at the additional functionalities, GoToMeeting provides a more robust collection of conferencing tools.
If you are a small business owner, then Join.me can satisfy your business' needs. However, if you manage a multi-national company, then GoToMeeting is the better option.