Face-to-face interactions are still the best way to engage your customers and connect with your leads. However, conducting in-person webinars and conferences are getting more and more expensive nowadays. They also limit the number of attendees that you can invite.
Fortunately, webinar software allows you to reach your target audience even without a large budget or months of preparations. Even small- and medium-sized enterprises can now produce webinars with affordable or even free platforms. This increased accessibility means marketers and salespeople can reach their customers even overseas.
With more than 60% of professionals already using webinars, there is no reason why you cannot leverage its advantages and reap its benefits. You can conduct training, online classes, product demos, and other online events at a fraction of the time than you would a traditional seminar.
In this article, we will explore what webinar software is and what it can do for your business. We'll also discuss its features and the emerging trends surrounding it so that you can understand how to better use it to your advantage. Also, do not miss our list of best webinar software in the market.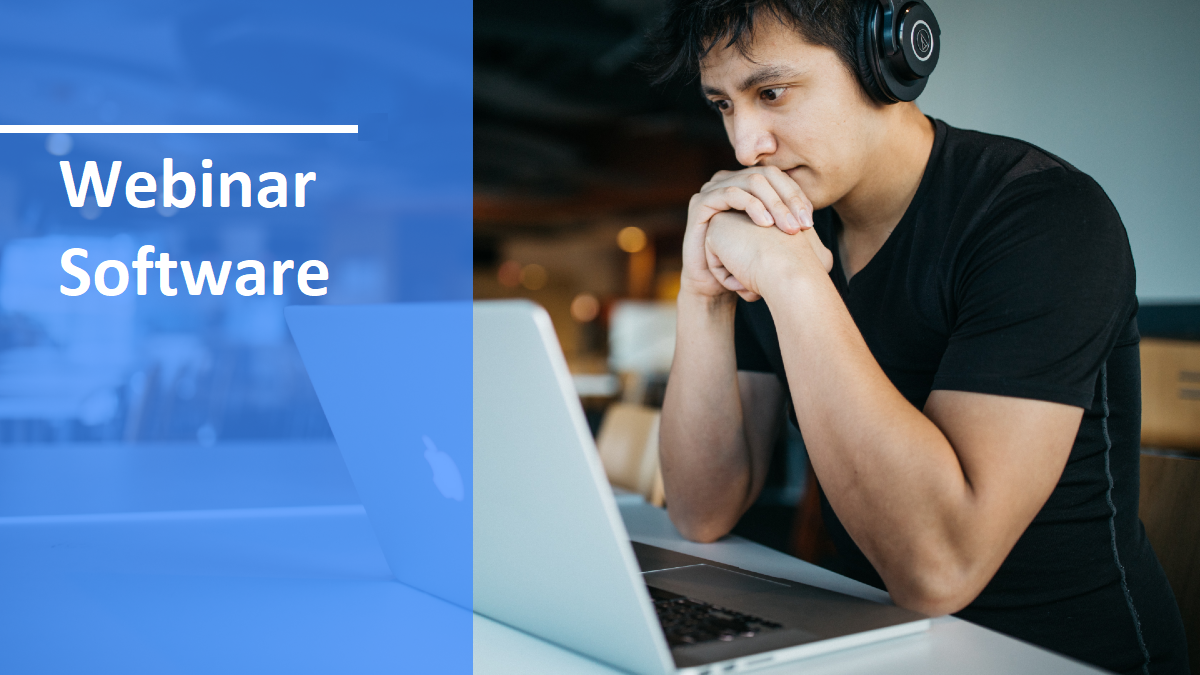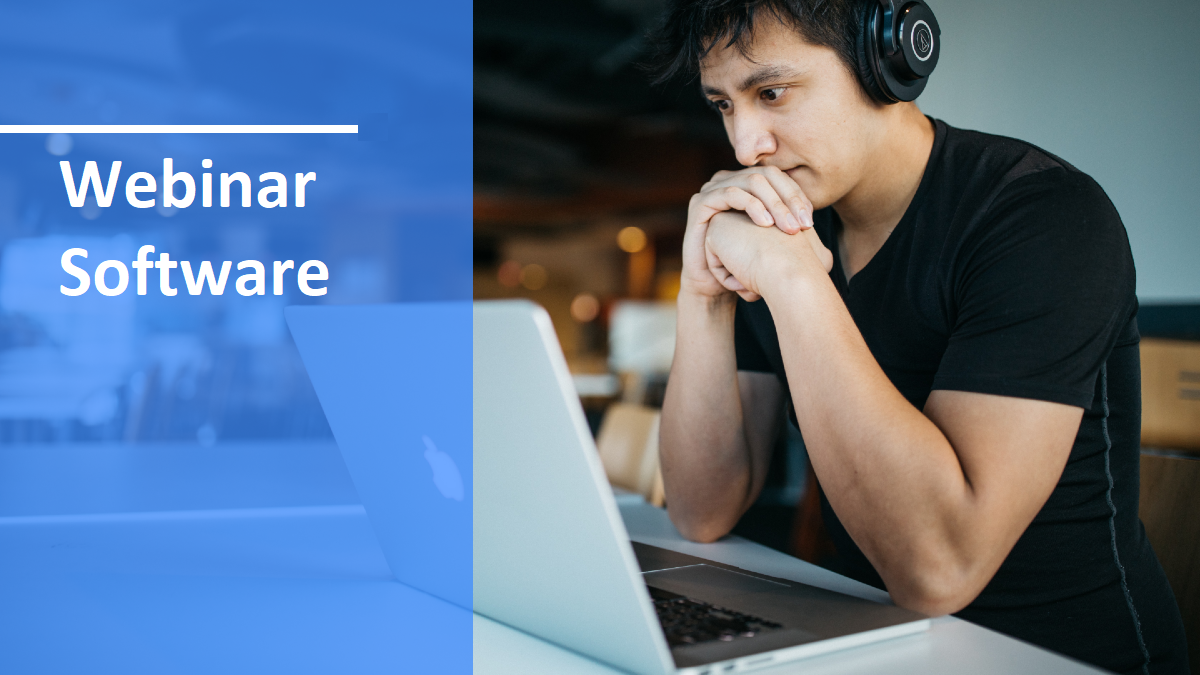 Best Webinar Software Table of Contents
What is a Webinar Software?
Webinar software is a tool that organizations use to conduct live or recorded video presentations. It is usually used in educational or promotional efforts for a particular audience. It allows a host to create online presentations using audio and visual materials, invite and manage attendees, provide login credentials, and more. These core features are usually developed to simulate a traditional face-to-face presentation or something close to it.
Webinars are virtual meetings or seminars where a host and his audience interacts. While the audience size can vary, the host typically remains singular at an instance. Organizations conduct seminars for presentations, training, briefings, and product demonstrations, to name a few.
Webinar platforms are similar to video conferencing applications. The main difference is the former is optimized to connect multiple viewers to one host. Consequently, some video conferencing apps are also capable of conducting webinars. As such, webinar software is one of the top B2B tools today.
List of Best Webinar Software
There are many webinar software available in the market right now, each with their own features. Here are the ten best webinar applications right now:
Features of Webinar Software
Webinar apps vary in features. However, a typical webinar software should have the following core functionalities:
Multiple users – A webinar software should be able to handle multiple users at once, with one (or a few) acting as a host or presenter. Other similar apps also allow for co-hosting, which means the host can pass the presentation to another user during the webinar.
Screen sharing – It should allow the host to show the presentation materials to the connected audience simultaneously.
Event management – The host or another user should be able to schedule webinar events, invite participants, and manage all activities related to the webinar.
Live communication – The host should be able to communicate with the participants during the presentation without having to use separate communication platforms. Additionally, all users should also have a way to interact with one another using text-based chat.
Poll management – Another interactive feature is poll management, where the host can create quick polls that allow participants to vote during the webinar.
Custom branding – The webinar app interface should be customizable to carry the brand of the organization. You should be able to add logos, change colors, and other visual elements.
Other webinar platforms include advanced features such as analytics, landing pages, calendars, email automation, and more.
Advantages of Using Webinar Software
Organizations and companies are beginning to embrace webinar platforms as part of their sales and marketing efforts. Such applications allow you to:
Save money – Traditional conferences are expensive as your company has to set aside a budget for accommodation, travel, venue, and more. Webinar platforms eliminate these expenses. You can invest your budget on better computers and accessories, which you can reuse for your future webinars.
Reach a wider audience – Seminars and similar activities have geographical limitations. It is even more difficult to expand to potential customers abroad as international travel is very expensive. On the other hand, webinar apps allow you to reach anyone with an Internet connection. In fact, 95% of marketers agree that webinars are an important part of lead generation efforts.
Enhance audience attendance and engagement – Using polls and live chats, hosts can interact with participants during the presentation. Additionally, attendees are less likely to cancel as they can attend the webinar from the comfort of their homes or offices.
Promote your brand – Over half (60%) of marketers leverage webinars for content promotion. After all, customizable interfaces allow you to add brand elements, such as logos, images, and colors. This creates strong brand recognition and consistency.
These are just some of the benefits that you can enjoy when you use a webinar platform. Even paid options are great investments as you can conduct more webinars and invite a larger audience.
Common Issues of Webinar Software
Just like any software, using a webinar platform is not without any problems. Here are a few issues that you may encounter and how you can resolve them:
Internet Issues
As webinar apps rely on the Internet, it is also one of the most common problems that you will encounter, whether you are a host or a participant. Completely losing connection will affect the webinar, especially if you are the host.
Additionally, if you are an audience member, you might experience slides not moving on your end, audio breaking up, or something similar. That means you will have a hard time following the webinar altogether.
Conduct a speed test before the webinar to ensure that you have the required connection. This will vary with the platform, but to have a high-quality experience, you should have at least 3 Mbps downloads speed. If you are the host, you should have the same or better upload speed.
Furthermore, opt for a wired connection for better stability. WiFi is usually affected by various interference in your environment. If you are the host, it is best to have a backup connection prepared to minimize the issues during the webinar.
Software and Hardware Issues
Software and hardware issues are other problems that you'd want to prepare for. Make sure that your computer is fully optimized for the webinar platform that you want to use. To avoid crashing, ensure that you do not open other applications while on the webinar.
Furthermore, install all the software that you will need ahead of time. This will allow you to make adjustments in case the webinar application is not compatible with your machine. If possible, do a test run, especially if you are the host, to ensure that everything is running smoothly.
Video and Audio Problems
The platform may work when launched, but you may experience problems with your audio or video. If your speakers, microphone, and video camera are not working at all. You should check if the tools themselves are working. Use another application that utilizes these accessories to check. Additionally, there are online tools that let you check if your mic, speakers, and camera are working.
If the relevant hardware is working, you may want to update the relevant drivers on your computer for audio and camera. New webinar applications usually encounter issues if you have older drivers. Just head to the website of your computer's manufacturer and look for the downloadable drivers there.
You may also want to check the access permission in the webinar software. You can usually find these options in the Settings window of the app. Choose the right camera, speakers, and microphone, then do a test run.
Future Trends in Webinar Software
Developers are continuously improving technologies used in webinar platforms to provide a better experience for the users and hosts. Here are some of the future trends that you can expect to see in webinar software:
Artificial Intelligence (AI) – AI is disrupting various industries, and that includes apps used in webinars and videoconferencing. Advanced algorithms can help develop engaging and interactive materials. Additionally, chatbots can be set-up to answer common questions during the webinar. Such advancements free up hosts during the presentation while making sure that the audience is engaged.
Augmented reality (AR) and virtual reality (VR) – AR and VR technologies may be able to improve the overall experience of the webinar participants in the future. Virtual environments are great for interactive content. Also, we may experience a time when users can pop in virtual reality, which can simulate in-person seminars accurately.