Content management is key to maintaining business growth and development. The way you control your content can make or break your business. Hence, the demand for enterprise content management systems is ever on the rise. Enterprise content management systems are front and center as remote work is slowly becoming the new default for employees. Businesses want to make sure that they can wade through today's challenging and changing demands. SharePoint and Alfresco are two of today's best enterprise content management system. This SharePoint vs Alfresco comparison article will explain the main points of difference between the two. It will endeavor to help businesses to choose which between the two is the perfect fit for their needs and desired workflow
What do users say about SharePoint and Alfresco?
SharePoint and Alfresco are both recipients of numerous good reviews from current users. This is not surprising as both are considered two of the best when it comes to enterprise content management system. SharePoint users love how its features seamlessly allow for easy data storage and collaboration between teams. Alfresco users enjoy how its tools can streamline workflows and provide for extra content organization options and protocols. To have a wider perspective on user trends and demands concerning enterprise content management system, do read our article where we endeavored to pick the best CMS software.
About SharePoint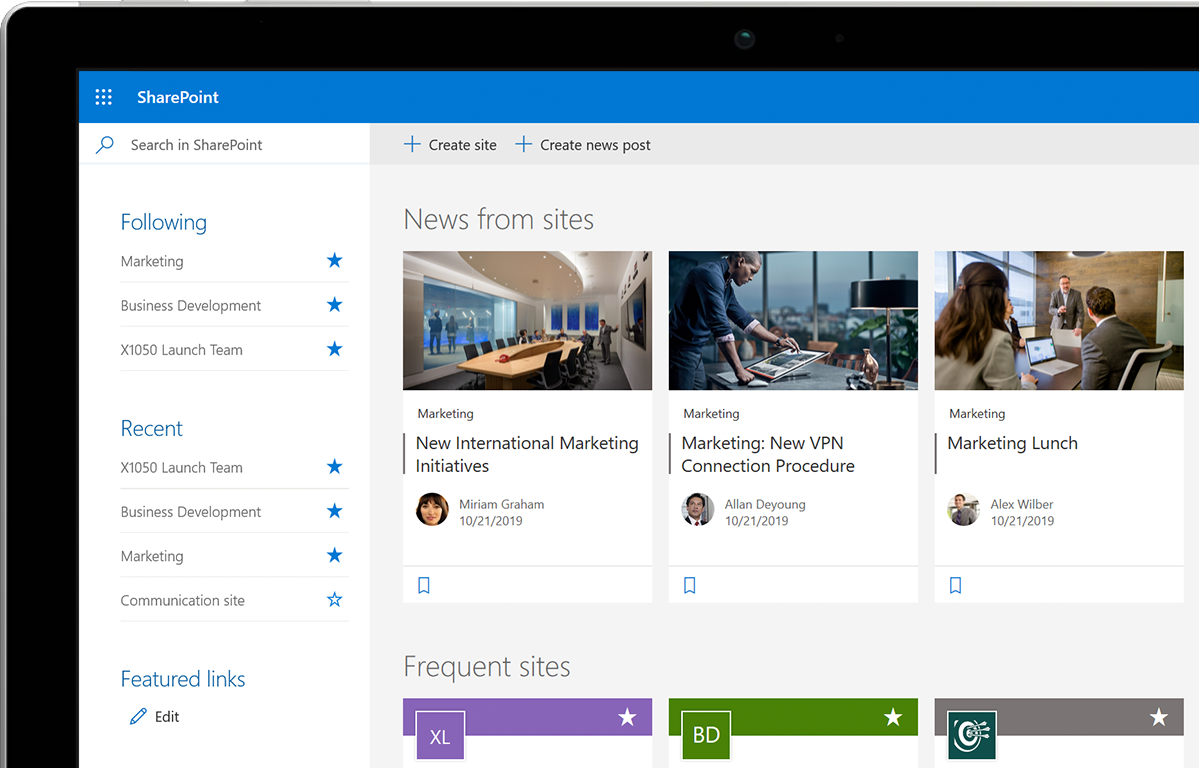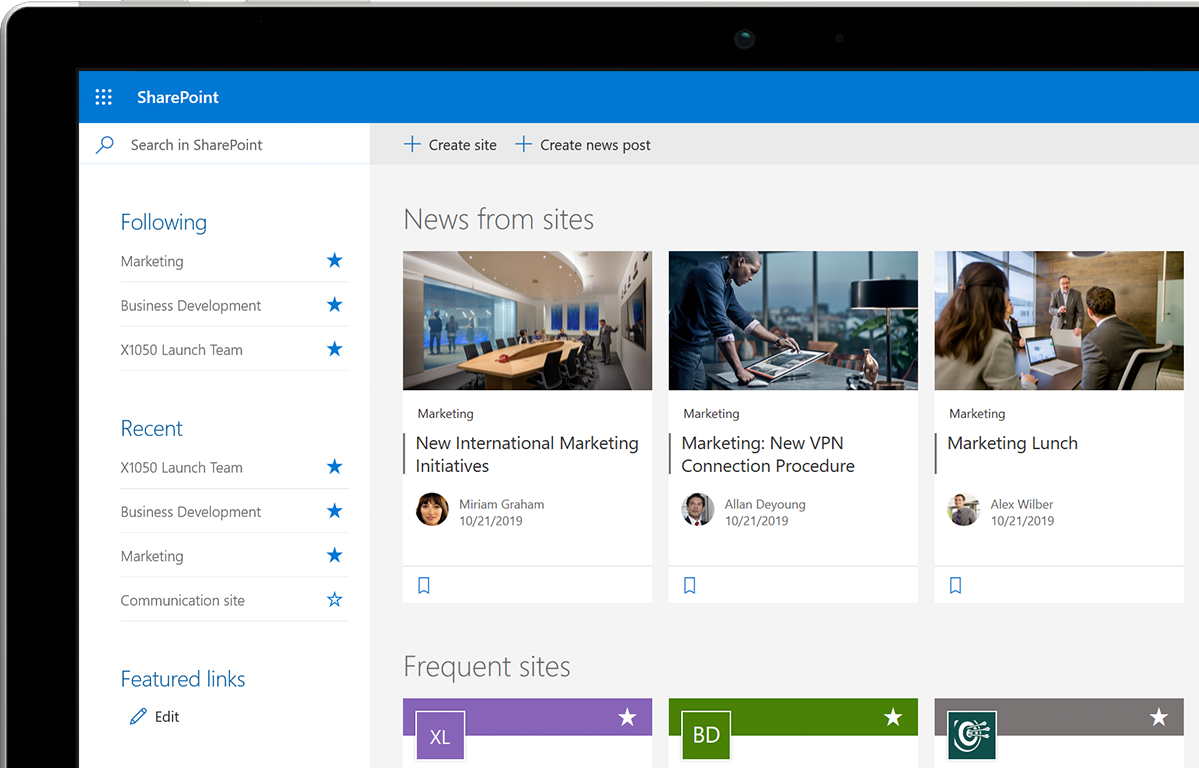 SharePoint is a Microsoft product. It's a cloud-based enterprise content management system that also provides collaboration tools. It's considered as one of the pioneer enterprise content management system as it's been providing tools and features since 2001. SharePoint functionalities were centered on making work between teams with multiple members organized and manageable. It fully and smoothly integrates with Microsoft stack — SQL, Windows Server, and more.
Pro – Unlimited individual storage per user is available.
Con –  Pricing is per user and an annual commitment is required by contract.
About Alfresco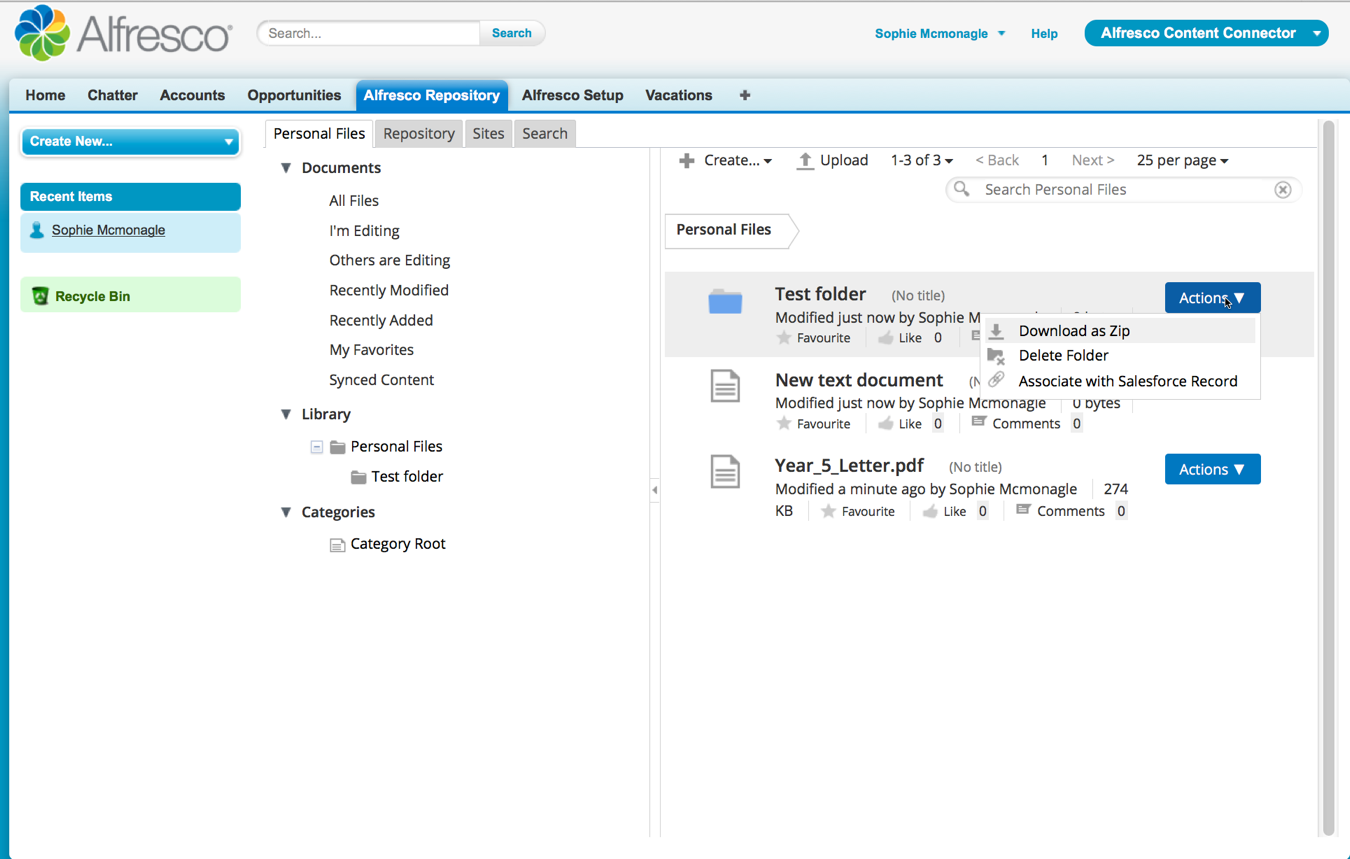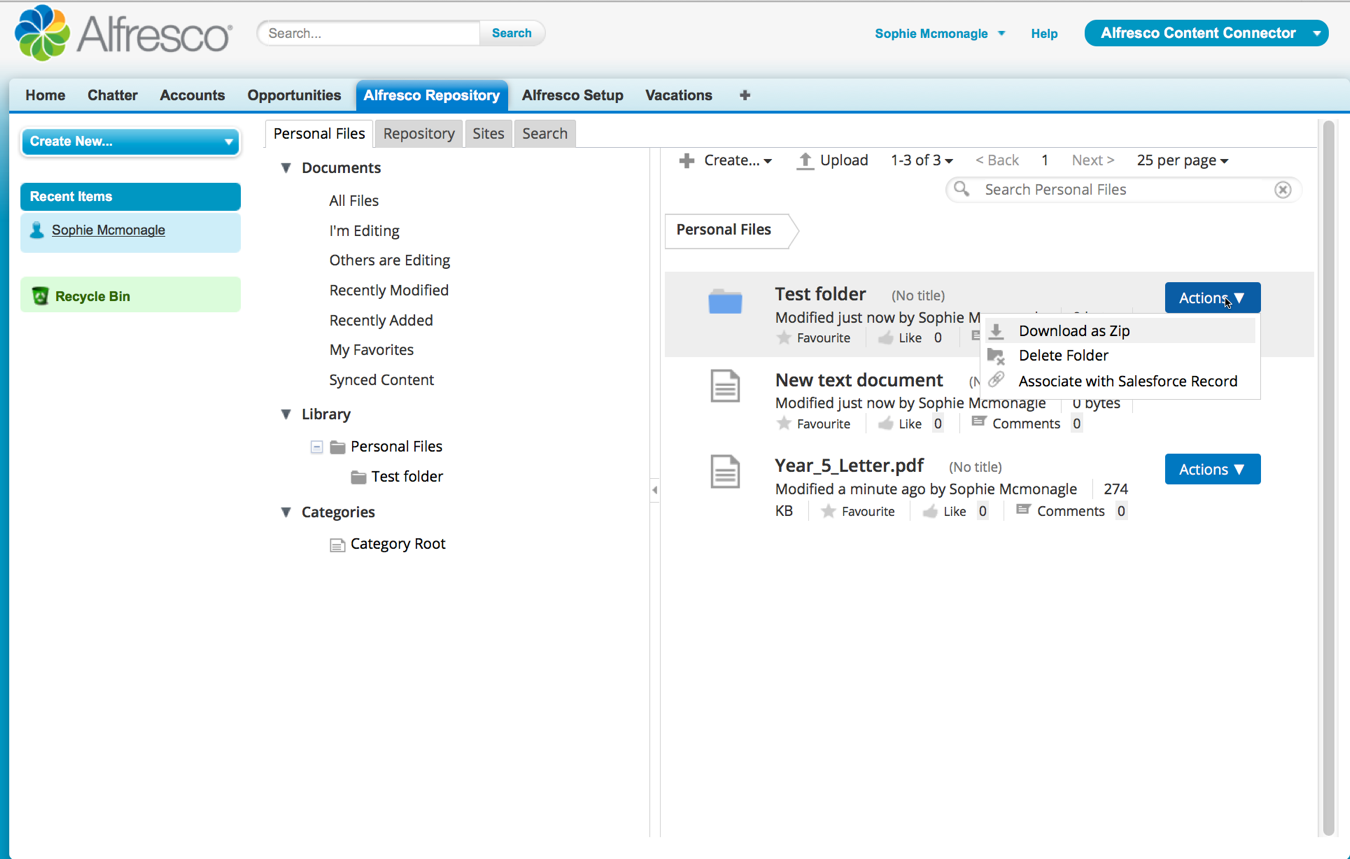 Alfresco is the number one SharePoint alternative. It centrally shares similar tools and features with SharePoint but what makes it uniquely robust is the fact that it is open source. It was launched in 2005 and has proven to be one of the best in its league. It can run on any Java-supported stack so running it can also seamlessly work with Microsoft Windows.  Alfresco users can also utilize MS SQL. Its open-source edge makes it the perfect choice for users that run Linux, My SQL, and Apache systems.
Pro – Unlimited integration is possible. Full data organization customization is possible.
Con – 24/7 support is only available to limited users.
Points of Comparison
SharePoint and Alfresco may seem identical but there are actually significant differences between the two that you, as an intelligent and informed user, must be aware of. This SharePoint vs Alfresco comparison will enlist and explain the significant differentiating factors between the two: pricing, content control, collaboration, integrations, and customer support.
1. Pricing
This factor is the very root of the existence of Alfresco in the enterprise content management system market as it was developed as the best SharePoint alternative.
SharePoint offers three plans to its users: SharePoint Online Plan 1, SharePoint Online Plan 2, and Office 365 E3. SharePoint Online 1 is priced at $5/user/month while SharePoint Online Plan 2  is priced at $10/user/month. The priciest plan is Office 365 E3 that goes for $20/user/month. All three plans require users to take on an annual commitment.
Alfresco offers three paid plans for content management: Starter Edition, Business Edition, and Enterprise Edition. Additional services and separate business plans may be availed of by government institutions. All plans are quote-based so there can be no direct comparison when it comes to pricing. However, take note that Alfresco was launched as an alternative. It is widely known in the tech industry that Alfresco offers the same, if not better, solutions at a significantly cheaper cost when compared to SharePoint. Alfresco has a free open source community version that is available to the public. SharePoint used to offer a basic free edition but it stopped in 2018. To use SharePoint for less the price, a purchase of Office 365 is required.
2. Content Control
Content control is the crux of the battle between SharePoint and Alfresco. Both offer unique features that fit different business needs.
SharePoint offers robust tools for content control like library search accessibility, expanded file names, metadata, and retention protocols.
Alfresco zoned in on content organization as it offers an array of data storage tools for total customization. Apart from standard metadata tools, Alfresco users have the option to and create their own storage strategies. Automated filtering and data analysis can be had. It can also smoothy accommodate non-Microsoft data like files from Adobe and Google Docs. For an elaborate discussion of the importance of solid content tools and features, read our article on leading content management software.
3. Collaboration
Collaboration tools provide the very strength and fluidity that enables enterprise content management systems to empower businesses. SharePoint helped in opening the world to the possibility of working remotely on cloud-based documents with other people. Collaboration tools serve as its main core and strength.
For collaboration, SharePoint can take on as much as 10,000 participants in a meeting via video conferencing. It can handle an unlimited number of users and with an unlimited number of mailboxes. SharePoint users also have access to unlimited individual cloud storage.
Alfresco also offers reliable collaboration tools. Its enterprise plan can take on as much as 1,000 named users that can work on multiple projects with customized access controls.
4. Integrations
SharePoint and Alfresco are potent workflow boosters as they integrate with numerous third-party apps and platforms to make for more streamlined and organized work.  Both platforms allow for easy automation of tasks.
SharePoint is a Microsoft product so users can rely upon the fact that it will always perfectly work with all Microsoft apps like Skype, Office 365, Publisher, Access, Exchange, OneDrive, Teams, and Yammer. Its data storage feature is powered by OneDrive.
Alfresco also offers numerous built-in integrations with third-party apps like SAP, Salesforce, Outlook, Office 365, Google Docs, Google Drive, AutoCAD, and Box. It has in-house apps like Alfresco Federation Services, Alfresco Governance Services, and Alfresco Process Services. Alfresco is open source so apart from its offered built-in integrations with third-party apps, users are also free to integrate with any desired app or program. To be aware of the latest trends and updates when it comes to productivity-boosting tools, do check out our article on top workflow software.
5. Customer Support
A SharePoint vs Alfresco comparison when it comes to user support is very simple. Both duly offer pathways to provide support in varying degrees.
Alfresco offers email and phone support during business hours. 24/7 support is only offered to users with issues that fall under Severity 1. Alfresco identifies issues per urgency and scale in determining the availability of urgent support. It also offers training to its users.
SharePoint is backed by a massive developer so it has the ability to offer 24/7 phone and web support to all its users. For a fee, it can also offer a faster deployment.
The Enterprise Content Management System For You
The difference between SharePoint and Alfresco can be summed up by the following points:
Alfresco is the more affordable enterprise content management system option.
SharePoint is priced per user per month and it comes with a one-year lock-in contract.
SharePoint is the best enterprise content management system if you're a Windows user and you heavily rely on Microsoft products.
Alfresco is the best enterprise content management system if you're a non-Windows user as it can seamlessly work with both Microsoft and non-Microsoft products.
SharePoint is the best option if you run a business that heavily relies on collaboration. It can take on as much as 10,000 meeting participants.
Alfresco is best for users that enjoy open-source perks. It can integrate with an unlimited number of third-party apps as it can be programmed and customized to a T.
SharePoint is best for users that want 24/7 phone and web support.
If you're still confused as to which enterprise content management system to utilize, do the following:
Make an inventory of your current hardware and software,
List your daily operational tasks and workflow processes.
Review this article and arrange the different points of comparison depending on your needs, your business demands, and your growth goals.
If most of your work tools are Microsoft products, SharePoint will definitely be the best enterprise content management system for you. To save on expenses, you can choose from its three offered plans. It's still the best regardless if you have enterprise needs or not because small businesses with enterprise-grade tools always have an edge.
If most of your work tools are non-Microsoft products, Alfresco will be the best enterprise content management system for you. It can work not only with Windows but with Linux, Apache, Apple, iOS, and Android devices. It also allows for unlimited third-party integration. Pricing will not be a concern as Alfresco is the affordable alternative to SharePoint.
The factors to consider do not end with this article. Ultimately, your knowledge of your business tools, needs, goals, and capabilities will be your very anchor in choosing the best enterprise content management system for you.