With the current situation brought by the pandemic to places all over the world, businesses need to adapt rapidly and make actions. As an effect, there is an increase in the number of employees who are either working from home or in other non-traditional locations. The rise of use in smartphones and tablets paved the way for mobility solutions to become one of the top priorities of businesses.
Mobile device management (MDM) software is used by the IT department of businesses to monitor, manage, and secure the mobile devices of its employees. This software is then situated across various mobile service providers and different mobile operating systems within the organization.
With this Intune vs AirWatch MDM comparison, we explain that without the said software, any data on misplaced or stolen devices is not in a safe place. Additionally, these mobile devices have the risk of being exposed to malicious software and other viruses, compromising sensitive information. Learn more about this software in our guide and know more about mobile device management.
Intune
Overview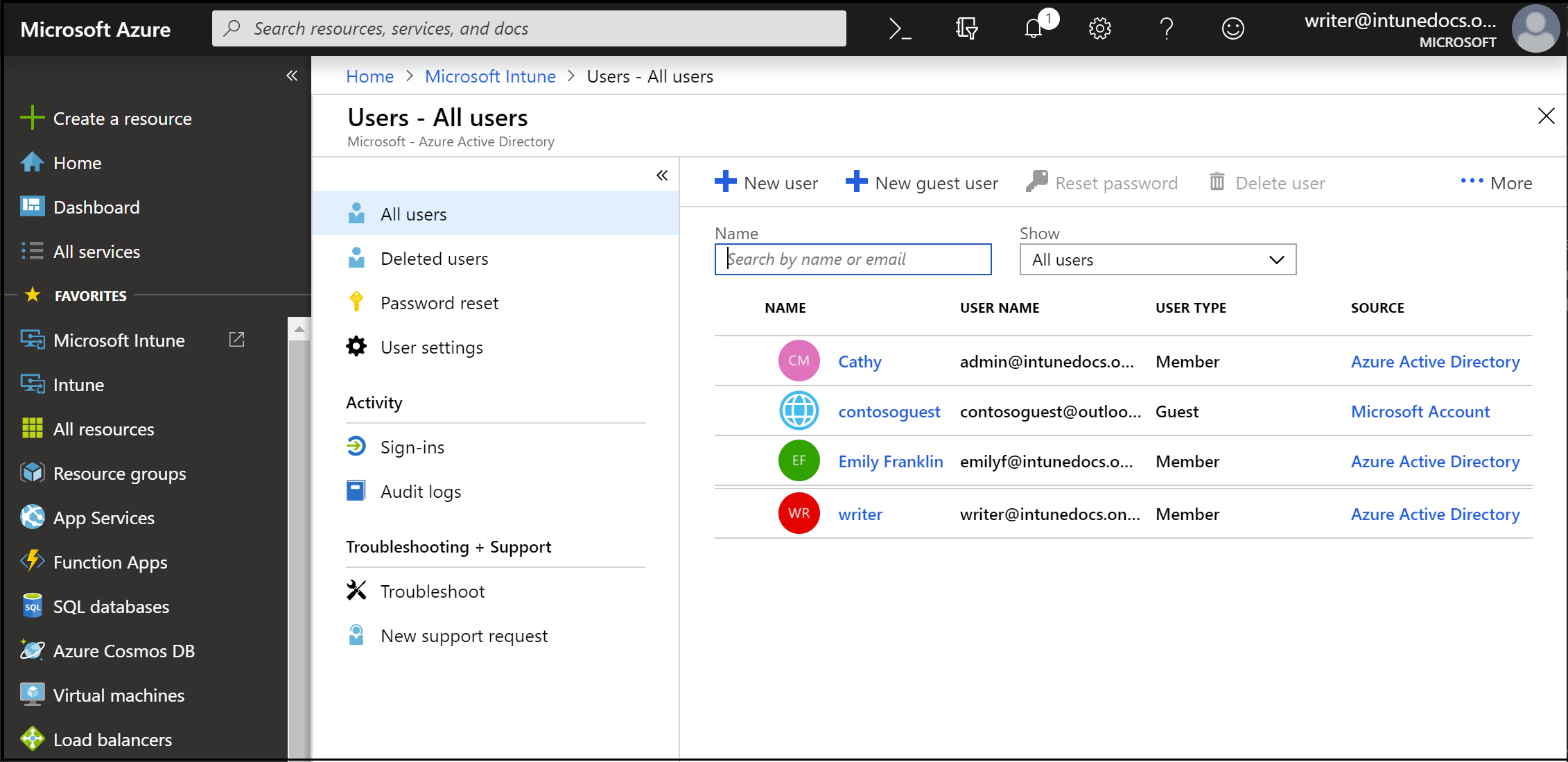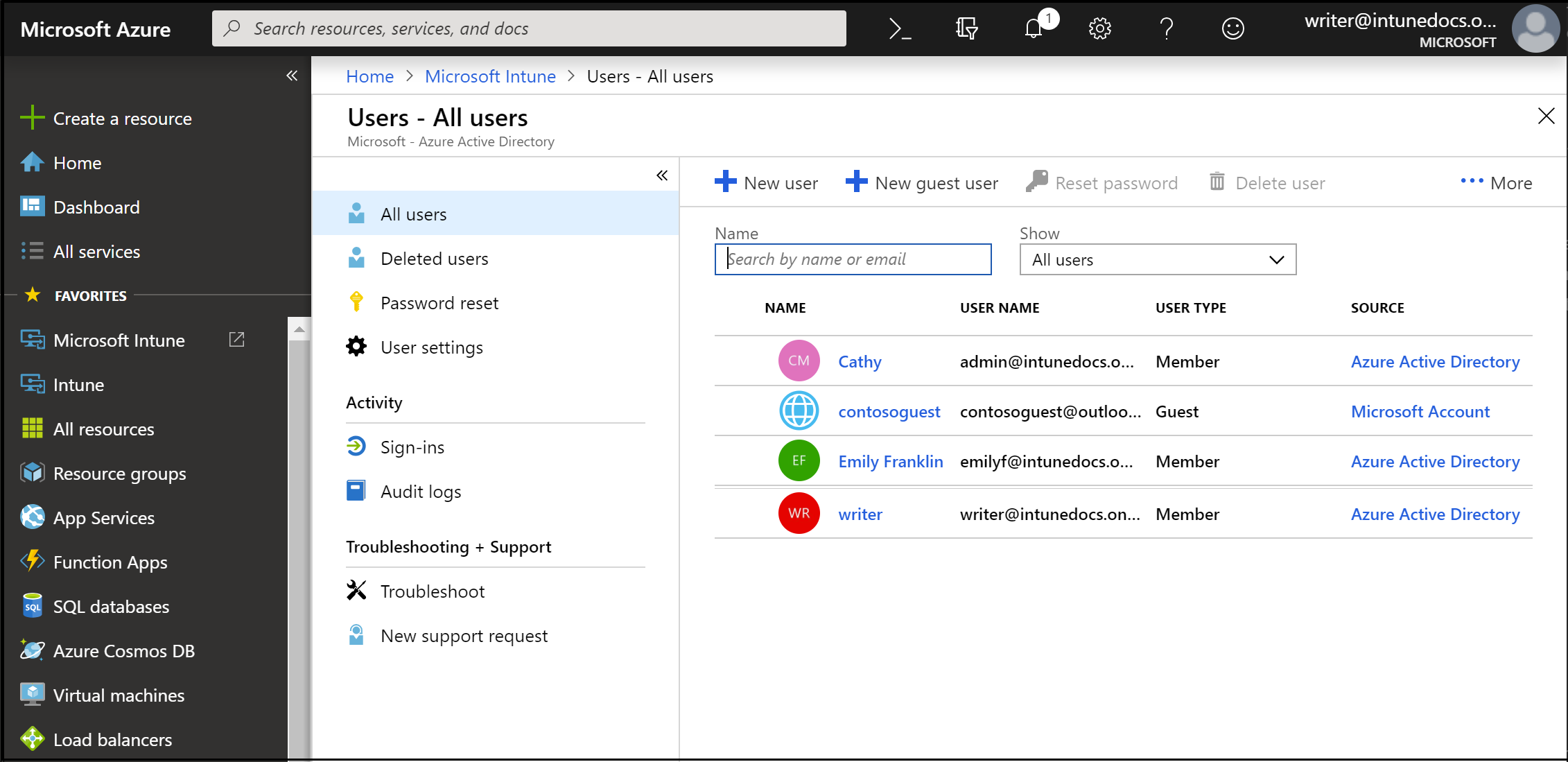 Intune, a mobility management tool owned by Microsoft, is a cloud-based software focused on helping businesses and other organizations. They provide a medium for their clients to manage and oversee the devices used by their employees in accessing corporate information and applications, such as their email.
This Intune vs AirWatch MDM comparison also shows that the former mobile device management software is a part of Microsoft's Enterprise Mobility + Security (EMS) line. The Intune application was created in a way that can be integrated into other sections of the EMS line, like Azure Active Directory and Azure Information Protection. Additionally, it uses the Azure Active Directory to separate the corporate and personal information of its employees.
What Microsoft Intune does generally revolves around the common issues businesses encounter. One of these concerns is the protection of email and data within the premises of the organization. This Intune vs AirWatch MDM comparison shows that the former can help businesses when issuing phones owned by the corporations and provide tablet personal computers of limited use to task-oriented organization members.
Software ranking shows that Intune enables device enrollment, which allows its clients to maintain and manage the number of devices that can access its services. Other functionalities offered by the software cover mobile device configuration, provision of certificates, WiFi, virtual network profiles, and compliance with corporate standards. All these are made possible with the provision of access control capacities of Azure Active Directory.
Pros
Among Intune's selling points is its integration with the whole ecosystem of Microsoft. Though it is an excellent product when taken individually, it becomes more useful because of its integration with other applications. Buying software that is a part of a more comprehensive solution creates more room for more opportunities in addressing a broader scope of concerns.
Some other aspects of the software users consider valuable are its means in managing data and applications. Intune also allows its users to prohibit their employees from installing other apps and will enable them to wipe data if the device gets lost or stolen.
Cons
Despite its various selling points, Microsoft Intune also has some loopholes its users pinpoint. One of these is the fact that it is not as granular in providing support to Android devices. Additionally, mobile device management software dramatically depends on the other products offered by Microsoft Suite.
It would be better if it can survive on its own despite having the support of other Microsoft products.
AirWatch MDM
Overview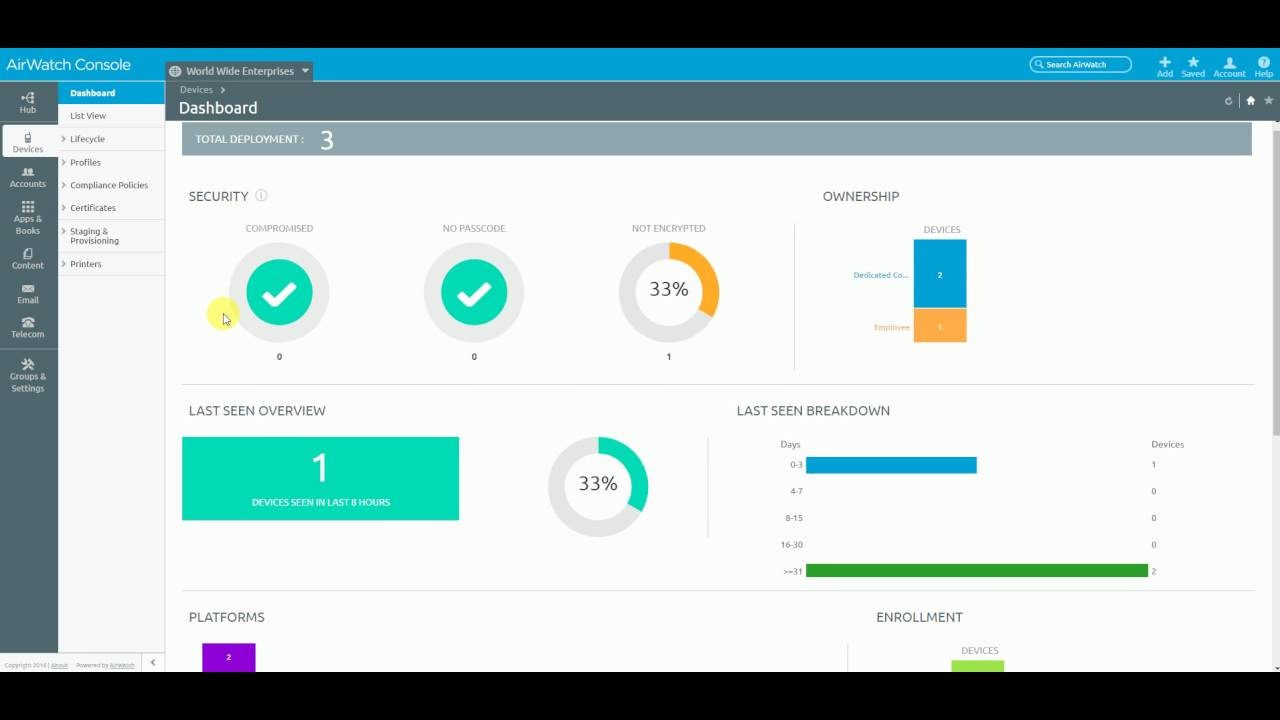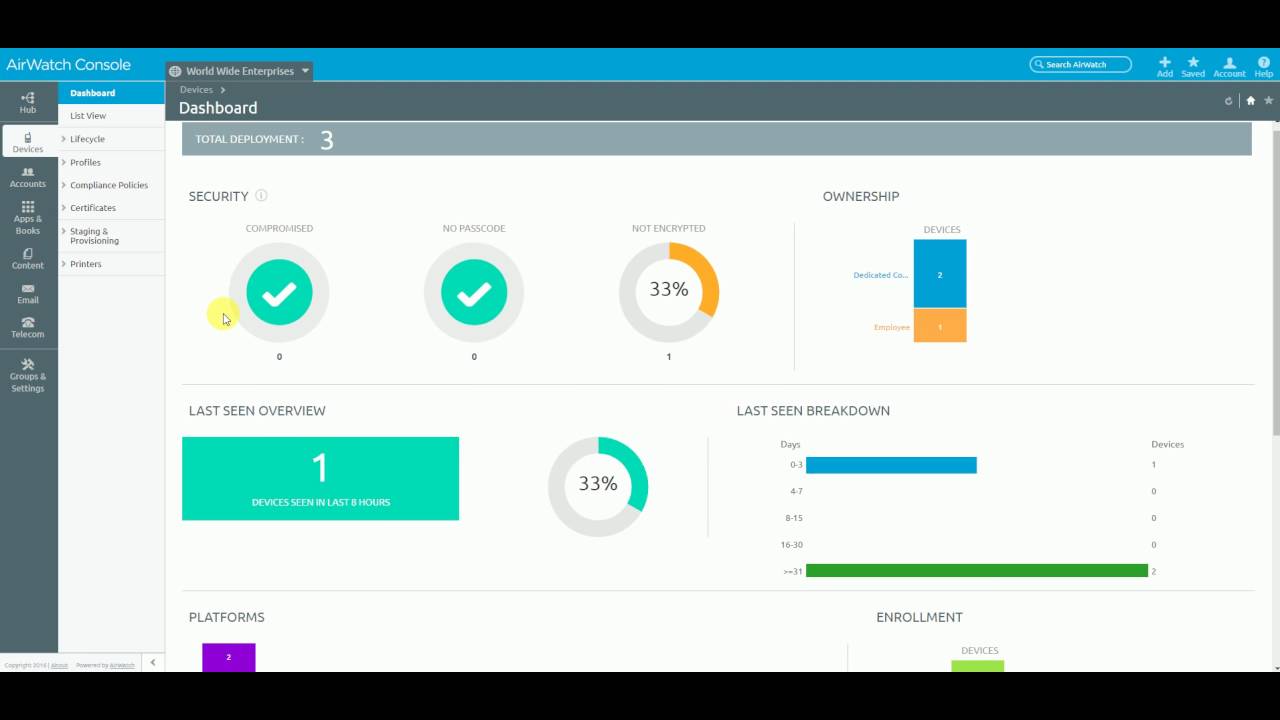 The nature of AirWatch MDM revolves around features closely similar to Intune. It offers a medium that provides its user's visibility on the mobile devices linked organization's networks and resources. Additionally, the software is also a platform that enables quick device enrollment to the environment of your organization.
Device configuration and updates in settings are also possible through the cloud while ensuring specific security standards are enforced and duly complied. As we look into mobile device management platforms, you may also look into articles that compare workflow software reviews to discover more useful tools.
AirWatch MDM was designed to cater to multiple tenants and serve as a platform that can be integrated into other systems of the organization. It is also highly measurable and flexible in that it can adjust to either cloud or on-premise use. The mobile device management software also made sure to have integrations with subsisting organization systems.
Pros
AirWatch MDM has already established its name in the market as a reliable and stable software organization can bank on. Users have been continually putting out good words for it as it does not only have an excellent dashboard that provides insights into mobile devices. It also enables organizations to track which devices are non-compliant with their regulations and updates.
In terms of Application Programming Interface (API), AirWatch MDM makes it possible to support anything produced by the manufacturer, including other features. The software proves its flexibility as almost anything can be accomplished alongside locking anything you want down.
Cons
However, there are also some areas users see as a cause of delay in their undertakings that involve the software. For one, upgrade, it can become complicated and, when conducted, often leads to multiple errors. Installing AirWatch MDM also tends to become difficult for some users.
Vmware's acquisition of the product also became a cause of AirWatch MDM's complexity. Since their accession, the software became more of a strategic product bringing forth many intricate details. Users also experience an outpour of bugs while using the platform, and all of its features tend to overwhelm their clients.
Features
1. Cloud Management
Both Intune or AirWatch are supported by a platform called JumpCloud Directory-as-a-Service. It is a medium that combines user and device management in a more centralized manner. The platform is widely used by modern, and heterogeneous organizations involved in the field of Information Technology.
The administrators may choose either Intune or AirWatch MDM with JumpCloud or JumpCloud alone with the aid of Directory-as-a-Service. The latter can become the primary source of information, and can also be a medium for system devices and application management.
No matter what your pick will be between Intune and AirWatch MDM, you can have JumpCloud Directory-as-a-Service with you. You can try the product out by setting a schedule for either a free demo or a trial you can do by yourself. Using this cloud management software with your mobile device management software, you get the first ten users and ten systems for free.
2. Device Management
Device management is another feature businesses need to consider when choosing which one to use in your business. Other existing ones in the market invest in the ways to provide control iOS and Android devices to protect the corporation's data and information.
Meanwhile, other systems are focused on providing the technicalities to machines under macOS and Linux. These names are already beginning to incorporate themselves in the category of mobile device management. Both Intune and AirWatch MDM excel in device manager because it is where they started their business.
They provide access to different features such as remote wiping, a lockout of account, controlling of applications, and separation of corporate and personal data. Intune is integrated with the entire ecosystem of Microsoft, and with this, it makes the software more engaged in both Microsoft and Azure's technology.
With AirWatch MDM, on the other hand, it has proven its worth to the market as it is the leading brand among its competitors. What also sets it apart from Intune is the structure that fits more to heterogeneous environments, making it a brand that is more vendor-neutral.
3. System Management
Whether they are using Intune or AirWatch MDM, system management has been a constant struggle for businesses. They need to face cross-platform control between them and their Windows, macOS, and Linux systems. Most organizations have used Active Directory (A.D.) in the past, which becomes the primary concern of most users today.
However, system management found its solution with the provision of full control across several I.T. resources. This is also true for the management of macOS, Linux, and Windows, as it also uses the protocols of mobile device management to increase the coverage of its services.
Pricing
Intune's fixed pricing rate is at $6 for every user, billed every month. This rate does not only include mobile device management, but mobile application management, 365 Office protection, integrated P.C. management, and integrated on-premises management as well.
On the other hand, AirWatch MDM offers a 30-day free trial to its users. Once this trial window is over, plans starting from $3.61 per device and $6.18 per user on a month-to-month basis are available.
Integrations
Intune integrates with other applications within the Microsoft ecosystem like Azure and Office 365. Users of the software can also have access to Microsoft Graph API when they want to automate their workflow tasks.
AirWatch MDM has its integrations on platforms like Deputy, JumpCloud DaaS, WorksPad, and Mobil-X Suite.
Intune vs AirWatch MDM: Which is better?
Intune and AirWatch MDM both have their strong selling points businesses can use to their advantage. However, it is also equally important to look into their weaknesses, so you will be able to weigh your options.
Aside from these factors, businesses must also consider the pricing and packages of both systems. Knowing their plans will help you decide which one fits you more, considering your needs and financial capability.
For those who want a platform already connected to the entire ecosystem of Microsoft, Intune will be the better option. If you are looking for an already well-established software and has maintained its spot in the market, AirWatch MDM is for you.