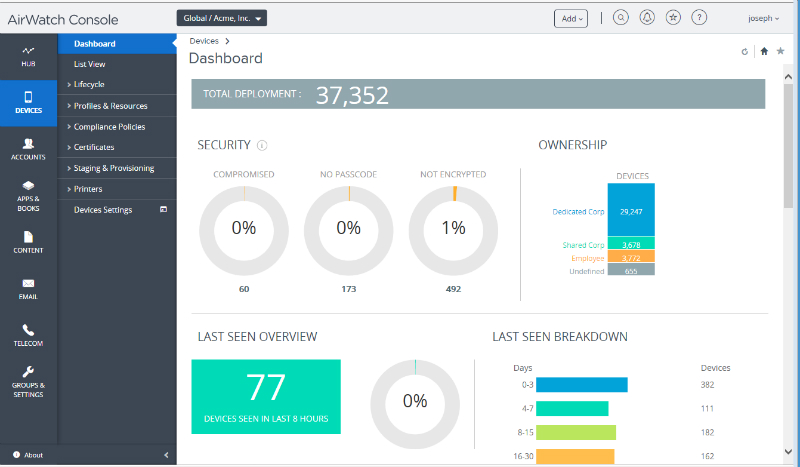 The main benefits of AirWatch are its stable functionalities, scalability and great integrations
Quick Configuration
Users can quickly configure settings in their devices. This is afforded to them by AirWatch's own architecture. Now, one can customize settings using simple procedures on a user-friendly interface. No one will need to consult IT personnel busy with other things to perform initial device configurations.
Keep up with Innovation
In today's age, businesses deem it necessary to change the software to keep up with the latest technologies. With AirWatch, this is no longer a requirement. The software automatically updates and provide users with same-day support. Furthermore, the software is updated regularly to help its customers keep up with others in the marketplace.
System that can Scale 
AirWatch sports a scalable system with its open architecture. This accommodates the potential of businesses to grow beyond their present scale. Multifaceted expansions are supported by the software such that when companies progress, their system also moves with them.
Integration
With AirWatch's open ecosystem, it can support the existing framework or any enterprise. It can be integrated seamlessly with many kinds of software via its different types of integrations. Now, companies need not overhaul its framework when they want to adopt AirWatch for other benefits.
Secure and Trustworthy Platform
AirWatch uses robust security measures in registered devices. Sensitive company information is always kept safe while being accessible to users already authorized. Even with a tight security feature, AirWatch streamlines sign-ins for users. Employees are allowed to use the service liberally provided they follow the terms of use.