Creating both local and remote teams has been a trend that was inspired and triggered by globalization. Being able to connect with people around the world has become invaluable as it is how business owners and leaders gain growth, knowledge, and innovation. While managing both local and remote teams can pose individual but countless challenges, there is none that is more important than communication.
Failure to communicate with your team can lead to decreased productivity and increased errors. More often than not, such a situation can not only have operational consequences but also financial impact. As a result, teams have had to find a way to improve and maintain communication strategies. This movement has led to the creation and popularity of conferencing and other related software.
If you're in the market for such systems, then you and your team have already encountered numerous options that you can choose from. To help speed up your process, this article has picked out two of the best platforms from here to analyze: BlueJeans and Cisco Webex. These systems are considered to be the biggest names in the industry and the most flexible and, as such, should be at the top of your list of options.
BlueJeans vs Cisco Webex: Product Introduction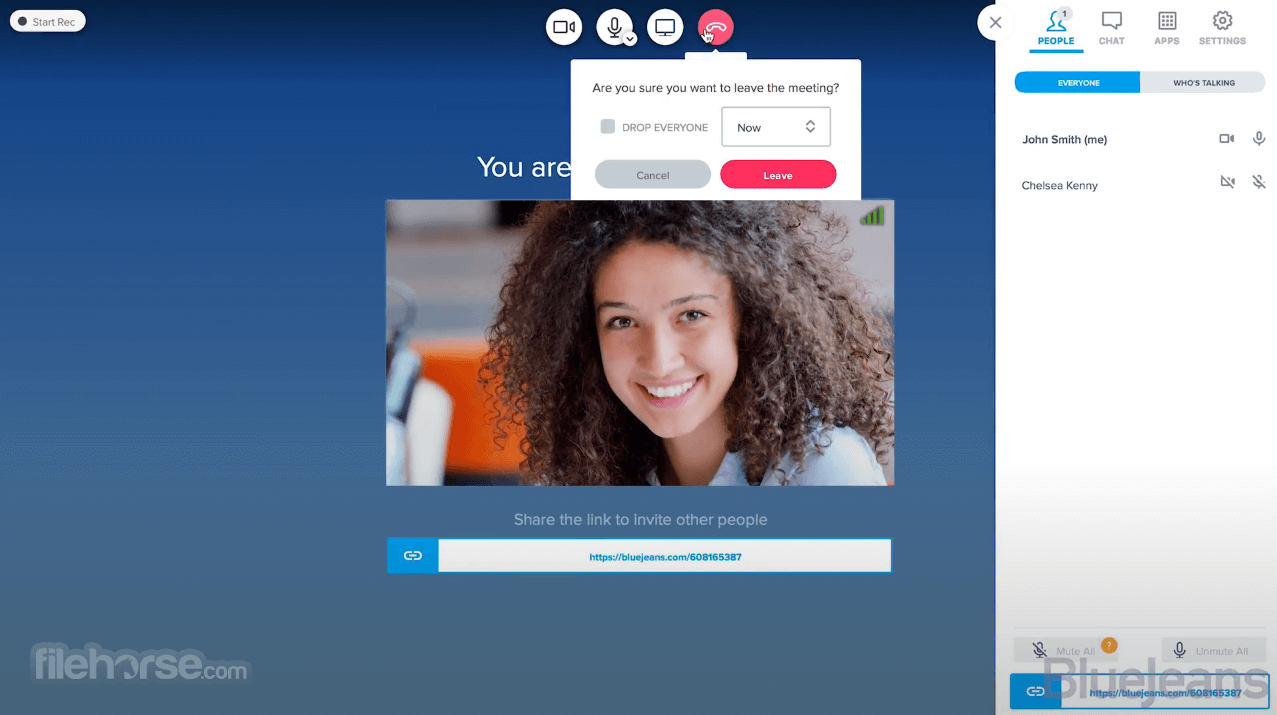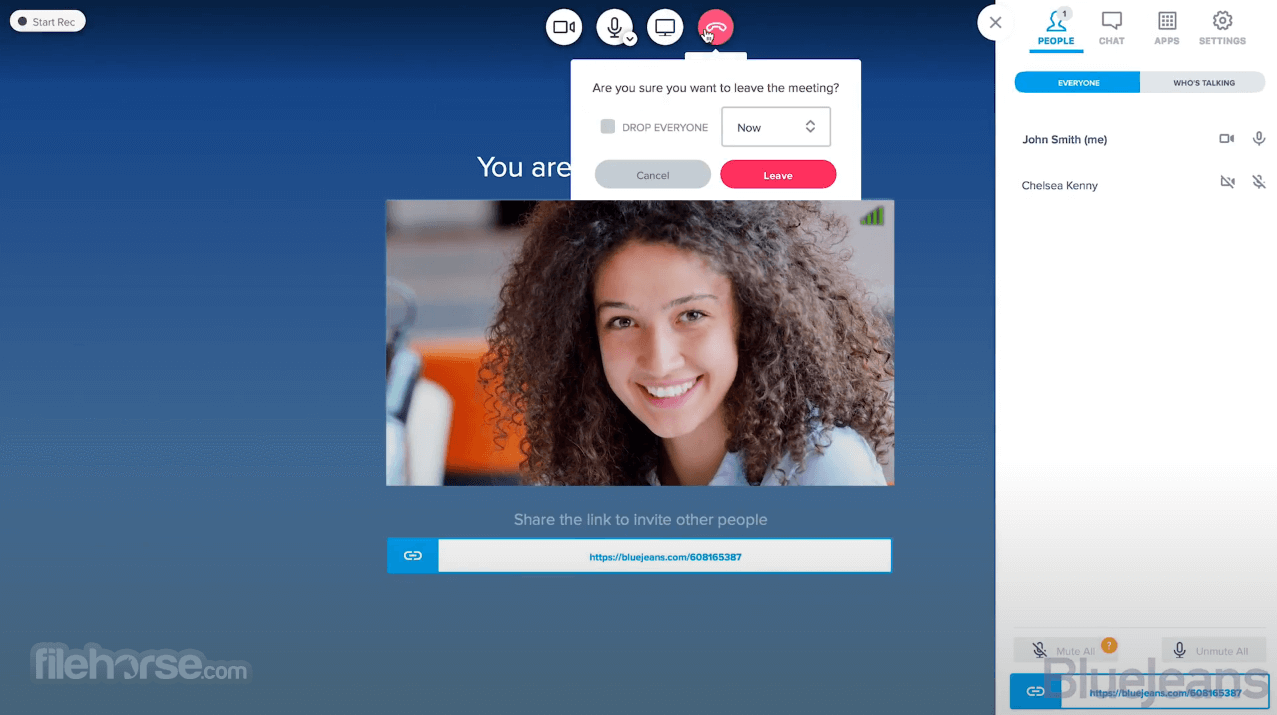 Before getting into the nitty-gritty parts, you need to get to know the platforms first. As such, this BlueJeans vs Cisco Webex comparison starts with a product introduction. BlueJeans caters to various needs in that it goes beyond webinars by including meetings, rooms, events, and gateways in their list of capabilities. It has been recognized by companies like National Geographic and Facebook for the features it offers along with its security.
Cisco WebEx stands on par with BlueJeans because of its reputation within the conferencing and communications industries. Like BlueJeans, Cisco Webex also offers numerous services that can help you and your team connect, collaborate, and communicate. It is currently a service provider for industries like education, healthcare, and financial services, to name a few.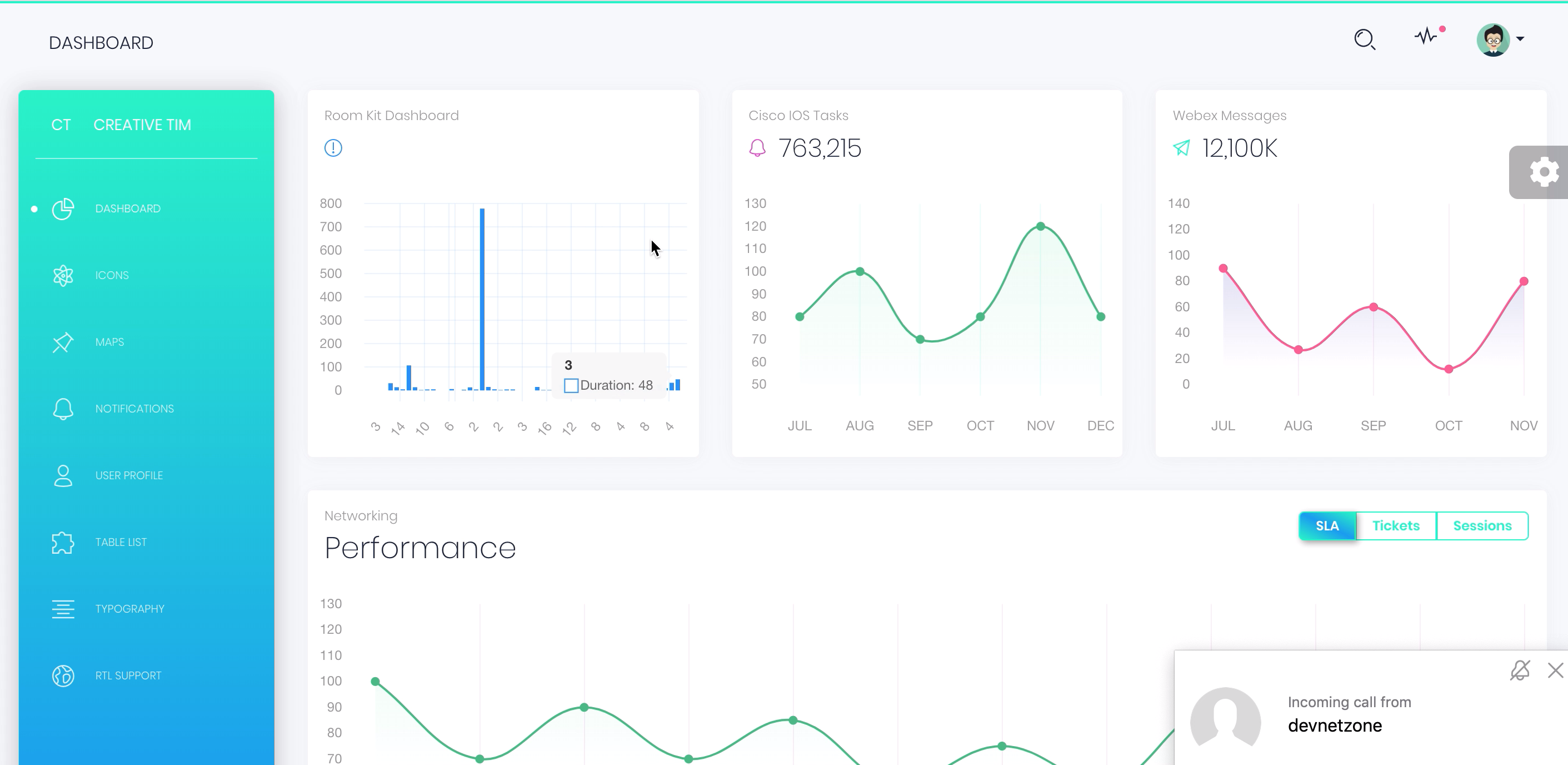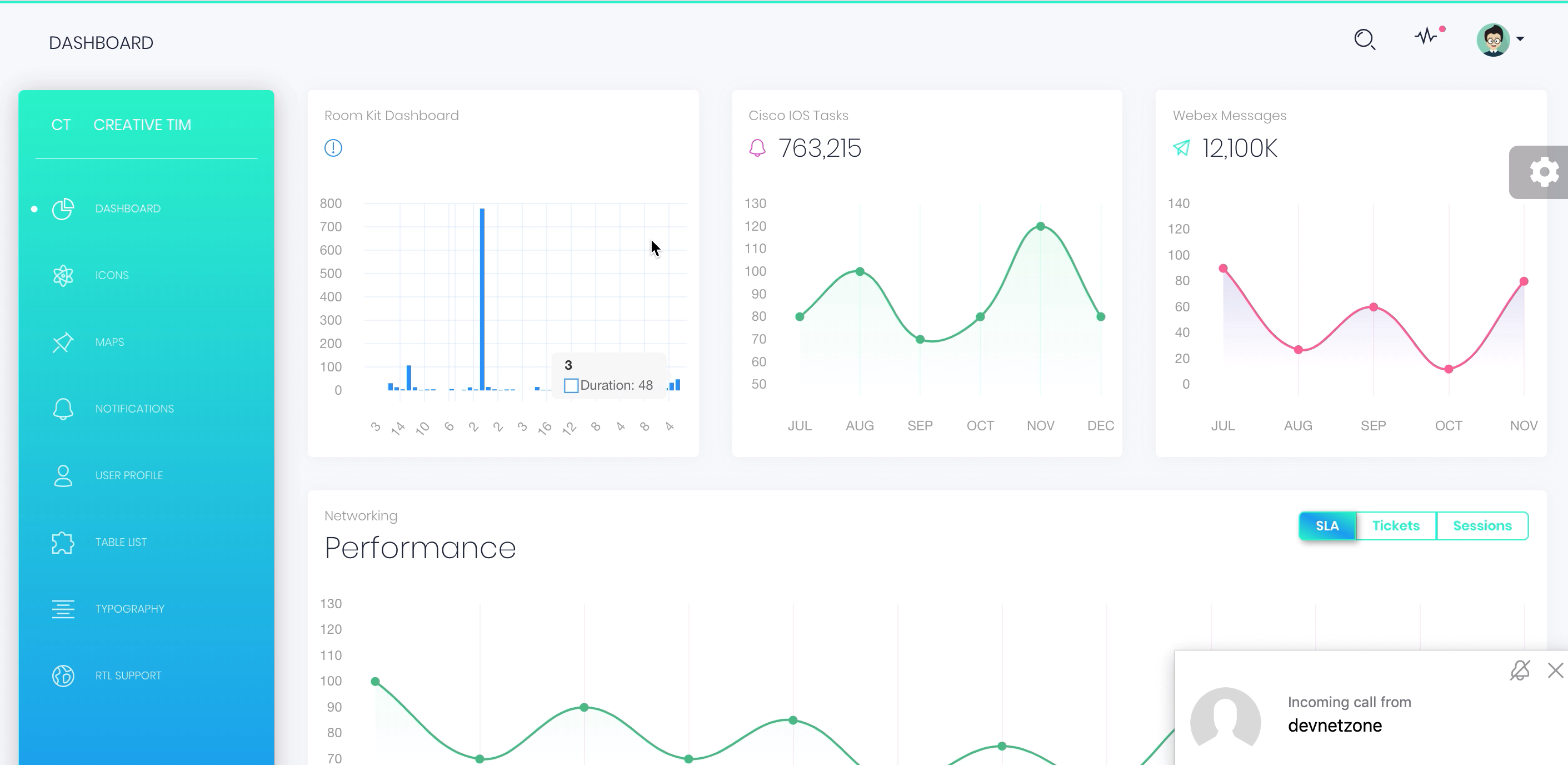 Given both platforms' popularity, you and your team are sure to gain specific benefits from each platform. As such, your decision will need to be informed about the various features and capabilities of each platform.
BlueJeans vs Cisco WebEx: Features
Getting a communication-based system means that you and your team will have to look for several things within the platform. This BlueJeans vs Cisco Webex comparison focuses on three categories of features: communication and conferencing tools, accessibility and usability, and finally, collaboration features.
Communication and Conferencing Tools
When looking for the best possible conferencing software to support you and your team, the platform you choose will need to equipped with tools that are commonly found in the systems on our list. BlueJeans responds to this need with a comprehensive list of conferencing features. This platform uses real-time intelligence to enable you and your team to take advantage of features like meeting highlights and transcription, live meeting controls, and conferencing analytics. Furthermore, BlueJeans also offers automated alerts, a command center dashboard, and the ability to record your meetings and conferences.
Cisco Webex also provides a long list of tools that you can use to improve your communication and conferencing experiences. Beyond the standard HD video and stellar audio, you and your team can maximize tools that enable you to host online events, conduct team training, and provide remote support. Moreover, Cisco Webex comes equipped with an automatic transcription feature. Like BlueJeans, this tool boosts you and your team's productivity by removing the hassle associated with transcription and letting you focus on the agenda and goals of your session. Finally, Cisco Webex also provides meeting recording tools.
Accessibility and Usability
Because you and your team may not always have access to workstations and desktops, both BlueJeans and Cisco Webex ensure that you can join and participate in meetings and conferences on any device. BlueJeans provides on-touch access to your meetings and events, which basically means that your team can join and participate regardless of whether they are using a smartphone, a browser, or even a room system. Furthermore, this platform features an intuitive and intelligent dashboard, thereby enabling you to access the tools mentioned above easily and efficiently.
Similar to BlueJeans, Cisco Webex also enables you and your team to join meetings and events no matter what device you're using. In addition, this platform also provides easy-to-use scheduling tools in that you can create and prepare an invitation to the conference through Microsoft Outlook and having it appear on the Webex platform. If you want to further improve the reliability of the platform, you can choose to get Cisco's room and desk devices, which offers your team with dedicated devices for your meeting and conference needs. Finally, Cisco Webex supports many of the features of the systems found in this software ranking through its dedicated contact center tools.
Collaboration Features
The final category in this section concerns the collaboration features that both platforms offer. BlueJean's version of collaboration comes in the form of features like screen sharing, polling, Q&A, and text chat, among others. These features enable you and your team to engage with your audience and allowing them to participate and ask you questions, which then improves information retention and the overall productivity of your meetings and conferences.
Meanwhile, Cisco Webex also comes equipped with collaboration features. You can use this platform to share your screen during your conferences and events and share content and files with your team during meetings. In addition, Cisco Webex provides chat and brainstorming tools that can help trigger your team's productivity and collaborative efforts. Other collaborative features include a whiteboard for your ideas and the full control over muting and recording to enable your team to share their ideas without any distractions.
BlueJeans vs Cisco Webex: Integrations and Security
Beyond the features and capabilities, this BlueJeans vs Cisco Webex comparison has also compiled information on the integrations and security of both platforms. BlueJeans provides integration with a wide range of systems, including workstream, calendaring, and meeting intelligence applications. Among these systems are the following:
Slack
Microsoft Teams
Snap Camera
Skype
Facebook Workplace
Microsoft Outlook
Google Calendar
Robin
FreeBusy
Trello
Hugo
Alexa for Business
My Ally
Interprefy
ai
Kaptivo
Panopto
Rumpus
Pigeonhole
Splunk
Vyopta
Okta
Facebook Live
Marketo
LeadsBridge
Raydiant
Zoho
Gong
Wingman
Splash
TicketSocket
Salesforce
Canvas
CirQlive
Docebo
Cisco Webex refuses to fall behind even with BlueJeans' extensive integrations as it also provides support for numerous applications and systems, which include the following:
Google
Microsoft
Salesforce
Box
Apple
Slack
Appspace
Microsoft Teams
Google Calendar
Jira
Trello
Now
SharePoint Online
OneDrive for Business
Vbrick
Smarsh
Oblong
Vyopta
Mio
In addition, both BlueJeans and Cisco Webex provide API capabilities, which enables you and your team to add integration support for the apps that you need to complete your tasks and streamline your workflow.
When it comes to security, BlueJeans and Cisco Webex also consider the threats and issues that you and your team may encounter throughout your event, meeting, or conference. BlueJeans provides security tools such as a randomized meeting ID, participant passcode, meeting locks, participant expulsion, and encryption. This platform also comes equipped with fraud detection and prevention measures that can protect you, your team, and your participants from identity theft and privacy breaches.
As for Cisco Webex, this platform offers security features like access-based policies, visibility in user activities, PIN-lock and remote wipe for mobile devices, and end-to-end encryption for your calls, messages, and whiteboards, among others. Cisco Webex provides further security features through compliance checks that enable you to see who, if anyone, can be a threat to your team and your company's security.
BlueJeans vs Cisco Webex: Pricing
The final section of this comparison article is pricing. BlueJeans provides three pricing packages for its meetings version and a one-time fee for both its webinar and gateway features. For BlueJeans Meetings, the three pricing packages are BlueJeans Standard, BlueJeans Pro, and BlueJeans Enterprise.
BlueJeans Standard will cost you $12.49 per host per month. It's an entry-level plan that lets you host a meeting for up to 50 participants. BlueJeans Pro, which provides maximum support for 75 participants, will cost you $17.49 per host per month. BlueJeans Enterprise is quote-based but does enable you and your team to engage with 100 participants. In addition to these plans, BlueJeans can charge you $499 per webinar and $113.85 for its gateway that can support up to 19 rooms.
Whereas BlueJeans' website provides you with information on what you need to pay to take advantage of their services, Cisco Webex is entirely quote-based, which means that you and your team will need to contact them to get a specific quote based on your needs. Before you do, try to determine how much support you'll need and which features can help your team host better meetings and achieve improved participant engagement.
BlueJeans vs Cisco Webex: Maximizing Technology
Given the details on the capabilities, integrations, security, and pricing of both platforms, BlueJeans and Cisco Webex are thus more than capable of helping you manage and foster communication within your local or remote teams. Each of both platforms' features can be maximized to boost productivity and promote successful collaboration. Furthermore, these systems come well-equipped with additional tools to protect you and your company. As such, your decision should be based on which platform can better meet your needs and help you thrive in today's competitive environment.