Technological advancements have changed the way we communicate and conduct business.
And as the workplace becomes digital, the need for a reliable communication and collaboration tool to connect the workforce and management increases.
An ideal collaboration tool for businesses is one that seamlessly combines email, video, telephony, instant messaging, and web conferencing functionalities. And LogMeIn and Google are two of the leading providers of these collaboration solutions that offer state-of-the-art features.
Google offers Google Hangouts while LogMeIn has GoToMeeting. But which one best suits your team collaboration needs? Let's figure it out in this Google Hangouts vs GoToMeeting comparison.
Google Hangouts Features and Pricing
Google Hangouts Meet and Chat is now known as Google Meet, after dropping "Hangouts" from its branding in April 2020. Google Meet then became its video conferencing app and the Google Chat is the messaging app.
Google Hangouts is ideal for businesses of all sizes and allows up to 250 participants to join in a video conference through an invite link.  Google Hangouts is accessible via desktop, iOS, and Android devices.
Some of the outstanding features of Google Hangouts include:
Ability to schedule an unlimited number of meetings. Free version users can invite up to 100 participants to a meeting as long as they have a Google Account
Follow what's happening in the meeting in real-time through Google Hangouts's automated live caption feature
Google Hangouts allows you to send messages and share links to other video call participants. Messaging during calls feature is available during the meeting
You can share your entire screen or specific window during the meeting. While you present your screen, you can share documents, spreadsheets, presentations, meeting notes, and more
Google Hangouts provides hosts with controls to mute, pin, or remove video meeting participants
Google Hangouts switches the layout of video meeting automatically so the most active content and participants get displayed
Google Hangouts also boasts a mix of security features including proactive counter-abuse and anti-hijacking measures integrated into both web meetings and dial-ins. For added security, Google Hangouts eliminated the need to install any plugins or software when using Chrome, Safari, Firefox, or Microsoft Edge.
Also, Google Hangouts supports multip-step verification for accounts which include phone-based and hardware-based security keys along with Google prompt. G Suite Enterprise and G Suite for Education users can use Google's Access Transparency so administrators can review logs of actions by Google staff when they access user content.
Google Hangouts is available for free. For more advanced features, users can upgrade to G Suite Essentials for $10 per active user per month and G Suite Enterprise Essentials for $20 per active user per month.
GoToMeeting Features and Pricing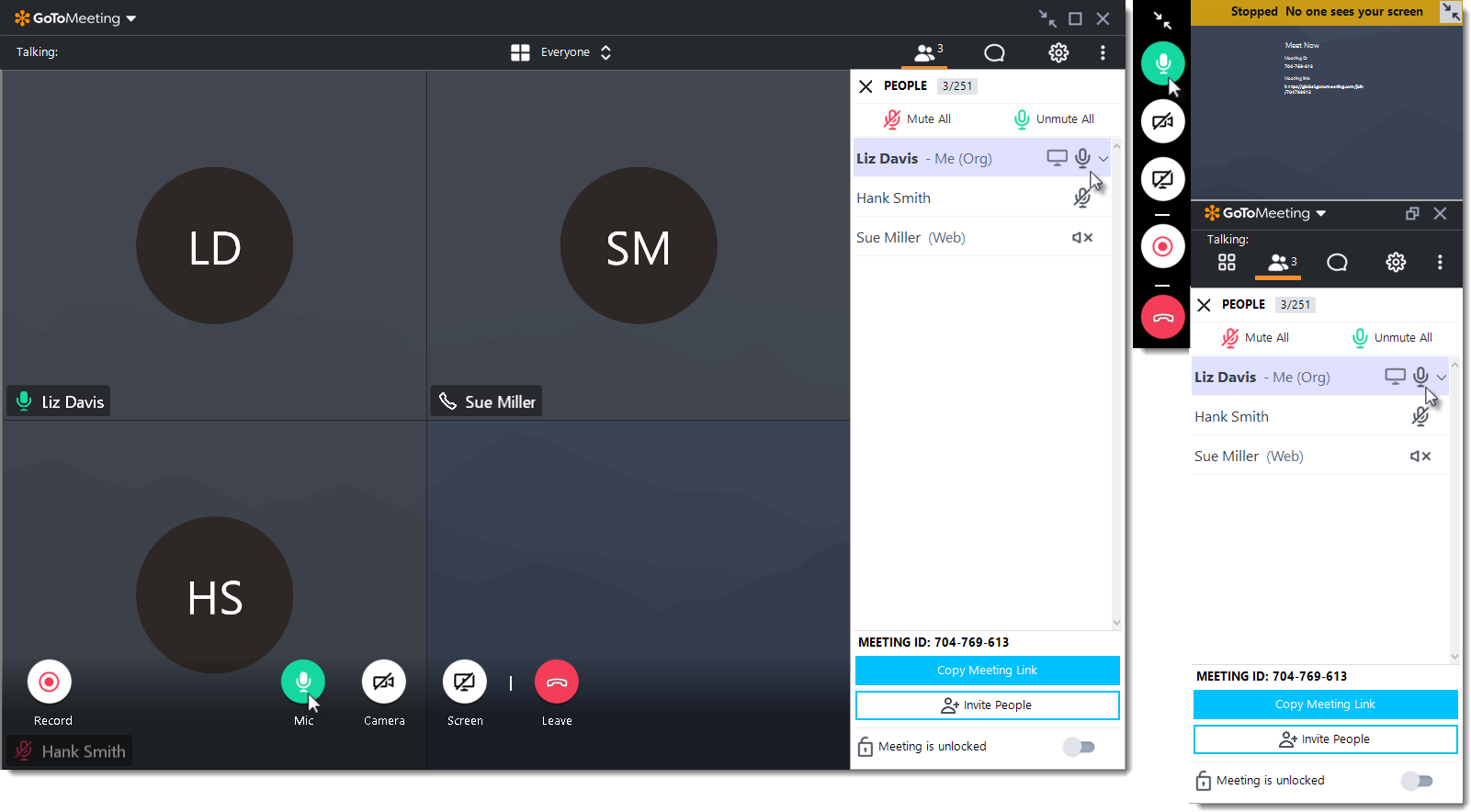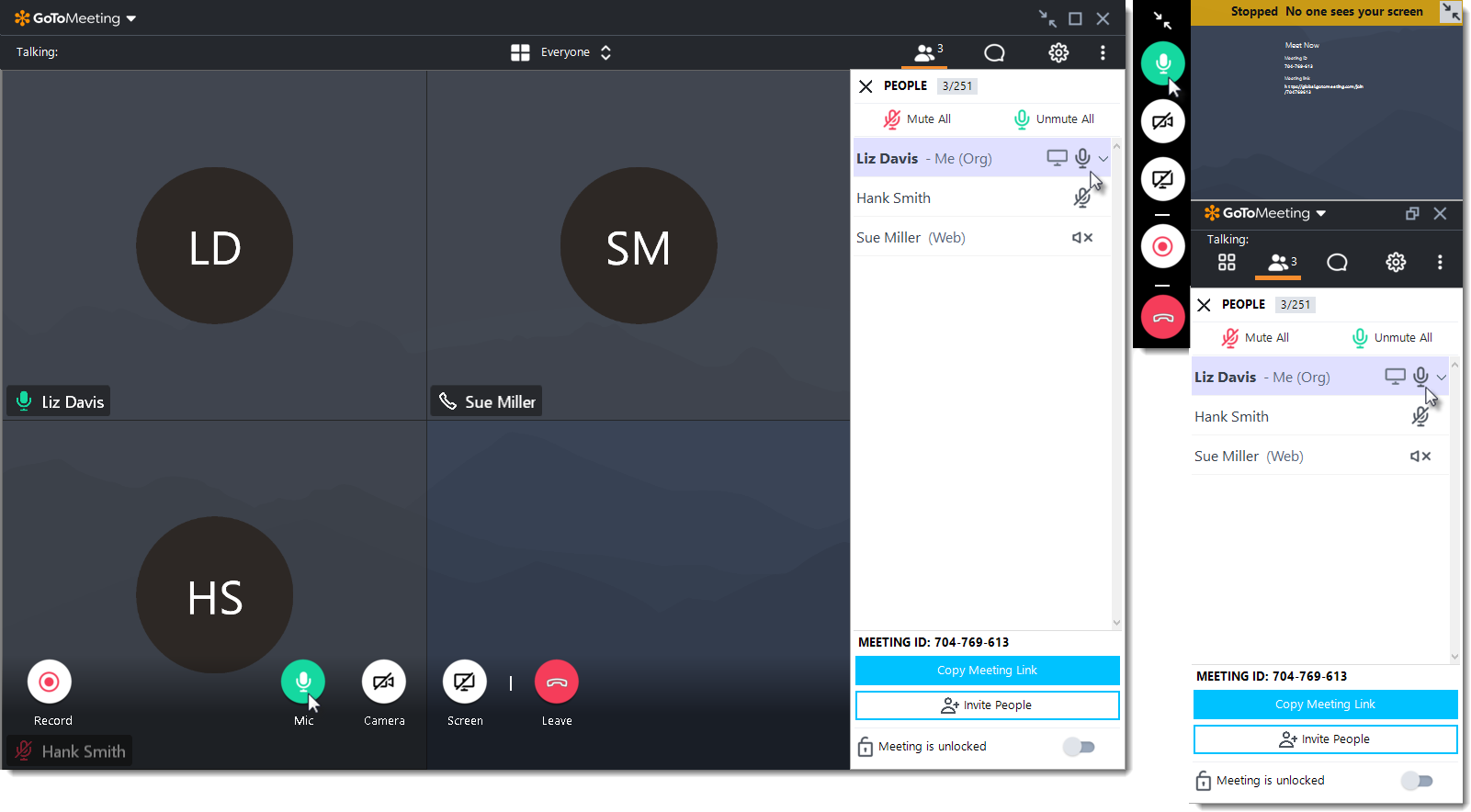 Designed by LogMeIn, GoToMeeting caters to the communication needs of businesses. GoToMeeting boasts of its ease of use and the ability to join a meeting without the need to have a GoToMeeting account or download a standalone software.
GoToMeeting allows users to integrate the application with their favorite third-party apps including Slack, Office 365, Google Calendar, and Salesforce. GoToMeeting supports mobile meetings as well and is available on both Google Play and App Store.
Depending on the subscription plan, GoToMeeting can accommodate participants of up to 3,000 which is a great feature to have for businesses that regularly have conferences. And with a guaranteed 99.99% uptime, it saves organizers from the hassles arising from unreliable connection and frequent downtimes.
GoToMeeting's web conferencing provide users with a dependable tool to interact face-to-face with high-quality instant video option. And its cloud collaboration capabilities using just the desktop, mobile, or via InRoom is certainly in our list of must-have features for efficient online tools.
Other features of GoToMeeting include:
Easily transition from a chat conversation to a screen-sharing meeting then to a video call with Business Messaging
Schedule, manage and participate in upcoming meetings right from a Microsoft or Google calendar with One-Click Meetings
Focus on what is being discussed and let the application automatically transcribe everything that transpires in the meeting with Smart Meeting Assistant
Allow your attendees to have a completely secured way of joining your meeting by just picking up a phone call with Call Me
GoToMeeting offers three plans: Professional ($12/organizer/month), Business ($16/organizer/month), and Enterprise (Customer rates).
If you need a more optimized application to conduct your seminars or virtual meetings, you make check our guide on webinar tools.
Google Hangouts vs GoToMeeting Comparison: Getting started
Google Hangouts
To sign up for personal use, users who are using a Google product such as Gmail or YouTube just need to sign in to their existing Google Account. For business use, users just need to sign in to their G Suite account or set up an account.
To access Google Hangouts from a computer, a meeting organizer can start a meeting using any browser. The same goes for participants. If you need to access the app from a phone or tablet, Google Hangouts is available to download from Google Play or Apple Store.
To create a new meeting, simply click the "Start a meeting" icon then choose the "Join Now." Send the link or meeting code to the people you want to join in the meeting. To join a meeting, the invitee just needs to enter the meeting code or call into the video meeting using the dial-in number provided in the invite, along with the PIN.
GoToMeeting
To start an online meeting with GoToMeeting, you need to sign in to your account first.  If you don't have an account yet, you can sign up for a free 14-day trial. Then sign in and choose the "Schedule a meeting" section from the "My Meetings" page.
That option will open a new window and then you have to select from the options for date and time. Also, indicate if your conference call will be a reoccurring one. Don't forget to select a time that works for everyone, especially if your attendees will be across different time zones.
If you have other people that you need to designate and provide permission as host, you can do that by accessing the "Co-organizers" and "Password" tabs. On the "My Meetings" page you can invite the attendees to your meeting. If you need to edit details or add attendees, you can always come back. There are plugins available as well that will let you schedule meetings right from the Google Calendar or Microsoft Outlook.
You may also start a non-scheduled meeting anytime from the "My Meetings" page by simply clicking the "Start your meeting" option and then sending the meeting details via "Share." If it's a scheduled meeting you would like to start, you just need to go to your meeting history and located the meeting and click the "Start" button.
While you are in your online meeting, the control panel on the right side is activated so you can access GoToMeeting's range of options as well as the complete list of attendees. Remember to use the meeting recording function so can go back and review everything that has been discussed in the meeting.
Google Hangouts vs GoToMeeting Comparison: User Experience
Google Hangouts
Google Hangouts puts all call participants on the right side of its interface. Similar to Hangouts, the active screen will be shown at the screen's central part but users have the ability to change this layout to a grid view.
Google Hangouts allows the user to turn the camera off, mute the mic, and share the screen — whether the full desktop screen, a single window, or a Chrome tab. With the Google Hangouts app for iOS and Android, users can view their meeting scheduled for the day from the Calendar and join in the meeting with a single tap. The Enterprise version, meanwhile, provides the meet organizer to create a dial-in phone number for each meeting.
GoToMeeting
One of the more prominent video-conferencing applications out there, GoToMeeting allows ease of use because of its simple and user-friendly interface, so there is no need to navigate through complicated menus and tabs.
Joining a meeting is easy: an invitee just needs to click the link and the GoToMeeting will automatically open on a new window. An alternative to joining the meeting is also available by going to the GoToMeeting website and entering the meeting code.
For first-time participants, GoToMeeting will automatically download the software and prompt the user to launch it. Users who don't need the video or screen-sharing functions can opt to just dial into the bridge line instead.
Research here for more communication software alternatives to handling day-to-day exchanges of messages within your team.
Google Hangouts vs GoToMeeting Comparison: Integrations
GoToMeeting allows integration with some of the popular apps for businesses including Slack, Salesforce, Acuity, and HipChat. GoToMeeting also offers Application Programming Interface or API to allow businesses to integrate the management and reporting function of this application to your business' internal administrator and reporting applications.
Google Hangouts also offers the same expandability as it can be integrated with Zendesk, Slack, and Flowdock. Google's Meet and Chat also works seamlessly with other tools in G Suite including Gmail, Google Calendar, and Google Docs to help businesses enhance productivity and collaboration. Google Hangouts also provides flexibility through integration with Microsoft Office apps.
Which application is the right one for you?
Google Hangouts's main advantage is that it comes with other complementary application from G Suite which works very well for businesses that already utilizes the plan. In turn, that means value for money especially that it eliminates the need to subscribe to a separate provider for video conferencing needs.
GoToMeeting provides a flexible, easy to use platform for video conferencing. While it boasts of robust features including multi-national toll-free numbers, reliable client support, and a 99.99% uptime guarantee, it is an affordable application, making it an ideal alternative for smaller businesses.