Dropbox is one of the leading cloud storage app available today. Ever since its initial release in 2008, it has been introducing more and more advanced features for seamless data storage. As it grew into a bigger and stronger company it launched a new product in 2013 to provide a special group of users with a different set of cloud storage features: Dropbox Business.
Dropbox and Dropbox Business can be considered as sister-apps as they both come from the same developer. Users that are not in the tech industry can easily consider both as one. However, there are outstanding differences between the two.
It's easy to get confused between the two if you have no advanced IT knowledge. This is where this article will be beneficial. This Dropbox vs Dropbox Business comparison article will make things easier for users with no advanced IT knowledge as it will simplify the difference between the two.
What do users say about Dropbox and Dropbox Business?
Dropbox and Dropbox Business users are highly satisfied with both platforms. Dropbox users love how its been solidly providing optimum cloud storage ease for them through the years. Seven years since its launch, Dropbox Business already has its own loyal users and supporters that commend how highly secure and accessible the platform is.
About Dropbox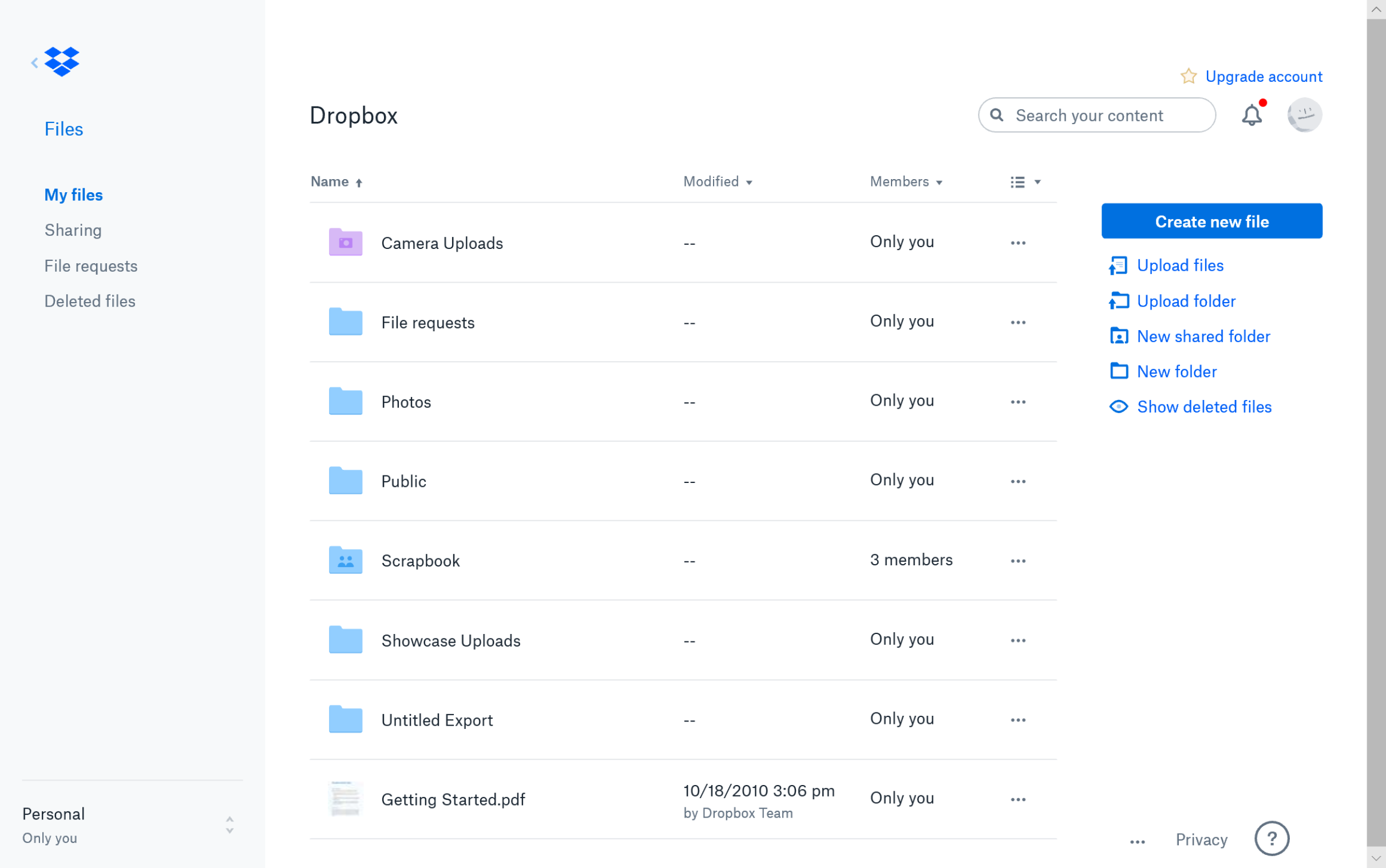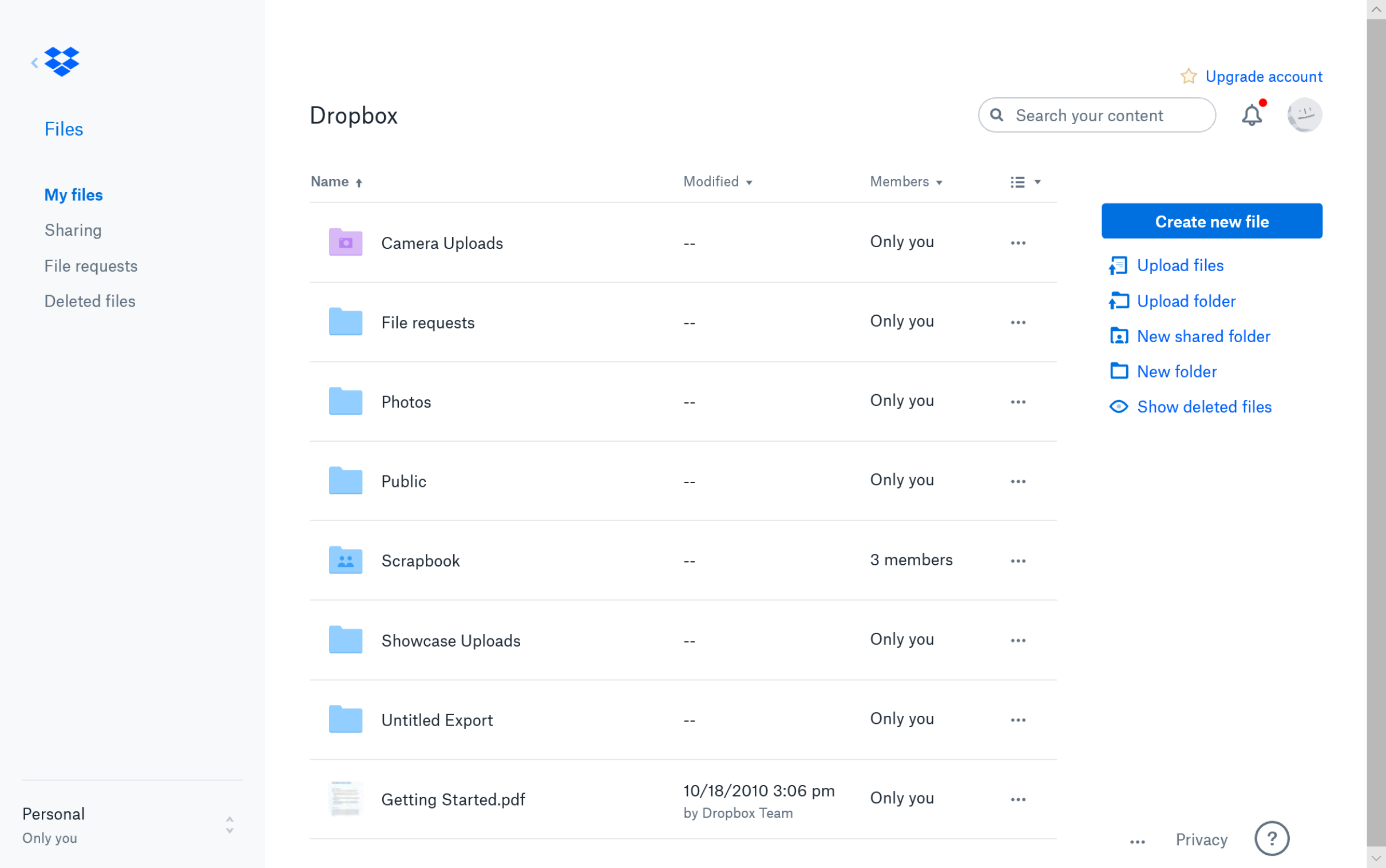 Dropbox is a 10-billion dollar company owned by Dropbox, Inc. that has grown massively since its initial release thirteen years ago. When it was released, it offered quite an edge when it comes to mobile file storage. To this day, it's still considered as one of the best cloud storage in the market as it makes mobile work possible with its auto-sync features and 24/7 file accessibility. It has a forever free version that is used by millions of users worldwide.
Pro – It has a forever free version.
Con – Storage has a limit. No phone support.
About Dropbox Business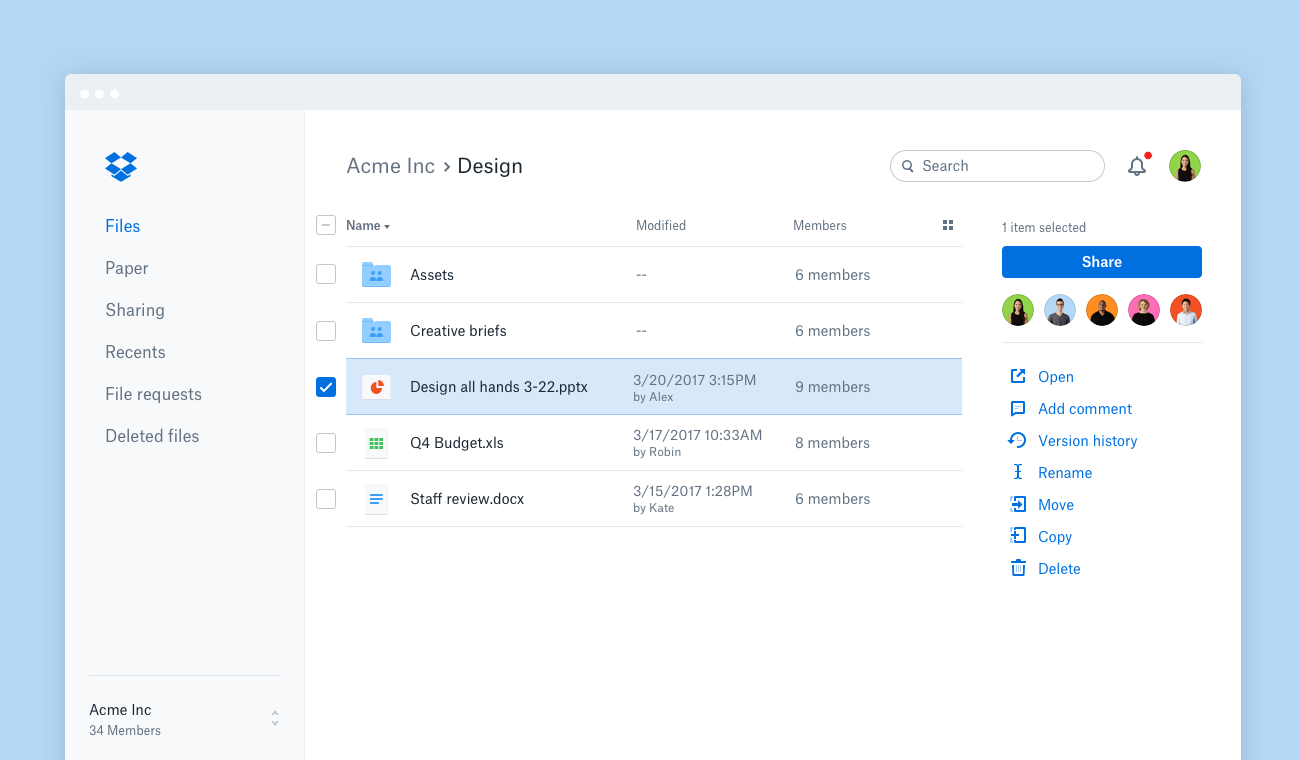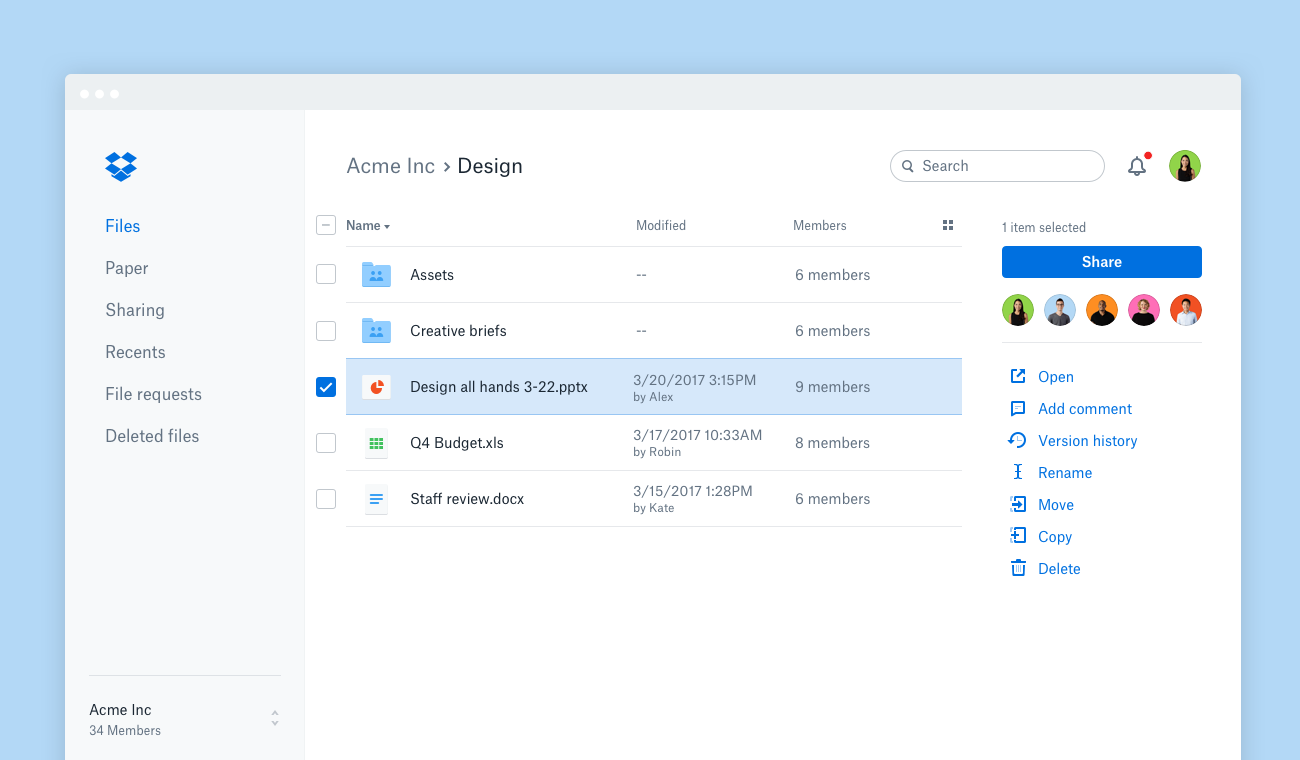 Dropbox Business is also a product of Dropbox, Inc., it was released to specifically answer the needs of business owners and big-time enterprises. It offers enterprise-grade tools for businesses with multiple users. Dropbox Business users have the convenience of sending as much as 100 GB of files to other users. It is touted as one of the most secure cloud storage apps in the market as it is deemed as Dropbox's comeback after a massive 2012 data breach scandal. It is also HIPAA-compliant.
Pro – Has no storage limit. Multiple users are allowed.
Con – Requires higher monthly fees.
Points of Comparison
A Dropbox vs Dropbox Business comparison can be simplified if you're going to consider five factors: pricing, storage, specialized features, integrations, and customer service.
1. Pricing
Dropbox and Dropbox Business differ greatly when it comes to pricing. For starters, Dropbox has a forever free version while Dropbox Business does not.
Dropbox offers three service packages: Basic, Plus, and Professional. Basic is its forever free version that users with basic storage needs can utilize. Plus and Professional are its paid plans. Plus goes for $9.99/month while Professional goes for $16.58/month.
Dropbox Business offers three paid plans: Standard, Advanced, and Enterprise. Standard is available for $12.50/per user/per month while Advanced costs $20/per user/per month.  Its Standard and Advanced plans allow for a minimum of at least three users. Its Enterprise plan is quote-based.
Comparing the two on pricing alone, Dropbox is the more affordable choice.
2. Storage
Storage is ultimately the most important factor when it comes to cloud storage apps. Dropbox can offer as much as 3 TB of data storage while Dropbox Business can allow for no storage limit at all.
Dropbox free users can use as much as 2 GB of file storage for free. Plus plan users get 2TB of storage while Professional plan users get 3TB. Plus and Professional plan users have access to mobile offline folders.
Dropbox Business users can get 5 TB of storage if they pay for a Standard plan. Unlimited file storage is available to all users paying for Advanced and Enterprise plans.
Dropbox Business definitely wins when it comes to storage as users can store anything and everything for a fee.
3. Specialized Features
Dropbox and Dropbox Business significantly provide the same core service — file storage. The difference is in the added specialized features for each.
Dropbox has special features for artists and freelancers when it comes to photo uploads. Users can automatically apply watermarks every time a file is shared. Imagine the ease of use and amount of time that such feature saves. If you don't have Dropbox, you would need to individually put watermarks on all your photo files and that takes hours and hours of work depending on the number of files. Features for document scanning and automated OCR are also provided. If you want more features for file management, you can check this out.
Dropbox Business offers advanced security features for multiple users. It can store highly confidential insurance and medical records as it is HIPAA-compliant. Users have tools for two-factor-authentication, customized sharing permissions, audit logs, and remote device wipe. Users can also send 100GB of files with optimum ease. File activities can also be tracked and recorded. If you want more control when it comes to the fidelity of your stored data, you should read and compare document controller software reviews.
Dropbox Business Enterprise offers the most advanced features like account capture, network control, and mobility management. Users even have access to training for admins.
All Dropbox and Dropbox Business users have 24/7 file access, tools for computer backup, camera uploads, file requests, web previews, viewer info, and file recovery.
For file recovery in Dropbox, free and Plus plan users have a 30-day window when it comes to file recovery. Professional plan users have 180 days. All Dropbox Business users also have 180 days for file recovery. Account rewind is available to all paying users.
Dropbox Business significantly has more tools and features as it has special consoles and protocols for multiple users.
4. Integrations
All users of Dropbox and Dropbox Business have access to hundreds of integrations. The only integration that is uniquely available to Dropbox Business users is that with Office 365. Dropbox Business users also have access to an open API for easy integration with unlimited numbers of third-party apps for security and productivity needs. If you have particular needs when it comes to boosting productivity, you can check out our curated list of workflow software.
For collaboration, Dropbox Paper is available to both Dropbox and Dropbox business users. Dropbox Business users just have an extra edge as they can have Dropbox Paper admin control.
For the unlimited API access that Dropbox Business allows its users, it's the overall better cloud storage app when it comes to integrations.
5. Customer Service
Dropbox and Dropbox Business both offer solid customer support. Customer support is an important factor because cloud storage apps carry private user data. Users need to have immediate access to customer support anytime a concern arises.
Paying Dropbox users have access to priority email and chat support. Dropbox Business users have more support options as priority chat and email support are available together with 24/7 phone support. However, 24/7 phone support is only available to Enterprise users. Customer support is not available to non-paying Dropbox users.
Dropbox Business is a better app for users that need urgent support 24/7.
Which is the best cloud storage app for you?
In our Dropbox vs Dropbox Business comparison article, we aim to help users in choosing which, between the two, is the best cloud storage app for them. By now, you probably already have a choice between Dropbox and Dropbox Business. But just so it's clearer on your end, please take note of the following:
Dropbox is the cheaper option. It even has a forever free version that is perfect for students and individuals with basic file needs.
Dropbox Business offers more storage for a price. If your business needs unlimited storage, Dropbox Business is the perfect fit for you.
Dropbox is best for photo editors as it provides specialized features for optimum ease at a cheaper price.
Dropbox Business is best for businesses that put prime in data security and file fidelity. It offers more options for data protection and allows for remote disk wipe in just a click.
Dropbox Business offers more integrations as it gives users unlimited access to an open API.
Dropbox Business offers better customer support. Its best for businesses with no dedicated IT department.
Your decision will ultimately depend on the kind of work and business that you do. If you're a student with no extra money to spare, Dropbox is perfect for you. If you're a freelancer with specialized needs for workflow automation, Dropbox is also perfect for you.
However, if you have a business that needs more than three employees to control files for smooth workflow operation, you should seriously consider Dropbox Business. It comes at a price but it offers way more advanced features and convenience for its users. You should be careful though because if you run a business and don't really need multiple people to have file access and control, Dropbox will still be the better option as it is more affordable. If money is not an issue, we highly recommend Dropbox Business.