Meetings and appointments are important aspects of every business. More importantly, every team member must manage their time wisely for a more efficient workflow. However, your preferred meeting time can coincide with your business partners' scheduled appointments. As a result, both of you will waste time sending messages and engaging in voice calls to decide on the appointment's time and date. This process has always been a challenge for people in the business world since it slows down your overall company procedures.
Fortunately, software developers continuously create and update appointment scheduling programs to manage your time efficiently. Two examples of these apps are Calendly and Acuity Scheduling. Both software tools are included in the list of top appointment scheduling platforms for 2020. You can compare appointment scheduling software reviews here to see how Calendly and Acuity fare among the best programs in the market.
Before the main Calendly vs Acuity Scheduling comparison, here is an overview of each program.
Calendly Overview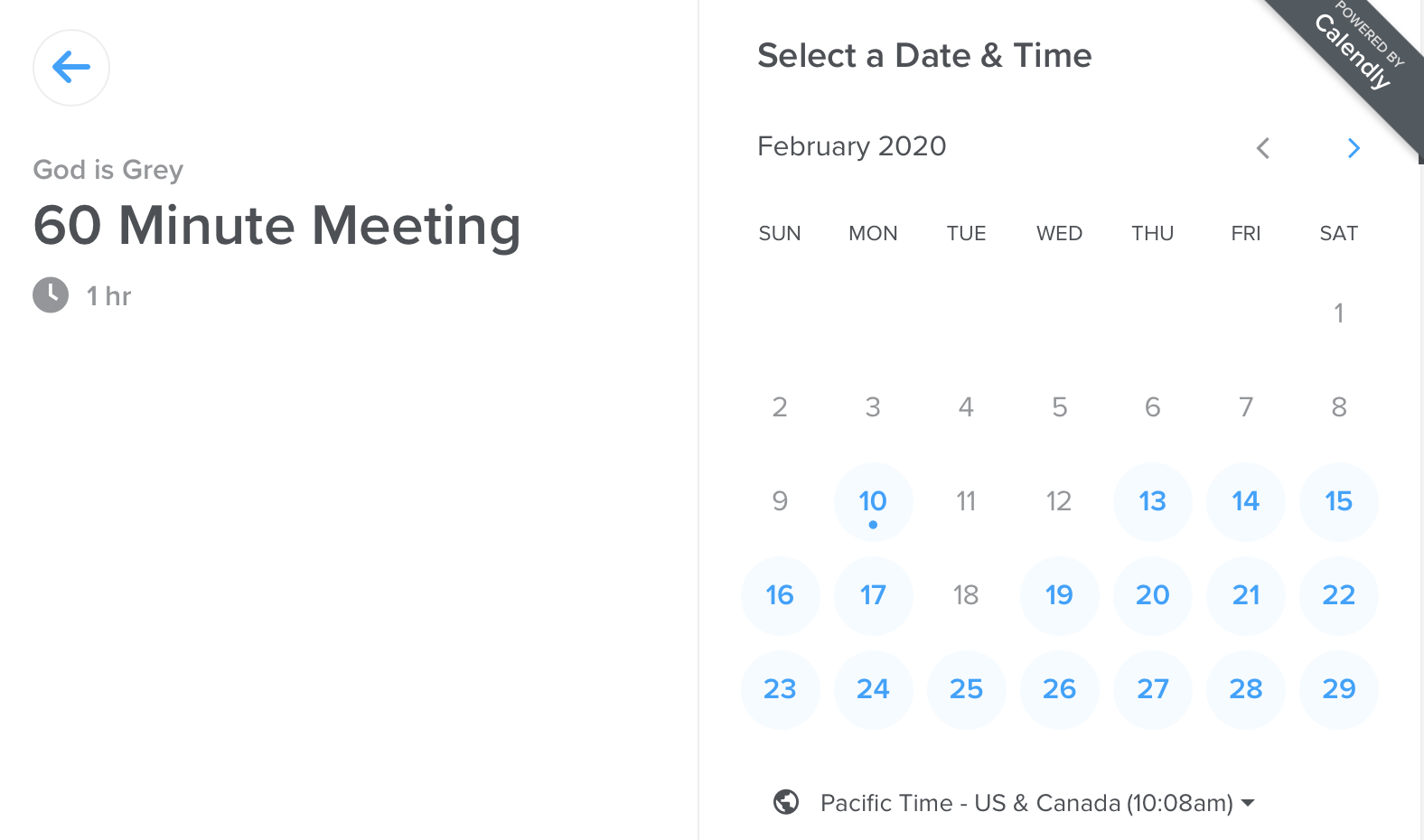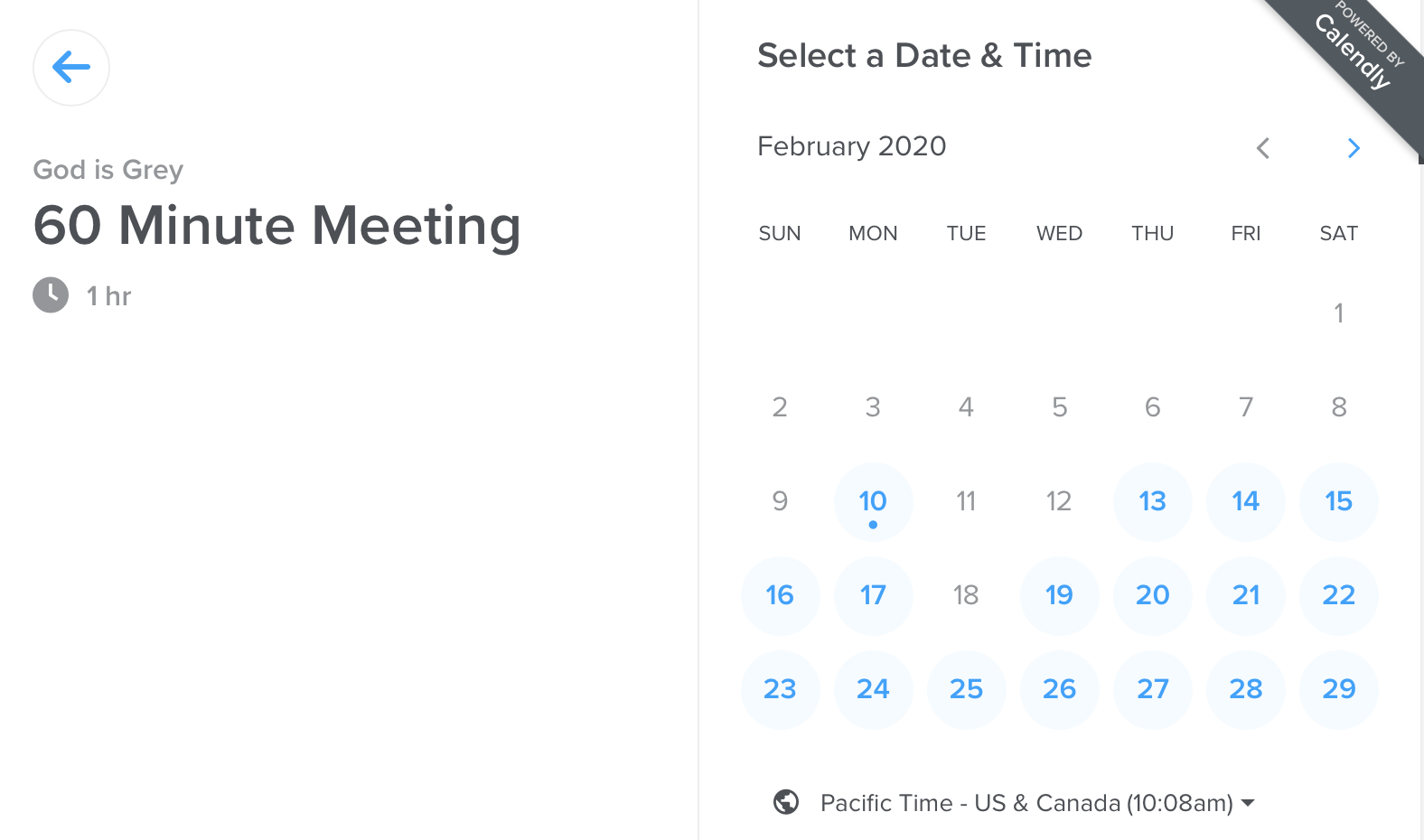 Calendly is an online appointment scheduler that can connect with a maximum of six calendars. This way, you can have different calendars, such as for personal and business use; and you will not have conflicting appointments. The software organizes your schedule automatically. It does not allow contradictory timetables. As a result, you can have systematized plans that you can send to partners and team members.
Moreover, the program does not send unnecessary emails regarding other people's plans. For fast scheduling, you don't need to send emails as notifications for your appointments. Thus, it organizes your schedule without disrupting your daily timetable.
What's more, Calendly integrates with Twenty Over Ten, a digital marketing platform for financial advisors. This way, the software acts more than a simple time scheduler.
Acuity Scheduling Overview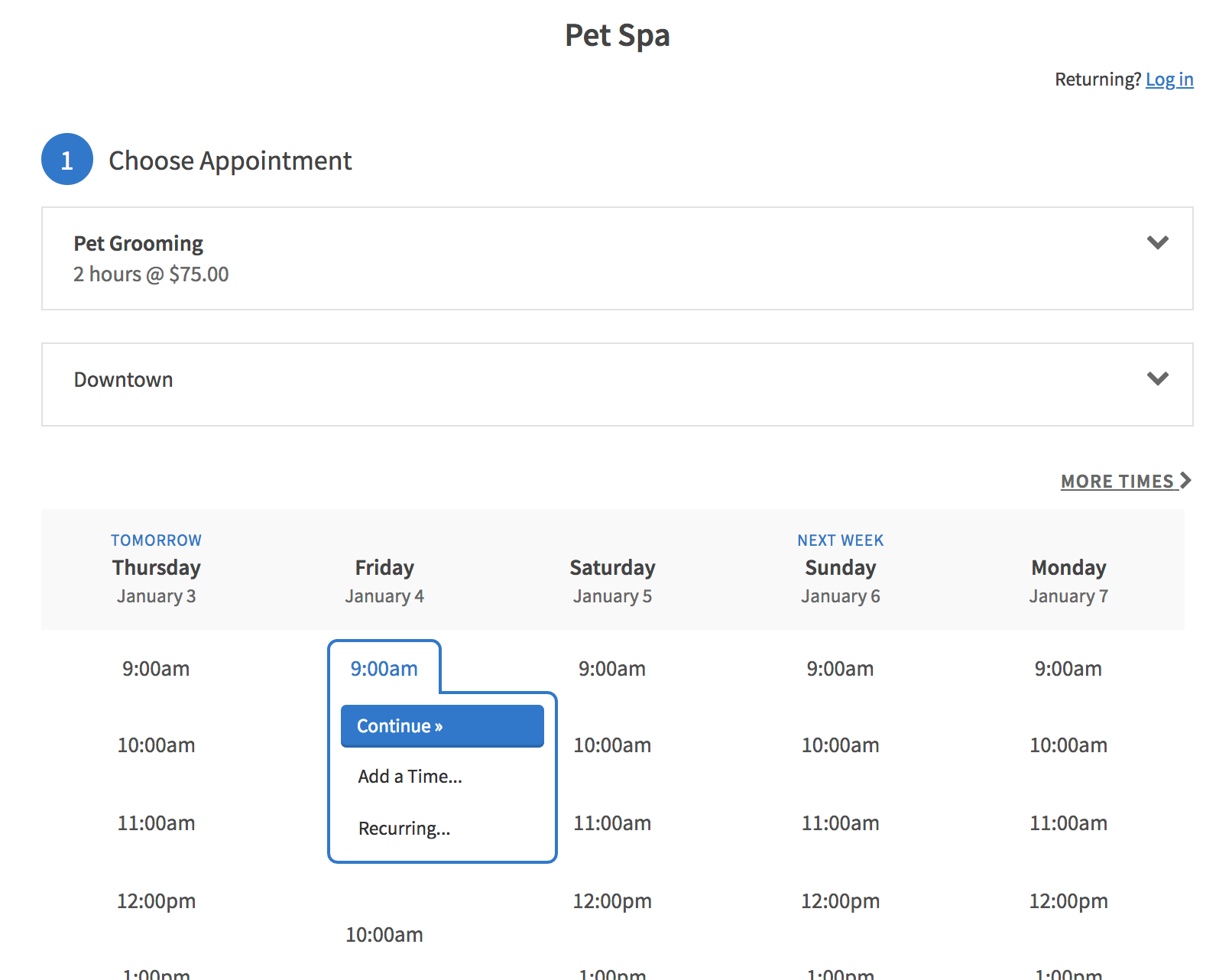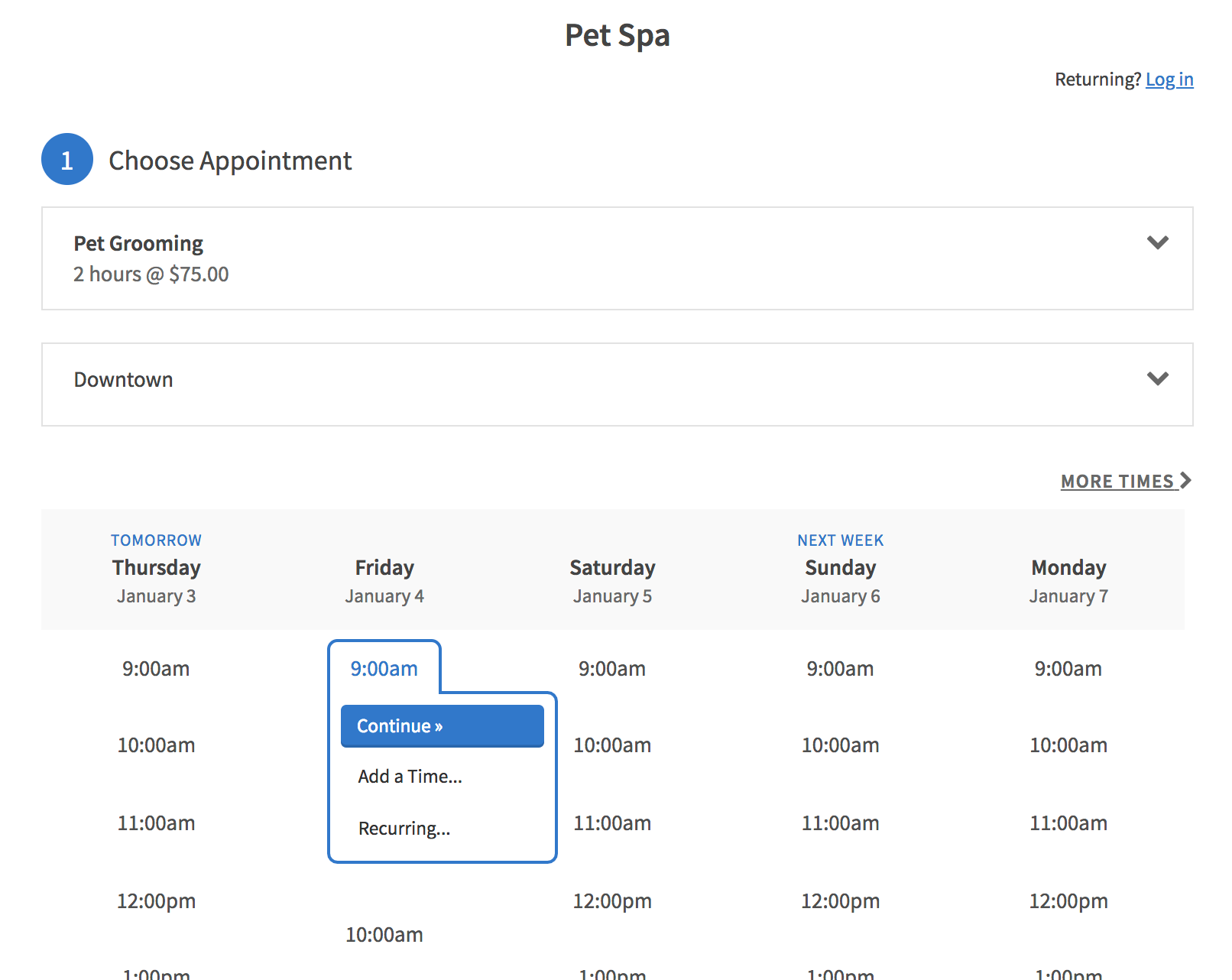 Alternatively, Acuity Scheduling operates like a personal assistant than an appointment scheduler. This program offers an extensive collection of business administration tools. This feature enables you to monitor reservations from customers and process payments. Hence, Acuity Scheduling works well for bigger companies.
Since you already have an introduction to both software solutions, it's time for the main Calendly vs Acuity Scheduling comparison. Both programs will be evaluated based on their shared functionalities, such as user-friendliness, customization tools, integrations, online guides, pricing plans, and calendar management.
Ease of Use
People use appointment scheduling apps to make their everyday lives easier. Thus, these programs must be user-friendly. Great apps don't require a hundred hours of training before you can use them. Fortunately, both Calendly and Acuity Scheduling are ideal for first-time users.
Calendly requires its users to have a basic knowledge of navigating online platforms. The program contains various windows that contribute to Calendly's intuitive interface. With the use of such tools, you can create reservations quickly and accurately.
Although Acuity Scheduling offers more complicated functionalities, it also provides an easy-to-use dashboard that allows even first-time users to input and manage bookings. What's more, Acuity developers fixed the default setting for the highly-technical aspects of the program. This way, you only need to change some settings to suit your preference.
Acuity also sends automatic notifications and messages to update you of upcoming appointments. Additionally, program developers provided built-in self-programming tools for reservations. However, you need to activate integrations like Google Calendar, iCloud, and MailChimp to fully utilize the program. It even connects with Eventbrite, which is one of the top event management platforms. You can read our event management software analysis here.
Calendar Management
A calendar is an integral part of every online scheduling system. With Calendly, you can connect up to six external calendars from different programs. Through this process, you can set meetings with various groups, such as colleagues, customers, and business partners.
Calendly provides a link that you can share with individuals outside your organization. The URL directs them to appointment details that you shared with the rest of your team members. This process gives a quick overview of the upcoming events.
On the other hand, Acuity Scheduling has more comprehensive tools for reservation and appointment management. With Acuity, you and your clients can view upcoming meetings in real-time. What's more, the app sends automatic reminders to update all involved members.
Acuity offers multi-platform availability, which means that you can access the app through any device with an internet connection. This way, you can review scheduled appointments quickly. For international meetings, Acuity shows each user's local date and time to align schedules with your time zone. In effect, there will be no confusion among meeting participants.
Customization Tools
Calendly provides a link that you can share with other participants. It's worth noting that this URL is only accessible by involved individuals. Calendly allows you to set user permissions. This process ensures that appointment information is safe from outsiders. Hence, only a limited number of people can access meeting-related details.
The program ensures that you have efficient meetings through specific rules. Calendly sets a maximum number of events per day and a time buffer before and after a meeting to guarantee that you have enough time to prepare for every session. Moreover, it prohibits last-minute meetings by regulating the minimum time in advance for every plan.
Alternatively, Acuity Scheduling does not allow link sharing. As a response to Calendly's URL sharing, Acuity shows the schedule of events to involved persons. You can view upcoming meetings through email platforms and other social media sites. What's more, Acuity provides a code that enables users to publish an updated calendar to their website or other social networks.
Like Calendly, Acuity also sets a buffer between meetings to ensure that you can prepare before each event. Besides, it has a fixed time in advance to prevent rushed conferences. Lastly, the program enables you to block available time frames to announce that you have other obligations.
Available Integrations
Calendly connects with top calendars, such as Google, Office 365, Outlook, and iCloud. What's more, you can integrate the app with Zapier, an online automation software solution. The Zapier integration ensures that you can connect with CRM apps like Wealthbox and RedTail. Calendly's Pro version also allows you to use Salesforce.
Additionally, the program can accept payments from PayPal and Stripe users. It also enables you to set meetings with the GoToMeeting app.
Similarly, Acuity integrates with video conferencing software solutions like Join.Me and GoToMeeting. Aside from these apps, it also works well with PayPal, Square, and Stripe. This way, you can accept payments through Acuity Scheduling. What's more, the app connects with mass email platforms, such as ConvertKit, MailChimp, and Aweber.
It is also compatible with most used calendars, such as Google and Outlook. The system even offers various extensions for specific business needs. You can also connect Acuity with the top time tracking apps. Here is a list of best time tracking programs for your company. As a result, you can customize your experience with Acuity Scheduling.
Online Support and Guides
Calendly employs customer service agents to assist you in technical and general queries. Their customer service works on a request system. Thus, you need to wait for assistance from their personnel. Calendly prioritizes Pro subscribers when it comes to online support. It also provides a user manual where you can read about the app's tools and their functions.
Acuity's main dashboard contains an explanation of each window's function. What's more, it provides links to helpful articles that can guide you in solving technical problems. You can also watch seminars or videos from the developer team if you do not want to read articles. If these options are not enough, you can also send a ticket to their customer service.
Pricing Plans
Calendly offers three plans; these are the Basic, Premium, and Pro versions. The Basic version does not require any payments from users. It provides one calendar template and integrations with calendar services. The Premium plan costs $8 per month, and it includes two calendar templates per user with integrations and support for group events. Lastly, you need to pay $12 per month to unlock Acuity's Pro version. With the Pro plan, you can use six calendars with SMS notifications.
On the other hand, Acuity has four plans, namely, Freebie, Emerging, Growing, and Powerhouse. As its name suggests, the Freebie version requires no fees, while the Emerging plan costs $15. This plan allows you to integrate payment processors and sync with external calendars. Moreover, Acuity's Growing version requires a monthly fee of $25. Finally, the Powerhouse plan costs $50 per month and offers 36 calendar templates.
Which Suits Your Business?
This Calendly vs Acuity Scheduling comparison article exposes how each program fare based on shared features. But, throughout the report, no software solution poses a considerable advantage over the other. It all comes down to your type of business.
If you are operating a start-up, Calendly is best for you. The app offers simple tools for efficient scheduling. You can also use the platform to contact potential clients through various integrations.
On the contrary, Acuity is ideal for medium to large companies since it offers more extensive tools than Calendly. It integrates well with online payment centers, which helps you collect fees from customers. What's more, the app manages your reservations and schedules to help you focus more on running your business.