Data drives today's businesses. One of the many great financial studies of the past decades showed that actual customer retention brings in more profit to businesses. This brought forth the knowledge that customer retention has a separate value from customer acquisition.
Acquiring a customer is the end game, but retaining a customer is an altogether different ball game. Both are extremely important and potent in keeping businesses thriving and afloat. Excelling businesses know these and have duly invested good money in maintaining a good relationship with their customers through CRM tools.
Customer Relationship Management is changing the way businesses compete against one another. To be solid, good business needs a good CRM tool. Microsoft Dynamics 365 and Zoho CRM are two of today's best CRM tools. This Microsoft Dynamics 365 vs Zoho CRM comparison article will evaluate the important differences between the two platforms. After reading this, you will be best equipped in deciding which is the better CRM tool for you and your business needs. For additional research on CRM tools, do read our article here.
Users on Microsoft Dynamics 365 and Zoho CRM
Microsoft Dynamics 365 and Zoho CRM have very loyal and supportive users. Users of Microsoft Dynamics 365 commend how the platform seamlessly offers stellar analytics and search functionalities. On the other hand, Zoho CRM users love how the platform is very easy to use and fully customizable.
About Microsoft Dynamics 365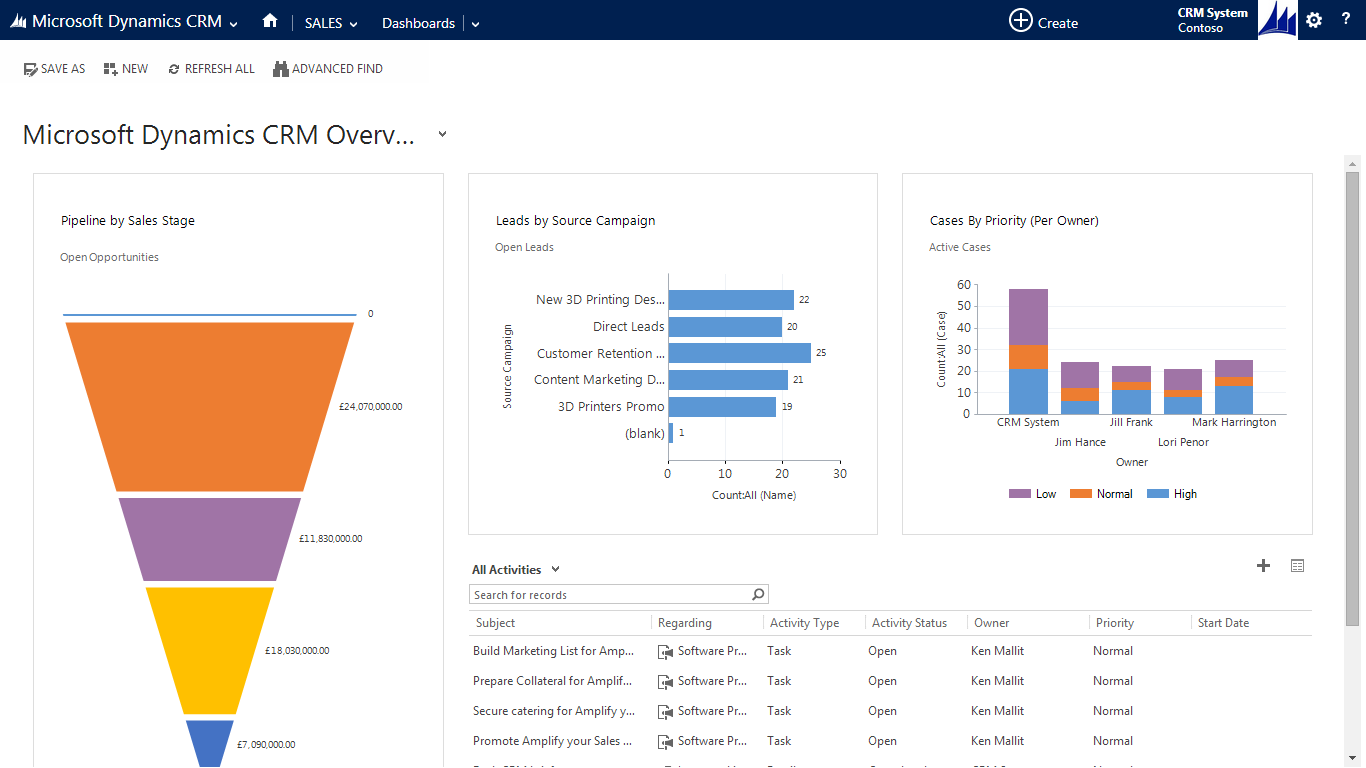 Microsoft Dynamics 365 was launched as a cloud-based customer relationship management and enterprise resource planning tool in 2016. It has advanced analytics at its very core. Its tools and features empower users to come up with speedy intelligent decisions backed by real-time data and insights.
Microsoft Dynamics 365 comes with eight separate applications for robust customer relationship management: Microsoft Dynamics 365 Marketing, Microsoft Dynamics 365 Sales, Microsoft Dynamics 365 Customer Service, Microsoft Dynamics 365 Field Service, Microsoft Dynamics 365 Finance, Microsoft Dynamics 365 Operations, Microsoft Dynamics 365 Commerce, and Microsoft Dynamics 365 Human Resources.
Its clients include BMW, Tesla, Volkswagen AG, Duke University, Johns Hopkins University, Visa, Northwestern Mutual, Unicef, Lenovo, Hitachi, Nokia, Prada, and more.
About Zoho CRM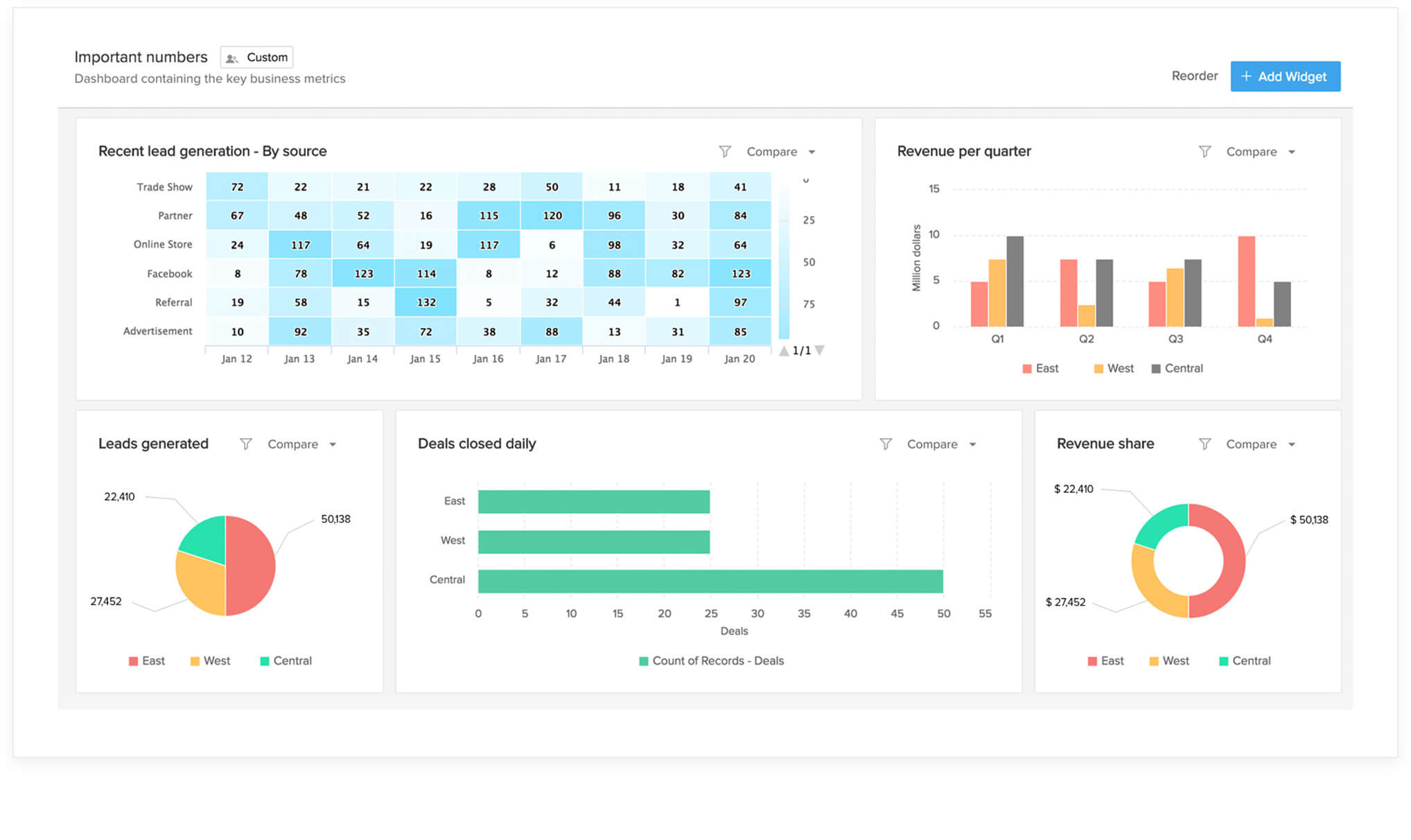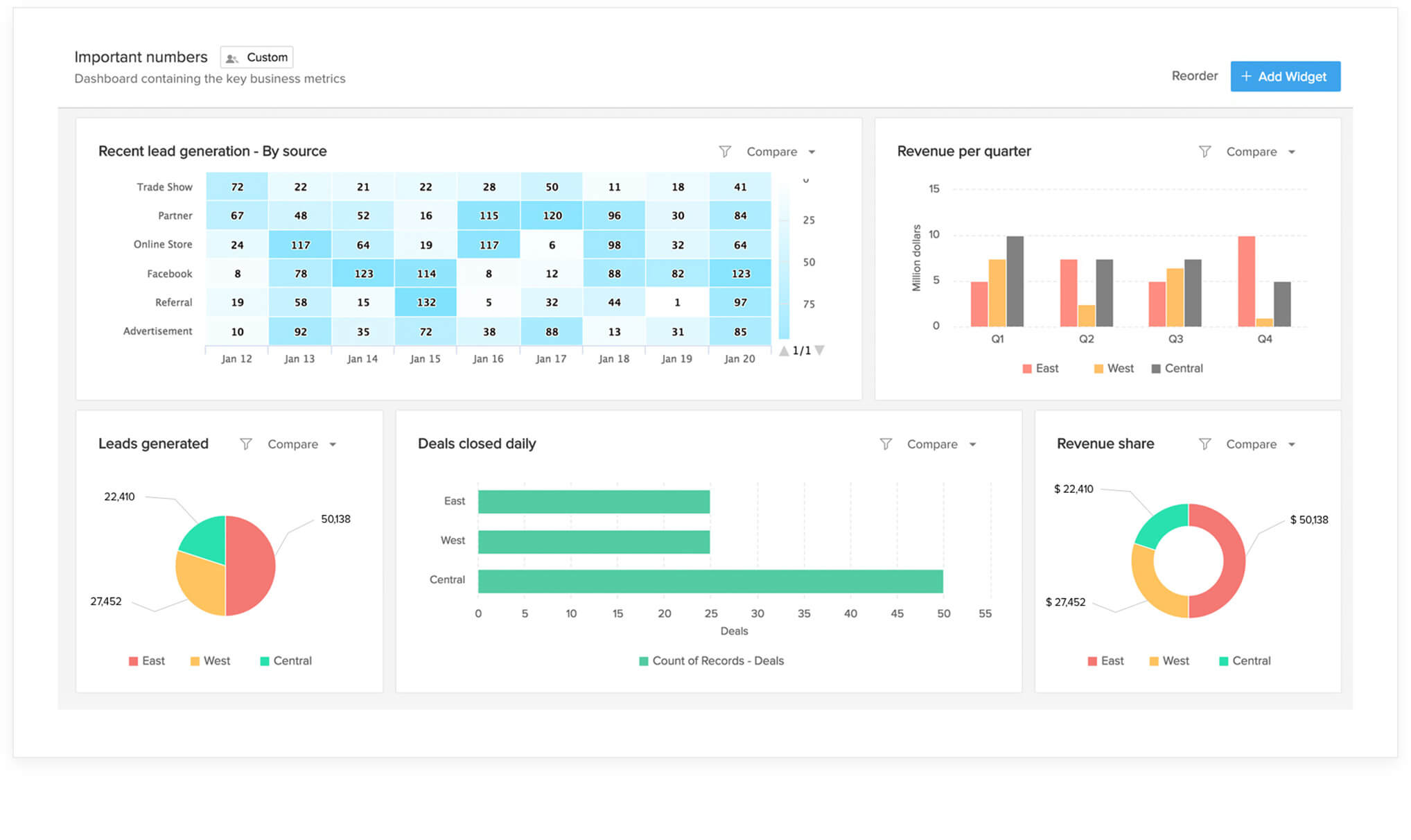 Zoho CRM has been providing customer relationship management tools since 2005. It is developed by an Indian company that caters to all CRM needs by providing prime IT tools and insights. Just like Microsoft Dynamics 365, Zoho tools are not limited to data intelligence, it also provides features for automation, collaboration, and marketing. Its clients include Netflix, Purolite, Abu Dhabi Aviation, Bose, Hotstar, CityDance, Mogl, Red Truck Beer, Logitek, Market Dojo, Sevilla University, Yorkshire Packaging Systems, Smartpay, Brita, Edugate, and more.
Points to Consider
This Microsoft Dynamics 365 vs Zoho CRM comparison article will simplify your decision-making process by providing the ultimate essential factors that you should consider when it comes to choosing a CRM tool for your business. You need not be overwhelmed as there are only five important points of comparison that you need to consider: pricing, ease of use, data intelligence, scalability, and customer support.
Pricing
Customer relationship management tools come at a price for they secure solid and stable business growth that can be predicted, manipulated, and boosted through advanced data analytics. Between the two platforms, Zoho CRM is the less expensive option.
As Microsoft Dynamics 365 is a Microsoft product, its pricing is greatly affected by your previous purchases of products from the same company. For customer insights, pricing goes for $1,000/tenant/month for users with previously installed Microsoft Dynamics 365 apps. For those with no previous purchase of Microsoft Dynamics 365 apps, tools for customer insights are available at $1,500/tenant/month. Insights on sales are separately priced at $50/user/month.
Zoho CRM is less expensive by leaps and bounds as its lowest-priced plan goes for $18/user/month. It offers four pricing plans: Standard, Professional, Enterprise, and Ultimate. It can also be used for free by businesses with no more than three users.
Ease of Use
Ease of Use is an important factor as data intelligence is a complex field in itself. Businesses need to ascertain that they're registered users will be fully able to utilize and exhaust all paid services.
Zoho CRM has a user-friendly design. Users with no previous technical knowledge will not find their tools confusing. On the other hand, Microsoft Dynamics 365 also has UI that is similar to all Microsoft products. Hence, it will significantly be easier to operate by users with previous experience in operating Microsoft software. Microsoft Dynamics 365 tools can be overwhelming at first. But upon mastery, optimum convenience can be achieved as its UI is uniform across all platforms – desktops, tablets, and smartphones.
When it comes to integrations, Microsoft Dynamics 365 can easily with products from the same developer as Excel, OneDrive, OneNote, and Microsoft Outlook. Zoho CRM can integrate with third-party apps like Zapier, Gmail, QuickBooks, and Docusign.
When it comes to deployment, only Microsoft can be deployed on-premise. Zoho CRM is an entirely cloud-based CRM tool.
Data Intelligence
Data intelligence features serve as the very heart of CRM tools. As both are considered as leaders in the industry when it comes to customer relationship management, you can be sure that they both offer stellar data intelligence tools that keep their clients coming back for more. To simplify the difference between the two, we are going to highlight their unique analytics features. Check this guide if you're looking to know more about different sales software tools that can help you in your business.
Microsoft Dynamics 365 is quite an enterprise-grade CRM tool as it offers separate customer insights on four different endpoints: sales, service, marketing, and social intelligence. Its users can be sure that they will have more access to a massive amount of insights regarding four separate business forefronts.
Zoho CRM primarily focuses on sales, marketing, and pipeline management. It has stellar pipeline management that can score more leads through deep analytics. Its marketing tools closely work with Google Ads. Zoho CRM has enterprise-grade tools when it comes to automation, it can even go toe-to-toe with the apps on our list of top marketing automation software.
Scalability
Having a clear vision of the trajectory of your business is of prime importance. You need to know just how much you're willing to grow and expand to enable yourself to choose the right customer relationship management tool.
Zoho CRM, for all its robust data intelligence tools, can only work well for businesses with 15 to 20 users. For users that are operating on a large scale and are looking to expand, Microsoft Dynamics 365 is the best fit as it can handle a large number of simultaneous users. It can even be operated on-premise, so big businesses can host and secure their own data.
Customer Support
As CRM tools cater to urgent real-time needs for intelligent business decisions, users need to know their back-up plan and course of action should unwanted circumstances and delays take place. A business decision is only as good as the data that backs it. Hence, you need to secure that your CRM tool concerns can always be attended to. Microsoft Dynamics 365 unquestionably wins in this category as it offers 24/7 support to its users. Zoho CRM also offers support but its limited to chat and email.
Which is the best CRM for you?
This Microsoft Dynamics 365 vs Zoho CRM comparison will be fully beneficial to you if you're going to take note of the following points:
Zoho CRM is best for users with:
A limited budget.
No previous technical knowledge when it comes to data analytics and information technology.
Preference for an entirely cloud-based CRM.
Limited data intelligence needs, particularly SMBs.
No need for 24/7 customer support.
Focus on sales and marketing analytics.
Microsoft Dynamics 365 us beat for users:
Who are willing to invest more than $1,000/month for data intelligence.
With experience in Microsoft UI.
That prefer an on-premise CRM.
With enterprise needs when it comes to CRM.
That need 24/7 customer support.
That want to gather more data intelligence on different business forefronts.
Good knowledge of where your business stands and a vision of where you want to take it, will help you in determining which between Microsoft Dynamics 365 and Zoho CRM is best for you.
If you run a small business, Zoho CRM should definitely be your choice as there is no need to spend thousands on data intelligence, when Zoho CRM can give just the same. However, if you intend to become a big player in the market, Microsoft Dynamics 365, with all its robust data intelligence tools, should be your choice.
Lastly, consider the kind of data that you need. There are data insights that are only available to Microsoft Dynamics 365 users. Spending a little will be a total waste if you'd avail of a less expensive alternative when you will have no use of their offered data insights in the first place.