Google Drive and Box are two of the popular cloud-storage solutions out there that provide not just a place to store your files but a platform to collaborate on projects as well. Both offer similar features and provide a generous amount of space, even for free users.
So, which is the better of the two? Let's deep dive and see how each fare in terms of features and value for money in this Box vs Google Drive comparison.
Google Drive Overview
Google Drive is one of the most popular cloud-based storage services that enables users to store documents, videos, music, photos, and more. Google Drive can sync data with a computer and any mobile device, allowing users to receive updates and reflect changes across their accounts and devices.
Once you set up a Google account, your Google Drive service is automatically activated with a 15GB free storage. For more storage space, you can upgrade their Google One account. Google One prices start at $1.99 a month or $19.99 a year, which will give you 100GB of storage space while a 2TB of storage costs $9.99 a month or $99.99 per year.
How does Google Drive work, and how do you use it?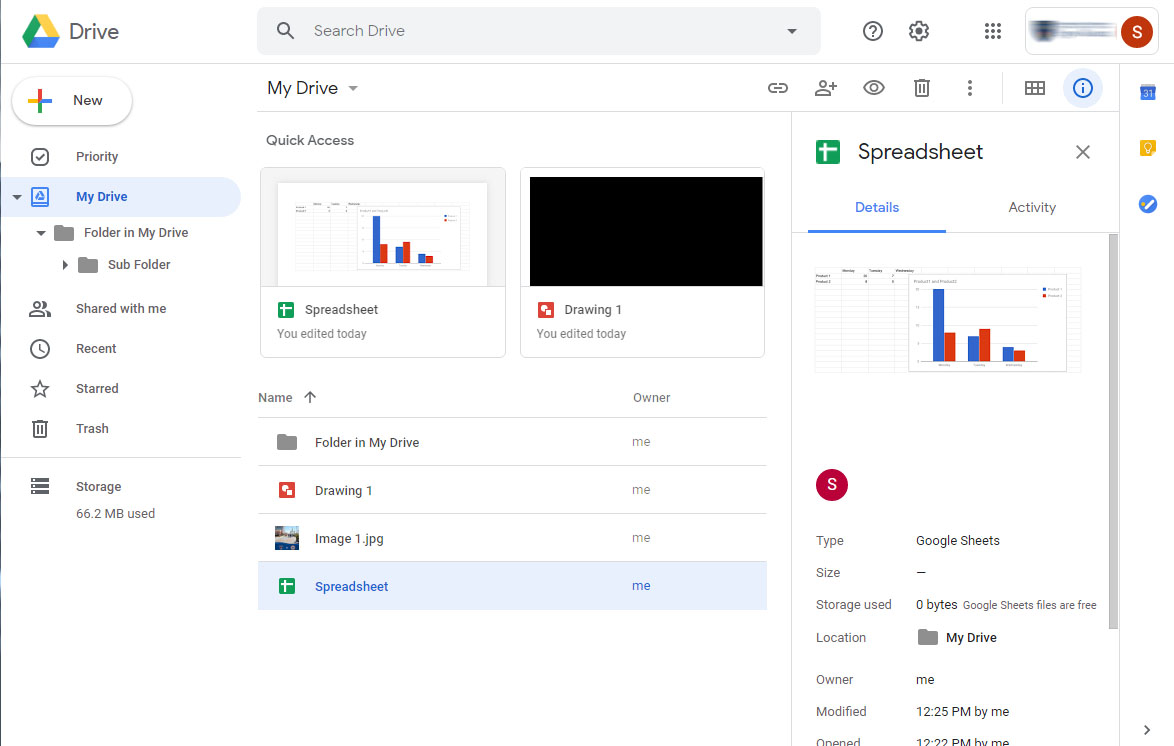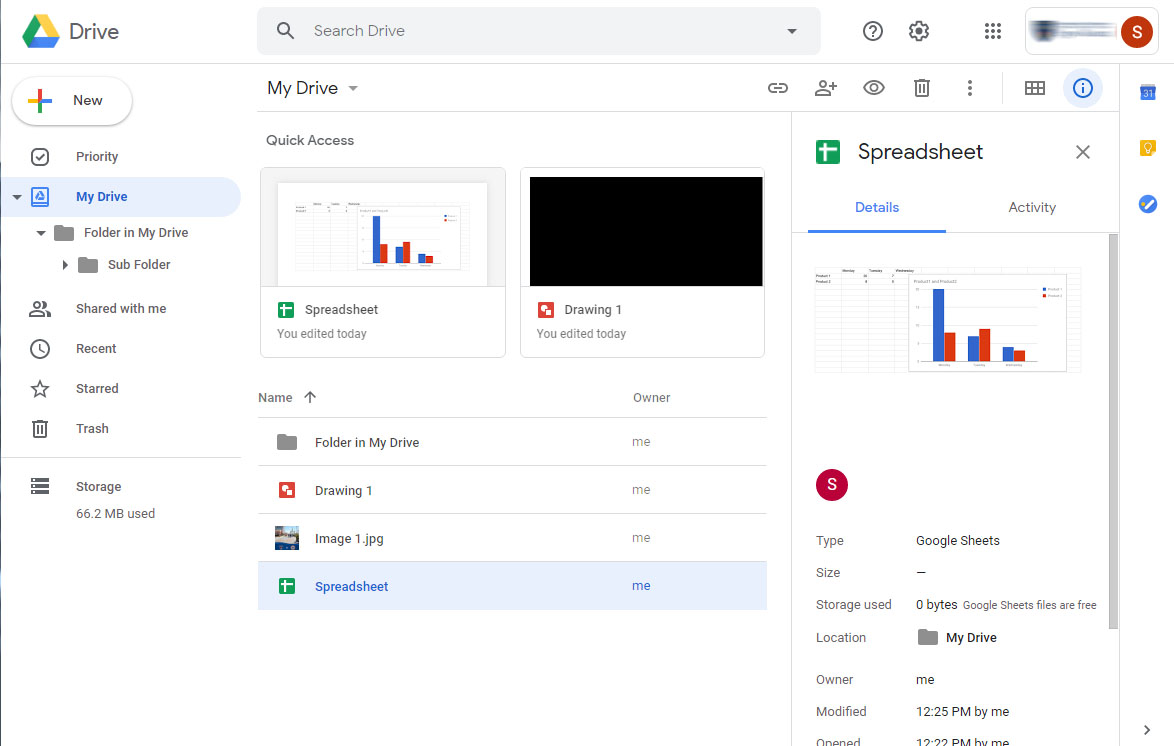 While Google Drive's main purpose is for file storage and syncing, you can also edit files right from the website. Users also have the option to install the Google Drive desktop client, which allows for continuous syncing of files to the cloud.
Setting up a Google account is the first step to using Google Drive and other Google applications, including Gmail, Google Docs, Google Sheets, and Google Slides. Just go to the Google homepage to begin the account set up. Click on the "Sign in" and then "Create account".
Enter your preferred user name and password. Click next and then verify your mobile phone number using the code that will be sent via text.
To access your Google Drive account, just go to the Google Drive website and log in. The Google Drive interface is simple and does not look intimidating with lots of white spaces. On the left side is where the menu is located where you can add a new folder or create a new file and access "My Drive" where all your files can be found, including your synced files. 
You will also find the "share with me" tab where you can see all the files that were shared with you by other users. Meanwhile, the central part of the interface is where you can browse and access your files.
If you need to locate a particular file, you can use the search bar located at the topmost part of the interface. When you click on a file or folder, several icons appear on the upper right of the interface to let you share, delete, or do other actions.
On Google Drive's right-hand side of the interface, you will find shortcuts to Google and third-party applications.
Box Overview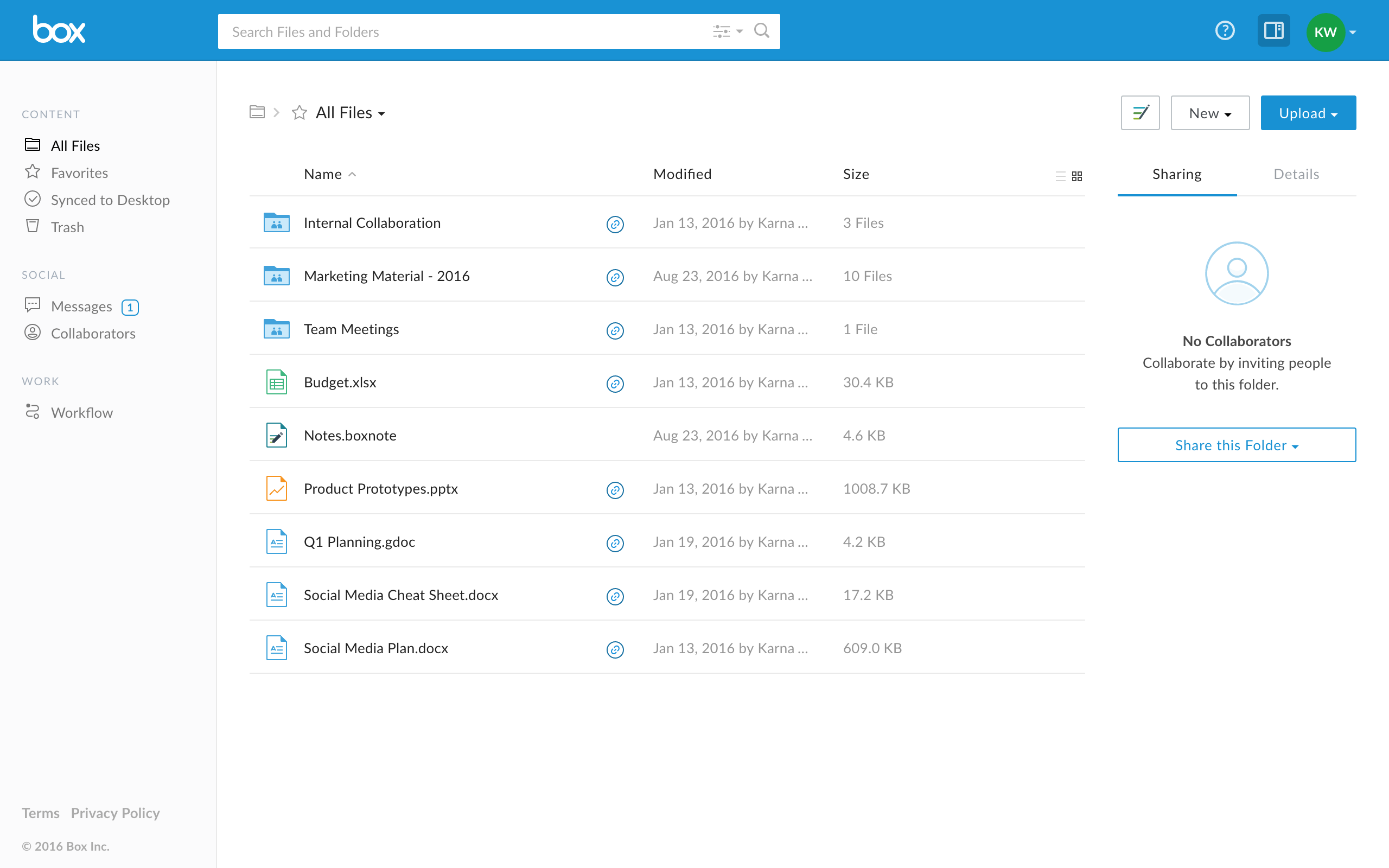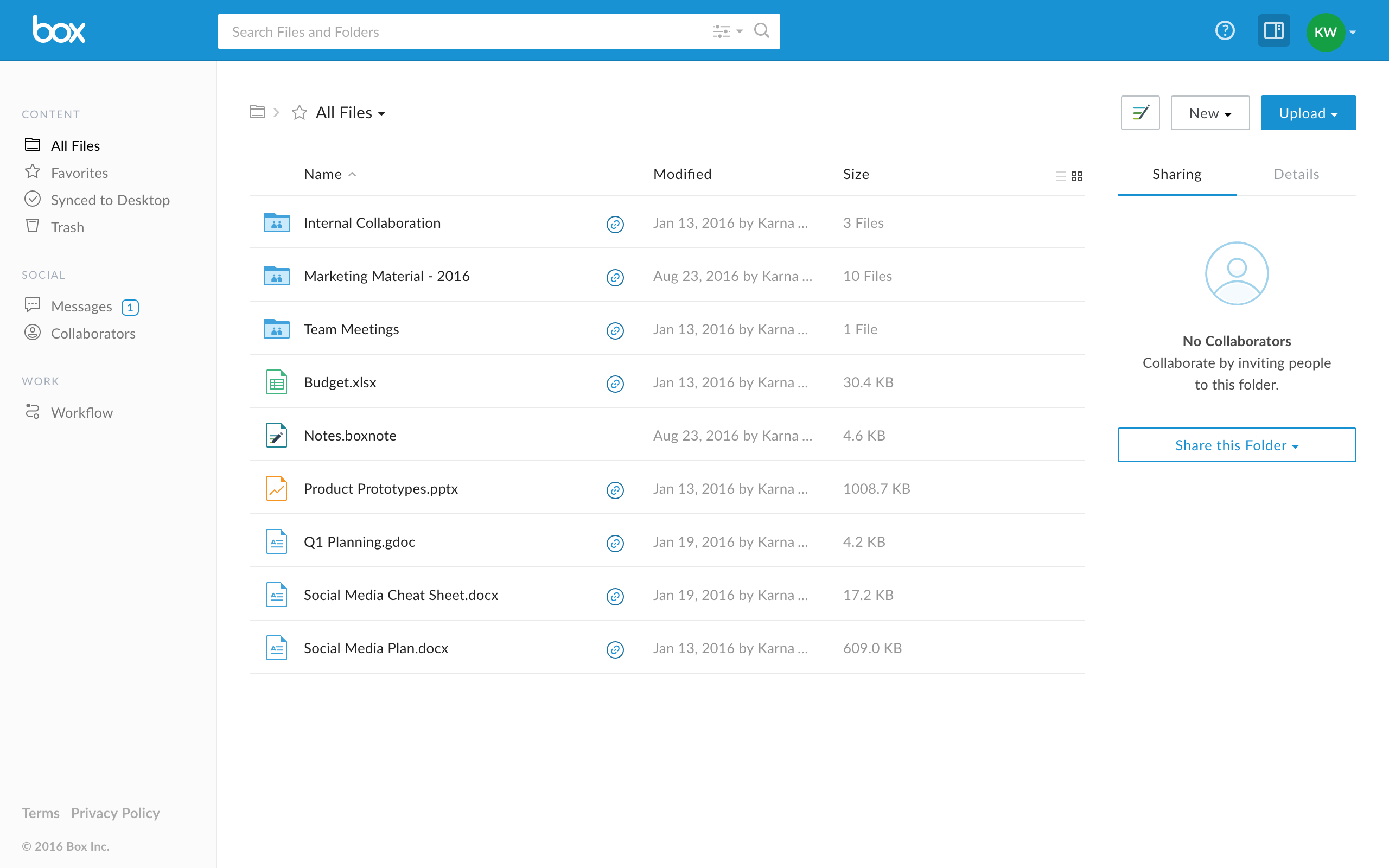 Box, like Google Drive, is a file syncing and cloud-storage service provider. You can use Box for free, and it already comes with 10GB of storage space. You are limited to 250MB of upload file size, though. So, if you usually work with large files, you may need to upgrade to a paid account which starts at $10 per month with a file upload limit of 5GB and 100GB of storage space.
Box offers a separate business plan which starts at $5 per user each month and comes with 100GB of storage and 2GB of single file upload limit. The most expensive business plan is the Enterprise plan, which costs $35 per user each month and comes with a 5GB single-file upload limit and unlimited storage space.
How does Box work, and how do you use it?
To create a Box free personal account, go to the Box homepage and select "Get Started," then click the "Individual Plans" tab and select the Free plan. Then create your login credentials and confirm the account through the email that will be sent to you. 
Box's interface is clean and has lots of white space. The blue, topmost part houses the search bar and other icons, including notifications, help, and task lists. Clicking on the main menu on the left-most side of the interface will reveal the All Files, Recents, Trash, Synced, among other options.
Clicking on the "New" button will show you several options to add a folder, bookmark, Box note, Box note from Template, or use any of the available Microsoft Office or Google apps. On the right-most part of the interface, you will find the "Upload" button to let you upload a file or an entire folder.
The central part of the Box interface is where you can view and open your file or folder. By highlighting the file or folder, you can access sharing, downloading, deleting, moving or copying, and other options. To check the amount of storage you have used, you need to select the "Account Settings." Box for mobile devices is also available to download on the App Store or Google Play.
If you want a more extensive look into applications that you can use for creating and managing files, you can compare file management software here.
Comparison of Features
After learning more about each product, let's dive into Box vs Google Drive comparison of features.
Office apps
One of the useful applications you can access through Google Drive is Google Docs, which is G Suite's word processing app. Google Docs offers features to help teams collaborate by simply sharing a file to grant access and allow other users to edit and leave comments or edit suggestions.
On the other hand, Google Sheets is a spreadsheet application that will let you create sheets and charts. Other apps from the G Suite are Google Slides, Google Forms, and Google Drawings.
Meanwhile, from the Box interface, you can create a document using either Word or Google Docs, presentations using PowerPoint or Google Slides, or a spreadsheet using Excel or Google Sheets. This is one advantage that Box has over Google Drive as it gives the best of both worlds when it comes to creating documents, sheets, and slide show presentations.
For more about document management applications, read this.
Note-taking
From the Google Drive interface, you can launch Google Keep, which lets you create memos and task lists. Other features of Google Keep include voice-to-text, voice recording, and alarm-clock notifications. 
You are, however, limited to 20,000 characters per note. But one good thing about Google Keep is that you can create an unlimited number of notes, and they will not count against your storage allocation. In comparison, Box Note's limit is 50,000 characters and 200 pages.
Box note allows up to 20 people to collaborate and edit a note at the same time. Notes created from Box Note can be shared through email or by creating a link. The application also creates a version of the note every 30 seconds.
Third-party applications
Apart from G Suite apps, Google Drive offers a library of third-party apps accessible to users by clicking on the "Connect more apps" from the add "New" button. The G Suite Marketplace will launch showing all the available applications, or you can look for the application you want to install from the search box. 
You can also choose from several categories, including Business Tools, Productivity, Education, Communication, Utilities, or based on what works with G Suite apps.
As for Box, you can search and download third-party apps by clicking on the "apps" from the user profile menu found on the right side of the interface. The marketplace, by default, lists the apps based on popularity and what is new. You may, however, select by looking from the search box or based on the platform, function, or cost.
Synchronization
Both Google Drive and Box allow users to sync their files across their devices by installing a dedicated desktop client and connecting the folder with the cloud-account. All files created from the folder or moved to the connected folder will automatically be uploaded to the cloud. Google Drive has a sync cap per day of 750GB, while Box supports up to 100,000 files and 100GB.
Collaboration
Both Google Drive and Box provide users with the ability to collaborate through file and folder sharing. Sharing can be done by creating an invite that will be sent through email or by creating a shareable link. 
Google Drive will allow you to set permissions: anyone with the link (can either view or edit), and restricted (only people added can open with the link). Likewise, Box lets users share files using email invites or shared links. However, Box enables you to add security settings such as password protection, link expiration, and allow download.
Check out our document controller software analysis for an in-depth look into applications that facilitate compliance to document security and quality.
Google Drive vs. Box Comparison 2020: Verdict
By the end of this Box vs Google Drive comparison, you should already have an idea on which tool suits your needs better. Google Drive and Box provide their users with some of the essential features of a cloud-storage service. Box adds a layer of security when it comes to file-sharing, which is an important element to consider when collaborating using business documents.
However, Google Drive's note-taking app provides more features that work well for users that are always on the go. While Google Drive provides a generous amount of storage space for free users, that amount of space is shared with Gmail. You need to constantly keep your Gmail account lean to ensure that you have enough storage space for other files in your Google Drive.
Google Drive is best for those who have grown accustomed to G Suite apps and are rather content with using few but essential tools for their everyday use.
Box does come with lots of tools for businesses; however, a casual user can feel overwhelmed by these additional features. Box is highly recommended for teams collaborating on a project and businesses that need secure storage for all their documents.