Payroll is a taxing task that takes so much time. It's meticulous, particular, and works tightly with a scheduled deadline. Much of your HR personnel's working hours get eaten up by the daily, weekly, and monthly organization of payroll data.
It's a good thing that users now have the option to use payroll software. This solution significantly improves productivity by automating tasks. Intuit Payroll and ADP Workforce Now are two of today's leading payroll software.
This Intuit Payroll vs ADP Workforce Now comparison article will help users decide which among the two is the best payroll software for their business.
Intuit Payroll and ADP Workforce Now: User Feedback
Intuit Payroll and ADP Workforce Now have numerous clients that attest to each platform's remarkable payroll tools and features. Intuit Payroll users commend how the app is so user-friendly and time-saving. This is despite the fact that Intuit Payroll has accounting programs at its core and can seem very intimidating at first. ADP Workforce Now users laud how they have more options for customization and customer support. ADP Workforce Now users enjoy periodical training and webinars.
About Intuit Payroll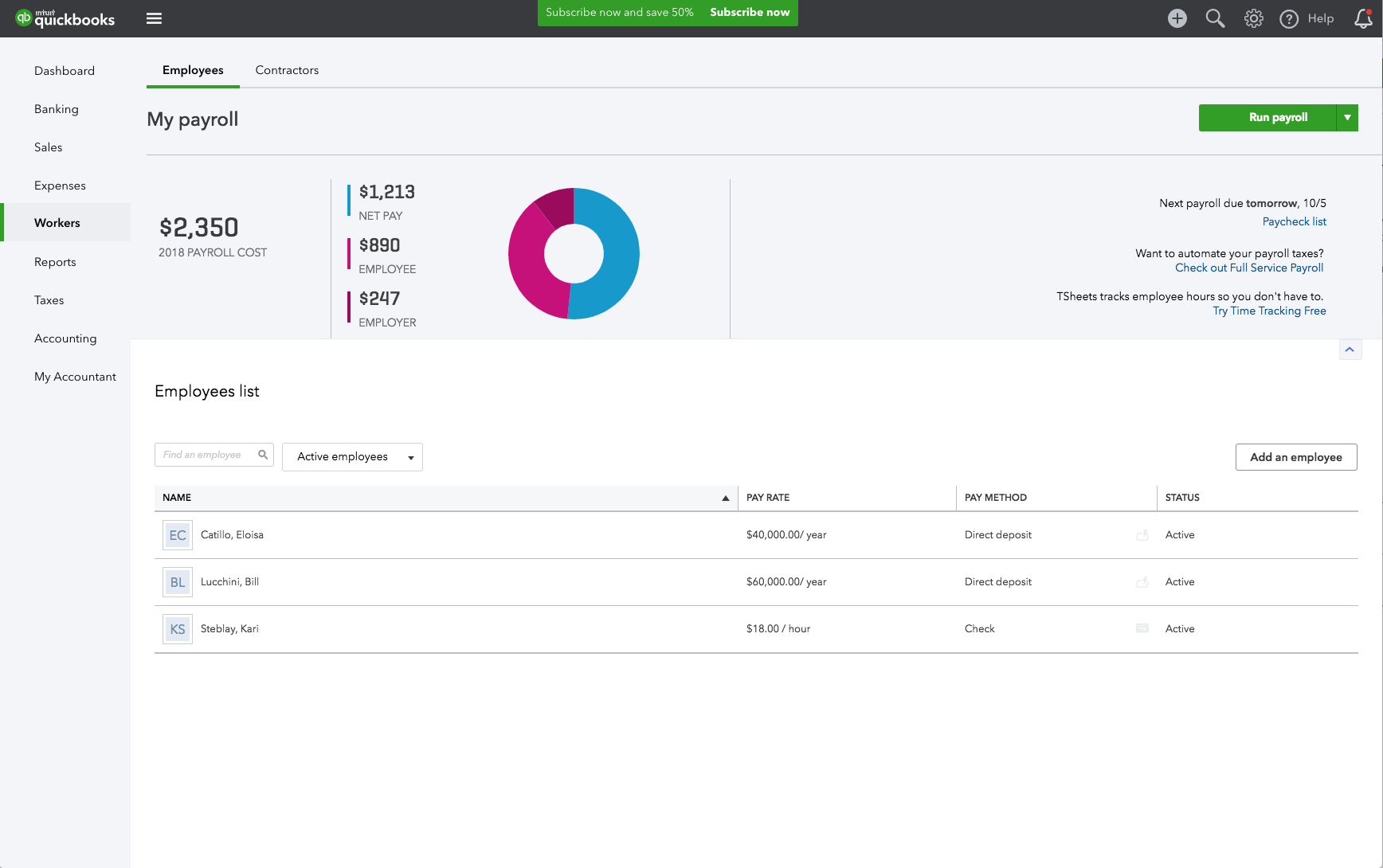 Intuit Payroll is a cloud-based payroll software that was initially introduced as an in-house payroll tool for QuickBooks Pro. Its developer, Intuit Inc., has been providing financial software since 1983. It was engineered with deep accounting principles and programs for an organized, efficient, and automated payroll system. Apart from payroll tools, Intuit Payroll can also take on compliance tasks.
Pro – Integrates seamlessly with all QuickBooks tools.
Con – Limited integrations.
About ADP Workforce Now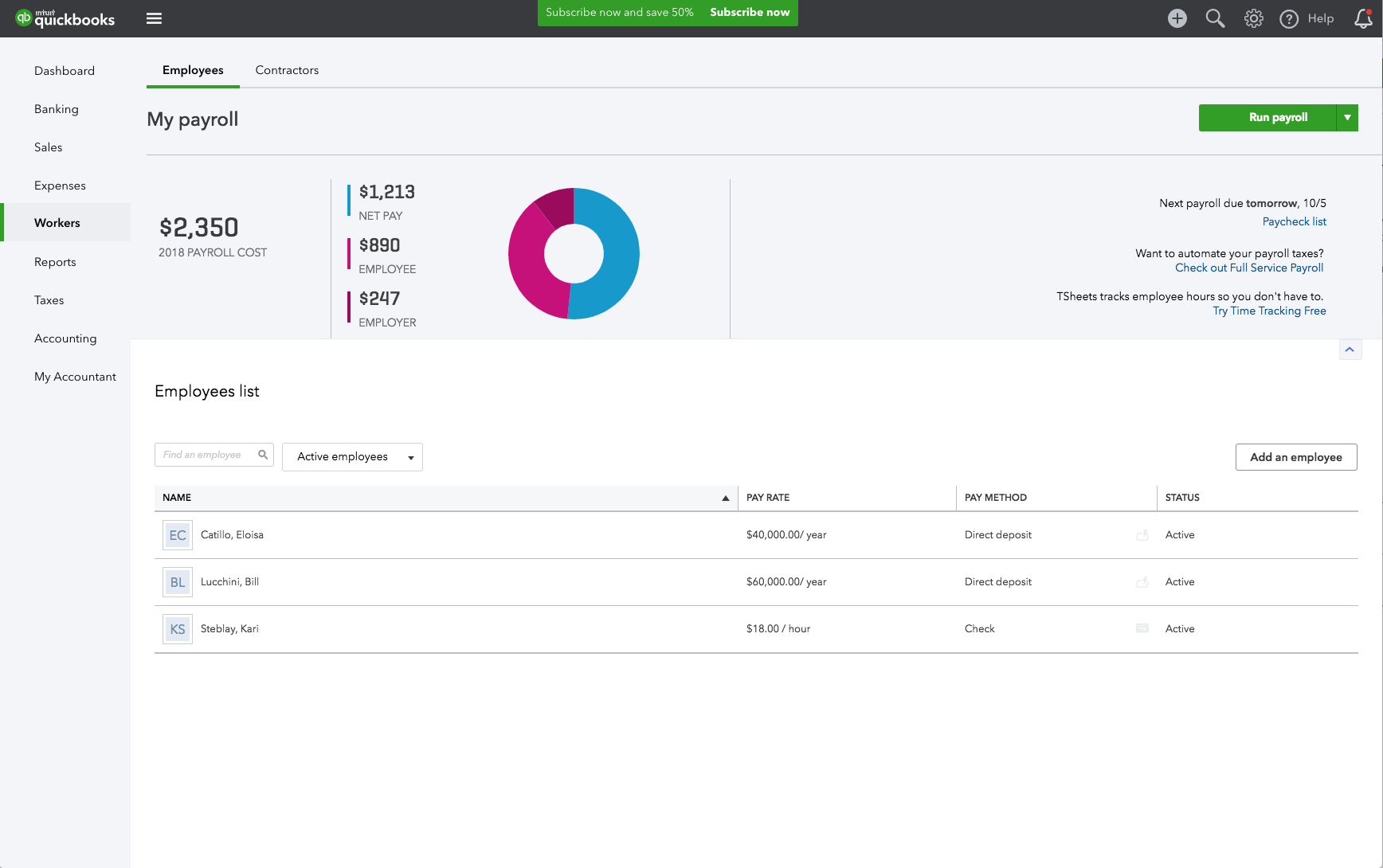 ADP Workforce Now is also a cloud-based payroll software that offers a holistic approach when it comes to human resource management. Its developer is ADP Inc., a top American company that has been in the business of providing tools for human resource management and administration since 1949. Apart from standard payroll tools, ADP Workforce Now also offers features for employee onboarding and the tracking of employee-employer relationship. Tools for employee discounts and monitoring of employees' overall wellness are provided.
Pro – Can be integrated with an unlimited number of third-party apps from different developers.
Con – Pricing is not available for the public. Interested users should have to reach out to the vendor to request a quote.
Points of Comparison
Choosing between the two payroll software shouldn't be hard as you just need to consider a few points. To make it easy for you, this Intuit Payroll vs ADP Workforce Now comparison article will zone in on the four essential points of difference between the two: ease of use, payroll tools, integrations, and customer support.
1. Ease of Use
What use is a payroll software if HR managers can't fully utilize its tools and features? Ease of use is an essential factor as it serves as the very foundation of automation. It is the automation set-up that makes payroll software work for the benefit of all. And users need to find ease in doing it. Both are easy to use but for different users.
Intuit Payroll will be very easy to use for HR managers who already have experience with QuickBooks tools. As it incorporates accounting principles and mechanisms, accountants and bookkeepers will have an easy time exploring and utilizing the platform. As it has an intuitive design, individuals with no technical experience will also find it user-friendly.
ADP Workforce Now will work well with HR managers that have no accounting or bookkeeping experience as its mechanism and programming do not strongly employ such principles. It will be easy to explore for people who are not used to QuickBooks interface and design. Those with no technical experience can find it tricky to use its tools and features at first. However, training and video tutorials are provided to make for a smooth and streamlined workflow experience.
2. Payroll Tools
An Intuit Payroll vs ADP Workforce Now comparison when it comes to tools and features is simple as the two ultimately differ when it comes to offered features to users. Choosing between the two will ultimately depend on what tools and features are prioritized by a user.
Intuit Payroll features for standard payroll includes full-service payroll with automation, next-day direct deposit, tax calculation, and analytics. Its outstanding feature is its tax penalty protection tool that ensures no hassles and complications when it comes to tax management.
ADP Workforce Now offers features for direct deposit, ledger management, tax filing, and new-hire reporting with its standard tools for payroll. Its notable features are its tools for onboarding, background check, and unemployment insurance. ADP Workforce Now users also have access to an exclusive library that stores all federal and state forms and labor resources. Our article on top accounts payable software will give you a better outlook when it comes to important payroll features so do check it out if you're interested in further research.
3. Integrations
When it comes to integration, Intuit Payroll can fully integrate will all QuickBooks products.
On the other hand, ADP Workforce Now can integrate with any third-party app from different developers as it has an open API. It also has built-in integration tools with Iconixx, Cronforce, iCIMS, Jobvite, and Performance Pro.
Intuit Payroll is the perfect companion payroll software for businesses that already use QuickBooks in their operations. ADP Workforce Now is best for users that integrate their workflow with non-QuickBooks products. It can handle more than outsourced accounting tools and integrations. Do check out our accounts receivable software research if you're interested in reading on current trends and tools for a more streamlined payroll workflow.
4. Customer Support
Support is an important factor when it comes to choosing your payroll software because you need to make sure that all issues and concerns that your business may encounter can be tended to in an instant.
Both platforms provide customer support in differing degrees. Intuit Payroll offers support via phone and chat while ADP Workforce Now offers support via phone, live chat, and ticketing.
Intuit Payroll offers 24/7 live support to users of its highest-paid plan.
A Note on Pricing
This Intuit Payroll vs ADP Workforce Now comparison article will not delve into pricing as no quantified evaluation can be had. Per offered plans, ADP Workforce Now has four service packages while Intuit Payroll has three. ADP Workforce Now is priced by quote so no meaningful comparison can be had between the two. It is worthy of note though that Intuit Payroll's lowest-priced plan goes for $22.50/month with an additional $4 for every registered employee per month.
So, if you avail of its most affordable plan and you have 10 employees, your monthly fee can go for $62.50 per month. Both Intuit Payroll and ADP Workforce Now offer free 30-day trials. If you want a feel of how average pricing goes for payroll software, do check out our curated list of small business accounting software.
What is the best payroll software for you?
To fully make choosing between Intuit Payroll and ADP Workforce Now easy for you, please take note of the following points:
Intuit Payroll is best for you if you:
Want a payroll software that is user-friendly. QuickBooks has a far advanced experience when it comes to software interface design and it manifested well with Intuit Payroll.
Currently utilize QuickBooks products in your workflow.
Prefer a workflow that is fully powered and supported by QuickBooks.
Need 24/7 support for your business.
Have experience when it comes to bookkeeping and accounting.
ADP Workforce Now is best for you if you:
Want a payroll software that can also take care of onboarding tasks.
Current workflow incorporates numerous software from different third-party apps.
Prefer a payroll software that also has programs for employee care like employee discounts and newsletters.
Prioritize pricing that is not based on the number of employees.
Have no previous experience with accounting and bookkeeping.
For an easier choice, ask yourself the following questions:
How much am I willing to spend?
What payroll tools do I prefer and prioritize?
Do I need integrations in my workflow?
How much customer support will I require?
Make an honest inventory of how you manage your human resource. Review your personnel, their skills, and their experiences. If your HR managers have an accounting or bookkeeping background, Intuit Payroll will be best for them. But if your HR managers have no accounting background and will operate well in a workflow with no distinct accounting mechanisms, ADP Workforce Now should be your choice.
Ultimately, ADP Workforce Now is the better payroll software because it offers a holistic approach when it comes to managing payroll. Apart from time tracking and tax management, it has tools for onboarding, newsletters, and employee discounts. It can even do background checks. It is definitely the payroll software of choice if you want to go do more than just payroll. If you want to promote a good employer-employee relationship, ADP Workforce Now will work wonders for you and your business.
However, if you already use QuickBooks tools in your workflow, Intuit Payroll will still be the best tool for you. As it seamlessly works with all QuickBooks products, you will encounter no extra hassle or delay.