Critical to every PC protection is good antivirus software. Without any protection from antivirus software, you run the risk of falling victim to cyber-attacks and identity theft.  
Among the myriad of antivirus software out there, Sophos and Kaspersky Lab are two of the better-known applications vying for consumer approval. But which one is better? Let's find out.
Sophos vs Kaspersky Lab Comparison 2020: Overview
Overview of Sophos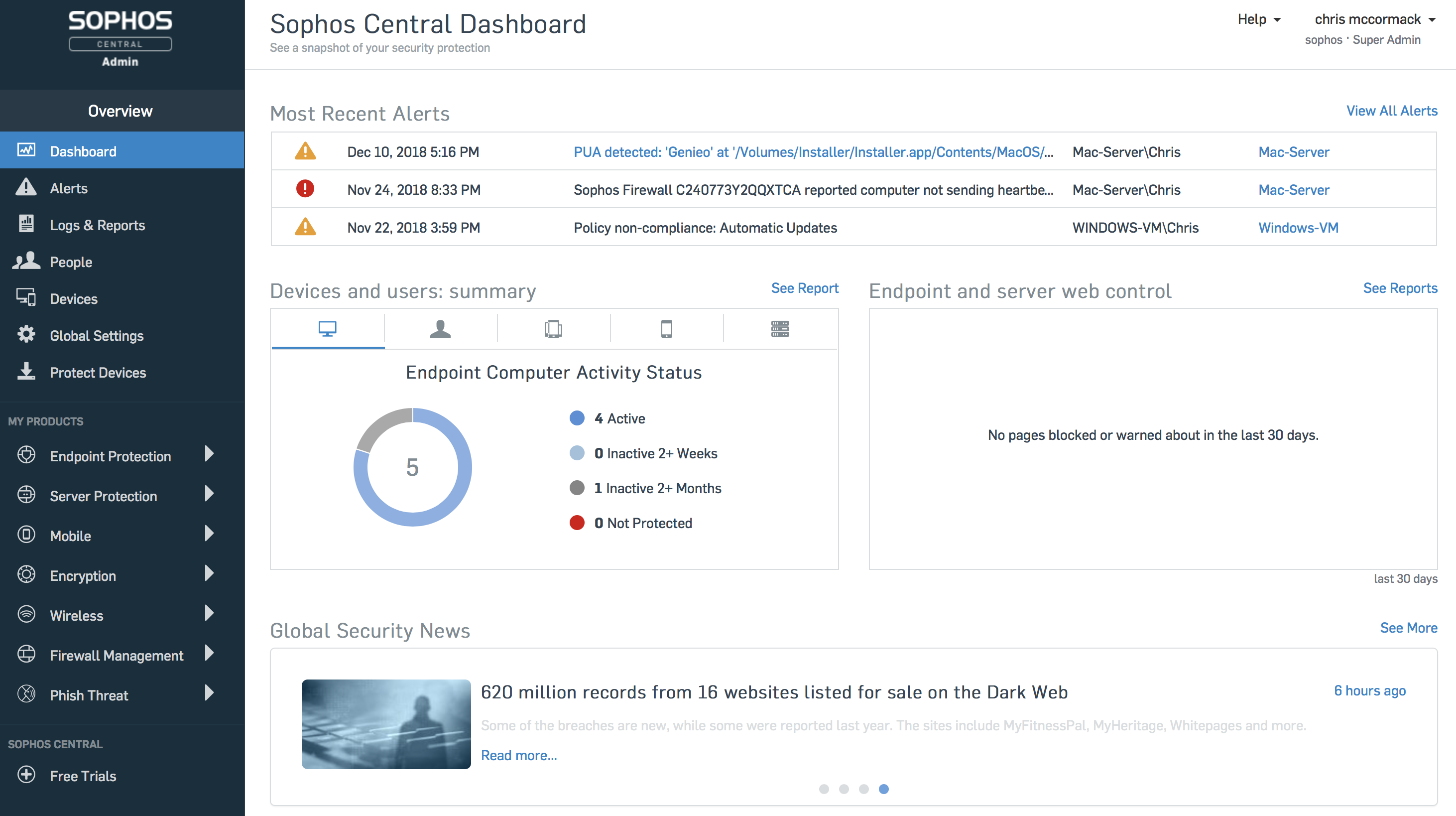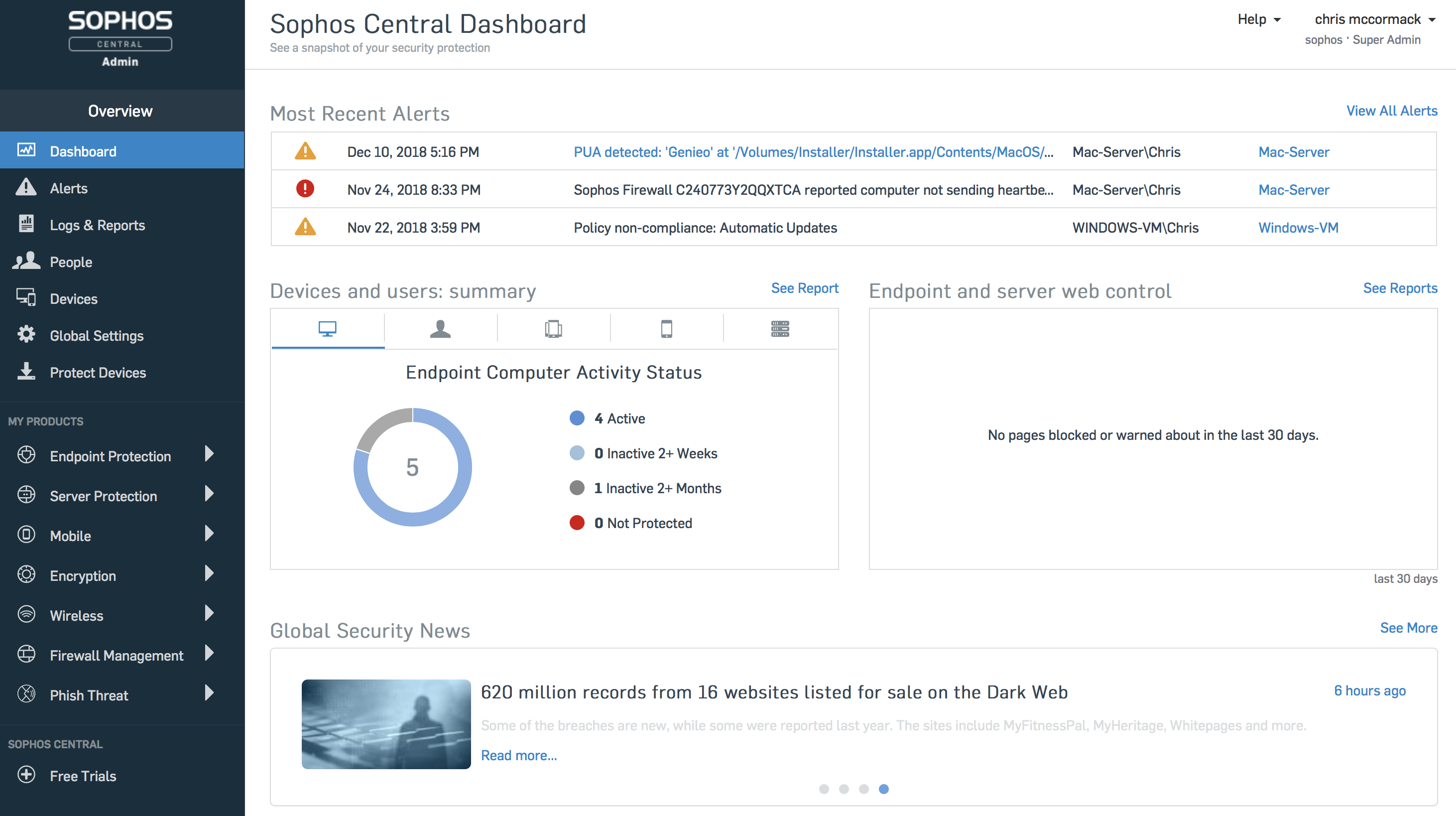 Sophos has been among the most recognized antivirus solutions for businesses and has now made it business-grade security solutions available to PCs and Macs: Sophos Home. 
Sophos Home offers advance and real-time protection from ransomware, hacking, and malicious software. Sophos Home is available in free and premium versions. Sophos Home Free already comes with the always-on antivirus that protects your system from viruses, malware, worms, bots, Trojans, and potentially unwanted apps, and ransomware.
The free version also provides remote management — secure your PC and Mac in any location using a web interface — and parental web filtering protection — control content children can view online. The Sophos Home Free is good for up to three devices. 
Sophos Home Premium has all the basic features that the free version offers. Its advanced real-time threat protection shields your system against new and developing malware, virus, PUAs, and program exploits. It protects up to 10 devices.
Moreover, the premium account protects your banking and credit card information, blocks attempts to access your webcam and keystrokes, protects your user login credentials, and removes traces of malware, spyware, virus, and other forms of infections.
Overview of Kaspersky Lab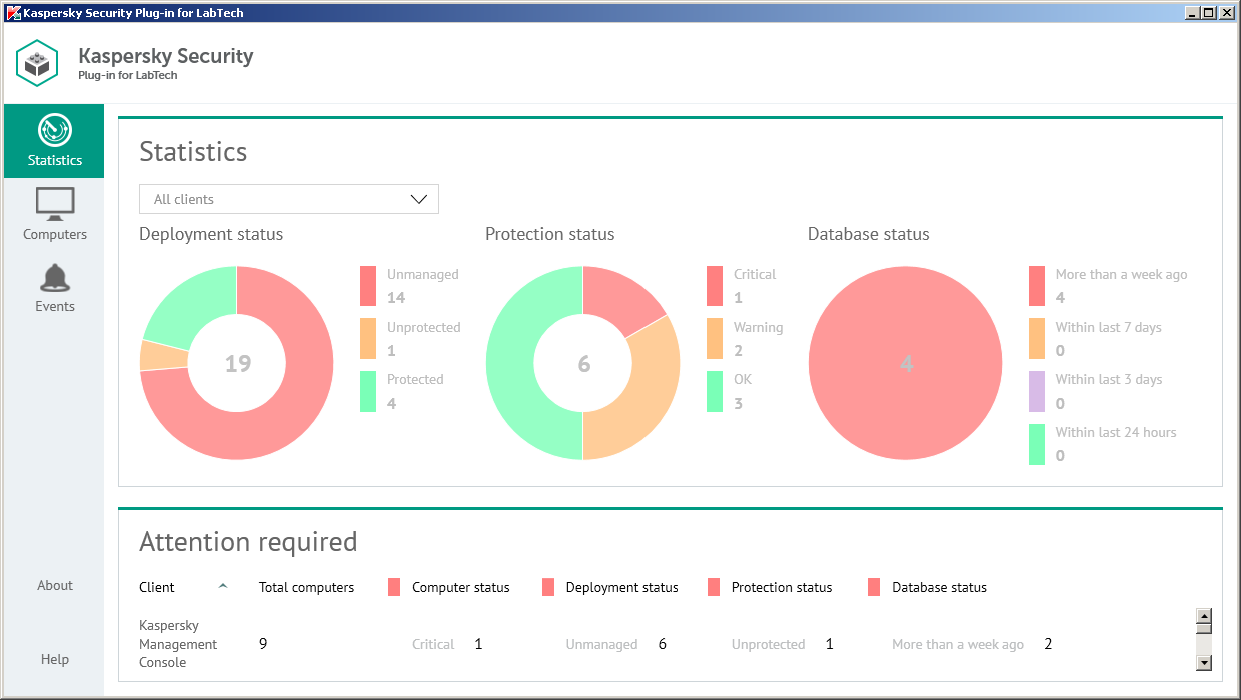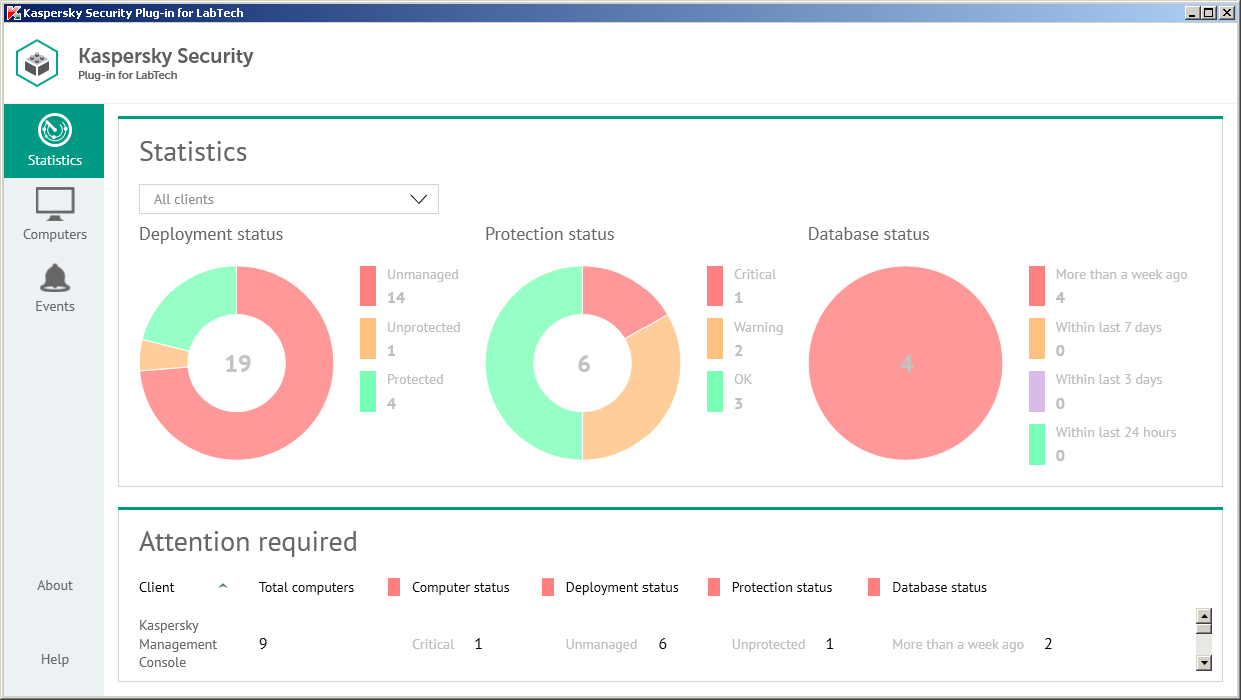 Kaspersky Lab offers malware protection and quick scans plus loads of extra features without heavily affecting system performance.
Kaspersky Security Cloud Free is for users who wish to try out Kaspersky and see how it works for them. While it is a free version it already comes with basic, limited virus protection. Your system is already protected from the most common types of malware and phishing websites. And since viruses can also be transferred by infected USB devices, the Kaspersky Security Cloud Free software also has your system covered against such infection.
Kaspersky Anti-Virus is a Windows-only paid antivirus version of Kaspersky Lab. It offers real-time and on-demand protection malware, viruses, ransomware, and spyware. Among its notable features is a Vulnerability Scanner. It checks your system for patches and loopholes. There is also the Silent Mode that suspends notification so as not to interrupt your gaming and video watching.
Kaspersky Internet Security is for all devices including PCs, Macs, and mobile devices. It has all the features available to Kaspersky Anti-Virus users. It however includes other features such as a two-way firewall. What the two-way firewall does is that it checks and observes your device's network connections to ensure that it is protected from attack by blocking it in real-time.
This version also features an encrypted browser so your online transactions are secured whether you are using a Mac or a PC. Meanwhile, the antispam module shields your system from spam mails. 
Kaspersky Total Security is the premium version of Kaspersky Lab. This version of the software offers Safe Kids, which shields your system and makes it safe for children to surf the net. Safe Kids blocks unsafe content and has a GPS tracker.
Moreover, a password manager lets users manage and sync passwords while the file protection feature allows safe backing up of documents and files such as photos and audio files. To better protect your files from accidental deletion, check our list of best backup software for more options.
Kaspersky Security Cloud is the latest offering from Kaspersky which offers cloud-based protection. This antivirus software has all the features present in Kaspersky Total Security. The adaptive capability of the software provides users with personalized protection, alerts, and warnings based on their usage and behavior. 
If your organization needs to boost its oversight capabilities, check out this best employee monitoring list.
Sophos vs Kaspersky Plans and Pricing Comparison 
Plans and pricing of Sophos
Next in our Sophos vs Kaspersky Lab comparison is a look into their plans and pricing. Sophos plans and pricing are as follows:
Sophos Home Premium 1 Year License: $45 (one year), $78 (2 years), and $99 (3 years)

XG Firewall and Intercept X Endpoint for Businesses: contact the vendor for a quote
Plans and pricing of Kaspersky Lab
Kaspersky Lab's plans and pricing are as follows:
Kaspersky Anti-Virus for 3 PCs : $29.99 (one year), $59.99 (2 years), and $89.99 (3 years)

Kaspersky Anti-Virus for 5 PCs : $39.99 (one year), $79.99 (2 years), and $119.99 (3 years)

Kaspersky Internet Security for 3 PCs : $39.99 (one year), $79.99 (2 years), and $119.99 (3 years)

Kaspersky Internet Security for 5 PCs : $44.99 (one year), $89.99 (2 years), and $134.99 (3 years)

Kaspersky Total Security for 5 PCs : $49.99 (one year), $99.99 (2 years), and $149.99 (3 years)

Kaspersky Internet Security for 10 PCs : $74.99 (one year), $149.99 (2 years), and $224.99 (3 years)

Kaspersky Security Cloud Personal 3 Devices: $53.99 (one year), $107.98 (2 years), and $161.98 (3 years)

Kaspersky Security Cloud Personal 5 Devices: $59.99 (one year), $119.98 (2 years), and $179.98 (3 years)

Kaspersky Security Cloud Family 20 Devices: $89.99 (one year), $179.98 (2 years), and $269.98 (3 years)
Sophos vs Kaspersky Performance Comparison 
Installation and Setup 
You can take advantage of the Sophos Home Premium trial by downloading the software. The installer size is 289MB. Just click the button to initialize the setup and that's it. Once installed, it will run an initial scan on your system. It takes roughly 20 minutes to complete the scan. You will be prompted to restart to complete the cleanup.
Installing Kaspersky is simple, streamlined, and fast. The installer is light at just about 152MB. To begin the trial, just accept the license agreement. The automatic download then begins. The setup completes by clicking on the "Activate Trial License" and once activated, the software will prompt you to link the application to your Kaspersky account. You may close and ignore the notification window.
Antivirus
As for the antivirus options, Sophos Home provides security options and security options which can be accessed using the online interface. To configure the software, click the settings and the browser opens the website where you can log in.  
While this may look inconvenient at first, it may prove to be useful to have a centralized place to manage your antivirus settings. This is especially true if you would have the software installed across your devices. 
Once the web interface is open, you have to enable Real-Time protection, Scheduled Scan, Exceptions, Malicious Traffic Detection, and Artificial Intelligence from the Protection tab. Other antivirus options are available for you to enable/disable by accessing sub-tabs Exploits, Ransomware, and Web. 
Malware protection and content filtering
According to the SE-Labs Home Anti-Malware report for January to March 2020, which tested a variety of vendors for effectiveness in blocking malware, Sophos and Kaspersky Lab were able to block all public and targetted attacks. Kaspersky Labs and Sophos also got AAA Award from SE for ranking high in accuracy rating and percentage. 
Sophos Premium does not have an extensive list of features. One of its prominent features though is its Parental Web Filtering. Parents would be able to control which websites they would allow their children to have access to. 
This feature allows you to block websites that contain harmful content, and even social media site that can be used in phishing scams. The downside, though, the filtering feature works only on popular browsers.
Kaspersky has the ability to detect all types of threats that can compromise your computer system including malware, trojans, and other online threats. Kaspersky automatically performs a scan while you surf the internet or as you open an application. It analyses the strength of your password and alerts you if it finds issues with it.
While Kaspersky allows you to run full and quick scans, check particular drives or files and folders, it will take a few clicks to access these functionalities. But it should not be a problem once you get used to it.
As far as scanning speed, Sophos and Kaspersky are just about the same. Quick scan times for both applications range between 17 and 20 minutes.
Having a secured connection provides additional protection when surfing the internet. Compare VPN software reviews and find out which option meets your needs.
Which antivirus should you choose?
To wrap up our Sophos vs Kaspersky Lab comparison, here is what we think of these two antivirus software tools. Sophos offers a more affordable pricing plan than Kaspersky Lab. While you can use the free version for basic malware protection. Upgrading to the premium version will add a few more layers of protection especially against phishing sites. 
Sophos also offers a wide range of security features which is quite impressive considering that it is relatively affordable compared to other top antivirus software out there. Apart from affordability, it can protect up to 10 devices and has parental control features. Given all these benefits, Sophos Home is a decent antivirus solution.
However, for those looking for a more robust antivirus solution, Kaspersky may be a better option. Kaspersky is lauded for being light and does not take up much of a device's resources. And its antivirus protocol and algorithms are among the best in the market.  The downside is that you need to subscribe to the higher-tiered plans to enjoy its powerful features.