Instant messaging and video conferencing have become essential tools for effective team communication, enhanced productivity and collaboration. But between a self-hosted and a cloud-based communication solution, which one would work best for your organization?
We will look at and compare two of the better-known communication and collaboration software available in the market: Output Messenger and Zoom Meetings.
For our Output Messenger vs Zoom comparison, we will deep dive into their features, plans and pricing, and more.
Output Messenger vs Zoom Comparison: Overview
Overview of Output Messenger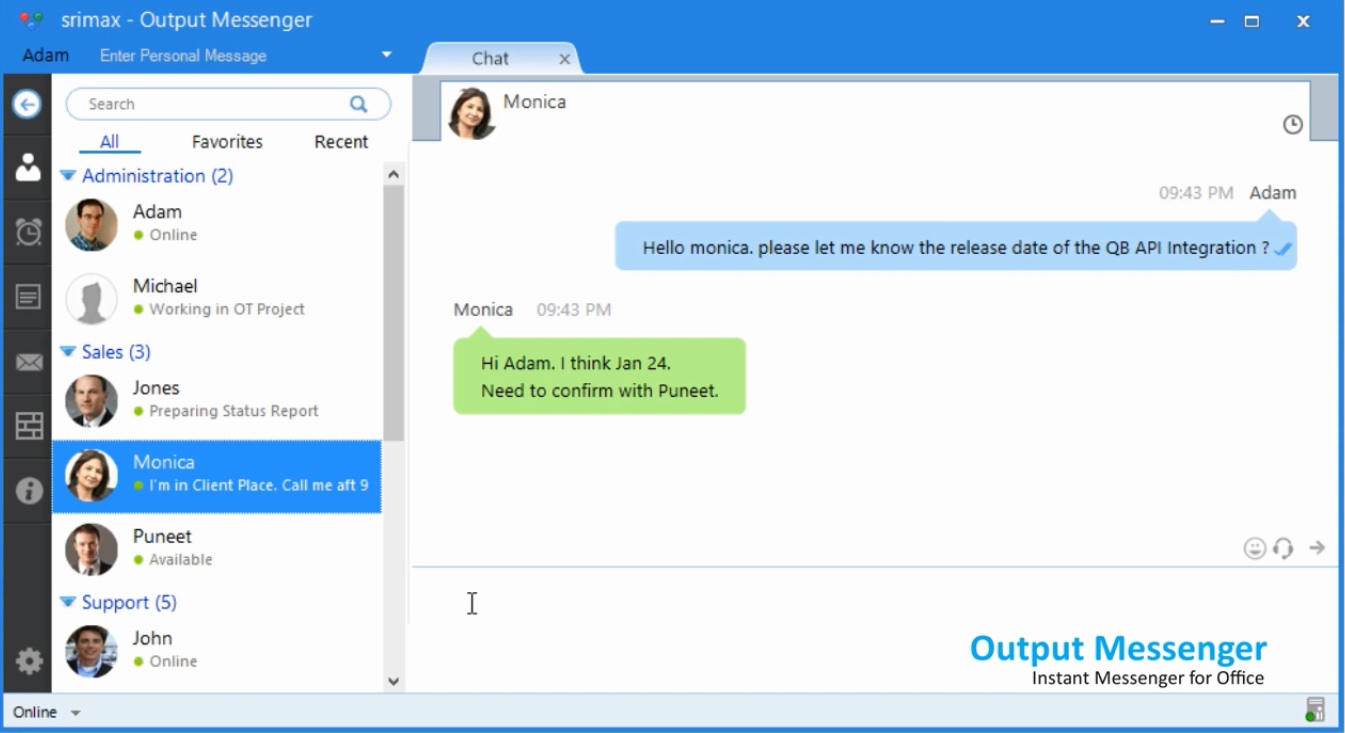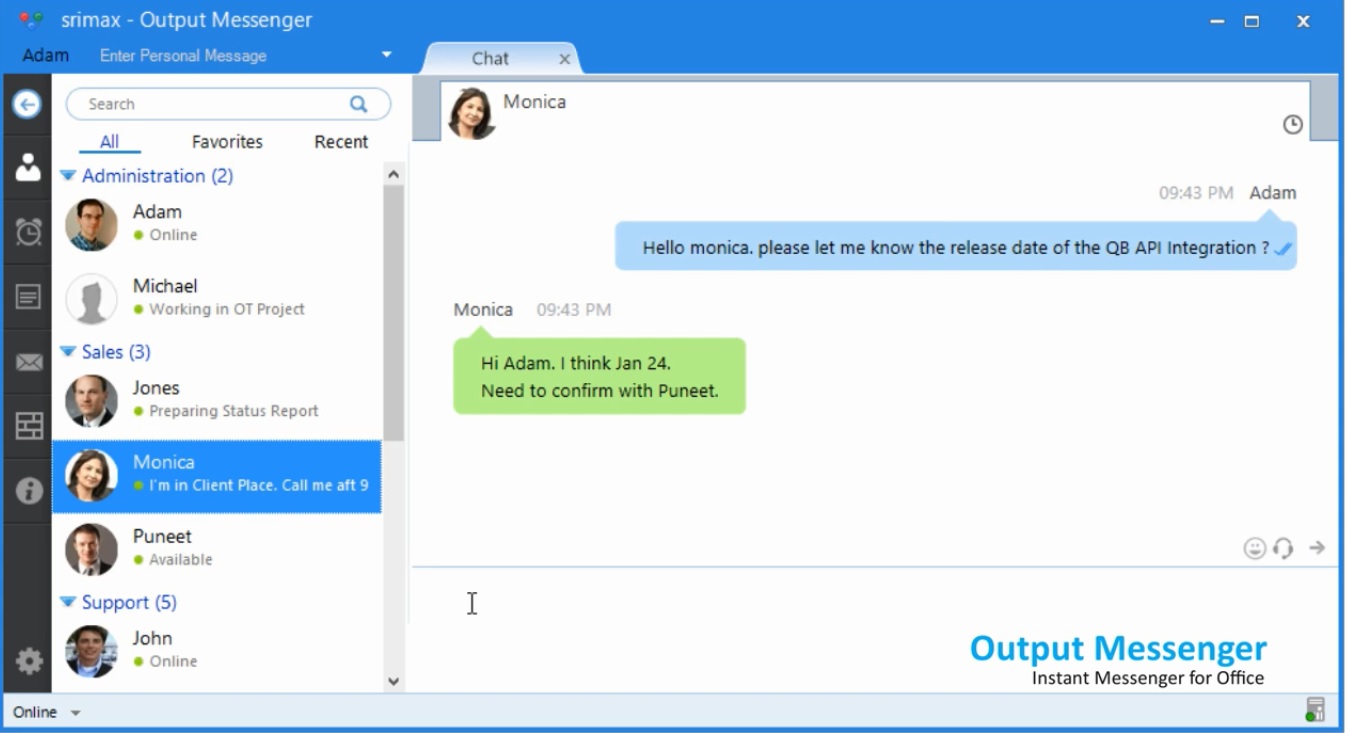 Output Messenger is an instant messaging platform that is aimed at improving collaboration and communication within a department or office. Output Messenger provides a private and secure platform with features designed to enhance productivity and work relationships within the organization. 
Output Messenger's LAN messaging allows real-time chatting from any desktop or mobile device and it synchronizes all messages across these devices. The platform promotes sharing of ideas, employee empowerment and engagement. Output Messenger is an ideal application for small, medium, and enterprise business communication needs.
With the Output Messenger, users are able to establish a self-hosted server application. The application allows data transfer rates plus users have full control over the installation, security, and data privacy.
As the server is self-hosted, company data stays on-site. There is also no limit to the chat history that you can save. And even if the client user deletes their chat history, the data stays in the server.
Overview of Zoom Meetings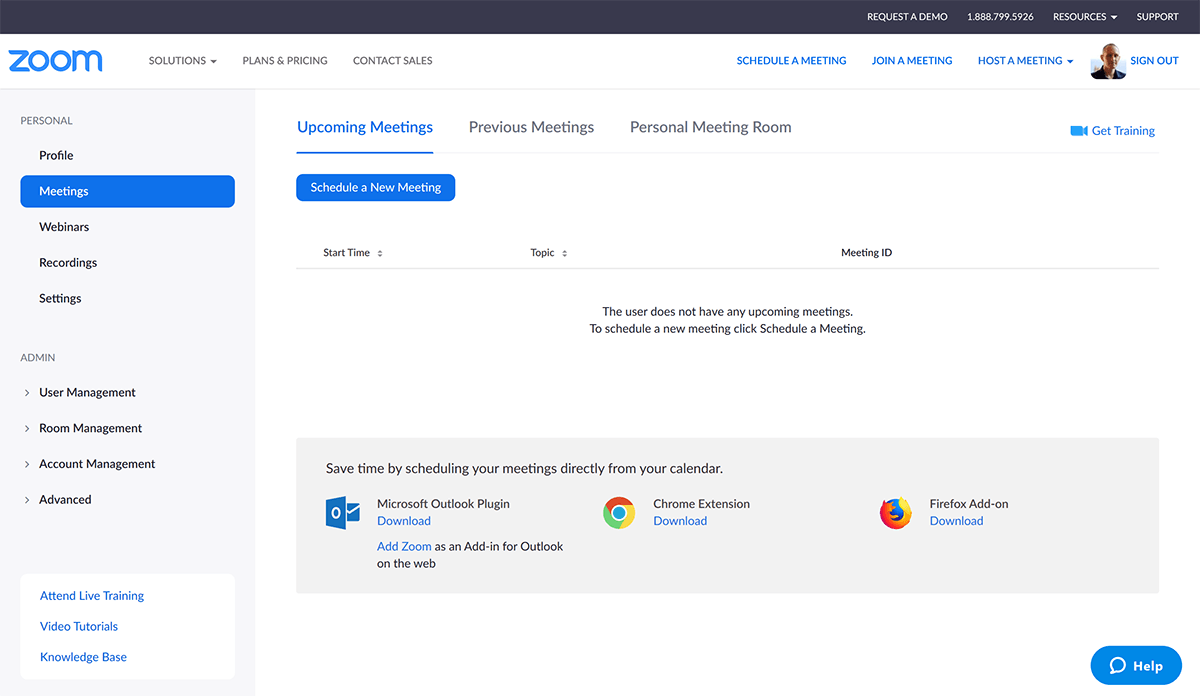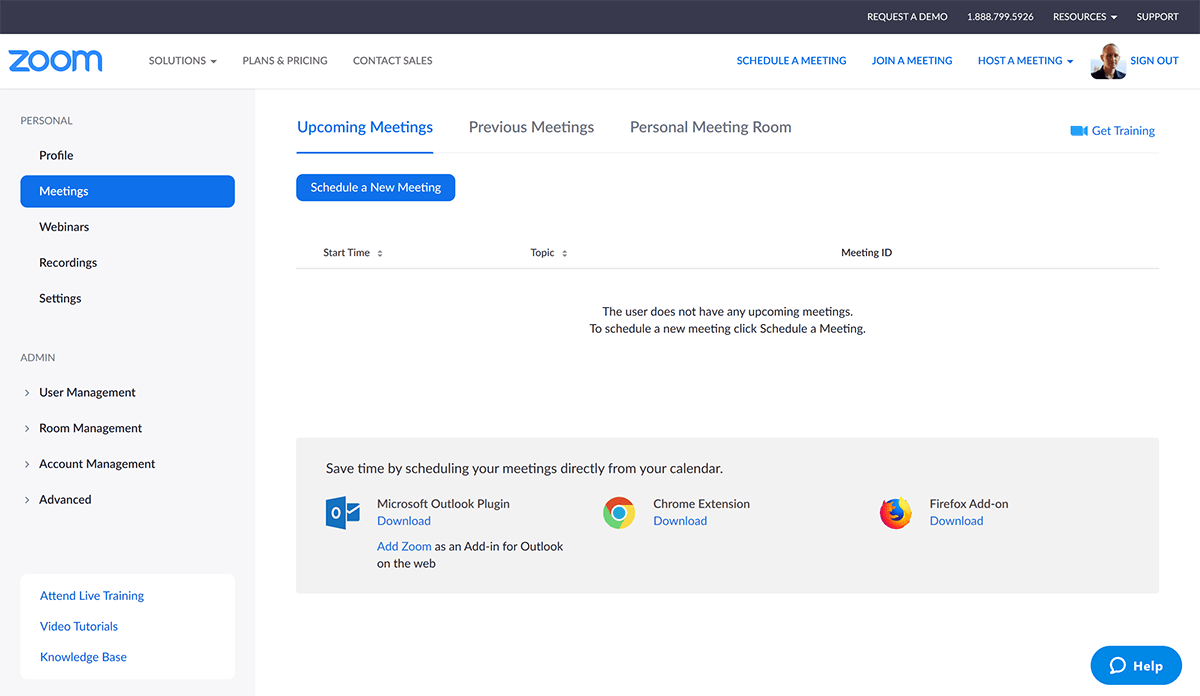 Zoom is a cloud-based application used for video conferencing. You can use either a video or audio only, or both. It also allows users to conduct live chats while the video conference progresses. You can also record the session for later viewing. 
Zoom Meetings is one of the popular video conferencing applications on the market. It allows participants to virtually communicate when physical interaction is not possible. Hence, Zoom has become a tool of choice for many small, medium, and large enterprises for communication and collaboration. 
Zoom Meetings allows users to scale webinar participants from 100 to 10,000 view-only and 100 interactive video conference attendees. Zoom Meetings offers cloud-based video conferencing that lets you view both the presentation screen and the panelists screen. 
This application also allows group collaboration that can be used to share text, image, and audio files in real-time. Attendees can also receive invites and access it using their mobile devices. 
Zoom's Virtual Background allows participants to alter their background to whatever image they prefer. This makes meetings more professional looking and adds a layer of privacy. And speaking of privacy, Breakout Room will allow you to split your Zoom meeting and put your participant into separate sessions and switch between sessions any time you want. 
Plans and Pricing Comparison
Next in our Output Messenger vs Zoom comparison, we will see how they compare in terms of affordability and range of offerings.
Plans and pricing of Output Messenger
Output Messenger is free to use for up to 3 users. Beyond that, you need to purchase either a Perpetual license or an Annual license on a one user per one license basis. For up to 5 users, a Perpetual license will cost a one time fee of $75 or $15 per user, while an Annual license will cost $35 a year or $7 per user.
The rest of Output Messenger's tiered pricing is as follows:
100 Users: Perpetual license – $1,400 or $14/user | Annual license – $600/yr or $6/user

200 Users: Perpetual license – $2,400 or $12/user | Annual license – $1,000/yr or $5/user

500 Users: Perpetual license – $3,500 or $7/user | Annual license – $1,500/yr or $3/user

999 Users: Perpetual license – $4,995 or $5/user | Annual license – $1,998/yr or $2/user
Plans and pricing of Zoom Meetings
Zoom Meeting's Basic plan is free to use. The free plan can host up to 100 participants, unlimited 1 to 1 meetings, and up to 40 minutes of group meetings. These features are on top of the standard video conferencing, web conferencing, group collaboration, and security features.
The Pro plan costs $14.99 per month, per host (up to 9 hosts per account). It has all the Basic plan's standard features with up to 24 hours meeting duration. It can accommodate up to 100 participants with an option to purchase up to 1,000 participants with the Large Meeting add-on. Additional features include user management, customer personal meeting ID, assign scheduler, admin feature controls, reporting, and 1GB of MP4 or M4A cloud recording.
The Business plan has all the Pro plan features for $19.99 per month, per host. It includes 300 participants with the option to purchase up to 1,000 participants. Additional features include dedicated phone support, Vanity URL, single sign-on, company branding, custom emails, cloud recording transcripts, on-premise deployment option, managed domains, and LTI integration. 
For an Enterprise plan, your organization needs to contact Zoom for a quote. Enterprise plan includes all the Business plan features. Enterprise plan accommodates up to 500 participants while the. Enterprise Plus includes 1,000 participants. It also has a dedicated customer success manager, unlimited cloud storage, and executive business reviews plus bundle discounts on Webinars and Zoom Rooms. 
Check out our guide on the best webinar software for live and recorded video presentations.
Features Comparison
Features of Output Messenger
Output Messenger's basic features include instant messaging, file transfer, chat room, video calls and conferencing and task management. Users can also take advantage of Output Messenger's internal mailing, history logs, off-the-record messaging, hide user or group, preset or escape messages, announcements and alert on status change, and secure remote desktop sharing.
Instant Messaging. Output Messenger allows users to chat instantly using One-to-One or Group Chat. Messages are encrypted while being sent to the receiver. Users can also send offline messages so the receiver can still read the message once he is online. 
File Sending. With Output Messenger, you can exchange documents and files. Using a simple drag-and-drop action, you can share a file on the chat window of your recipient. You can also select the name in the Users List then right click and choose "Send" then "File."
Chat Room. With Output Messenger, users can create a Chat Room and add colleagues they frequently chat with. Since messaging is instant, users can discuss urgent tasks and challenges that need immediate action. 
Video Calls and Video Conferencing. Output Messenger allows access to Voice and Video Calls to make communication more engaging and convenient. From the Chat window, you need to press the voice call icon which can be accessed either from the On-to-One or the Group Chat. On the other hand, pressing the video call icon will activate the face to face chat.
Secure Desktop Sharing. Sharing your computer screen in real time with other users is possible with Output Messenger. You can provide access control to make remote screen sharing more secure.
Task Management. You can also manage yours and your team's daily tasks workload with Output Task. To-do lists can be set as private tasks, team tasks, one-one tasks, and project/chatroom tasks.
Features of Zoom Meetings
Zoom Meetings offers core features including one-on-one meetings, screen sharing, and group video conferencing. Zoom Meetings boasts of a simplified messaging and video conferencing from whatever device.
Zoom Meetings is capable of syncing with your electronic calendar system. It also features robust security settings so hosts can ensure meetings disruption-free.
HD audio and video. Users can enjoy high definition audio and video meetings. It supports up to 1,000 video participants and 49 video screens.
Secure meeting. Zoom Meetings ensure secured meetings by encrypting all meetings with role-based user security, waiting rooms, and passcode protection plus the ability to place an attendee on hold.
Built-in tools for collaboration. Simultaneous screen sharing by multiple participants is possible with Zoom Meetings. Users can also co-annotate for a more collaborative and interactive meeting. Read this list here for more collaboration tool options.
Recording and transcripts. You can record your meetings either to the cloud or your local storage plus an automatic audio transcript option. Once the transcript is processed it will be displayed as a .vtt text file in the list of your recorded meetings. You can choose to display the transcript within the video, much like a closed caption on videos.
Zoom Chat.  The Zoom Chat allows seamless collaboration between desktop and mobile users. With Zoom Chat you can invite both internal and external participants to the chat. It is also easy to transition from chat to meetings. Your messages and shared content get automatically synced and become searchable.
Which tool suits you best?
The main advantage of using Output Messenger is it allows on-premise or self-hosted server applications. The application can be deployed in any Windows computer inside your organization's LAN.  
If your organization needs to have full control over your chat server's installation, privacy, and security, then Output Messenger may be the right solution for you.
Zoom Meeting is easy to set up and manage. If your organization would like to do away with in-house IT support to keep your video meetings and conferencing running smoothly, Zoom Meetings could provide that.  Zoom also scored high in our communication software ranking.
As a cloud-based solution, Zoom Meetings provides a single platform for all your meetings, chat, and webinars. It is also great for collaborating with its built-in tools and capabilities.