Document management software is an essential tool every business must have with them. This kind of software helps its users to receive, track, manage, and store their documents. Handling your documents this way will make it more secure and benefit the environment by reducing the use of paper.
You will find in our list a comprehensive discussion on the factors businesses must consider when looking for a document management software. This Soda PDF vs Adobe Acrobat comparison will show you everything that you need, and help you choose what is best for your business.
Soda PDF Overview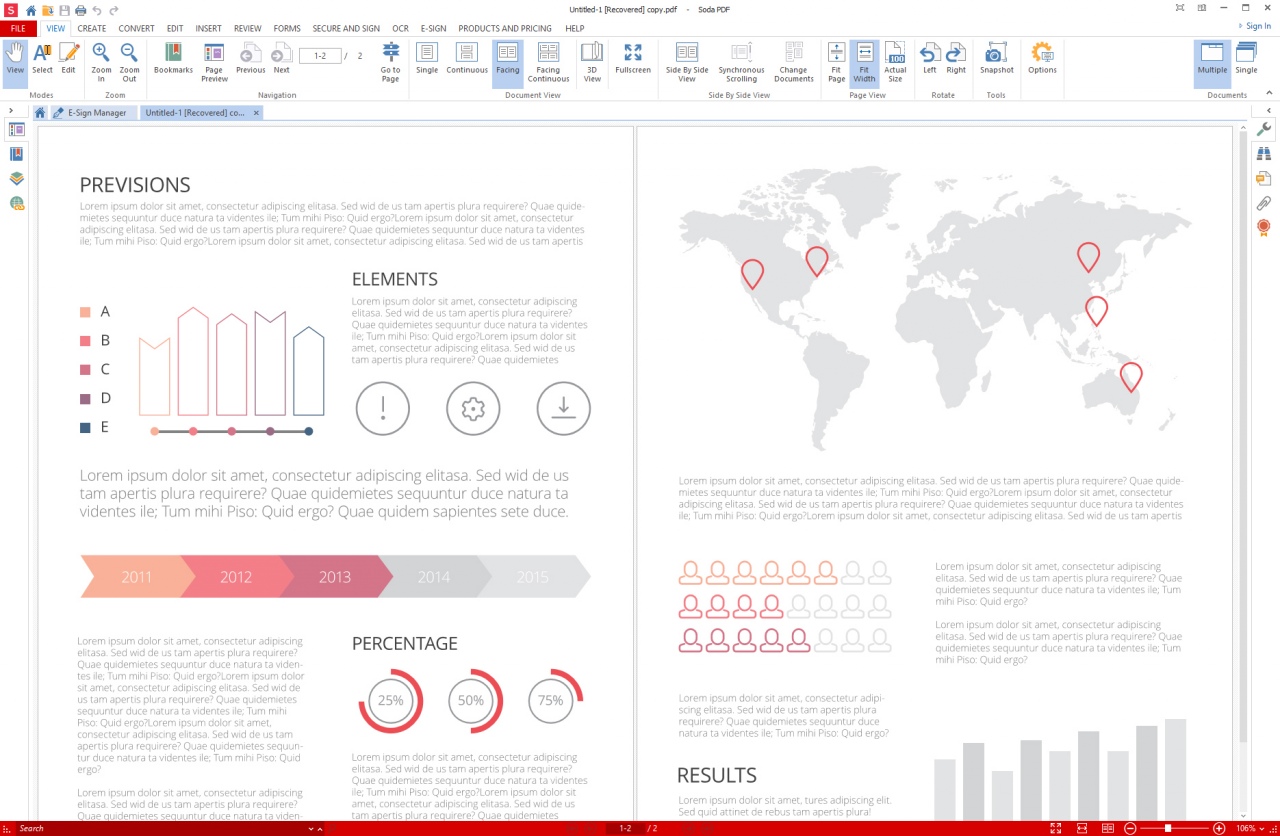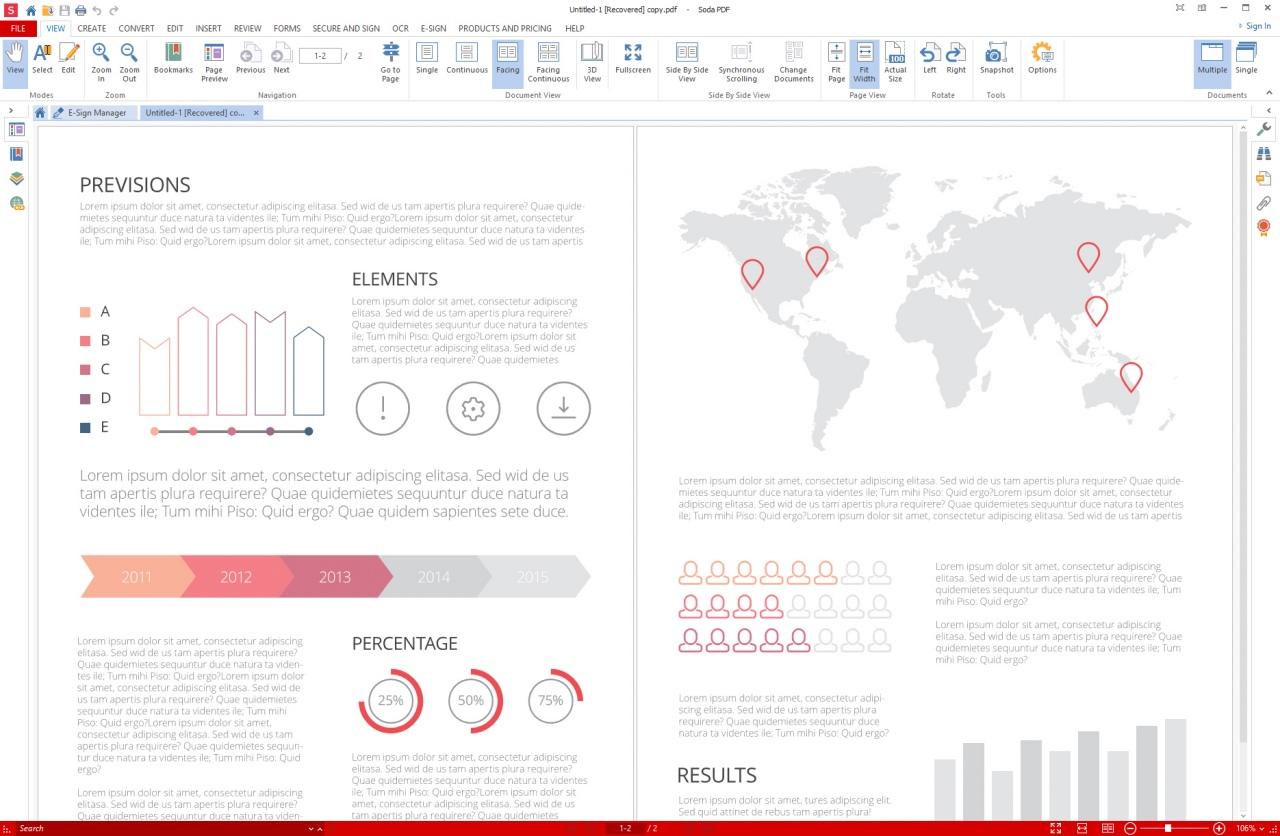 Soda PDF, also known as Soda PDF Anywhere, is a document management software that has features tailored to the needs of businesses within the small, medium, and enterprise levels. It has been continuously receiving positive feedback from its current customer base as they experienced significant productivity gains upon using the software.
The document management software can be accessed both as a desktop and web-based application. Users can even use it on any device they have, so long that it has a web browser. These devices include desktops, laptops, smartphones, and even tablets.
Aside from Soda PDF being an on the go software, this Soda PDF vs Adobe Acrobat comparison also shows that it is highly reputable because of its innovative features. These features are specifically made to improve the team's productivity, with PDF conversion, editing, reviewing, and security tools as few of the many it can offer. It is also known for its trusted e-signature solution, cloud integration, and a whole lot more.
Pros and Cons
Soda PDF maintains its spot in the field document management in terms of software ranking for several reasons. One of these is its friendly user interface that provides its users with seamless navigation. Additionally, it also helps that it is particular in its functions. This way, the needs of its users are addressed more seamlessly and more unambiguously.
Users of Soda PDF also commend the software's capability to highlight or underline texts in the document or file. With just a clock of a button on their menu, they can instantly perform such an action that is very helpful when they need to revise or add inputs in a document.
Another good thing about Soda PDF is its ability to work from the cloud, and on multiple devices. This is very important because several members of a team are often working on a document at the same time. With it being able to work on multiple devices, it cuts the waiting time short and increases both their productivity and efficiency.
Any software has its own positive and negative sides. With all the pros presented, businesses must also see Soda PDF's cons, so they understand the entire picture. Among the drawbacks of the software, the concern that is frequently brought up is its reaped bugs and other related issues.
According to its users, some functionalities do not work right, and when it gets fixed, another one acts up. It is also crucial to point out how there are certain instances where the software stops responding in the middle of printing some files. Because of this, they have no choice but to redo the process and open the documents again.
Finally, Soda PDF's clients also mention their difficulty in finding support when filing a complaint. They find it hard to reach their customer assistance line, and it usually takes a while before they respond to you and address your queries and concerns.
Adobe Acrobat Overview
Adobe Acrobat is one of the first few PDF applications that was initiated by the Adobe systems. This software allows you to view PDFs, both offline and online. It also allows you to create, edit, manage, and print PDF files with ease.
This document management software is like Soda PDF, which was mentioned in the previous section of this Soda PDF vs Adobe Acrobat comparison. It should initially be installed on the user's device before they will be able to use it. However, before installing the application, businesses must first make sure that they are compatible with their devices.
Adobe Acrobat is cross-platform, which means that it can be used on different computer types, or even with various software packages. It supports platforms like Windows, Mac, Linux, Android phones, and Windows phones. With this range of platform, users can easily manage their documents on their personal computers or mobile devices.
It supports the following versions on Windows: 10, 8, 7, XP, and Server. Meanwhile, for Mac, it supports macOS X 10.6, 10.7, 10.8, 10.9, and 10.10.
Pros and Cons
With its latest Adobe Acrobat Reader DC, Adobe Acrobat offers document management with several tools and options users can choose from. These options range from commenting on documents, signing a document electronically, to organizing pages. Document management is made simple with a downloadable software application.
Adobe Acrobat Reader DC, similar to Soda PDF, is a windows application that allows its users to input additional text into PDF file type documents. It is also an excellent software for those who want to collaborate with their workmates in creating manuals, booklets, or pamphlet template.
Additionally, Adobe Acrobat also gives users the ability to add hyperlinks to their documents. They can also add specific special characters to provide access to individual records for human resources personnel.
On the flip side of all these pros, there are also concerns raised by Adobe Acrobat users. One of these is the limited functions they can access when using the software with the free version. Users also explain that their reservations of purchasing an upgraded version of the software are rooted in the fact that it is pricier than the average.
Also, when users upgrade their computers, they lose the program and will need to reinstall it. This consumes a lot of time, which delays the things that they need to do. Another concern expressed by Adobe Acrobat users is that it takes a while to load before they can finally close it.
Features 
1. Convert to PDF
Both Soda PDF and Adobe Acrobat enable their users to convert their files to PDF. This means they can save their documents, whether from Word, Excel, PowerPoint, HTML, or even images to a PDF format.
2. Annotations
Annotations are helpful, especially for people who are working in teams. This helps them see any suggestions on the document and even comments by a colleague to another. With both Soda PDF and Adobe Acrobat, users can highlight and edit the text whenever it needs improvements and revisions.
3. Digital Signature
One necessity in people who are working in teams is a digital signature, also interchangeably called e-signature. The majority of the files that are passed through the cloud need the signatures of the people involved in that document. With the task being done solely through the web, digital platforms are the best way to acquire these people's signatures.
Pricing
Both Soda PDF and Adobe Acrobat offer trial versions of their software to the public for free. From this, businesses can try both document management software and test the waters so they know the option that will work best for them and suit their needs.
For their paid versions, Soda PDF's pricing begins at a rate of $84 that will cover a full year of subscription. This rate, however, only includes a single user. There are other available plan options, and perpetual licenses businesses can choose from.
Adobe Acrobat, on the other hand, has its starting rate at $1.95 per month. Although they offer a free version mentioned above, they do not have a free trial option available for the public.
Integrations
Aside from the factors mentioned in the previous sections, businesses must also look into the integrations of the software they are choosing from. These are important as it will enable them to bring in data from an application to another so that the software experience can be more robust and seamless.
This will not only allow them to streamline their processes, but also import and sync contact information, create automated follow-ups, and a lot more. Currently, Soda PDF connects to the following cloud-based storage applications: Evernote, Box, Google Drive, Dropbox, and OneDrive.
Adobe Acrobat, on the other hand, integrates and is supported by the following business systems and applications: Microsoft Word, Microsoft Excel, Microsoft PowerPoint, Microsoft SharePoint, Box, DropBox, and NetDocuments.
What is the Better Option?
As common as it may sound, the choice ultimately depends on the needs of the business. Each one may have their preferences when looking for a document management software, just like how they have varying needs to prioritize.
Because of this, no option fits all businesses. Both Soda PDF and Adobe Acrobat have their strengths and weaknesses, and the decision relies on the users upon weighing all these pros and cons.
Aside from this kind of software, businesses can also look into articles that compare employee monitoring software as it can also help increase their productivity. Like these document management software, companies can supervise their teams and make sure they are headed towards the same goal.