Humans use 2.5 quintillion bytes of data on a daily basis. It's a massive waste of money and opportunity when such daily data are not gathered, visualized, and utilized. To remain afloat, relevant, and on top of their game, companies invest in solid business intelligence software. With business intelligence software, financial success can be predicted and controlled in real-time and by the minute.
No excelling company today can fully operate without the use of robust data analytics.
Two of today's top business intelligence software solutions are Microsoft Power BI and Pentaho. This Microsoft Power BI vs Pentaho comparison article will offer a transparent evaluation of the differences between the two platforms. Reading our guide will help you in choosing which business intelligence software is best for you.
Business data intelligence can speed up business transactions and projects by 200%. If you're on the lookout for more tools to improve on your business productivity, please check out this list.
Based on User Reviews
Microsoft Power BI and Pentaho are top competitors in the industry. They each have loyal users and supporters that share generous insights on how beneficial the two platforms have been in their businesses. Microsoft Power BI users love its interactive dashboard with a user-friendly UI. On the other hand, tools for code-free data transformation and liberal scripting have Pentaho users impressed.
About Microsoft Power BI
Microsoft Power BI is relatively new in the industry. Despite the fact that Microsoft only launched it in 2014, it already includes a string of top clients under their service like Associated Press, Conde Nast, HP, Heathrow, and Adobe.
Microsoft Power BI provides users with advanced tools for data analysis, data visualization, and collaboration. Its developers designed it to be the business intelligence software alternative that is user-friendly and hassle-free. All its tools can be seamlessly navigated and utilized even by people who have limited technical knowledge.
Pro – Perfect for users with no advanced technical knowledge when it comes to business intelligence utilization.

Con – Big data analysis is only available to enterprises.
About Pentaho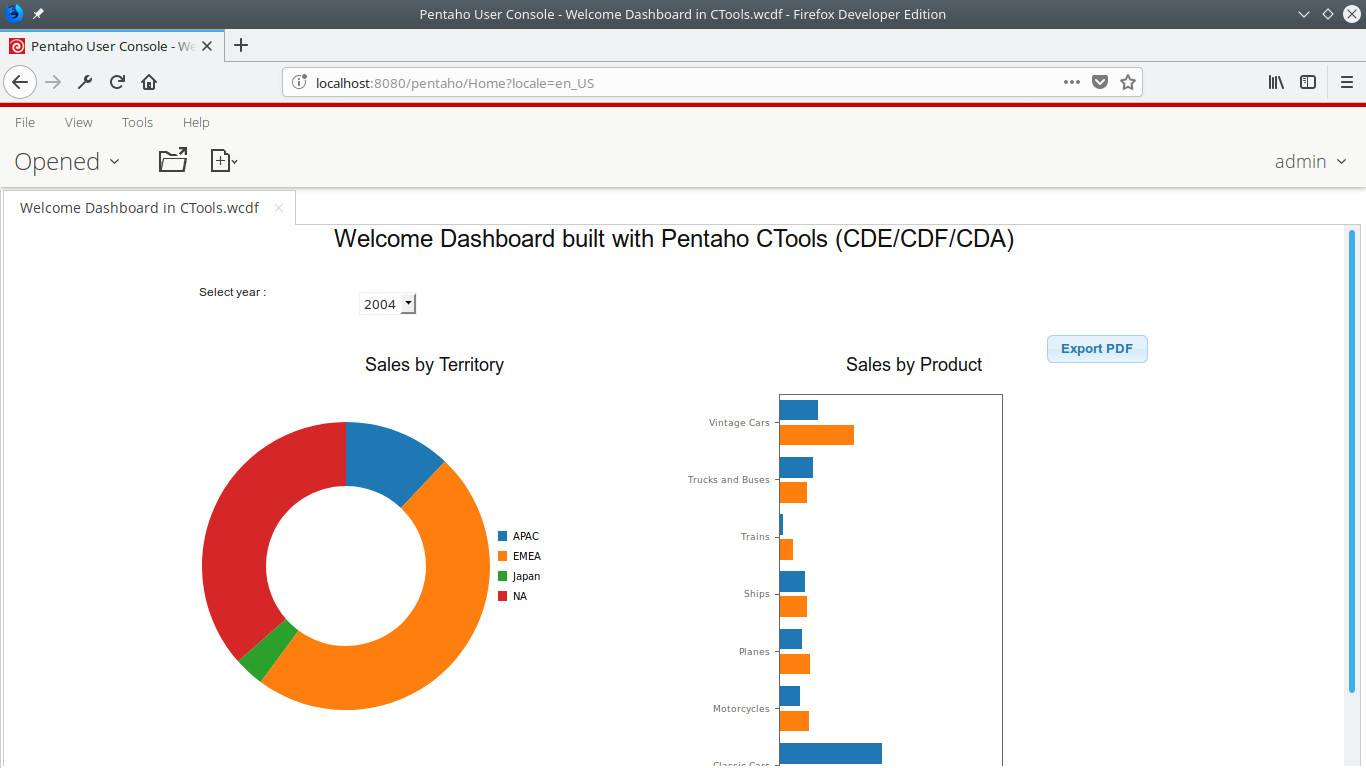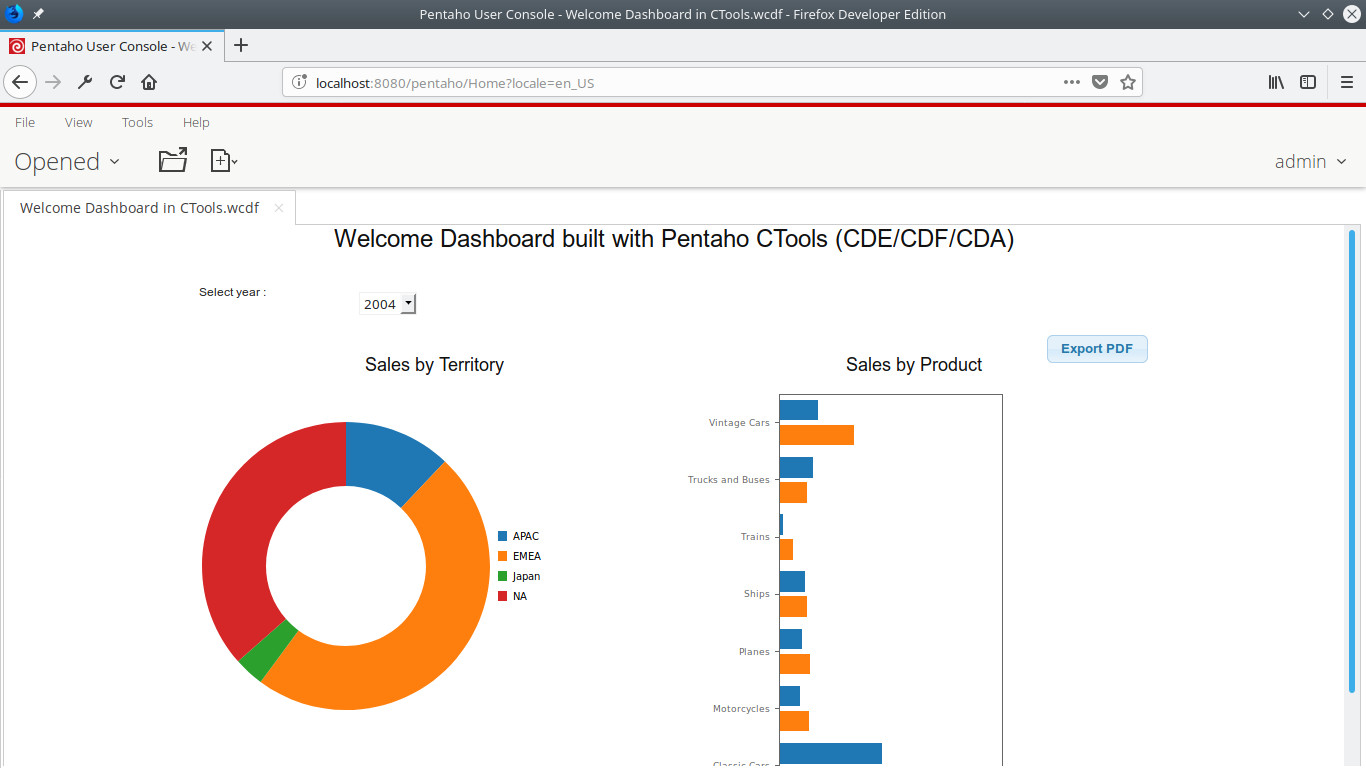 Pentaho is an open-source business intelligence software that has been providing stellar analytics tools since 2004. Its loyal clientele includes top players in different industries like Medidata Solutions, New York Life, Hayes Software System, KBR, Paysafe Group, and Summa Health System.
Pentaho shines when it comes to data integration. Its tools and features are powered to process, analyze, and visualize data from different sources and environments. Its lauded for having a light-weight workflow design that can easily be automated by users on all frontends.
Pro – Allows for in-depth branding customization.

Con – Mobile alert tools are not available.
Points of Comparison
This Microsoft Power BI vs Pentaho comparison article will discuss 7 essential points you should consider in choosing between the two platforms. By evaluating your needs when it comes to data visualization, usability, self-service tools, integrations, scalability, and accessibility, you will be able to fully realize which between Microsoft Power BI and Pentaho is best suited for you.
Data Visualization Tools
Microsoft Power BI and Pentaho offers standard visualization tools to its users. However, they lead the pack because they offer unique functionalities to their users.
Microsoft Power BI's edge is connected and integrated with instant marketing. It has a nifty feature that allows its users to quickly publish reports, graphs, and visualizations on websites and social media networks. This makes it the ideal business intelligence software companion of ad agencies and marketers. It can even be programmed to produce materials that would create the most engagement and interaction from readers.
In-depth data visualization is Pentaho's territory. It boasts of a massive library that houses numerous options and techniques for solid data analysis. It can even detect patterns and loopholes. What makes it powerful is its seamless capacity to reach through different sources from different industries and make mathematical sense out of seemingly disconnected data. These unique tools make Pentaho the perfect business intelligence software companion of companies with conglomerates, subsidiaries, and diverse investments in different industries.
Ease of Use
Ease of use is the secret factor that makes business intelligence tools effective. Nothing is more frustrating than having countless of underutilized data. Business intelligence software may easily discourage users from fully exploring all available tools because the subject is complicated in and of itself. It is important for users to feel empowered and enabled in utilizing data.
When it comes to ease of use, Microsoft Power BI is the better choice. Pentaho is an open-source software so some tools can be confusing and alienating for users with no advanced technical skills. As Microsoft Power BI is new in the industry, it is fully zoned in on providing user-friendly tools that don't intimidate users. For a business with not much time and not too many people to spare, Microsoft Power BI even offers service for holistic data management.
However, when it comes to integrating data from different channels, Pentaho is way better as users can easily drag and drop massive data from different resources.
Self-Service Tools
Self-service tools are important because, at the end of the day, there are some data that only humans and practitioners can uniquely have perspectives and insights into. Business intelligence software can only take you so far but your first-hand experience and industry feel will still serve as your ultimate edge. This is why self-service tools are important as they allow users to create their own data systems, angles, and variables.
Pentaho allows for automation and customization in such a large scale. So much so that users that want to create uniquely crafted data work can easily rely on its open API that is fully customizable on all endpoints. However, advanced knowledge is required for this. This makes Microsoft Power BI as the better choice as users can easily pull data without the need for excessive coding and customization. In just a few clicks, users can easily pick the what, the how, and the why in data analysis. Microsoft personnel can even be hired for it.
Integrations
Data analytics is fluid. New strategies and mechanisms are discovered by the day so users need to make sure that they have access to unlimited integrations. In data intelligence, the one with the latest data and information infrastructure wins. For more insights on today's latest business intelligence tools and trends, check out our article where we compare data analysis software features of top industry players.
When it comes to built-in integrations Microsoft Power BI has more to offer as it can seamlessly work with more than one hundred third-party apps. Pentaho has lesser built-in integration tools as it can only seamlessly work with nine third-party apps.
However, as Pentaho has an open API, it can seamlessly integrate with any third-party app.
Scalability
Do you run a big business? How do you see its trajectory and growth five years from now?
Pentaho is better for you if you run a small business as it has scalable enterprise-grade tools that can be fully utilized by users with small-scale needs. Pentaho can also easily grow with your business for it can also tend to the needs of large businesses and enterprises.
Accessibility
The more updated your data is, the better your decisions will be. Remote access from different devices will secure that all your team players, managers, and decision-makers are equipped with the latest data for best business decisions.
Both platforms are accessible via the cloud. Pentaho users have an extra edge when it comes to offline work as it can be available on-premise. However, when it comes to overall accessibility and mobility, Microsoft Power BI is better as it can run on iOS, Android, and Windows devices.
Pricing
No definitive comparison can be had when it comes to pricing. Microsoft Power BI offers packaged plans with upfront pricing while Pentaho is quote-based. Microsoft Power BI's lowest-priced plan goes for $9.99/per user/per month. Pentaho offers no quantitative pricing but users can avail of its 30-day free trial. Microsoft Power BI does not offer a free trial to users.
What is the best business intelligence software for you?
Please take note of the following points to ensure that you'd make the most out of this Microsoft Power BI vs Pentaho comparison article:
 

If you run a small business, Pentaho should be your business intelligence software of choice as it offers scalable tools for small-scale needs.
Microsoft Power BI is ideal for large businesses and enterprises.
Microsoft Power BI is best for you if:
You have no technical team and you prioritize the availability of self-service tools.
You prefer user-friendly business intelligence software.
You prefer having built-in integrations that do not require meticulous coding and programming.
You work on the go and you prefer remote access.
You run a marketing agency.
Pentaho is best for you if:
You want open-source tools for full customization of your data pipeline and automation.
You have advanced technical knowledge when it comes to business intelligence.
You tend to the needs of multiple industries with varying data values and natures.
You prefer a business intelligence software that is available on-premise.
You need to integrate with unique third-party apps that require careful coding, programming, and customizing.