PDF document programs are integral for businesses of any size and industry. They allow you to create documents that are easy to share but difficult to edit without the proper tools. Since company files contain sensitive information, it is crucial to encrypt your documents. With the help of PDF software, you can set passwords for your records.
What's more, PDF tools allow for easier document handling. Using a reliable management software ensures that you have organized and easily trackable files. Included on our guide are the top 10 document management software for your business. In this article, you will know of two equally dependable PDF programs: PDFelement Pro and Foxit PhantomPDF.
PDFelement Pro Overview
PDFelement Pro is an all-around platform that allows you to edit, create, and convert documents. Since it offers more sophisticated tools for businesses, it is used by employees and managers in the Fortune 500 companies. Due to its user-friendly interface, PDFelement Pro is also popular among freelancers and start-ups.
Foxit PhantomPDF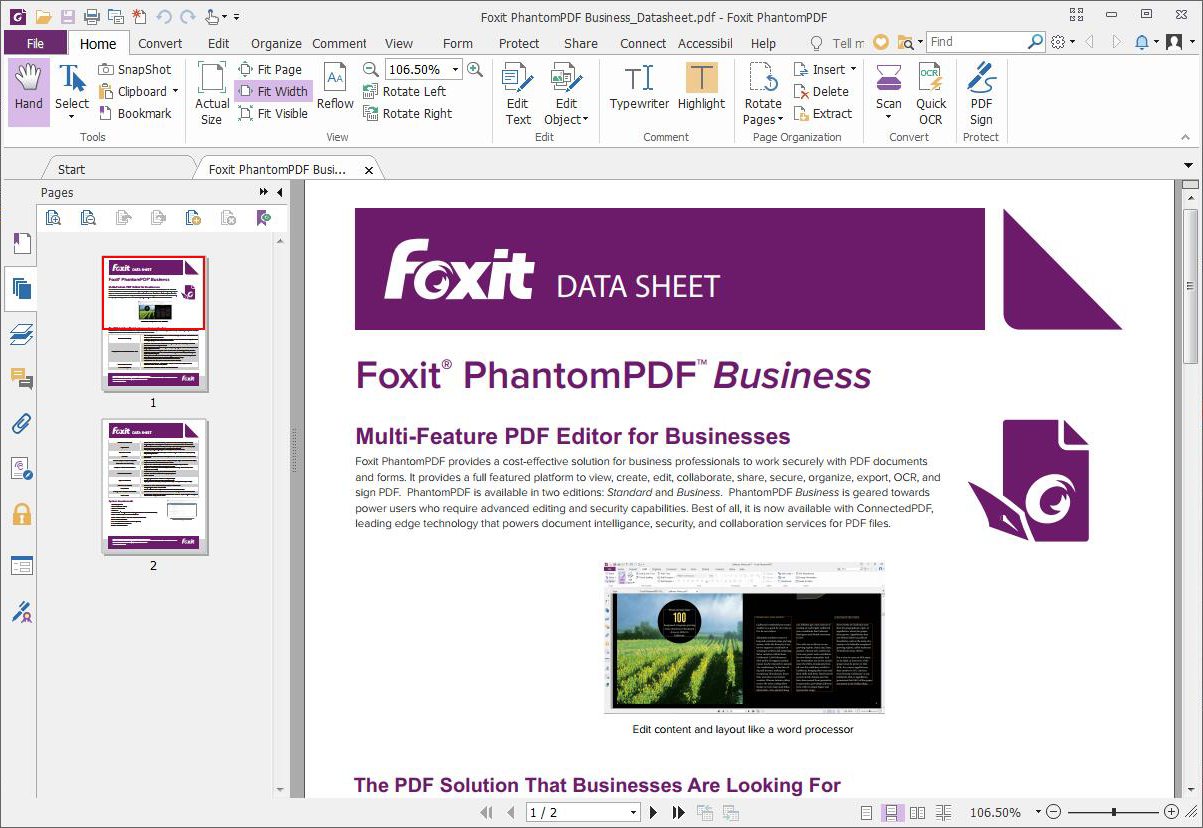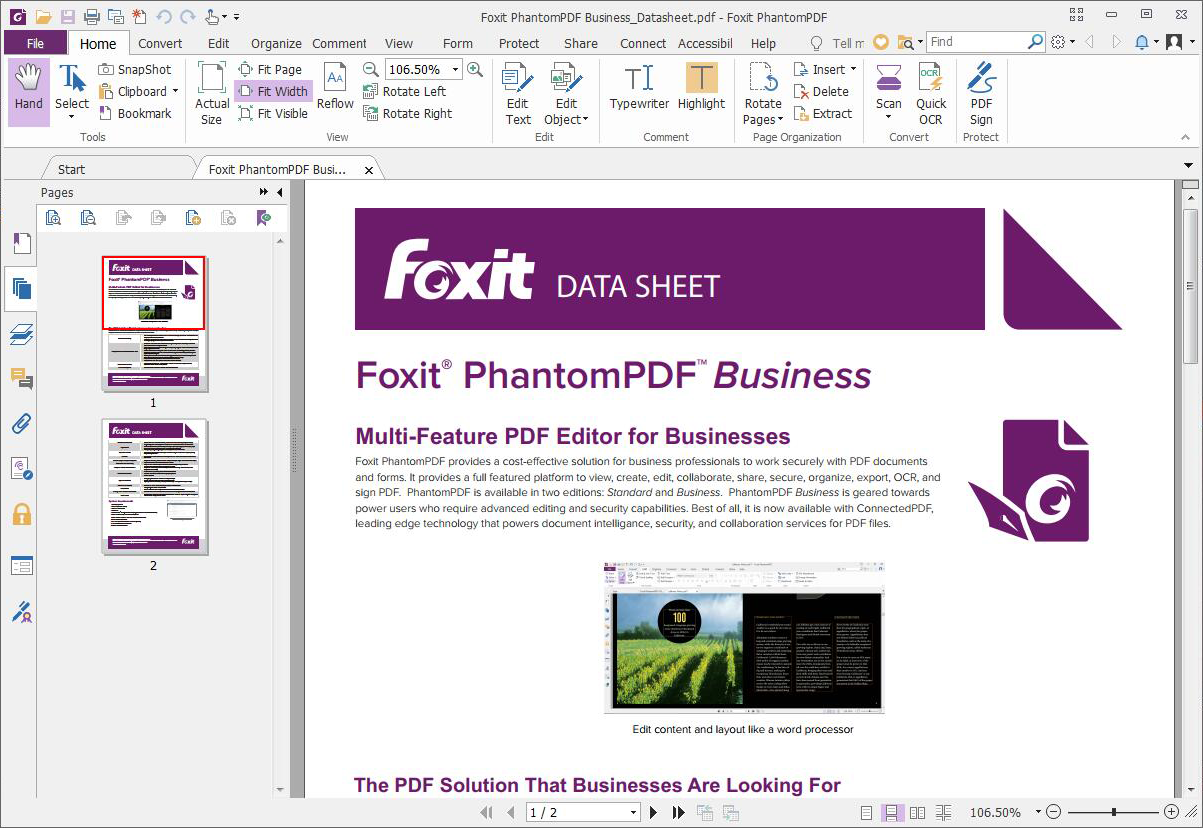 Similarly, Foxit PhantomPDF offers essential and complex document management tools for both individuals and large companies. Through this program, you can create PDF files, edit confidential documents, and convert files to different formats. It also features a familiar interface that is great even for first-time users.
Comparison of Features
Since you already have a quick introduction to both platforms, it's time to start with the main PDFelement Pro vs Foxit PhantomPDF comparison. In this article, the two software solutions will be evaluated based on document editing tools, creation and conversion capabilities, collaboration tools, file security, cross-platform availability, integrations, and pricing. At the end of the comparison, you will be able to decide which PDF software is right for your business' needs.
Document Editing
One of the wonderful features of PDF platforms is its ability to edit forms and documents. In other programs, you might have difficulty revising a file without altering its overall format. With PDF software, you can arrange texts and media files without ruining your documents.
PDFelement Pro allows you to edit texts, images, and whole pages. The system enables single-line editing modes. Through this command, you can change the text's font size, type, and style. You can then add headings and regular paragraphs to your file. In terms of image editing, PDFelement Pro enables you to add, remove, replace, rotate, and even extract photos. When it comes to whole pages, this platform features splitting, cropping, and extracting tools. You can also add page labels to your files.
Similarly, Foxit PhantomPDF enables essential editing. But, it does more than PDFelement Pro when it comes to object editing. With Foxit, you can convert texts to shapes. The system also allows you to change texts to paths. With this feature, you can revise your documents effectively.
Both programs feature an intuitive interface, but Foxit has more sophisticated editing tools. Thus, Foxit PhantomPDF wins in the category of document editing.
Document Creation and Conversion
Both software solutions enable a hassle-free creation of business documents. With these platforms, you can also convert other file formats to PDF files, and vice-versa.
PDFelement Pro features a one-click file creation process through the drag-and-drop tool. Simply drop your chosen file to the program's window. After this procedure, your document is ready to edit. You can also create a file by clicking on the "Create PDF" box. After choosing the command, select which file you want to convert. Aside from these functions, the system also allows PDF creation through scanners.
Like PDFelement Pro, Foxit PhantomPDF creates PDF documents that are compliant with industry standards. However, Foxit has a more complicated process when it comes to document creation and conversion. To create a PDF from an existing file, click the "Convert" button from the Common Tools toolbar. After this, choose From Files and select the document that you need to convert. You can also scan files to turn them into PDF documents.
In terms of pre-made templates, both platforms have numerous documents to choose from. However, if you want a PDF program with quick file creation tools, you must consider PDFelement Pro over Foxit PhantomPDF.
Collaboration Tools
Collaboration tools are always needed in an organization. Check this software ranking, and you'll notice that every file management platform allows users to cooperate with other team members. A PDF program that does not permit collaboration is not worth the cost. Fortunately, both PDFelement Pro and Foxit PhantomPDF offer these functionalities. 
With PDFelement Pro, you can add comments, text boxes, sticky notes, and stamps. What's more, the system allows for customized drawing tools. These features bridge the gap between you and your remote employees. You can also highlight texts that need revisions and fill forms for approval. Additionally, users can add signature IDs for proper documentation.
Foxit PhantomPDF offers the same functionalities with the added Shared Review feature. The system compiles all comments and reviews in one place. Hence, this tool serves as an instant messaging program inside a PDF editor. You can even use a typewriter tool to note each member's suggestions.
In this PDFelement Pro vs Foxit PhantomPDF comparison, the latter has an advantage since it brings an innovative addition to its system.
File Security
Since you are dealing with confidential documents, it is essential to find a dependable PDF program that safeguards your file from security breaches and does not collect data for malicious intent.
Both PDFelement Pro and Foxit PhantomPDF include security layers that protect your documents from malware and hackers. PDFelement is recommended for any business since it utilizes 256-bit AES encryption to defend your files from unauthorized access. Alternatively, Foxit PhantomPDF lets you choose three types of encryption: 128-bit, 256-bit AES, and 128-bit ARC-FOUR.
Thus, both platforms provide you with industry-compliant security tools. No program has an advantage when it comes to document encryption.
Multi-Platform Availability
Every program must be available on multiple platforms. This way, it is convenient to a broader audience.
PDFelement Pro is available for download on Android, iOS, macOS, and Windows-run devices. As a result, you can take advantage of this program's functionalities anytime and anywhere. You only need to download the app and connect it to the internet source. With the Android version, you can view and comment on files. Besides, the iOS app allows you to edit business documents easily.
Similarly, you can use Foxit PhantomPDF on Android, iPhone, iPad, MacBook, and Windows devices. What's more, the platform has a web-based deployment to access its tools on any device with an internet connection. It is also accessible on any browser, may it be Microsoft Edge, Google Chrome, or Mozilla Firefox.
When it comes to cross-platform availability, Foxit PhantomPDF is available to more people due to its cloud-based deployment.
Integrations
In terms of integrations, PDFelement Pro does not connect with other applications.
On the contrary, Foxit PhantomPDF has numerous integrations. You can connect this platform with Box, Evernote, Flamory, and DocuSign. Moreover, it also works in conjunction with leading browsers, such as Google Chrome, Microsoft Edge, and Mozilla Firefox. With Foxit, you can convert PDF directly from Microsoft Word, Excel, PowerPoint, and Outlook. You can also use DocuSign with this PDF editor. 
You can also use a backup application to ensure that your files will not be deleted temporarily. Check CompareCamp's top 10 backup software here.
Pricing
When choosing the right PDF program for your business, it is essential to evaluate your budget. This way, you don't drain your company's finances.
For individuals, PDFelement Pro requires an annual payment of $89 and a one-time payment of $139 for a perpetual license of the program. With this plan, you can scan PDFs, sign documents, add watermarks, and optimize file size. Additionally, the system allows you to utilize the automatic form recognition and data extraction tools.
For businesses, PDFelement Pro costs $109 per year per user and requires a one-time payment of $139 per user. The company even offers discounted prices for organizations that employ many workers. Lastly, if your business has more than 20 program users, you need to contact their sales department for a quote.
With Foxit PhantomPDF, you need to pay for $8.99 per month or $107.88 per year. This fee is less than what PDFelement requires for their services. The Business plan allows you to create, edit, share and review files. You can also generate forms and set encryption to your documents. You can also opt for a $159 fee for a perpetual license.
Their Standard version costs $7.99 per month and a one-time payment of $129. Lastly, the Education plan requires a fee of $9.95 per year.
This PDFelement Pro vs Foxit PhantomPDF comparison suggests that the former wins in the category of pricing options. Although both platforms offer choices between annual or license payments, PDFelement has a slightly cheaper annual subscription than its competitor. 
Which is Right for You?
Throughout the article, no platform wins the battle of PDF software.
If you want a PDF platform with all the essential features, then you must consider PDFelement Pro. PDFelement offers a lower price than PhantomPDF but, it is worth noting that Foxit has more complex features, such as Shared Review functionality that is great for large enterprises. Thus, if you operate a business with numerous employees, Foxit PhantomPDF is the right program.