There is no limit to growth when users have access to accurate data. With the use of business intelligence, users can detect problems and challenges even before they occur. This makes business intelligence an essential tool for all companies that are looking to survive today's changing financial climate. So much so that by 2022, it is expected that 75% of AI tools will be dedicated to commercial industries. Businesses know that proper data use holds the secret to total financial control and power.
This article will endeavor to compare two of today's outstanding business intelligence software: Kibana vs Microsoft Power BI. This Kibana vs Microsoft Power BI comparison article will simplify the essential points of differences between the two platforms for users to better determine which software best suits their business needs.
For in-depth research, read our list of top business intelligence software today.
What do users say about Kibana and Microsoft Power BI?
Kibana and Microsoft Power BI are recipients of numerous reviews from satisfied users. The numerous recommendations gave the two platforms significant clout and influence in the business intelligence industry. Kibana users love how ultra-responsive and user-friendly the software is. On the other hand, Microsoft Power BI users enjoy how the software makes it so easy for users to collaborate and share data.
About Kibana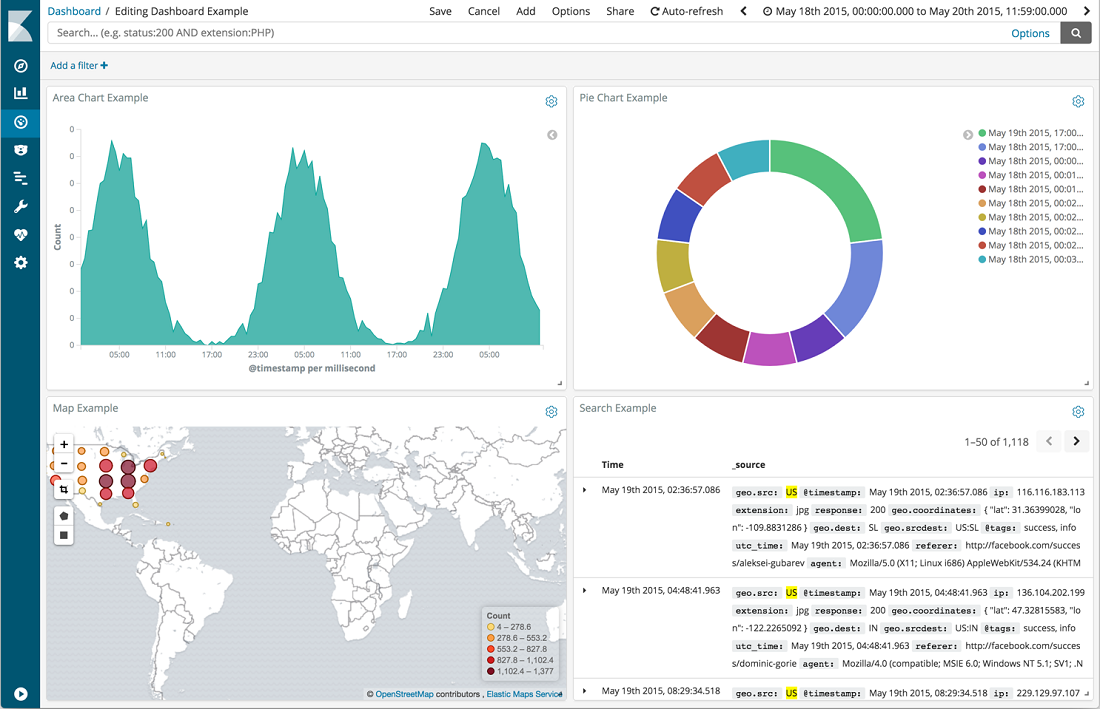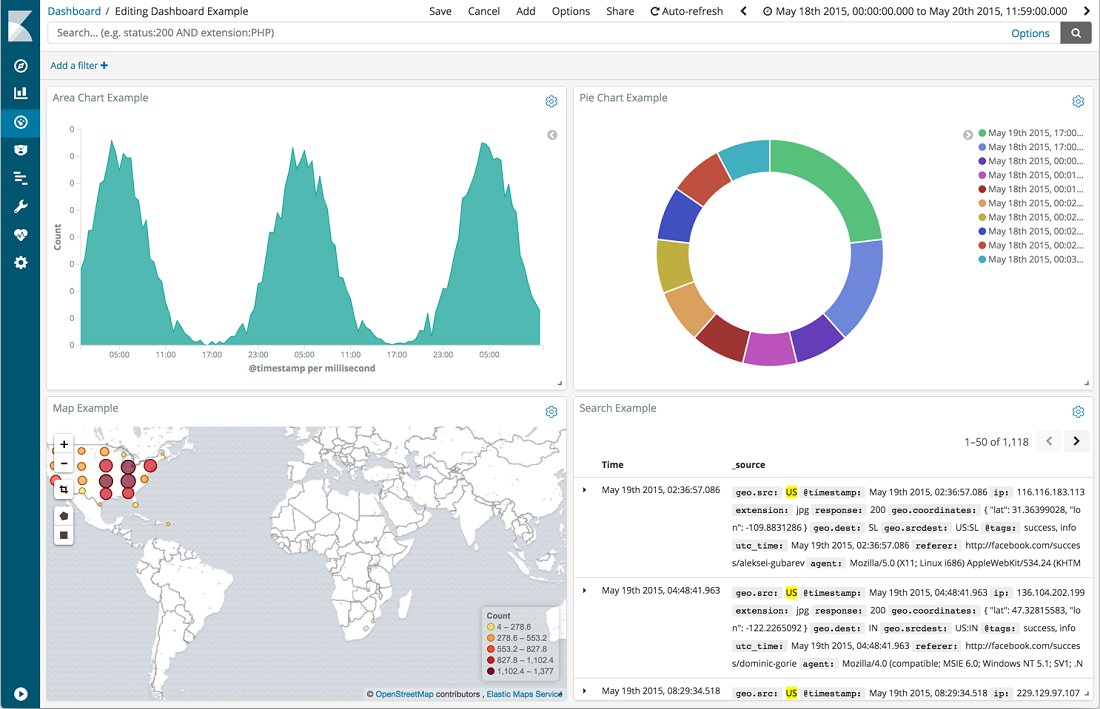 Kibana is a potent data visualization software developed by Elastic NV. Since 2012, Elastic NV has been releasing robust tools for analytics, search, and security. Kibana is unique as it is an open-source data visualization software that gives users the freedom to fully customize their business intelligence experience. To date, it powers more than 1,013 websites and has a market share of 1.01%. Its clients include global brands such as Netflix, The New York Times, and Goldman Sachs.
Pro – Easy set-up.

Con – It does not have an automated document scheme discovery.
About Microsoft Power BI
Microsoft Power BI is a robust business intelligence software that has been offering tools and features since 2014. It's a relatively new Microsoft product that serves as the company's flagship product when it comes to data analytics. It boasts of an interface that easily engages users to create graphs, reports, and visualizations on their own. It currently powers more than 2,399 websites and has a market share of 2.39%. Its international clients include Chevron, MediaCom, ABB, and Conde Nast.
Pro – Engaging user interface.

Con – Limited exporting options.
Points of Comparison
In choosing between the two platforms, users just need to consider few essential points in making their decision. This Kibana vs Microsoft Power BI comparison will explain the following points of comparison: pricing, visualization features, collaboration tools, customization parameters, and integrations. Do read our updated software ranking to know more about the latest technologies in data analysis software.
Pricing
Kibana and Microsoft Power BI essentially share the same pricing policy. They both offer plans for managed and self-managed accounts. The luxury of having outsourced manpower is becoming an industry standard as more and more users utilize business intelligence. Business intelligence is not an easy subject so new users prefer optimum utilization that can only be achieved by skilled personnel and data scientists. Both platforms offer such convenience.
Self-managed Kibana accounts are quote-based. When it comes to managed plans, users have four options: Standard, Gold, Platinum, and Enterprise. Kibana's Standard plan is its most affordable plan that goes for $16/month. It's Gold plan and Platinum plan goes for $19/month and $22/month respectively. Its Enterprise plan is quote-based.
Microsoft Power BI offers two plans: Power BI Pro and Power BI Premium. Power BI Pro is fully managed by Microsoft and it goes for $9.99 per month per user. Power BI Premium is its enterprise-grade plan that goes for $4,995.
At first glance, Microsoft Power BI seems to be the more affordable option, But users need to take note that Microsoft Power BI is priced per user. Kibana is not priced per active number of users so it is ultimately the better option.
Both Kibana and Microsoft Power BI offer forever free versions.
Visualization Features
On a basic scale, Microsoft Power BI is a business intelligence suite that has data visualization tools while Kibana is a dedicated data visualization software.
More than data visualization tools, Microsoft Power BI offers features for big data. This makes Microsoft Power BI the perfect app-companion for enterprises with daily massive data like hospitals, universities, media outlets, and government agencies.
On the other hand, Kibana offers almost unlimited options when it comes to data visualization. It is even open-source so users can fully customize their preferred visuals and data analysis.  As Kibana is an Elastic NV product, it also has advanced built-in search tools that allow for relevant scoring, highlighting, query profiling, and async search. Kibana's advanced data visualization tools make it ideal for marketing agencies, advertising agencies, and sale-drive businesses. To know more about today's top tools and trends when it comes to data visualization, click here.
Both Kibana and Microsoft Power BI offer tools for automated machine learning.
Collaboration Tools
The number of different perspectives and the speed as to when information is received are sacred advantages when it comes to business intelligence. Business intelligence remains flat and lifeless without the very people who will perceive it, interact with it, and apply it. Hence, collaboration tools are important when looking for business intelligence software.
Both platforms offer stellar collaboration tools. Kibana allows for the quick sharing and exporting of files to PNG, PDF, and CSV files. However, Microsoft Power BI is a notch better as it can quickly publish data and results directly to websites. Through it, results reach more people at a faster rate.
Customization Parameters
Microsoft Power BI allows users to customize and set attribute parameters across all endpoints. Security, access, alerts, publication, and schedules can be easily automated. However, in-depth customization is limited as its open API can only ever allow for third-party integrations. This makes Kibana the better option for users that want total customization.
Kibana is an open-source business intelligence tool so users have boundless options when it comes to setting, personalizing, automating, and manually-scripting data visualization tools. It has open programming that allows users to fully manipulate and dictate every aspect of business intelligence processing.
Integrations
Users need to zone in on integrations because business intelligence is a growing industry. Users must choose an app that will allow for more integrations to future technologies.
Microsoft Power BI has more built-in integrations if be compared with Kibana. It also comes with an open API so users can freely integrate any third-party app in their AI processes. As it is a Microsoft product, all Microsoft apps can seamlessly work with it in just a click.
Kibana is open-source so third-party apps can fully integrate with all Kibana attributes across all endpoints– from security to visualization tools to the core program itself. This makes Kibana the better option for users that need complex customizations and integrations with numerous third-party apps.
What is the best business intelligence software for you?
This Kibana vs Microsoft Power BI comparison article will work best for you if you would reflect on the following questions:
How much am I willing to invest in business intelligence software?
What business intelligence tools do I need?
Do I need in-depth visualization tools?
How much collaboration is necessary for my line of work?
Do I need highly-customized business intelligence tools?
What kind of integrations do I need for my workflow?
Kibana is best for you if:
You have a limited financial budget. Kibana is more affordable between the two because its pricing is not based on the number of active users.
You need in-depth visualization tools. Kibana is primarily a data visualization software.
You do not need advanced collaboration tools.
You need in-depth customization when it comes to data visualization.
You need to integrate with numerous third-party apps.
You are an advanced user and you know how to customize programs and scripts.
Microsoft Power BI is best for you if:
You have enterprise-grade needs and you're willing to invest big on business intelligence tools.
Your line of work needs AI tools for big data.
You need robust business intelligence toolsets for the analysis of daily large-scale data flow.
You are a Windows user.
You prefer numerous built-in integrations.
You need advanced collaboration tools.
You need not rush into a decision because both platforms offer a forever free version. We highly suggest that you check out each because you absolutely have nothing to lose as both come at no cost. Both free versions are robust enough to cater to the needs of small businesses and agencies. Microsoft Power BI  even offers 10 GB of free cloud storage. The free cloud storage single-handedly makes Microsoft Power BI the better free version among the two.
On our end, we recommend Kibana to users that have specialized needs when it comes to data visualization. Kibana is open-source so users have 100% access to total customization and personalization. For enterprise-grade users, we recommend Microsoft Power BI because it has the capacity to seamlessly handle big data and interactive collaboration among team members; its forever free version also packs a punch.