When talking about productivity suite, people often hear of Gmail vs Zoho Mail comparison and which they think is better. While Gmail is the dominant and global leader in business productivity applications, Zoho Mail has definitely given it a run for its money. Google's G Suite has been given a run for its money by Zoho Workplace which rivals the applications presented by Google.
The World of Email
In order to function in today's business environment, you need to have a productivity suite that keeps you on top of everything. Emails have dominated communications and the strength and functionality of your email could spell the difference between retaining or losing a client. Clients want instantaneous responses, quick coordination, and fast resolutions and email communication is a channel that facilitates rapid coordination.
When it comes to the email battle, Gmail vs Zoho Mail comparison is as classic as they come. These two platforms are incredibly popular with each providing their own package of services with different strengths and weaknesses. These productivity platforms boast of features that businesses need to keep their operations running smoothly, efficiently, and seamlessly. This email marketing software analysis will compare Zoho Mail vs Gmail in the hopes of helping you decide which platform is most suited for your business.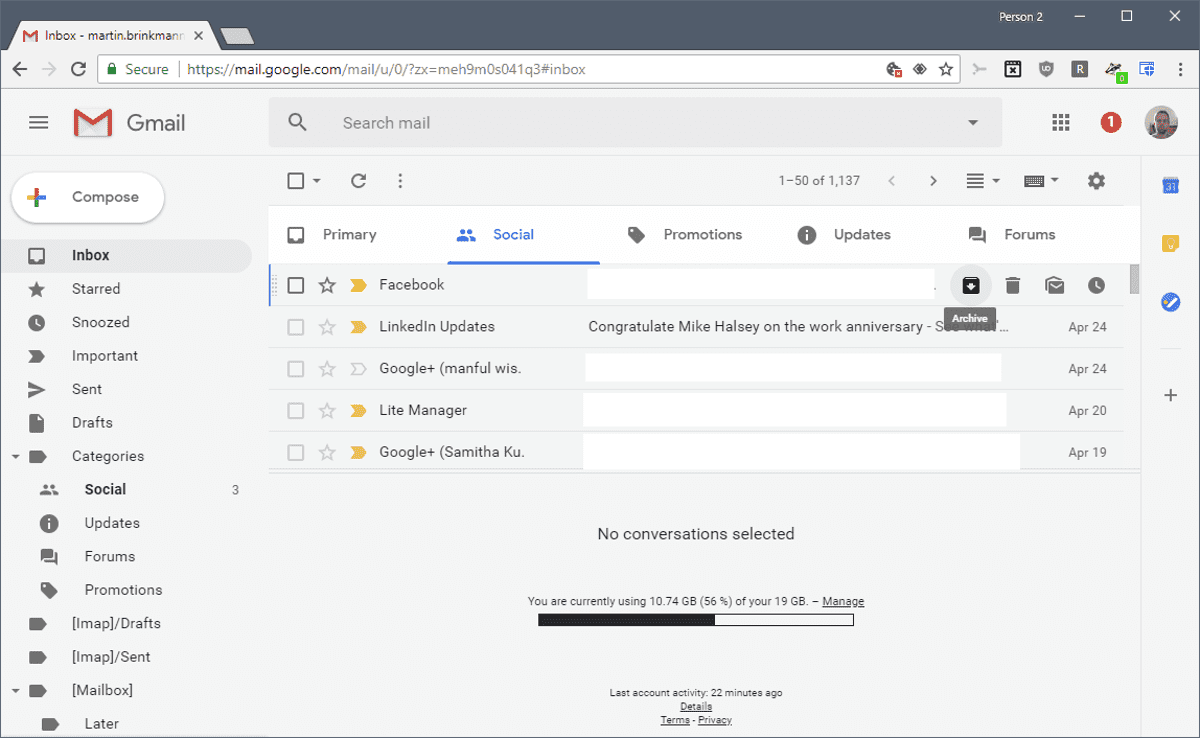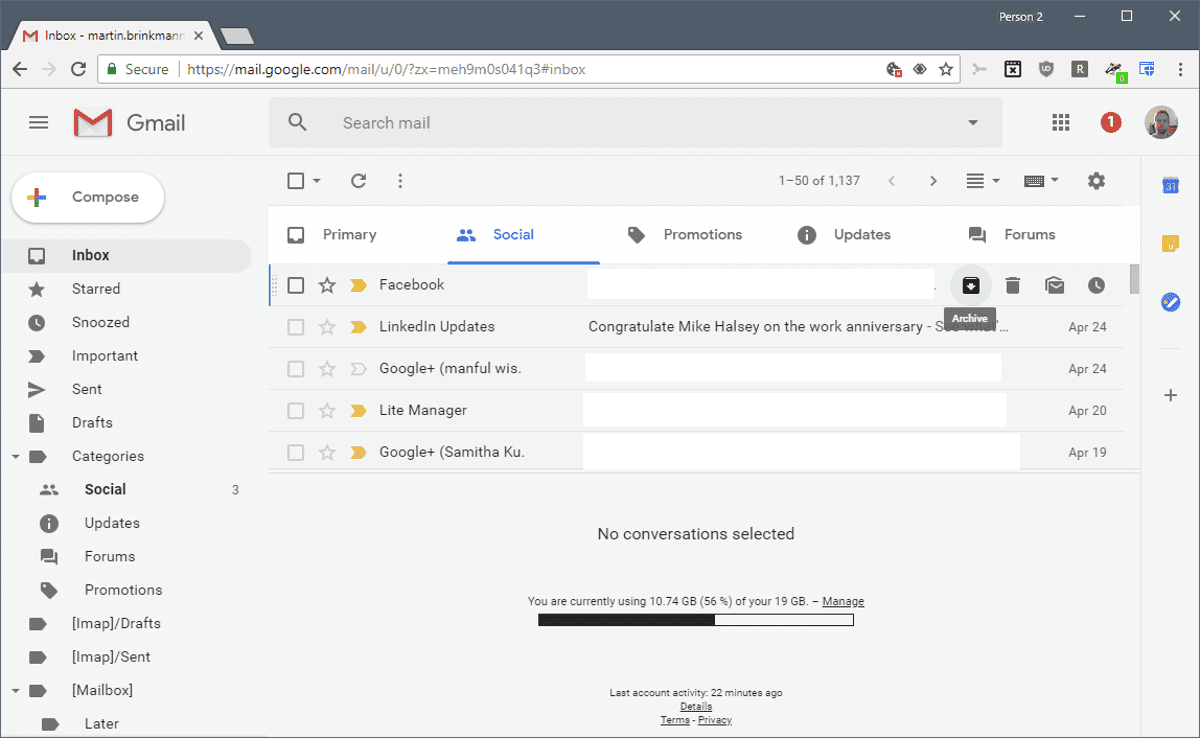 Productivity Features
Zoho Workplace is a productivity suite that consists of nine (9) applications that include a list of file management software and functional features:
Meeting – web conference tool
Show – presentation creation tool
Connect – collaboration tool
Mail – email portal with a social media design
Cliq – messaging tool
Writer – collaborative word processor
Sheet – spreadsheet tool
Docs – document sharing channel
Showtime – mobile presentation tool
All these are supported by Flow, which is able to integrate cloud-based applications into an email interface. For the most part, these applications offer a direct rival to the G Suite applications which are composed of a wider range of applications but some of the most well-known include:
Gmail – email services
Google Meet – video conferencing feature
Hangouts – chat messenger tool
Google Drive – cloud file storage
Calendar – scheduling and planning software
Google Doc – document co-editing services
Google Excel – co-editing spreadsheet feature
Google Forms – create surveys and forms
Both platforms each offer excellent mail services complemented by a package of other features that supplement each other.
Comparative Pricing
The great thing about this Gmail vs Zoho Mail comparison is that we see that both platforms are far from expensive. For business purposes, they both offer monthly subscriptions that vary in price and access to add on features. Both services offer free packages that have storage and access limits.
For Zoho Mail, its competitive advantage is in its low monthly and yearly subscription. An annual subscription for just email services starts at $1 a user with the Standard Plan which includes Zoho Mail and other basic tools that costs $3 per user. On the other hand, a professional plan costs $6 per user. For more services aside from email, the rates for a Standard and Professional plan are $4 per user per month, and $7 per user per month, respectively.
Gmail, which is more established and offers a few other services is pegged at $5 per user per month for subscription members. This is more or less the going rate of larger-scale productivity service providers.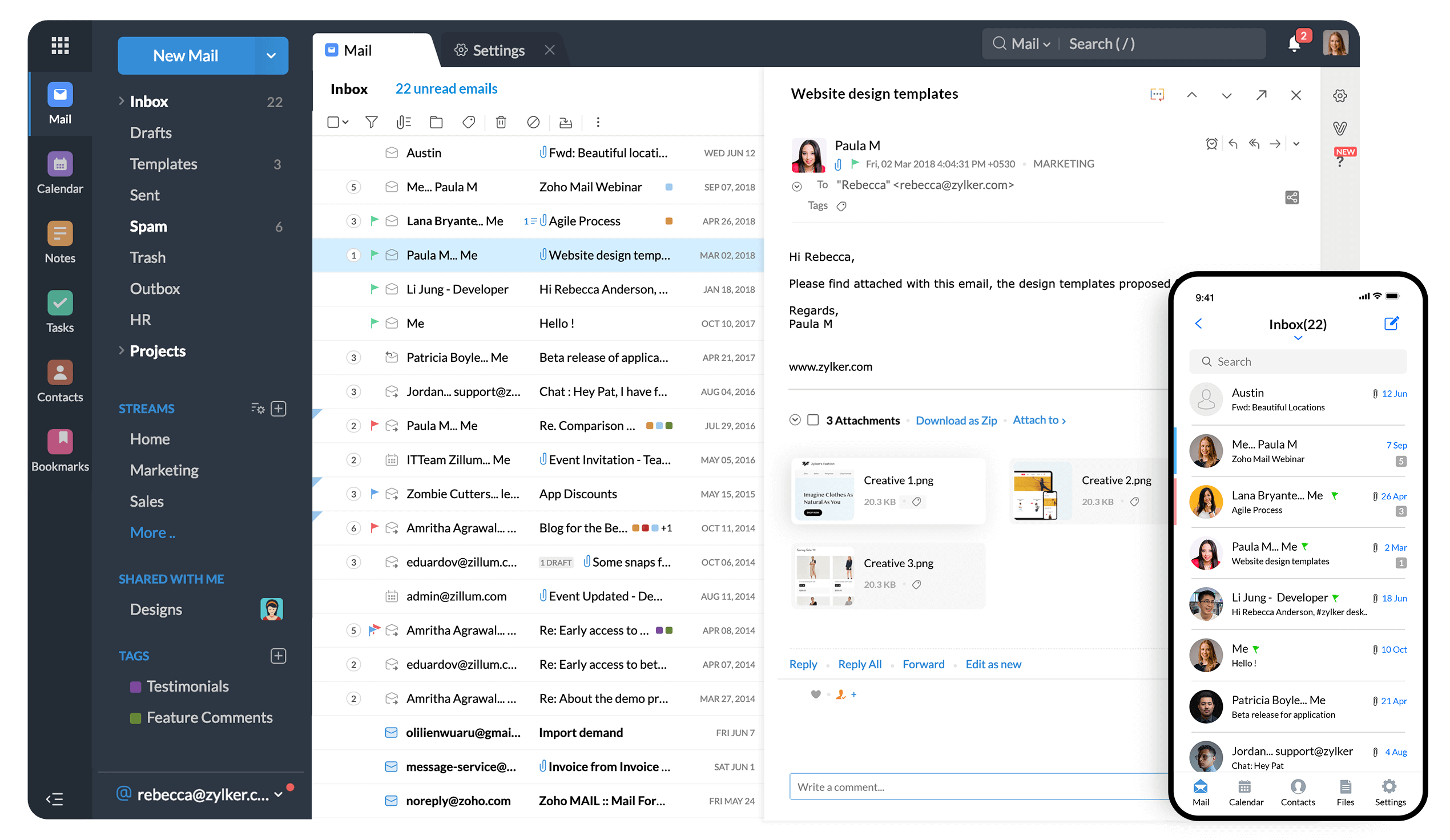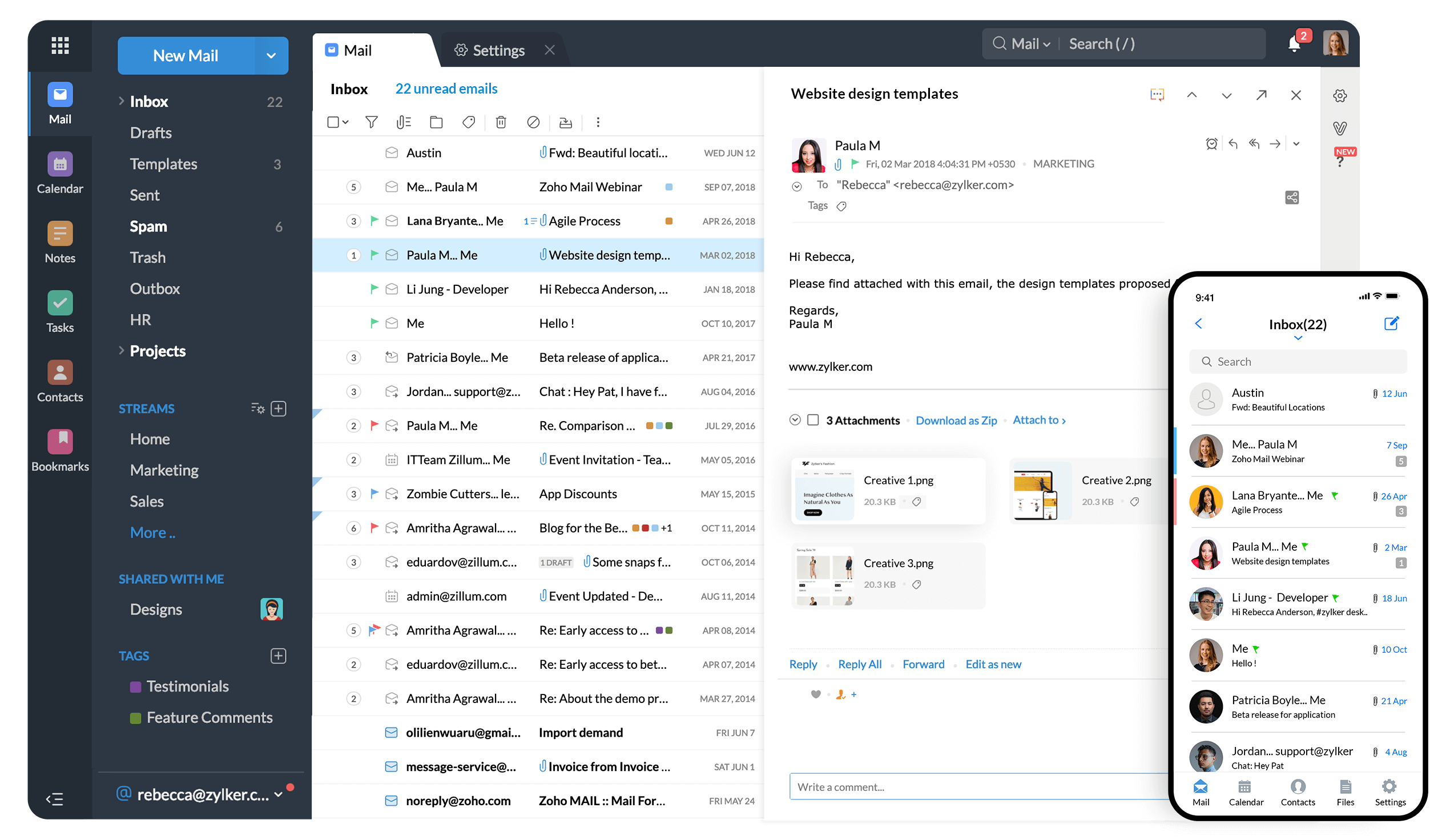 Mail Services
Let us get down to the finer details, in this Gmail vs Zoho Mail comparison, we will look at accessibility, filtering, storage, and user interface.
On filtering, Zoho Mail does offer spam filtering services but it is not at the level that Gmail is able to provide. When comparing Zoho Mail to Gmail, Google boasts of one of the most technological AI services that are able to filter spam with 99.9 percent accuracy. It can identify spam entering the mailbox and is able to provide initial warnings to users.
In terms of storage, G Suite's basic plan offers 30GB of drive space which upgrades to 100 GB of mail storage per user. This is the same parameter as Zoho Mail Storage. However, Gmail offers unlimited secure cloud storage space for Business and Enterprise plans as long as they purchase a minimum of 5 user licenses.
When it comes to accessibility, both platforms provide support for iOS and Android devices. Gmail is straightforward, easy to use, and on Android devices has pre-installed applications built right into the devices. Zoho Mail, on the other hand, appears to have more personalization options to the app that makes it easier and more intuitive for users to use. Further, both Gmail and Zoho Mail are accessible via web browsers allowing users to access their accounts from any internet supported devices.
On customer support for users, both firms offer customer support and are readily available to accept queries and reports form their clients. Google is based in the United States and customer service representatives are on hand via phone to address and provide support to members when they experience technical difficulties. G  Suite users can also report and consult on concerns via email wherein users take a screenshot of their issues and submit to Google along with an explanation. Google endeavors to respond to all reports within a 24 to 48 hour turnaround time. Unlike Google, Zoho Mail's headquarters is located in India but offers US phone numbers for technical support for customers.
Client and Company Size
Gmail and Zoho Mail can be used by any company regardless of its size. Its free plans as well as its incremental offerings per paid subscription offer options to companies of all sizes. In the same manner, as it is useful for small, medium, large to enterprise-sized companies, the platforms can be used by any and all industry sectors. Both Zoho Mail and Gmail offer scalable features that allow the systems to grow with your business.
Gmail vs Zoho Mail Comparison: Which is Better? 
Both Gmail and Zoho Mail offer a range of features and services that go a long way to making operations, communication, and collaboration easier for business teams. Both have their own pros and cons with Zoho Mail offering great value for those on a budget. It offers similar applications to that of G Suite but offers it at a lower price.
For startups and small businesses looking to upgrade and maximize digital infrastructure, Zoho Mail is a good option. However, at a medium to large scale level, G Suite offers great tools with strong overall integration and a great rate considering the range of services G Suite carries. While Zoho Mail has a lot to offer, G Suite remains the superior choice and if firms have the cash to speed, investing in corporate cloud-based services will surely help your communications. At the same time, G Suite offers better third-party app integration and those firms that use Android devices would benefit greatly from G Suite which works seamlessly with Android gadgets.
This analysis is based on the features offered by Zoho Mail and Gmail. At the end of the day, you need to take into consideration your situation including your needs and budget to make the decision of which email provider is best for you. Hopefully, this analysis provided some insights that will help you decide for your company. To learn more about app comparisons and other technology like top document controller software and much more, head to our homepage.